Home > News > Interview

The Rediff Interview/Former RAW Special Secretary V Balachandran

September01, 2003



Eight years after he retired as special secretary, Research and Analysis Wing, India's external intelligence agency, V Balachandran spends a lot of time delving into security and intelligence matters.

An IPS officer from the 1959 batch, Balachandran was one of India's top spymasters, who worked for RAW for 19 years in various countries including the United States and France. A specialist in security affairs, he now chairs the administrative committee at the 45-year old Indo-American Society.

For nearly four years since 1973, he headed the Mumbai police's Special Branch that exclusively dealt with intelligence and security matters. In an exclusive interview with Deputy Managing Editor George Iype, Balachandran speaks out why Mumbai is under the threat and what needs to be done to check the growing menace of terrorism across the country.

Why is Mumbai under the threat of frequent bomb blasts?
My diagnosis is that police intelligence in Mumbai city these days is very weak and poor. When I headed the city police's Special Branch from 1973, my first duty every morning was to brief then chief minister V P Naik on various security and intelligence matters. Those days there was no terrorism. But there were political agitations and violent labour activities.
Naik insisted the Special Branch deputy commissioner -- and not the city police commissioner -- should give him an overview on various intelligence matters. When Morarji Desai was Mumbai chief minister, he used to say he wanted the commissioner of police to brief him only twice a month. But Desai insisted that the deputy commissioner dealing with intelligence in the city should brief him daily.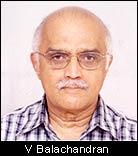 You mean to say the practice of the Special Branch chief briefing the chief minister no longer exists.
I do not know. But these days the Special Branch and the whole intelligence set-up in Mumbai as well as across other parts of the country is run by ineffective and inefficient officers. In those days, only the best and brightest officers were appointed in the Special branch.
Those days, the Special Branch had a special wing called 'the watchers branch.' The watchers used to mingle with local people, shop owners, roadside vendors and taxi drivers. They were the eyes and ears of the police. They briefed senior intelligence officers about what was happening in the city. That was a credible intelligence-gathering network.
But sadly, the watchers branch was disbanded. Now all the useless officers and constables are appointed in the Special Branch. Now the posting in the intelligence wing is regarded as punishment.

Why are the best police officers not appointed in the Special Branch?
No police officer wants to work in the Special Branch now because there is no corruption there. You cannot make money out of the intelligence department. The temptations for working in an average police station are such that everybody wants to take up those posts, which would fetch them money.
I think we have systematically killed police intelligence in Mumbai and in other parts of the country. Unless we reorient and give emphasis to credible police intelligence system, similar bomb blasts would continue to hit Mumbai.

Doesn't the Intelligence Bureau in New Delhi pass crucial intelligence information to the states?
Yes, it does. But the IB has limitations. Suppose the IB gives a report to the Mumbai police that terrorists have come from Pakistan and gone into some area in the city. But unless the Mumbai police has basic intelligence network and capability to track down militants, how can the police flush out militants?
The Mumbai police only know how to fight crime. And what is crime in Mumbai? Most of the crime in Mumbai that the police tackle is based on information from rival gangs. But in terrorism it does not happen that way. Terrorists are very committed people and do not work for money.
Criminals work for money and policemen are tempted with money by rival gangs. Terrorism needs a much more sustained, very difficult process of intelligence collection. Penetration of a terrorist module is very difficult because nothing is decided in Mumbai. Decisions may be taken in Delhi, Kashmir or in Pakistan. Only a man or a messenger will come to the city to execute the plan. So how can the Mumbai police under the present system penetrate that terrorism cell? It is very difficult. 

What needs to be done to tackle terrorist attacks in a city like Mumbai?

The only way to tackle and penetrate this kind of meticulous terrorist network is to have a local intelligence system, which can track down anything that is happening in the city. The Special Branch should know if some new people have come to the city, on a daily basis. But the tragedy is that the local intelligence network is totally ineffective in Mumbai and other parts of the country.
I think over a period of years, there has been a gradual deterioration of the intelligence gathering system because the police top brass and successive governments have taken very wrong decisions.

The failure to gather credible, local intelligence is a problem that not only haunts the Mumbai police alone. It is the case even in the United States. I am one of the few Indian officials who has done very extensive studies about the American intelligence system. Even America does not have an adequate local intelligence network to fight terrorist outfits like Al Qaeda.

Five bomb blasts in Mumbai in the last few months. Is it easy to organise bomb blasts in the city?
Yes, it is very easy to bomb Mumbai. Does our police know anything about what is happening in the slums and certain pockets of Mumbai? No. The traditional method of patrolling is not there. Earlier, each police station had its intelligence gathering network. It is not happening now. That is gone. What do you fight then?

The Mumbai police says it is going to set up an anti-terrorism squad. Will it help?
The so-called anti-terrorism squad is of no use to tackle terrorism. We had formed a squad some years back and later on it was disbanded because it did not know what to do.
The anti-terrorism squad is something like the NSG (National Security Guard). Such a squad is useful only if, for instance, the terrorists take some ministers as hostages in Mantralaya. The squad can flush out the terrorists.
But in these situations of bomb blasts, how will the squad be useful? Terrorists come in from nowhere, execute the bombing and vanish. This is the main problem, which even America is facing these days in Iraq. They do not know where the enemy is coming from.

Terrorist activities in the country are on the rise, but the Indian government has been consistently saying it is taking effective measures to clip the wings of terrorism.
Why is terrorism increasing in India? The biggest problem is that basic governance across India has collapsed. After every bomb attack, our top political leaders proclaim: Pakistan-sponsored terrorism. But I tell you Pakistan will not be able to sponsor terrorism in India if we have a system of proper governance. If we give good governance to the people and see that the legitimate grievances of the people are redressed, terrorist acts will come down.
Unfortunately as a country India has failed because we take a contentious and confrontationist policy on all issues, in all states. The policy of the government is to divide people and then harass one particular section.

Do you mean to say that our politicians should stop blaming Pakistan for the attacks in India?
Yes. Minutes after every bomb attack, leaders like L K Advani come out with statements that it is Pakistan, Lakshar-e-Tayiba or the Students Islamic Movement of India. Three years back Jayalalithaa said Osama bin Laden is hiding in Hyderabad. Our politicians always make ridiculous statements without realising the heart of the matter and without looking to the investigative aspects.
Unfortunately, it seems for Advani, Israeli Prime Minister Ariel Sharon is a hero. Sharon is a man who provokes Palestine always. Leaders like Advani are always making statements that provoke people.

But don't organisations like RAW and IB brief political leaders like Advani?
Briefings are held about correct intelligence inputs on terrorism and bomb blasts. But then political leaders want to create instant sensation, soon after bomb blasts. If you go on dividing people and say that this particular segment is responsible for the bomb blasts, that is not good governance.

How do you think terrorist activities can be checked?
Dialogue is the best method. If you feel that certain political groups or militant outfits are engaged in anti-national activities, the government should start a dialogue with them. We have been able to have a dialogue with the Nagas and the Mizos. The dialogue with the Mizos was started by RAW and the political leadership intervened and settled it.

So if you feel that SIMI, for instance, is creating problems, have a dialogue with it. SIMI is an Indian organisation. If you feel that certain Islamic elements are indulging in terrorism, you can always have a dialogue with them. Ask them what are their demands, and what are their problems.
The role of the government is not only to punish, but also to solve and sort out the problems of the people.

Pakistan's ISI is often blamed for executing terrorist activities in India. Does our intelligence have credible information about the ISI's activities in the country?
Whenever there is a bomb blast or a terrorist strike, the blame is immediately on the ISI. In many of the incidents in which the Indian politicians are blaming the ISI, in fact there is absolutely no evidence against ISI. Not that the ISI is blameless. There are, of course, situations and incidents in which we have found the role of the ISI. But that does not mean that ISI is involved in every bomb blast.
A clear example is the Coimbatore bomb blasts. Immediately after the blast, our politicians and the government said it was an ISI act. In one of my recent trips, I happened to meet with Param Vir Singh -- the police officer who investigated the Coimbatore bomb blasts.
He carried out a huge, massive investigation in which some 800 witnesses were cross-examined. I asked him, did you find any ISI role in the Coimbatore blasts. He said: "No." Singh said there was absolutely no Pakistani or ISI involvement in the Coimbatore blasts. It was a purely, local act from Al Umma. The Coimbatore blast was a local problem between the Muslim and Hindu traders.

Recently Stephen Cohen (director, South Asian programme, Brookings Institution), a good friend of mine, told me: "The way you people are blaming Pakistan and ISI for everything is ridiculous." We are blaming Pakistan and ISI for everything that is [as if] India's internal security mechanism is so poor. It is as if Pakistan and ISI have captured India. Isn't it a disgrace on our internal security? We should not concede that Pakistan has entered into every nook and corner of India.


The Rediff Interviews


What do you think about the story?








Read what others have to say:





Number of User Comments: 51








Sub: very true indeed

Mr VB's comments on the politicians is very true. They are ones to be blamed.


Posted by pradeep









Sub: poor police intelligence

Sir, What you said should make every Indian do an introspection about the situation in India, police , policts, army civilians etc. everywhere there is ...


Posted by Thomas









Sub: unfortunate state of thngs

very thoughtful and mature views.wish our politicians were this mature too.it is a sorry state how politicians misuse unfortunate happenings like bomb blasts for their ...


Posted by shabeeb khan









Sub: Police and Intelligence

it was really good to read this interviews and know abt the facts..But tell me Mr. VB is it possible for police to patrol and ...


Posted by vishnu









Sub: Mr. V. Balachandran's Attitude!

With All due respects to Mr VB, he has been giving examples of how he was supposed to report to the CM daily back in ...


Posted by Abhay Samel






Disclaimer