Home > News > PTI

Fake stamps: SIT questions Mumbai police chief for second day

Vijay Singh in Mumbai | November 09, 2003 17:40 IST
Last Updated: November 09, 2003 19:40 IST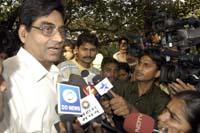 Mumbai Police Commissioner R S Sharma spent another day answering questions about his role in the multi-crore fake stamp paper scam.
He went to the SIT office in Worli, for the second consecutive day on Sunday, around 1200 IST and emerged at around 1630 IST.
The questioning came just a day after the arrest of Joint Commissioner of Police (Intelligence) Sridhar Vagal in connection with the scam.
| | |
| --- | --- |
| | Also Read |
| | |
Sharma was commissioner of police in Pune when the scam was unearthed. The then joint commissioner of police in Pune, S M Mushrif, had alleged the scam was not properly investigated.

Sharma retires as Mumbai police chief on November 30. The Mumbai high court has directed the SIT to probe his role in the scam and file a report on November 12.

So far, the SIT has arrested six police officers and is likely to arrest some more this week, SIT sources added. More officers of the Mumbai crime branch may be questioned soon.


More reports from Maharashtra
Read about: Telgi case | Mumbai blasts


© Copyright 2006 PTI. All rights reserved. Republication or redistribution of PTI content, including by framing or similar means, is expressly prohibited without the prior written consent.






What do you think about the story?








Read what others have to say:





Number of User Comments: 2








Sub: Someone will die - who?

In many cases where high level involvement was suspected, we have had in custody deaths due to "heart attacks". Nagarwala, Harshad Mehta, Rajan Pillai are ...


Posted by Anand Rajadhyaksha









Sub: Real shame

Its a real shame when the people whom public respects and have faith do such high level scams and brek the trust of people on ...


Posted by parthasarathi khajuria






Disclaimer