Home > News > Report

Gay bishop splits Anglicans

November 03, 2003 15:33 IST
Last Updated: November 03, 2003 18:11 IST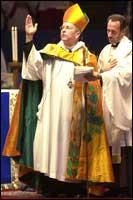 The consecration of  the  first openly gay bishop by the Anglican Church has divided the community worldwide, report agencies.
Gene Robinson -- who has lived with his male partner for 15 years -- was formally made bishop of the US state of New Hampshire in a colourful but controversial ceremony on Sunday.
Outside, protesters and supporters of Canon Robinson faced each other off, kept apart by mounted police, while a separate service for those against the consecration took place in a church in another part of the town, said the BBC. 
Three church members were given the opportunity to voice their objections during the ceremony and one woman said the consecration would not only rupture the Anglican community but 'break God's heart.'
Some of the bishop's opponents say they plan to set up a new church structure with like-minded bishops from the US and abroad, the BBC said. 
The American Anglican Council issued a strong statement shortly after the consecration asking people to redirect their financial giving "to ministries or organizations that call Jesus Lord". The statement also included such lines as "Heresy has been held up as Holy" and "Blasphemy has been redefined as blessing," said the Anglican News Service.
Moments after the service ended, the head of  the Anglican Church,  Archbishop of Canterbury Rowan Williams,   issued a carefully worded statement saying the consecration had been made "in good faith."  Regretting the schism in the 77-million strong Anglican community over the event, he said "The effects of this upon the ministry and witness of the overwhelming majority of Anglicans particularly in the non-western world have to be confronted with honesty." 
Speaking after his consecration, which was attended by over 3,000 guests, including including 54 bishops, Robinson  said: "You cannot imagine what an honour it is for you to have called me." And in obvious attempt to appease angry conservatives, he said: "They must know if they must leave, they will always be welcomed back."
AGENCIES


What do you think about the story?








Read what others have to say:





Number of User Comments: 4








Sub: Gay BISHOP

Utter nonsense, highly irresponsible, totally unusual and ethically and morally wrong. The west may justify it as an individual's basic human rights but in the ...


Posted by ratan kk









Sub: All are equal in the eyes of God!

I only ask one question: Is a gay, a eunuch, a transvestite any less a child of God or any less deserving of God's attention ...


Posted by breechy sandy









Sub: Absolute Stupidity

This is insane. The Archbishop of canterbury has committed a crime in the name of god. We can accept a gay or a les as ...


Posted by Stanis









Sub: Ordination of Gay Bishop

I render my whole-hearted support to the Bishop who is admittedly gay and lives with his partner. I pray for his ministry, the church as ...


Posted by Ivan Mathew John






Disclaimer