Home > News > Interview

The Rediff Interview/Nisha Sharma, anti-dowry crusader

June 30, 2003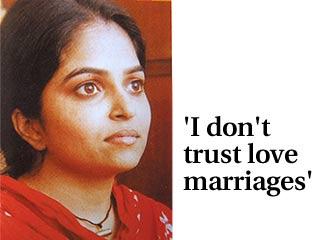 Nisha Sharma, 21, a computer engineering student from the New Delhi suburb of Noida, hit the headlines on her wedding day. She picked up the phone, dialled the local police station and got her groom arrested for demanding Rs 1.2 million in dowry from her family. 
Munish Dalal, a schoolteacher, and his mother Vidya Dalal are now in jail under the anti-dowry law.

A month-and-a-half after she registered her complaint, Nisha still receives telephone calls from journalists, woman's groups and politicians. Some want to interview her, while others invite her to address public meetings.
Nisha is also getting offers to join politics, feature in ad films and anchor television shows. Her father D D Sharma, who owns a battery manufacturing unit, says dozens of men have already sent marriage proposals to his gutsy daughter.
Surrounded by trophies and certificates of appreciation collected in the last month, and just back from a television studio, she spoke to Ehtashamuddin Khan at her father's three-bedroom house in a middle class neighbourhood.

How do you feel about this new status of becoming a celebrity from a girl-next door?

I am that same girl as I was before that day [her wedding day when she got her would-be groom and his mother arrested]. I am proud. I have given a new way to many people. They can also do what I did.

What led you to call the police on your wedding day? Were you nervous?
I was calm. When we could not give Rs 1.2 million that they demanded, the groom's mother slapped my father and his aunt spat on my father. They abused him. The boy said he was not going to marry me without the money. So I decided not to marry this boy.

What prompted you to call the police -- they insulting your father or the dowry demand?

Both.

But in principle you and your parents had agreed to give them the dowry. The problem came only when they asked for more.

No, they had not demanded anything. My dad was giving everything on his own. It is called streedhan, not dowry. They demanded the money only at the last minute.

Did you know the consequences when you called the police?

That time I just thought about myself and my parents. I was not bothered about society. My father was also thrown out of his house because he didn't take dowry when he got married in 1980.

Who is your role model?

My parents. I am also impressed by Kiran Bedi.

What was your reaction when journalists started coming and talking to you?

First day I was... (laughs). It was new to me.

Were you expecting that the media would support you this way?

No. I never thought about it.

Do you feel comfortable being interviewed by journalists?

It is difficult. But then I am not nervous. I tell them my story and ask them theirs. I am going on two paths -- my education and society. I have to tackle the burden of this fame and I am tackling it. I want to tell the people to please change it [the system].

What message do you give to the people when you address public meetings?

I just tell them my story and ask them if my decision was right or not. And they agree with me. I tell them if you want to cure this problem [of dowry] then help me.

Do you think we can get over the problem of dowry?

Yes, we can.

How?

By creating awareness.

Why are we still practicing this age-old tradition in a modern society?

The grooms' parents are greedy.

What are the kinds of problems faced by Indian women today?

I don't know... They do not get support from society. If a woman comes out and speaks against the society then people start making false allegations against her.

What do you have to say about wife battering and female feticide?

I don't know much about it. I don't read newspapers. But I am looking at these problems. Four, five women had come to me with their problems. I don't know much about society. It all happened to me suddenly. I will take some time.

Should women say no to dowry or should there be some limit to it?

They should say no.

Your would-be groom and his mother are in jail. What do you want next?

They should be convicted. They have not learnt their lesson yet. I don't sympathise with them. I want my case to become a landmark for others. Others will also take a lesson from it.

Your future plans? Education, marriage, politics...

I want to continue my studies. No plans to join politics and my father will decide about marriage. I want to do social work.

Any plans for marriage in the near future...

No. And my marriage would be an arranged one. I don't trust love marriages.

What do you think about millions of women who are suppressed in our society?

They have to become bold. They have to take an initiative. No one is going to help them.


The Rediff Interviews


What do you think about the story?








Read what others have to say:





Number of User Comments: 77








Sub: Great...

I should appreicate your bold step. THe younger generation should follow you.


Posted by Geethakumari









Sub: hi..

nisha had done really a great thing...i feel every women is againt dowry..but none dare to do like this.. hats of to her...


Posted by suneeta









Sub: what and unaware person

strange enough,but the girl who has suffered so much says "i do not know" to "What are the kinds of problems faced by Indian women ...


Posted by pinky









Sub: i dont trust love marriages

hi nisha.. its really difficuilt in this world..to be so daring and support the real truth..hope the young generation learn atleast 1% frm u..


Posted by saraswathi









Sub: Good one.

I like what u did. The funny thing is, this is supposed to be routine but in our society this is like something great, and ...


Posted by Sriram Venkitachalam






Disclaimer