Home > News > Specials

The Rediff Special/Mukhtar Ahmad

July 25, 2003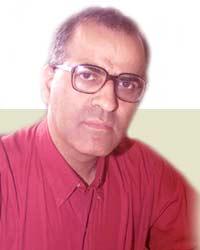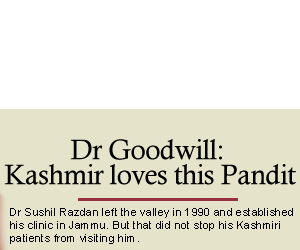 He is no godman, but his Kashmiri patients think their aches will go if he places his hand over their heads.
As militancy raised its head, Kashmir's most renowned neurologist, Dr Sushil Razdan, along with other members of the minority Kashmiri Pandit community, left the valley in 1990 and established his clinic in Jammu. But that did not stop his Kashmiri patients from visiting him.
On a week's visit to Kashmir recently, Dr Razdan stayed at the house of a Muslim schoolmate, and was inundated with invitations from well-wishers across the valley.
He spent considerable time meeting people over lunch/dinner or a refreshing cup of saffron-rich kahwa (herbal tea).
During his stay in Kashmir, one point became abundantly clear -- trust and amity between the two communities had in fact become firmer with distance.
Even at his Jammu clinic, Dr Razdan says 80 percent of his patients are Muslims from Kashmir. "This has never made me feel that I have left my home in Srinagar," he says.
Patients throng places where he goes. A two-day visit to the meadow of flowers, Gulmarg, was supposed to bring the busy practitioner some respite from his hectic schedule. But the news of his arrival spread like wildfire and hundreds of Kashmiris arrived there with MRI reports, CAT scans and X-rays.
"The medical profession and anger are incompatible. You cannot treat patients if you suffer from intemperate behavior," Dr Razdan said when asked whether such incursions into his privacy irritated him.
His competence and compassion have made this Kashmiri doctor a celebrity and wherever he goes, his patients follow him.
"He is not just a highly competent doctor, he is essentially a nice human being. I have often intruded into his privacy at odd hours, but he has never shown a frown on his face," said Ghulam Nabi, 62, whose son, who gets seizures, has been the doctor's patient for the last 20 years.
Dr Razdan is one of the few Pandits who have not sold their homes in Kashmir. "I have been taking care to do up the house [in Jawahar Nagar Colony, Srinagar] each year through my Muslim friends in the valley. It is my firm belief that sooner or later I shall be back with my Muslim neighbours. They have been guarding my abandoned house with the hope that one day they shall again find me living among them," he said.
Towards the end of his weeklong visit, during which Dr Razdan saw around a thousand patients without charging them anything, he went to see a journalist friend's family. The moment the doctor arrived at his friend's home, the entire place was converted into a makeshift clinic. Instead of entertaining their guest, the journalist and his family began regulating the flow of patients.
When the doctor left for the airport, there were tears in the eyes of those he had attended to and also those who were waiting for his attention.
The doctor was smiling, but tears were trickling down his face too.
"This is my land and I shall return to it one day," Dr Razdan said as he left to board the plane.
ALSO READ: Pak girl to repair heart in India  | Peace buses deliver loved ones
The Rediff Specials


What do you think about the story?








Read what others have to say:





Number of User Comments: 15








Sub: Kashmir loves this Pandit

This was the most realistic reportage on rediff I have read in recent days. It dealt with the pathos of the communities separated due to ...


Posted by faisal









Sub: That is why we have high hopes from Kashmiri's:

Rdfiff is doing a good job and this one in particular is in the direction of a goodwill too....keep it up rediff.... In fact if ...


Posted by vijayganjoo









Sub: Dr.Razdan

People like Dr.Razdan are examples showing the great bond between the two communities.


Posted by gayatri









Sub: thats the kashmir i know

this article reminded of the 10 years of my life which were spent in valley before terrorism forced my family and thousand like us to ...


Posted by nishant









Sub: Dr Razdan

If only every pandit was able to become a doctor like Dr Razdan!!!! Probably all of them would have been welcomed back.


Posted by ratishsharma






Disclaimer