Home > News > India Fashion Week > Feature

Katrina's beautiful, and she knows it

Sita Menon | July 21, 2003 23:53 IST



Katrina Kaif has a buzz about her. She has this gravitational pull that defies all laws. She grew up in Hawaii, moved to London and is now so happy that she has struck a good wicket that she has made Mumbai her base. India is where she will be for a while and she doesn't mind singing and dancing around trees in Bollywood while she's at it: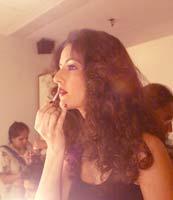 Who: Model, now actress. Also rumoured to be Salman Khan's girlfriend. Any questions about her romantic relationships is met with a 'no comments.'
Spotted at: NCPA, Mumbai, India Fashion Week 2003
What she wore: A black body-hugging sleeveless tee shirt, with olive cargo pants and a loose belt slung around her waist.
She looked: Absolutely beautiful and knew it. She was not quite ready for her grand appearance at Rohit Bal's showing with Liberty Revolutions. With her hair casually tousled, face almost done, she was still putting the final touches to her lips.
Some facts: She grew up in Hawaii (which explains the accent). She later shifted with her mother to London.
Her move to India: "I am a model and have done a lot of shows in London. I came here to shoot for [Kaizad Gustad's] Boom. I was gonna go back... my mom's in London. But I just decided to stay on because I was getting a lot of offers and a lot of good work."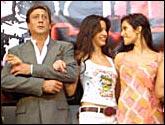 Additional incentive to stay on: " I like it here. The work culture here is a lot more unified. It's a lot more friendly. It's a happy environment. London's worse."
The Bollywood boom: "I met Kaizad Gustad in London. Actually I met him because I wanted to come to India and get some contacts. Then he offered me the film. I said no, but I changed my mind later and decided to do it."
Her clothes in Boom: "I wear Anna Singh mainly. And then Tarun Tahiliani and JJ Valaya. It wasn't too hard."
Bollywood is: "A good break. Give me typical commercial roles. I'm happy to sing and dance and run around trees. I have a problem with the language because it isn't the language I grew up speaking, but I'm working at learning it."
Have you checked out...
What models do to relax!
Vidisha Pavate on boo-boos on the ramp
Rohit Bal: Cowboy meets Las Vegas
Katrina Kaif's photo: Jewella C Miranda