Home > News > Interview

The Rediff Interview/Nitish Kumar

July 15, 2003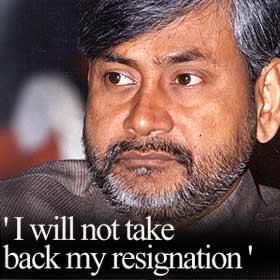 The power struggle in the Samata Party claimed its first victim on Monday when senior leader and Union Railway Minister Nitish Kumar resigned from the Cabinet, upset that party chief George Fernandes was doing nothing to stop the campaign unleashed by some Samata MPs against him. Even as Fernandes held a press conference in New Delhi to clear the air, Kumar spoke exclusively to rediff.com Chief Correspondent Tara  Shankar Sahay.
Why did you resign from the Cabinet?
I resigned because I did not want to continue in an environment where my functioning as railway minister is being questioned by my party MPs who leveled allegations of corruption against me. I told the prime minister I am resigning and the allegations against me should be probed. I am facilitating the inquiry by my resignation.
The matter could have been resolved by your confronting the concerned MPs without resorting to resignation.
I have lightened the work for Georgesaab by resigning. Now he can run the parliamentary party, whose functioning was being obstructed, by my remaining a bojh (burden). Now he has a clear field. Also, the National Democratic Alliance can now function smoothly since I am out (as minister).
Do you hold your party chief responsible for the allegations leveled by your party MPs against you?
How did you get this idea?
It is apparent when the concerned MPs are taking pot-shots at you in Mr Fernandes' presence, it couldn't be without some kind of understanding.
I felt I was not being extended adequate support for my functioning as railway minister. I cannot function as minister with questions being raised about my position.
Will you withdraw your resignation?
There is no question. I will not take back my resignation. I am not willing to take a party position. I will function from outside.
But Prime Minister Atal Bihari Vajpayee has rejected your resignation.
It is Vajpayeeji's largesse. A solution to this problem is that I don't be a minister, that's what I feel. I have written to Georgesaab that he should carry everybody along in the parliamentary party. I will continue cooperating as a loyal soldier of the party.
Are you attaching any conditions for the withdrawal of your resignation?
It is not a question of conditions. The fallout of this incident has affected my mind. Tomorrow, somebody can stand up and say look, these things are happening in your party. With what face will I take it? But as an MP, I can help both the party and nation. Time will be available to me, unlike in a ministerial position.
Your party chief said he found out about your resignation through television.
A Union minister gives his resignation to the prime minister, not the party president.
I repeat, how far is your party president to be blamed for your resignation?
As leader of the parliamentary party, he is answerable. But I am answerable too for the reasons I outlined.
Mr Fernandes told the press conference that indiscipline is rampant in the party. How do you react?
How can I react?
He said he would meet you to amicably sort out the matter.
I have already given you my answer. I will work without ministerial position or party responsibility. In this way, it will solve everybody's problem in the party. I will also be a free bird. Everybody will be satisfied.
Won't your extreme step break your party?
No. We have had ups and downs in the past too, but the party has survived.
Mr Fernandes expressed this opinion too and pointed out that you had resigned several times in the past.
I resigned once after the Gaisal train accident. You don't hand in your resignation every day.
Doesn't it bother you that when train accidents are occurring with alarming frequency, you have quit as railway minister?
Railways don't simply function when the minister is on his seat. There are ministers of state, senior officials and and workmen at the lower levels. Let there be no misunderstanding.
I would also like to point out in this context that the railways are being made terrorist targets increasingly like what is happening in Bihar, Jharkhand and other places. Railways are for everybody and those damaging it should realise that it is a national asset.
Where does Nitish Kumar go from here?
A simple Samata MP who will strengthen the party and the NDA alliance.
The Rediff Interviews


What do you think about the story?








Read what others have to say:





Number of User Comments: 14








Sub: we the people speak.

Shri Nitish kumarji,Please dont very emotional as you know the charecters of your legpullers.You are a gift to the railway ministry those who dont know ...


Posted by Bibhu Prasad Tripathy









Sub: Resignation of Ministers

If Nitish Kumar can cite a train accident as the reason for resignation then why does George Fernandes not resign when we have a MIG ...


Posted by S.Kartikeya









Sub: nitish kumar speaks out

a brave move by a brave man!. I think it was a wise decision on the part of Mr.Nitish Kumar to have handed in his ...


Posted by mukundan









Sub: Resignation of Mr. Nitish Kumar

Dear Sir, It is very right and correct step you have taken and personally I appreciate it. After facing aligations from own party members it ...


Posted by Rajiv Ranjan









Sub: Nitish Resignation

A surprising news. The railway was facing problems. But Mr Nitish was handling the situations with amole responsibilty. The terrorists actvities have spread every nook ...


Posted by swaminath






Disclaimer