Home > News > Interview

The Rediff Interview/Rajasthan Chief Minister Ashok Gehlot

July 09, 2003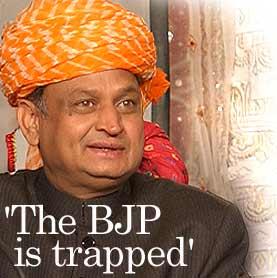 Rajasthan Chief Minister Ashok Gehlot visited New York last week to inaugurate the second International Rajasthan Convention organized by the Rajasthan Association of North America, better known as RANA. 
In his address, Gehlot spoke about the measures his government had taken to provide relief after the recent drought, which he said was the worst in 132 years. All 32 districts were affected till the end of June. Over 7 million people had been provided employment, water was transported through trains, and mid-day meals in schools were provided through the summer vacation, he said.
"I would not have come to you if such relief measures had not been provided," Gehlot told the RANA convention.
Later, in a brief interview with rediff.com Principal Correspondent Monika Joshi in New York, Gehlot discussed his visit to America and the assembly election scheduled for later this year.
What is the goal of your visit? Besides attending RANA, is it also to attract investment to the state?
I have come only for the RANA program.
There was a lot of uncertainly about your trip.
That was unfortunate. I still don't know why I was stopped (the Union government withheld permission for Gehlot's trip for many days till RANA offered to pay for the expenses incurred by Gehlot's entourage) and then granted permission. It was unfortunate and I would not like to discuss it here in the interest of the country.
'We'll never lower our guard against communal forces'
Assembly elections are due in Rajasthan later this year. You had earlier said the issues to be taken up will be developmental, and not populist. What will be the issues with which you will approach the voter?
Development. We have decided that the work we have done in the field of infrastructure, social security, education, health will be our election plank.
How much will the drought and the incumbency factor influence the outcome of the election?
These factors are less influential when there is good governance. I feel these factors would not be important.
What has the government done for drought relief in the state?
There has been perfect management. It has never happened before. People across the country are appreciating it. This year the drought was very severe. But management has been so fine that people are appreciating it.
The Lok Sabha election is due in the country next year. What are your predictions about the NDA?
Everyone knows about the non-performance of the NDA government. It's a coalition of 24 parties, someone says something, the other says something else. Within the (Bharatiya Janata) party itself, the Vishwa Hindu Parishad says something, the RSS says something different, Swadeshi Jagran Manch says something else. By talking in different voices, they are now misleading the people so that their vote bank is not disturbed. Yeh inki mili bhagat bhi ho sakti hai. They talk about differences between Advaniji and Vajpayeeji.
You recently banned distribution of tridents and small weapons in Rajasthan. Many have termed it an election gimmick.
It has no connection with the election. Earlier, when the Gujarat incident happened, we had said we would not allow Rajasthan to become another Gujarat. Now we did the same.
You recommended reservations for the economically backward.  
They (the BJP) have been trapped. They have been disturbed. They say something, do something else. At times they say they are seeking the opinion of the attorney general. Some times they say they will constitute a commission for that. But they are not doing anything. Whereas our side is clear on that. Mrs Sonia Gandhi has said we will support this.
It has to be done keeping the reservation for SCs/STs/OBCs intact. They have to amend the Constitution for that. That will be done by Parliament.
State BJP president Vasundhara Raje Scindia recently took out a Parivartan Yatra in the state. Is that a cause for concern for you?
 Hamari Vikas Yatra sab yatraon pe bhari paregi. (Our Vikas Yatra will score over all other yatras).
Photograph: Paresh Gandhi
The Rediff Interviews


What do you think about the story?








Read what others have to say:





Number of User Comments: 1








Sub: rana

it is really a good initiation in america to organise the rajasthan festival and it also inaguarated by the rajasthan chief minister. I proud tosee ...


Posted by bibhuti rath






Disclaimer