Home > News > Interview

The Rediff Interview/Ashok Bhatnagar, former Railway Board chairman

July 03, 2003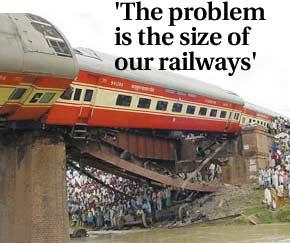 Former Railway Board chairman Ashok Bhatnagar says railway accidents can only be minimised for a country the size of India as totally eliminating train disasters would be a Utopian concept.
In a conversation with Chief Correspondent Tara Shankar Sahay, he disagrees with the criticism that very little is being done by the railways to improve its safety record. Accepting that the railways had an enormous challenge ahead, he, however, reiterated that the Indian Railways was still one of the best in the world.
What do you have to say about the recommendations of various inquiry commissions into railway accidents not being implemented or being negligibly implemented?

These commissions deal with various subjects in a very, very comprehensive manner. The problem basically is of the size of our railway system. We are the largest system in the world now, following the disintegration of the Soviet Union. All recommendations have to cover the entire network and that involves massive infusion of money.
Secondly, most of these subjects require infrastructural improvement. This means that somebody must be able to manufacture and supply that equipment. But no manufacturer worth his salt will take up an assignment which he can wind up after two or four years. So the country also is supposed to have a manufacturing capacity (of railway equipment spares) and a capacity of supply.
Similarly, in a big organisation like the railways, you cannot create an outfit that will function for three or four years and wind up. What will happen to the personnel involved? So it is all on a programme basis.
Another problem is that since the inception of the Wanchoo Committee (1962) when India was not so industrialised, the workload in those days on the railways was pretty high. At the same time, the railway infrastructure had to be improved and updated. We imbibed foreign technology and adapted it to Indian needs. But technological changes were also taking place. Steam engines the world over were being phased out and replaced by their electric and diesel counterparts.
Thus, our rolling stock and design changes became unavoidable and the subsequent technological requirements became different. So you had the Sikri Committee after that and then the Khanna Committee. Now you can say that we are 75 per cent modern in terms of railway infrastructure. We have more or less stabilised now, those infrequent mishaps notwithstanding.

Due to the size and depth of our railway infrastructure, the 1962 technology is still with India. This fact has not been appreciated including by some inquiry commissions. It has been forgotten that the life of railway assets is very long (40 to 45 years). If you have technology of 1962, then naturally condemning our first locomotive, I would say, is a little imprudent.
In between, you can have any number of committees, you will still be saddled with those (vintage) assets. We are not so rich to decide, alright, let's get rid of outmoded technology. Till 1996 we continued with the steam engine. And even now there are certain pockets of the Indian railway where steam engines ply. They are still a serviceable asset and can deliver and, therefore, some of the commissions have not very specifically commented on [them].
Safety is totally relative to speed. Hence track modernisation is taken up on fast lines. Elsewhere, it is priority two and will be taken up when we have the money and resources available.

But we do have state-of-the-art locomotives.

Yes, Konkan Railways and its modern equivalent in the country have speeds up to 200 km per hour. Now for that you have to have supporting infrastructure. For such speeds, you will require that there are no level crossings and stray cattle on the track, but unfortunately these precautions have been overlooked in our system.
Hence, selection of the railway system is of paramount importance. Similarly, the noise generated by fast trains is another (unsettling) factor. There have to be padded walls all along the railway track to deaden the noise. You have to take care of the dust factor and allied environmental damage. Only if you fulfil these requirements will the railways be regarded as an advanced system.

Given the apparent inadequacies of our railway system, would you attribute it to the short-sightedness of our planners?

I don't think so. The planners have got their own priorities. The government has to first feed the people. If you don't develop agriculture, what will you do with a modern railway system? There are the problems of water, connecting villages by roads, inadequate medical infrastructure, electricity, you name it.

So you think that our massive railway infrastructure is proving to be a self-defeating exercise?

I prefer to call it our remaining in the resource planning and resource rationing syndrome. There has to be a very fine balance between various sectors. India being primarily an agricultural country, our villages have to develop. That's why, I feel that criticism that a railway accident has resulted because of insufficient funds is unreasonable. We have got a much bigger canvass to look after. Rail transportation is a very small sector.
The British also realised this and in 1924 they decided that the railways should become self-sufficient and profitable. So they took it out from the ministry of communication and by what is known as separation convention allowed the railways to have its own ministry. And that system is still continuing. But it would be totally wrong to consider that the railways should be at par with roads.

Your explanation of the intricacies of the railways leaves the impression that we are simply waiting for further disasters to happen.

No, not necessarily. We have a human technology that is 60 years old. You have to ensure that there are minimum mishaps.
Then how do you explain the increase in railway accidents?

There have been very few considering the size of railway operations. People do not realise that our railways move (in comparative terms) the population of Australia every day which is 1.4 crore people.

In other words, railways accidents cannot be totally prevented?

How can anyone compare our system with minnows like Germany or France which carry a fraction of what we carry?

What do foreign countries feel about our railway system?

In 1976, the World Bank told India that it would find a solution (regarding preventing railway accidents). It sent an expert named Will Thomson to study the Bombay suburban system. When he came first, he was flabbergasted that 1.1 million people travelled up and down every day. They are flummoxed that the Indian railways infrastructure is so massive with such a wide network. Our requirement by the population is so high that the best in the world cannot even find the technology to take care of our gigantic system.

So railway accidents in India, however infrequent, will happen.
If railway accidents can happen in France, Germany and UK having advanced systems, what is so surprising about India which is the world's largest system today? At the same time, I want to emphasise that the Indian railway system is one of the safest in the world today. It is the only system that is inspected every day physically by a person. This system does not exist anywhere in the world because nobody else can afford the manpower. You resort to technology and technology can fail. That has to be understood. The element of chance is always involved.

The Rediff Interviews


What do you think about the story?








Read what others have to say:





Number of User Comments: 48








Sub: corruption in indian railway

indian railway must be handed to the tata group , (privatised) to eliminate the corruption, millions crores of rupees is the corruption in officers of ...


Posted by jasbir









Sub: Hiding under the ''Big Size..'' excuse

The problem is not the size, it is the mindset of the officials. He says that railways is not the Govt's prioirty but feeding the ...


Posted by Naagreek









Sub: Problem not with size of the railways

The problem is not with size but with mediocrity. Indian services will never match the class, style and cleanliness of the western world due to ...


Posted by Chris









Sub: railways

The maintenance of the railways and also supervision is absolutely bad. people have no concern for work or didcipline. the manjor defaulters are the top ...


Posted by H.R.Laxmivenkatesh









Sub: Indian Railways' size problem?

Mr Bhatnagar's comment that size is the problem is unacceptable. To solve the problem, people must remove this kind of thinking and people, and put ...


Posted by Vishnu Mahant






Disclaimer