Home > News > Specials

The Rediff Special/Vijay Singh

December 06, 2003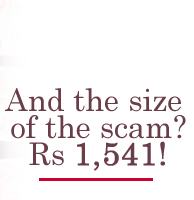 The Telgi stamp paper scam has claimed another casualty, and his name is Prasoon Agrawal alias Abhay Bansal, from whose residences in Nashik and Panvel bags full of old currencies and stamps have been seized.

While the cops and revenue authorities are still in the process of putting a value on the currency notes, coins and used postal stamps seized from Agrawal's Nashik (busted by a Zee News reporter) and Panvel properties, the case which led the police to these dumps is of just Rs 1,541!

Prasoon's tryst with the law began on June 6, 2002, when a case of bogus franking was registered against him at the Versova police station in Mumbai. The sum involved -- Rs 1,541!

This petty crime took place in Mulund in suburban Mumbai. But since Prasoon had given his Versova address, the case was registered there.
The Versova police charged him under sections 255, 256, 258, 259 and 63 of printing laws.
A good 17 months later when the Mumbai police, which was under tremendous pressure following the Telgi scam, got a tip that Prasoon was in Nashik, it sent a team.

Though Prasoon was there under a different name, the team had a photo with it and the petty scamster was arrested on November 26. His brother Pranay and assistant Sharad Shirke were also held.
Pranay ran a racket similar to his brother's. At the MIDC police station in Mumbai, Pranay had been booked in 1998 for using bogus stamp papers valued at Rs 5,000 each. He was chargesheeted, but managed to get bail. He soon jumped bail and went into hiding.
When he was arrested, Pranay was handed over to the MIDC police station.
Inspector Shanke of the Varsova police station told rediff.com: "Right now we are investigating the case registered with us in 2002. After the verification of seized material [from Nashik and Panvel], we will decide what more sections to add."
The investigating official at the MIDC police station, Ramesh Kadam, said: "We had chargesheeted the accused but he got bail and absconded. Now again we have opened that case. He will be tried in the same case registered with us in 1998."
The two brothers lived in Nashik under assumed identities of Abhay and Atul Bansal. They had been staying with a family for the past ten months.
On April 1, 2003, they took a bungalow on rent -- the one where a ZEE News reporter found stamps and currencies. I B Shahani owned the bungalow.

The brothers told him they needed the bungalow for their mother, who lived in Thane and wanted to move to Nashik because of some health problem.
The rent agreement was in the name of their mother, Sneha Ramesh Bansal.
Shahani told rediff.com: "I was shocked when I got to know that such things happened in my bungalow. I thought both brothers were simple, decent…but one should not go by people's looks."
Prasoon later told Shahani that he wanted to store some stones in the bungalow. But Shahani was not happy, as he thought the stones would ruin the floor. But Prasoon assured him care would be taken to see that the floor was not damaged.
"He once told me he brings the stones from Rajasthan. One day he showed me some gems and told me that he was in the business of extracting gems from stones and exporting them," he said.
Mrs Limye, Prasoon's neighbour in Nashik, said: "They did not interact much. Only our small children used to visit each other's house. Sometimes when I met Mrs Agrawal we exchanged pleasantries."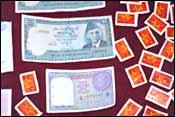 When the police team and other officials inspected the currencies and stamp papers at the house, they thought they were genuine (The RBI will decide its authenticity).
The thing to note is that the raids that were conducted were in connection with the case that was registered in 2002, and had no links to the Telgi scam.
Many people think the police should have raided the bungalow on November 26 when they went to arrest Prasoon. But the police say there was no need to because they had got the man they wanted.
Some sources said Prasoon might have collected currencies and stamps for exhibition purposes. In fact, some exhibition-related papers were also found in the bungalow.
A few questions about the whole episode still remain:
Why did Prasoon collect so many currencies? What will the police do if it is established that they were meant for exhibitions?
A lot of those currencies were outdated, and some dating back to 1910 were in really good condition. How come? And how did he get hold of them?
He had told everybody that he was into export of stones, but he had stored currencies and coins. Why?
Are cancelled postal stamps reusable? Is it possible to remove the 'cancelled' mark with the help of a computer?
The Rediff Specials


What do you think about the story?








Read what others have to say:





Number of User Comments: 2








Sub: Stamp duty Scam size is much more bigger

I am an Advocate and Solicitor working for Banks in regard to Property documents. In the course of job I have come accross bogus franking ...


Posted by mahendra jain









Sub: size of the scams

The size of fake currency notes printing business in India seem to be running into several lakhs of crores of rupees annually. And the size ...


Posted by Madhavi






Disclaimer