Home > News > The Stamp of Corruption > PTI > Report

R S Sharma remanded to police custody till Dec 9

December 02, 2003 23:01 IST
Last Updated: December 03, 2003 00:12 IST



A Pune court on Tuesday remanded former Mumbai police commissioner R S Sharma, charged with helping fake stamp paper racket prime accused Abdul Karim Telgi, to police custody till December 9.

He was taken to the Lashar police station lock up where he would be lodged with other prisoners.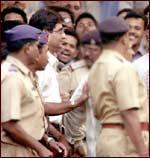 Sharma is the first Police Commissioner in Maharashtra to be arrested under a stringent law for alleged links with an organised crime syndicate.
He is the seventh policeman to be arrested in this case. Others are Inspector General of Police (intelligence) Sridhar Vagal, ACP Gokul Patil, inspectors Dattatraya Dal and Vashist Andale, API Dilip Kamat and sub-inspector Prabhakar Kakade.
Earlier, seeking his custody, prosecutor Raja Thakre said: "We want to investigate whether Sharma was under political pressure to give patronage to Telgi's syndicate and, if yes, who were the politicians involved."
Sharma denied the charges of corruption and said he had unblemished record of 35 years of service in the police department. "Those responsible for helping Telgi's syndicate were left out and I have been pinned down in this case," he told Judicial Magistrate First Class M N Bondre in a jam-packed courtroom.
He said the Special Investigation Team had charged him for the same lapses, which had been mentioned in the government's charge sheet served on him in the departmental inquiry. Hence, it amounted to double jeopardy.
Prosecutor Raja Thakre countered saying only the facts enumerated against him in the departmental inquiry and in this case were similar but the charges varied and he may face civil and criminal action if found guilty.
The acts of omission and commission by Sharma as Pune police commissioner and Mumbai police chief would have to be taken together. It was at his instance that the FIR of the seizure of fake stamp papers was registered and hence he was aware of the activities of Telgi's syndicate, Thakre alleged.
Despite being told about the corrupt practices and antecedents of ACP M C Mulani, Sharma allowed him to continue in the team investigating the scam. He was also aware that subordinate officers had deliberately delayed the application of MCOCA in this case and yet he chose to keep quiet.
Knowing that inspector Dilip Kamath was helping the Telgi syndicate, Sharma had put him in charge of investigating the seizure of fake stamp papers worth Rs 827 crore from a godown in Bhiwandi. The acts of omission and commission by Sharma attracted sections 3 (2) and 24 of MCOCA, the prosecutor said.
© Copyright 2005 PTI. All rights reserved. Republication or redistribution of PTI content, including by framing or similar means, is expressly prohibited without the prior written consent.

The Telgi Scam: The Complete Coverage