Home > News > Specials

The Rediff Special/Shobha Warrier

August 12, 2003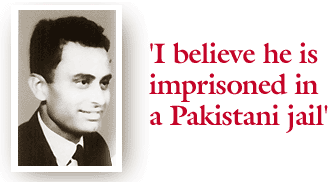 Part I: 'Please help this old lady locate her husband'
In these last 35 years, Ram Narendran asked his mother about his father just once. "He was three then. I burst into tears. After that, he never asked me about his father," says his mother.
"I felt the very mention of my father hurt my mother very badly. So I refrained from asking her anything about him. I kept everything inside. But I have heard my mother tell people my father was abroad. Maybe, in her mind, she meant Pakistan," says Narendran, as he recalls the trauma of growing up without his father.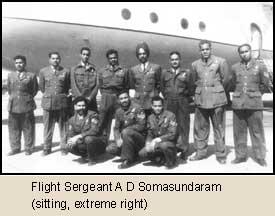 Ram Narendran was actually named Sriram Narendran by his father, but when the defence authorities sent his birth record from Chandigarh, his name had been listed as Ram Narendran. Someone in the records department had probably thought Sri was the honorary Indian prefix to male names.
"My son has had to live with the name Ram though he was named Sriram by his father. I thought my husband would return home by the time he was ready to go to school and change his name back to Sriram. He never came. I waited for him when my son was to take his school final exam. He did not come. I waited for my husband when he was to join junior college and then engineering. My son is now married and has a child. All the major events in our son's life have passed without the presence of his father, who I believe is still alive and imprisoned in a Pakistani jail."
In 1980, Vijayalakshmi took her son to Chandigarh for the first time, to show him the place where his father had worked. She recalls how, when she requested permission to visit the place where her husband had worked, a senior defence personnel at the 25th Squadron had told her, 'Please don't come for any money.'
A proud Vijayalakshmi replied, "'We have not come for any monetary help. I have a central government job. I just wanted to show my son where his father worked. I also want to know the whereabouts of my husband. There is no other motive behind my trip to Chandigarh.' Whenever we ask for some information, they conclude we are after money. We do not want any money from anyone. I only want to know about my husband."
She has constantly faced similar roadblocks.
Vijayalakshmi still cannot forget the day her son got married. "I had brought my son up single-handed, without taking a single penny from anyone, but I had no place in the ceremonies. Our custom says the father and the mother should sit and conduct the marriage ceremony together, and there I was standing in a corner watching my son get married while my brother-in-law sat there and performed all the rituals. Nobody asked me to sit there and do the pooja. See how chauvinistic our society is! My question is: I had brought up my son, so why was I not eligible to sit there? I missed my husband a lot that day."
Ever since he started going to school, Ram Narendran used to draw the picture of the Antonov AN-12 on the first page of all his notebooks. But his real search for his father began as a 17-year-old college student. Till then, he had seen his mother talk about intuition, godmen, astrologers, et al, and that had made him even more determined to learn all he could about the crash.
"From then on, I tried to collect whatever information I could get from all sorts of sources about the missing plane. Yes, it was never confirmed that he was in a Pakistani jail. But the very fact that the plane went missing near Pakistan and not a piece of evidence was produced to prove it had crashed strengthened our belief that he is a prisoner in Pakistan. No wreckage was ever found at the site despite several intensive searches that took place immediately after the plane went missing."
When The Hindustan Times released a list of Indian POWs languishing in Pakistani jails during Pakistan President Pervez Musharraf's visit in July 2001, they saw the name of Squadron Leader P N Malhotra on the list. Squadron Leader Malhotra was the co-pilot of the missing Antonov AN-12. Narendran began arguing his father's case with more confidence.
"This shows all the 98 names are listed somewhere, all the 98 people are living. Due to some reason, the government is not revealing this to their family members. I want an answer, but I have not been able to find a proper channel to air my doubts and views," he says.
"If Squadron Leader Malhotra is in a Pakistani jail, what happened to the others who were travelling with him? I am sure my husband also might be in one of the jails in Pakistan." It is this belief that took Vijayalakshmi once again to the Tamil Nadu  Human Rights Commission.
The Commission has requested Defence Secretary Ajay Prasad to take up the matter with his Pakistani counterpart and locate Squadron Leader Malhotra. He has also sent a letter to the chairman of the Human Rights Commission of Pakistan.
The missing AN-12 may be a closed file for the defence ministry, but Vijayalakshmi and Ram Narendran continue to live on hope.
Pleads Vijayalakshmi, "My request to those working in the intelligence services or even those retired from the service is -- please help this old lady locate her husband. If he is really dead, I want to perform his last rites..."
Vijayalakshmi Somasundaram's photos: Sreeram Selvaraj

The Rediff Specials


What do you think about the story?








Read what others have to say:





Number of User Comments: 46








Sub: Imprisoned in a Pakistani jail

Shame on the Department of Defense. How can you forget or ignore your own personnel? No wonder people call us a 3rd world country.


Posted by B.Patel









Sub: Shame shame!!!!!!!!!!!!!!!!!

Be it George Fernandes or Pranab Mukharjee or for that matter any minister, they are all birds of a feather:A shameless lot. No efforts are ...


Posted by Hemant P









Sub: Shame to India and its rulers ...Defence Ministry and George Fernadez

I will thank rediff what it is doing which our best media cannot do.Media should cover such issues and should bring to light those issues ...


Posted by BIbhu









Sub: God please help them

I really got emotionally upset when I read this article on net. I don't understand the reality between humanity and politics. Whenever I read the ...


Posted by d m lakshminarayana









Sub: He is in Pakistani Jail

It is a matter of utter shame that those who bravely joined the defence forces to safeguard our nation are being treated in such a ...


Posted by Sanjay Chandrasen Rane






Disclaimer