Home > News > Specials

The Rediff Special/Shobha Warrier

August 05, 2003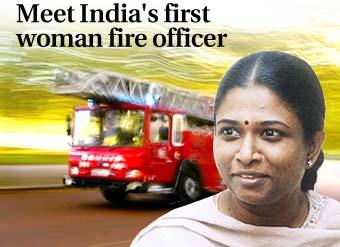 On August 1 when she joined the Tamil Nadu Fire and Rescue Services -- TNFRS -- as a divisional fire officer, 38-year-old Meenakshi Vijayakumar became the first woman in India to do so. India's second woman fire officer, N Priya from Salem, is also a resident of Tamil Nadu. She is expected to join the TNFRS as soon as there is a vacancy. The TNFRS has 6,288 field staff, 31 of whom are divisional fire officers.
Tamil Nadu Chief Minister J Jayalalithaa can take credit for setting up the first all-women police station, an all-women commando team, an all-women police battalion and Mahila courts in the state.
Women seem to heading important posts in Tamil Nadu.
The chief secretary is a woman, Lakshmi Pranesh. The secretaries to the state's governor and chief minister -- Sheela Priya and Sheela Balakrishnan respectively -- are also women. A woman, Bader Sayeed, heads the state Wafq Board. With Vijayakumar and Priya's appointment as divisional fire officers, women in Tamil Nadu have entered one more field hitherto open only to men.
After completing her post graduation in English, her B Ed and a diploma in industrial relations and personnel management, Meenakshi began working as a college lecturer. She decided to take the Tamil Nadu Public Service Commission's Group 1 examination in 1997-1998 just before she crossed the age limit of 35 years; it was her last chance to do so and it was the first such competitive exam she was writing.
She explains why she decided to take the exams so late in her life, "I got married and moved to Delhi; then I became a mother and somehow never thought of taking the exams. Family circumstances resulted in our returning to Chennai; I saw the TNPSC ad and decided to give the exam."
Four-and-a-half years after she wrote the exam, the first vacancy opened and Jayalalithaa made her India's first fire officer.
Meenakshi only came to know she had been selected when the Jaya television channel crew knocked at her door on the night of July 22! "I had no words to express my feelings. I was elated, excited. I can use any number of adjectives," she grins.
Ever since the news broke, life has changed for Meenakshi. Everyone -- from family, friends, well-wishers, neighbours and the media -- have been dropping in to congratulate her. "I never expected this kind of a response," she says happily. "Life has become so hectic."
Her husband, a senior human resources management manager with Indian Airlines, has recently been posted to Hyderabad. As a result of her new job, Meenakshi and her 11-year-old son Kshitij will live in Chennai and her husband in Hyderabad.
Meenakshi does not regret her decision.
"It has been my ambition to work in the government. I also have a fascination for uniforms! Even when I was a child, I wanted to be someone like Kiran Bedi -- she is my hero. I could not believe it when this job happened out of the blue; I was finally going to go to office in uniform. It's like Kiran Bedi wrote in her book, It is always possible. 'If you work towards a dream, you will realise it.' "
It was because of her admiration for Bedi that she marked the police service as her first choice and the fire service as her second. "I had no idea at the time that there were no women fire officers in India. I found their motto, 'We Serve to Save,' very inspiring."
Meenakshi does not believe in categorising jobs into those that can be done by men and those that can be done by women. "It's all in the attitude, in the mind. Women can face any challenge. We have women like Kalpana Chawla, Kiran Bedi and our own CM working in fields dominated by men. I feel women are already tough. Otherwise, how can they take care of a house and family? I think they are saving lives at home! According to me, women are mentally tougher."
She is preparing for the most exciting phase in her life by meditating, working out in the gym and going for long walks.
Her role as a pioneer makes her feel more responsible, she says. 'With the job comes the responsibility. Like Kiran Bedi has set an example for all of us to follow, I should set an example for those coming after me in this field. I must thank God and Madam Chief Minister for giving me such a challenge."
Meenakshi Vijayakumar's photo: Sanjay Ghosh
Image: Dominic Xavier
The Rediff Specials


What do you think about the story?








Read what others have to say:





Number of User Comments: 16








Sub: address of Meenakshi Vijaykumar India's first woman officer

Iam a senior lecturer in Ncert and am working on a project titled 'Women in unconventional roles'.I would like to interview Meenakshi and include her ...


Posted by Mili Roy Anand









Sub: i am very proud of you

Respected Madam, I am in Tamil nadu. I am very happy at the same time. i am very proud of this your achievement. Really your ...


Posted by Rajasundari









Sub: congrates

Hi mam, U have done a great achievement in your life. this is really a brave & courageous. All the best mam. ...


Posted by egambaram.m









Sub: Congrats

Dear Ms Meenakshi, Congratulations and may GOD be with you. Regards, darvin M pragash,Banglore


Posted by Darvin









Sub: Congratulations

" Congratulations " for ur Sucess , i'm very glad to come across this kind of Great News i want all the women in our ...


Posted by Krishna






Disclaimer