The Rediff Interview/ Dr Farooq Abdullah
Raising Cain
Varsha Bhosle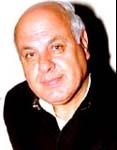 After being invited and then left dangling in Srinagar -- hide-and-seek, no trip to Gandherbal, barely 40 minutes of his time, and waiting for over an hour for another interview to end and then some -- I'm ready to do a slash-job on J&K Chief Minister Dr Farooq Abdullah. It isn't difficult -- the man has a talent for raising Cain. Kashmir's Hindus believe he wants to be rid of them; Muslims believe he's betrayed them; and both believe he's just an opportunist. Too, he's looked upon with suspicion by the entire political spectrum: In my book, not a bad place to be.

His house is like a fortress; taxis and rickshaws can't enter the road, and every car is checked for a special pass. At the gate, the body search is so thorough that even cigarettes are held over by the security guards. The foyer of his office is a madhouse: packed with visitors and self-important staff hollering on cellphones. A huge portrait of Sheikh Abdullah looms above all.

When

Farooq Abdullah enters, I'm taken aback -- he's a very tall, large and imposing man. He throws orders at somebody and shakes my hand without looking at me. It's a soft and limp grip, at odds with his personality. He seems tense and distracted; he's clearly under pressure. Perhaps to do with the NDA rally at Delhi? Another terrorist attack? The rising public support to the election-boycotting secessionists? He ushers me into his office and to a sofa. There's no small talk, no tea, no nothing. We begin.

Dr Abdullah knows what I (anybody at this time, really), am going to ask. He anticipates and he interrupts, especially when he wants to deflect me. His narration is littered with exclamation marks, capitals and knee-slaps -- he probably makes a good public speaker, but one-to-one, it takes away from an effect of sincerity. As his timbre ebbs and flows, I sense he's the exact opposite of his strange bedfellow, Home Minister L K Advani, whom he desperately needs to bankroll him and sustain anti-terrorism in Kashmir.

Advaniji is always composed, of course, but you can't find discrepancies in his stands, either. Whereas Dr Abdullah has, over the years, created a minefield to blast himself: "I would rather travel on my own," to the offer to accompany Atalji on the bus to Lahore; "Pakistan should be told clearly that we want all our territory, including the northern areas and Hunza, back"; "Talks will not solve the miseries of the people or overcome their problems"; "I would describe it [

Delhi's] as a communal attitude. They just hate our guts." This isn't the line, today.

For some perverted reason even I can't fathom, I'm trying to draw him out against the BJP. He refuses to oblige. What grouses he has are against the Centre -- since his father's era. I feel, Farooq Abdullah truly believes in what he's saying -- at the moment.

Even so, I can't help liking this flamboyant and impulsive 62-year-old man. I like his sticking out his neck during the no-confidence motion. I like his reaction to the nukes ("I am proud of Pokhran. I am part of India"). I like his considering India ("if our development will come to a halt, we will be a threat to the nation"). I like his consistent stand against terrorism ("Rather than lobbying for the UN Security Council, it is far more important to lobby against terrorism). I like his belligerence ("Pakistan knows fully what it is doing, they continue to fire and we just don't retaliate").

And, get ready -- I've always liked his radical proposal to convert the LoC. I'm not alone; several former service chiefs -- General K Sundarji, General S F Rodrigues, Admiral L Ramdas, Admiral S M Nanda and Air Chief Marshal Arjan Singh -- support it. My favourite part of this interview, therefore, is his last answer: "

Jinko darr lagta hai Kashmir aane se, even as part of India, what do you think people here feel then?" Succinct, factual and piercing. As always, we personally stay away from trouble and advance policy from afar...

The battle against militancy has never been taken seriously by Delhi: In V P Singh's rule, by the ministry of Kashmir affairs headed by George Fernandes. In P V Narasimha Rao's, by home minister S B Chavan and minister of state Rajesh Pilot. Then, two months before the Champnari massacre, six battalions were withdrawn from Doda and Udhampur. Dr Abdullah kept pleading for additional troops, and rifles to arm the village defence committees. Both requests were ignored... I don't want to grill him over the Hindu massacres.

Yes, the Abdullah government is said to be corrupt. Yes, he's accused of being whimsical in his official largesse. Like, that's an issue in India...

What I don't like about Farooq Abdullah is the autonomy thing. But then again, I'm *never* going to find a Kashmiri Muslim who sees the inequity inherent in Article 370. Arguing with him about will be a waste of time...

Weighing the pros and cons, and considering his rivals in J&K politics, I think that Farooq Abdullah is still our best bet. The picture that remains with me is one drawn by Chandan Mitra, of the CM at Sindhu Darshan in Leh: "Perhaps the greatest enthusiast for the event is Dr Farooq Abdullah, despite its unmistakable Hindutva orientation. Later, he was the only political leader to join the chorus rendering a full-throated

Vande Mataram set to a martial tune. Concluding his robust, nationalistic speech, he raised both fists to bellow 'Bharat Mata ki Jai.' "

Yeah, tea or no tea, I'll take Farooq Abdullah anyday.
Greater autonomy is your election plank.
That is not my "plank." Autonomy is one of our major things that we have taken up with the government and which has been our focus right since when we came to power.
You want to restore the pre-1953 Constitutional...
The point here is... the autonomy report is very clear as to what our dimensions of autonomy are. We've also said at the same time that we want it within the Constitution of India. We are not going to ask for anything which is outside the Constitution.
If Kashmir is allowed to have an exclusive say on all subjects other than Defence, External Affairs and Communication, what is the guarantee that you would not enact Islamic civil and criminal laws?
Today also we can enact such laws! We don't have to go to the President for enacting any laws. We have that power.
Will maximum autonomy sort your problems?
No. Who says they will be sorted?
Then...

No question. We need massive financial assistance to get this state out of trouble. You see, we are one of those special states out of those 8 states which were known as backward. They were supposed to get 90% of the money as grant and 10% as loan on Plan I. This state and Assam were the two who were neglected. They were given 70% as loan and 30% as grant.
So we told the governments - Rajiv Gandhi as well as the other following governments -- that, for god's sake, undo this tragedy that you've struck on us; that we want a book adjustment of Rs 1,200 crores. It's just a question of book adjustment so that the money we have to each year dish out as interest would stop and we would be able to use that money for developing places.
But you do get 90% grant and 10% loan.
NOW! After the militancy started! In '92! But not since it was initiated -- in '66. It is the backlog we are paying for. So we tell them, for god's sakes, do justice to us. I KNOW you are funding us. I KNOW you are giving us total assistance, but we need more assistance to get out of this debt trap we are in. We have to be pulled out of the debt trap because war hasn't ended! Kargil you've seen just now, but we've been fighting wars all along!
By gaining greater autonomy, will the people be satisfied?
Power tariff, which was 28 p before we came into power, has now come to Rs 2.50. A state where they paid no taxes, today they have to pay taxes. Just the pay package of the government servants after 5th Pay Commission has reached Rs 3,700 crores -- while our total income is 600 crores. You tell me, how are people going to be happy? They want everything free! Where can you get it free? How does the state run?
Today we are in a situation of bankruptcy. We owe a bank Rs 950 crores. We owe the National Electricity Grid over Rs 600 crores of the money that should have been collected in the governor's or president's rule. Sales taxes which should have been collected in the president's rule were not collected. Today we are telling them, PLEASE, we HAVE to collect this. We are not able to make any roads. We are not able to make any works. We don't have money for it.
Why do you think the government isn't assisting? Your son had mentioned Rs 1,000 crores in April.
No, it is not a matter of a 1,000 crores. We want liberal assistance. We KNOW they are giving us assistance at this time. We want far more assistance to overcome the burdens of the war. Tell me of any other state in India which is fighting a war. We are fighting a war for the last 10 years. We have no factories to give jobs. And the only factory is Government. Where from are we going to create more jobs?
But you don't let non-Kashmiris buy land here. Why would others set up industry here?
We have made a new policy; a new industrial policy was made which gave them all the facilities. We got the same facilities as the North-East got, that income tax will not be charged for those years.
But they can't buy the land.
Who said they can't? We give them the land on a 99-year lease. How is Birla in Jammu? Where's he from? How is Bhilwara, a Marwari from Rajasthan, in Jammu? How is Singer factory in Jammu? Now Pepsi Cola and Coca-Cola are coming. So who says we don't let them in?
But Jammu is not the Valley.
They don't come here! We have one problem: some of these major factories need rail stations. We don't have rail! We have one road! And for the last so many years I've been shouting, for god's sake, we need an alternate route - we NEED railway to come in. And they promised me that the rail will be here by 2007. But I don't see it happening. The expenditure on rail would be Rs 2,500 crores. Is it too much?
>'How are you going to survive if you become independent?'