Sonchiriya is that rare Bollywood film, one that soars wildly above others in its genre, notes Ritwik Sharma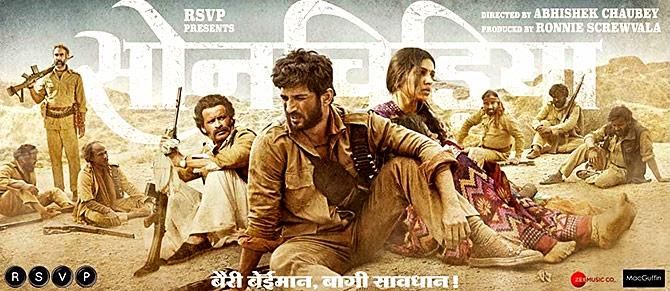 Hindi films set in the fabled Chambal valley are replete with legends of Robin Hood figures, and wronged dacoits and bandit queens baying for blood.
In Sonchiriya, Director Abhishek Chaubey said he wanted to flip the hackneyed theme to present the points of view of a gang of dacoits looking for redemption and dharma in a universe where their fate is already sealed.
The result is an uncommon and unwavering look at 1970s Chambal and its caste-ridden and deeply patriarchal realities, unlike any seen in mainstream Bollywood movies thus far.
Caste allegiance counts above everything else in the dusty ravines of Chambal, where Man Singh aka Dadda, played by Manoj Bajpayee, is the leader of a Thakur dacoit gang.
Virender Singh (Ashutosh Rana), a Gujjar inspector, is in hot pursuit of the gang and has his own scores to settle.
Dadda is killed by the cops in a shootout as his gang attempts to loot a wedding one fine day in 1975, when the radio static is interrupted by Indira Gandhi's declaration of the Emergency.
Indumati Tomar (Bhumi Pednekar), a Thakur woman who killed her father-in-law and picked up the gun to protect a servant's daughter called Sonchiriya, seeks help from the rudderless group of brigands.
The matter of choosing between accommodating a woman with an 'untouchable' child who has been raped and chasing them back to settle a 'family problem' eventually splits the gang into factions led by Lakhan (Sushant Singh Rajput) and Vakil Singh (Ranvir Shorey).
The spectre of death lurks in every corner, as a cat and mouse game between the dacoits (who are capable of posing as Madhya Pradesh police when the situation demands) and the police ensures there is no shortage of bullets and blood. And when allegiances overlap, men aren't shy of training the gun on one of their own.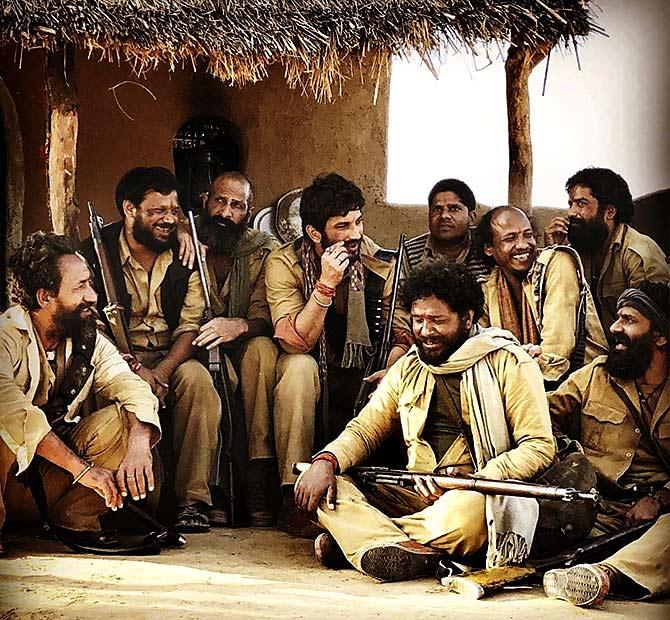 Chaubey, who has consistently dealt with grey characters finding themselves on the wrong side of the law (Ishqiya, Dedh Ishqiya, Udta Punjab), backs his stellar cast with a gripping story that he has written with Sudip Sharma, who has also delivered a taut screenplay and dialogue.
To this mix he adds a haunting score by long-time collaborator Vishal Bharadwaj, lyrics by the talented Varun Grover and camerawork by Anuj Rakesh Dhawan concentrated on the outdoors, with close-up, panoramic and bird's-eye shots capturing the craggy badlands and serene rivers.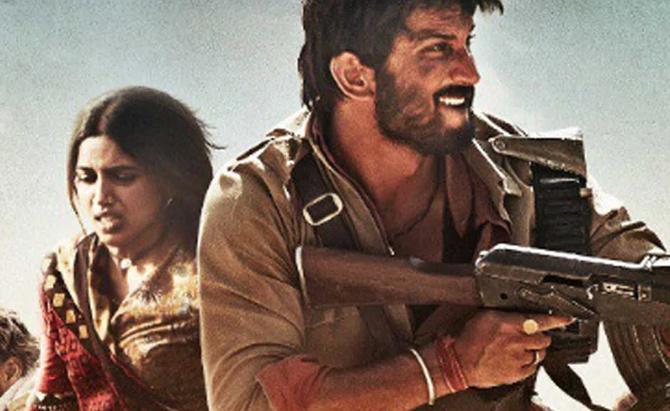 Sonchiriya isn't so much about relationships as inner journeys, with Rajput's Lakhan having the most engaging character arc.
The dacoits are typically religious and superstitious. Dadda and Lakhan are haunted by the guilt of accidentally killing innocents, manifested in the apparition of a five-year-old bloodstained girl in the face of death.
The actors -- be it Bajpayee as a scrupulous ganglord, the headstrong deputy played by Shorey, Rajput as the good dacoit, Pednekar's resolute Indumati, who survives a brutal world at home and among outlaws to save a child, or even the tiny role of Indumati's teenaged son who is ready to gun her down -- more than match up to their characters.
There is mention of Phuliya (Sampa Mandal), a bandit in the mould of Phoolan Devi.
She appears well into the second half of the movie, which is just over two hours long.
Leading a gang of dacoits from the lower-caste community of boatmen, she confronts Lakhan and Indumati. Her story mirrors that of the child, and she warms to the escaping bunch when Lakhan "gifts" to her the upper-caste man who had raped her.
Phuliya reminds Indumati that women are a different caste altogether and beneath everyone, and gives her an offer to join her gang. Scenes such as this, bringing a blink-and-you-miss-it character to the fore, make one believe that the script outshines everyone else -- all of whom are chasing an elusive golden bird that can either haunt and spell doom or lift the spirits.