The actress, who turns feature film director with A Death in the Gunj, discusses the cinema she is comfortable with and why she loves being an outsider.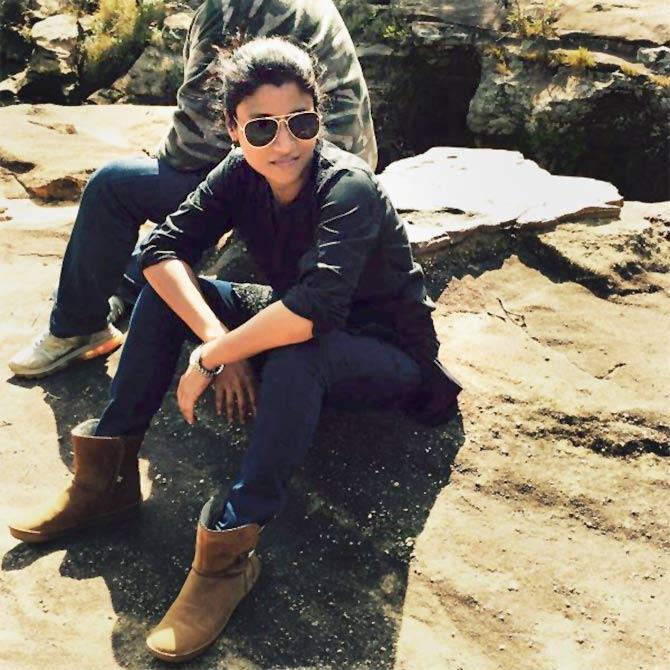 IMAGE: Konkona Sensharma on the sets of A Death in the Gunj in McCluskieganj, Jharkhand.
Photograph: Kind courtesy @konkonas/Twitter
As an actress, her choice of roles has been atypical and Konkona Sensharma says she wants to continue telling unconventional stories even as a director.
The National-Award winning actress's directorial debut, A Death in the Gunj, released on Friday, June 2.
Set in the late 1970s, A Death in the Gunj is about a Bengali upper-middle class family that travels to McCluskieganj for a vacation that goes wrong. Konkona says she felt "compelled" to tell the story of this place lost in time.
"The film is based on some true events. My parents used to own a place (actress-director Aparna Sen and Renaissance Man Mukul Sharma) in McCluskieganj back in the time, which they had to sell off," she tells the Press Trust of India.
"I had heard many family anecdotes about that place. But there were some stories which weren't funny; they were chilling, eerie and of a forgotten time."
Konkona also fell in love with the "specific atmosphere" of the remote hilly town in Jharkhand: "Set in 1933, the place was found by E T McCluskie. It used to be a haven for Anglo-Indians. After Independence, most of them went off to Canada and Australia due to lack of economic prospects. They used to call it the 'Gunj', which started dying out soon after."
By the 1980s, a lot of the Anglo-Indian population had left McCluskieganj and the area had fallen into such deep-rooted poverty, Konkona recalls, that even doors and windows of cottages would be stolen: "You don't steal the doors and windows, unless you have to."
Asked if she had ever felt constrained as an actor and if that had anything to do with her decision to turn to direction, Konkona says, "There have been some films where I felt constrained. In other films, I felt this was really an opportunity to get to work in a great film. So, I have all kinds, and I don't feel restricted in my own acting career."
She says the only reason she decided to direct was that she felt strongly about the story of A Death in the Gunj.
Actor Ranvir Shorey, who stars in the film, feels Konkona has a natural knack for direction.
"I always told her that she should direct because she had an eye for it," Shorey, who was married to Konkona, tells PTI. "But I think more than me, it was her mother's saying so, which had an effect on her and she decided to give it a thought."
"Konkona had great clarity about these parts; each character was distinctly different," he adds. "She had it pretty clear in her mind that even though there are so many characters, all are very different from each other."
Kalki Koechlin, who wanted to work with Konkona so much that she auditioned twice, also attests to this.
"She is a detailer, a perfectionist detailer," Kalki tells ANI.
"We did workshops, we prepared for the role, but even the costume, the make-up tests. Konkona would be there for everything. She never missed out. Most directors won't be there for all the costume trials or the look tests, but she was there on all occasions. Likewise on set, she knew very clearly what she wanted in detail."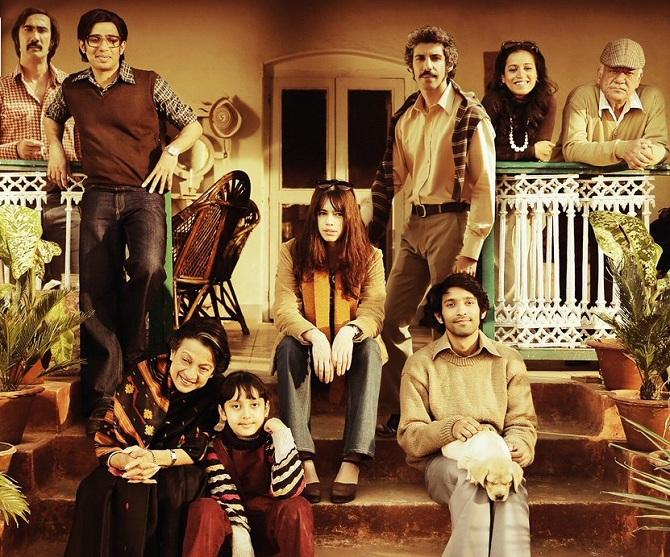 IMAGE: A Death in the Gunj boasts a stellar cast.
Standing from left, Ranvir Shorey, Gulshan Devaiah, Jim Sarbh, Tillotama Shome and Om Puri.
Seated from right, Vikrant Massey, Kalki Koechlin and Tanuja.
A Death in the Gunj -- also starring Vikrant Massey, Tillotama Shome, Tanuja, and the late Om Puri -- has charmed the international film festival circuit ever since its premiere at the Toronto International Film Festival in September 2016.
Taking note of the film then, Aseem Chhabra had written, "Sharma takes her time unfolding the plot, but the leisurely pace of the film is very engaging given that all the actors get a chance to shine."
Gunj, he had noted, "is an amazing achievement for Sharma, who until now is known as one of India's leading actresses. It is a wonderfully assured directorial debut and a promise that she will deliver many more such exciting films."
However, Konkona is aware that films such as this come with box-office risks.
"A Death in the Gunj is slightly off-beat in part, not financially lucrative as one would want. But that is a conscious choice that I have made," she says.
"It's the person that I am. I don't know how long I'll be able to do it for. Let's see... It seems quite unlikely that I'll make a masala film."
"Even as an actor," she adds, "I haven't done those kinds of films and it is largely out of choice. It is also true that I haven't been offered the gamut of roles. I've tried a few roles here and there. But when I have, I feel most comfortable in the other kinds of films."
Konkana also acknowledges that the support from the industry and the audience for such films is sparse, making it difficult to create something different.
"It has to be supported by everyone, not just the director," she says. "If they do not come out and support different kind of films, how can we provide alternative content."
Konkona believes she is still an outsider in both the Hindi and Bengali film industries, and says it works for her.
"In both the Kolkata and Mumbai film industries, I am an outsider, and I love this position. It gives me a great perspective," she elaborates. "I am not in the thick of things, and I don't want to be. I am not interested in industry trends."