Can Sidharth Malhotra and Sonakshi Sinha bring back the magic created by Rajesh Khanna and Nanda in the 1969 original? We'll have to see.
For now, here's a quick recap of the classic from Sukanya Verma.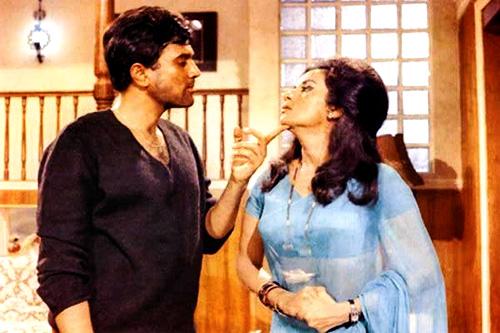 Tracing the history behind a film often leads to interesting revelations about how and why it was made.
Like the time Hollywood director Robert Zemeckis used his spare time between the filming of Cast Away to whip up a quick supernatural mystery, What Lies Beneath with Harrison Ford and Michelle Pfeiffer, while Tom Hanks lost weight for his Oscar-nominated turn.
We all know what a huge hit that spooky tale with a sinister twist turned out to be.
More than 50 years ago, filmmaker Yash Chopra found himself in a similar situation.
Still to launch his independent banner Yash Raj Films, he was working on his fourth project under elder brother Baldev Raj Chopra's flourishing production house, B R Films.
Dissatisfied with the overall results of Aadmi Aur Insaan (Dharmendra, Feroz Khan, Saira Banu), Yash Chopra -- who was in his mid-thirties -- felt the need to reshoot some portions.
It wasn't possible to do so with immediately since his leading lady was receiving treatment in London and wouldn't return for a few months. This posed a dilemma for the director, since he was obliged to use the delay constructively.
Around that time, he reveals in a widely-covered interview to Shah Rukh Khan, he watched a Gujarati play named Dhoomas by the famous playwright Praveen Joshi, featuring his brother, Arvind (father of actor Sharman Joshi) and wife Sarita.
Dhoomas, adapted from Monte Doyle's English play Signpost To Murder (which was made into a film in 1964), is the story of a runaway convict and the one night he takes refuge in a bungalow inhabited by a lone woman with secrets darker than his disorderly life.
Right then, Yash Chopra knew he had found the subject of his stopgap arrangement -- Ittefaq. Little did he realise what a difference it would make to his career.
It happened one stormy night...
In essence, whodunits rely on suspense and surprise to make their first real impact.
One would think such subjects could never enjoy enduring glory. But, when done well, the route to realisation is as spellbinding as the realisation itself. And that's what makes Ittefaq an exciting experience even though you know WHO DID IT.
Ittefaq, shot in a start-to-finish schedule of 20 days, sans any of the Yash Chopra specialities -- songs and dance -- rolls out events that take place over one stormy night.
It begins with an effectively staged scene, wherein a handheld camera ambles towards the venue of a crime filled with spectators and investigators.
Cut to a dead woman lying on a bed, a horrified Rajesh Khanna, an accusatory Bindu (beautiful and understated) and a brief flashback that reveals Khanna's Dilip Roy, a painter, got into a ugly spat with his wife (Alka), leading him to strangle her and walk out in a huff.
His hysterical claims of not guilty fall on deaf ears, leading to another vile demonstration of uncontrolled rage.
The law, judging him as mentally unstable, admits Dilip into an asylum. Although he does seem to be in visible need of anger management, Ittefaq prefers to treat him like a misunderstood genius, with sympathy and the benefit of doubt.
Swinging between 'paagal (insane)' and 'qatil (murderer)', he's a subject of both curiosity and puzzlement to the psychiatrist (Gajanan Jagirdar), the cop (Sujit Kumar) and the public prosecutor (Madan Puri), as established in one of its earlier scenes where they wonder (in Akhtar-ul-Iman's nimbly written dialogues), 'Kabhi aisa lagta hai paagal woh nahi main hoon (Sometimes, I feel I -- and not he -- am the one who is insane).'


Nanda's complex role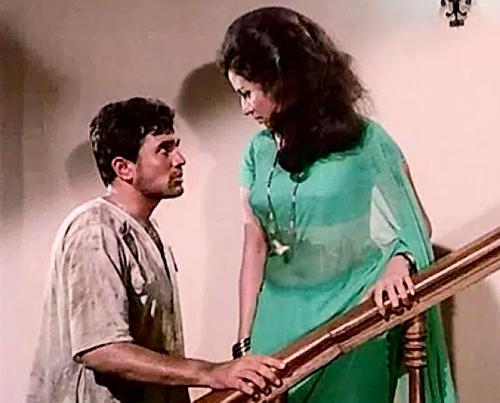 Intriguing and taut (edited by another Chopra regular, Pran Mehra), Ittefaq doesn't dwell too long in theorising the myth and truths of his persona.
Instead, the focus immediately shifts to a spectacular escape sequence in heavy rainfall.
Also, its night-time narrative lends the screenplay an added edge.
Cinematographer Kay Gee (who worked on nearly all of Chopra's important films -- Daag, Deewar, Kabhi Kabhie, Trishul, Kaala Patthar, Silsila -- after this) grabs every opportunity to play with light and angles. Be it the courtroom scene against the play of shadows, Khanna's long walk down a lamp-lit corridor or pinhole moments characteristic of the mystery genre, he creates stylishly composed scenes.
Did I say composed?
In adjective form, it perfectly describes Ittefaq's leading lady, Nanda.
Draped in delicate blue chiffon, a few shades lighter than the one Sridevi heaved under for her erotic song in Mr India, Nanda provides Ittefaq with its calm, clues and chemistry.
It's such a tricky role. If she protests too much, she draws attention. If she underplays, she destroys the deception.
But Nanda, the clever, lissome Nanda, goes for the complex.
Her performance here is akin to playing Minesweeper.
She revises her body language, adjusts her expressions and modulates her tone with the shifting pace of events in the script. And she doesn't falter even once.
A fugitive and a housewife
As two people caught in the middle of the night -- one a fugitive, the other a lonely housewife (a long mangalsutra hangs around her neck acts as a constant forget-me-not), their first encounter is both awkward and hostile. Especially deft is the manner in which Yash Chopra approaches these scenes.
Neither of them has been in this extreme situation before and the uncertainty in their behaviour is captured perfectly.
Initially, Nanda's Rekha tries to call for help in various ways. Dilip is a mix of watchful, wary and disturbed every time the doorbell rings threateningly and creates short-lived panic.
Since the danger of monotony can always overshadow a two-character premise, Chopra creates a sense of distraction (with Shammi's noisy, snoopy neighbour dropping by) and enquiry (Iftekhar plays a stone-faced CID official doing a Poirot on the side).
Though Ittefaq consciously avoids needless humour, Shammi's fast-talking Punjabi next door is quite an animated introduction.
At one point, she even recommends that Nanda have a couple of kids while it's still allowed and the government doesn't ban it (Back in the late '60s and early '70s, the government's family planning initiative was moving ahead in full steam; it brings to mind the Mersal controversy).
Brilliant sound effects
What brews instead is a whimsical camaraderie between Rekha and Dilip.
Their blow hot-blow cold equation takes a tender turn when they, and the movie, take a break from all the anxiety to breathe, laugh (Rone ke baad hasi achhi lagti hai na (It feels good laugh after crying, doesn't it)?), glug refreshments -- his whiskey, her sherbet -- and reflect over their insecurity, longings and regrets.
This midnight soiree could have gotten really corny but, under Chopra's judicious eye, the candour of two perfect strangers seems poetic and spontaneous.
Don't be fooled by this 'time out' though. Almost soon enough, the second dead body of this feature makes its debut and Ittefaq slips into an irreversibly dark mode.
Everything largely depends on Rajesh Khanna and Nanda maintaining the momentum, considering the thriller has several predetermined limitations.
It aims for anticipation and enigma, yet everything occurs within a span of one day/night.
There aren't too many props either -- no television, definitely no cell phones, no ominous stuffed animals on the walls, no creepy cats.
What exists is an enormous house with most of the action happening within its vast living room, where unease is triggered by a radio, a rotary phone, a doorbell or a musical lighter, while the magnificent chandelier and stiff furniture play mute spectators.
Lending boost to its ambience most effectively is an array of marvellous sounds (M A Shaikh won a Filmfare trophy for his terrific contribution).
With the only strain of melody offered by way of Salil Chaudhary's background score, it's the natural sounds that work wonders -- brilliant bouts of thunder and lightning, a whistling, speeding train, blustering wind and banging windows followed by moments of pin drop silence stirred by shrill ring of a doorbell or a bustling backdrop of crickets that accompany every whoosh.
Yash Chopra's triumph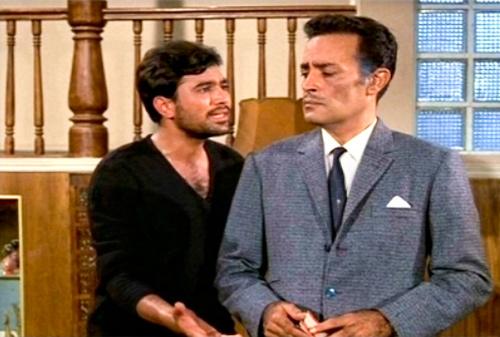 1969 was a breakthrough year for Rajesh Khanna, which also saw the release of superhits -- Do Raaste and Aradhana (co-starring Sujit Kumar as his best pal).
Though signed by Chopra over the promise he displayed while winning the Filmfare contest, it is Kaka's raw eagerness to prove himself and the zero baggage of image that renders him an ideal Dilip Roy.
True, he could have toned down his emotional fervour in a couple of scenes but his tenacity is quite impressive for a newcomer.
Nanda, of course, proved to be Ittefaq's trump card.
Raakhee was the original choice for Rekha but, since she was bound by a contract with the Rajshris (over Jeevan Mrityu), Chopra settled for the doe-eyed star of Jab Jab Phool Khile and Gumnaam.
His logic was simple but spot on. Nobody would suspect her.
The soft-spoken actress is a picture of sly seduction, never subscribing to Bollywood stereotype of an over-the-top heroine, as she alternates between silk and ice to make her move. Too bad, she lost the Filmfare to Sharmila Tagore's melodramatic histrionics in Aradhana.
At the end of the day, Ittefaq is Yash Chopra's triumph. He may have made it out of sheer desperation, but the pay-off was more than he could have asked for.
Not only did the songless experiment, released without any interval, do reasonably well, it garnered him acclaim and a second Best Director's trophy (after Waqt) from Filmfare.
His versatile resume is often overshadowed by his proficiency in grand and glamorous romances, but creations like Dharamputra, Ittefaq, Deewar, Trishul, Kaala Patthar and Mashaal are unforgettable reminders of his powerful range. And that's no mere coincidence.