'For the film-maker, as for the photographer, barbershops with their many moments of interest -- wall-to-wall mirrors, shiny accoutrements, beaded curtains -- provide ample scope for mis-en-scene,' says Ranjita Ganesan.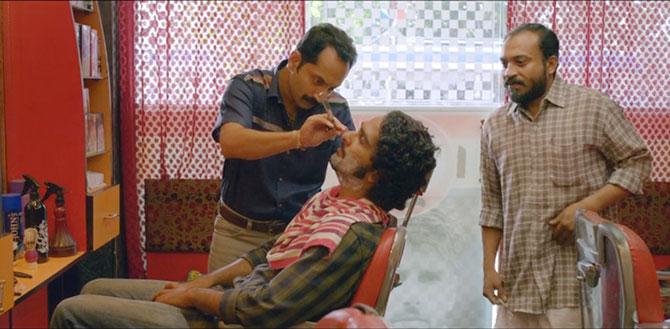 An important sequence in Madhu C Narayanan's <em<>Kumbalangi Nights, the 2019 film that freshly awakened people to Malayalam cinema's sublime thrills, plays out in a barbershop.
The protagonist Bobby (Shane Nigam) drags his elder brother Saji (Soubin Shahir) to meet the barber Shammy (Fahadh Faasil), who is his girlfriend Baby's brother-in-law.
Shammy is the type of manly man who is obsessed with the anatomy of his moustache, while Saji has to be reminded to run a comb through his hair.
Inside the shop, where everything is an intimidating shade of red, Saji ends up asking for Bobby to be given a shave instead of bringing up the marriage proposal.
When Saji does succeed in broaching the topic, Shammy's razor is poised on Bobby's neck.
The barber offers to talk after the shave, in the course of which he carefully inspects his hopeful client and prepares to cut him to size.
He tells the two how he is responsible for the safety of the 'hapless women' in his home and how the brothers's poor circumstances would be unsuitable for Baby.
As a final insult he demands Rs 60 for his services.
For such an assertion and appraisal of masculinity, the shop makes a great setting.
Being centres of public assembly, more often in rural contexts, haircutting saloons have always featured in quintessential montages that depict the spreading of news.
You know, the ones in which men with beards covered in foam will react to things they hear on the radio or TV.
Another Malayalam film, the 2007 hit Katha Parayumpol which was remade as Billu Barber in Hindi and Kuselan in Tamil, famously illustrates this.
It is the story of a barber, Balan, whose upright principles are running his business to the ground.
The shop, whose old-school wooden seat grows more and more ramshackle in the absence of use, is still the place in the village where men land up to gossip.
For the film-maker, as for the photographer, barbershops with their many moments of interest -- wall-to-wall mirrors, shiny accoutrements, beaded curtains -- provide ample scope for mis-en-scene.
It helps that these are at once venues for an ordained ritual, for self-care, and for social adhesion.
This is the case with the more private 'beauty parlours', too, where women go to conceal outward realities and also to confess inner truths.
Monologues that have no audience in the home might have a listener in the parlour.
Something about these spaces, in which sharp instruments are handled gently, render them safe for vulnerability.
In Andrey Zvyagintsev's Loveless (2017), the protagonist Zhenya runs a salon in which she herself spends nonchalant hours getting painful treatments while offering up secrets about her child and her lover.
The four main characters of Lipstick Under my Burkha (2016) by Alankrita Shrivastava are loosely connected by way of the neighbourhood salon too.
For a fun superficial portrayal of ongoings in the parlour, there is Shoojit Sircar's Vicky Donor (2012), in which Vicky unaffectedly jumps in to help with 'waxing' and 'threading' his beautician mother's clients.
Few film-makers have gone beyond depicting the parlour in a glib sequence about a makeover, though.
Easily the best film that showcases these venues with nuance is the tremendously re-watchable Sukkar Banat (Caramel), Lebanese director Nadine Labaki's 2007 debut.
Through frames dipped in pink and gold, she shows the uneven camaraderie between beauticians and customers ranging from shy walk-ins to brash regulars.
Occasionally, insecurities are stirred up and at other times people are made to feel beautiful.
In the parlour where the protagonist Layale works, women can feel relief equally by meeting society's chosen standards of beauty or by getting that liberating haircut.
There is no one right way.