Sukanya Verma looks back at actors, who have sported multiple looks in a single film.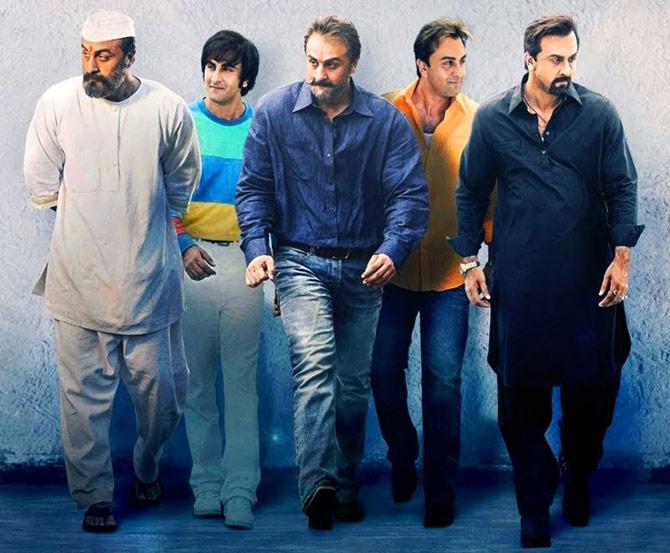 An actor is someone, who wears masks and slips under another's skin to become another person.
To play different people and wear new faces is the greatest joy and challenge of their profession.
But sometimes, they get to flex this skill more than once in a single movie for both profound and superficial reasons.
In Rajkumar Hirani's Sanju, Ranbir Kapoor enacts the various stages of controversy-ridden Bollywood actor Sanjay Dutt's life.
From Sanju baba to Deadly Dutt to Munnabhai, RK's physical transformation and likeness to the original appears quite astonishing.
But given how convincingly he demonstrated his character's evolution in Rockstar, Barfi! and Tamasha, it doesn't come as a complete surprise.
We applaud his effort yet again Sanju, and look back at other instances of stars sporting multiple looks in a film.
Naya Din Nai Raat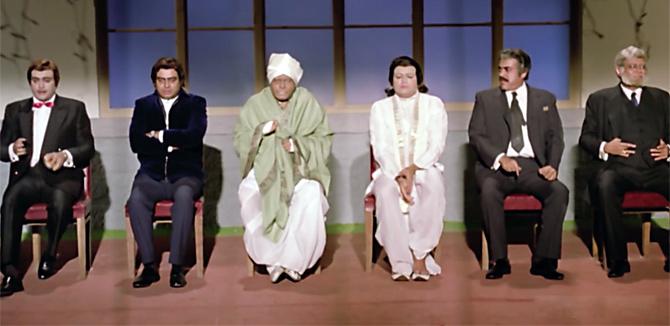 The ever-versatile Sanjeev Kumar follows in the footsteps of Sivaji Ganesan (Tamil) and Akkineni Nageswara Rao (Telugu) to dole out nine different avatars -- bandit, businessman, shrink, shady godman, transvestite, alcoholic, leper, hunter and lover boy in the Hindi remake of Navarathri.
It's to the late legend's credit that the ploy never once feels like a gimmick.
Rather, it's the most curious aspect of its episodic narrative.
Dasavathaaram (dubbed in Hindi as Dashavatar)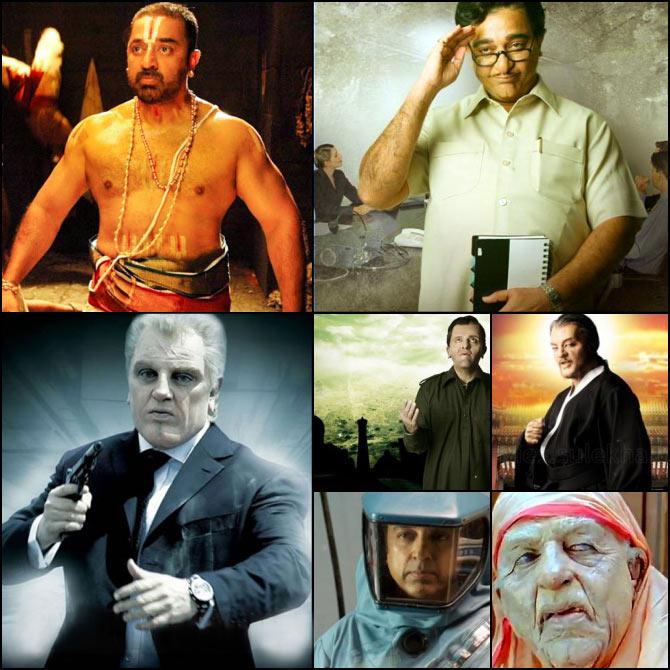 Being an ardent admirer of Navarathri and its Hindi remake, Kamal Haasan expressed a desire to do something along similar lines. So he went a step ahead and cast himself in 10 roles for the ambitious story spanning between 12th to 21st centuries.
Just thinking about the amount of time and patience spent putting on the elaborate make-up to appear as an old woman or Sardar singer or Japanese martial arts specialist or, believe it or not, George W Bush makes us doff our hat at one of India's finest talents.
Bunty Aur Babli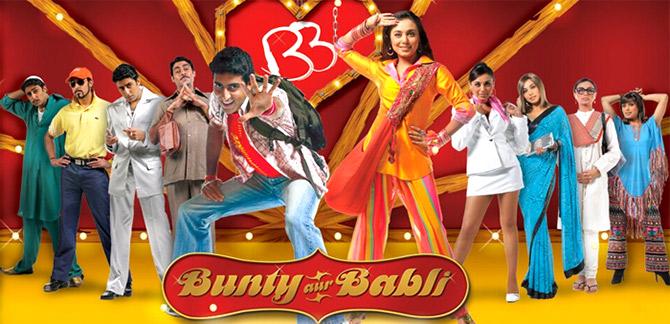 Master swindlers Abhishek Bachchan and Rani Mukerji engage in a game of con and catch me if you can in funny accents, fancy costumes and fool-friendly wigs changing at an alarming frequency.
Dhoom 2

The Bollywood con artist likes to hide behind splashy disguises and stay inconspicuous.
Hrithik Roshan stays true to the trend and how, as Dhoom franchise's most scene-stealing thief.
The hunky hero is virtually unrecognizable whether posing as a statue, dwarf, doddering old cleaner or Her Royal Highness.
Whats your Raashee?

In Ashutosh Gowariker's adaptation of Madhu Rye's Gujarati novel Kimball Ravenswood, Priyanka Chopra embodies all the 12 zodiac signs and paints her dozen roles in rich, varied hues of culture, upbringing and personality.
Though the rom-com is much too uneven and lacklustre to excite, PeeCee sure gets points for trying.
3 Idiots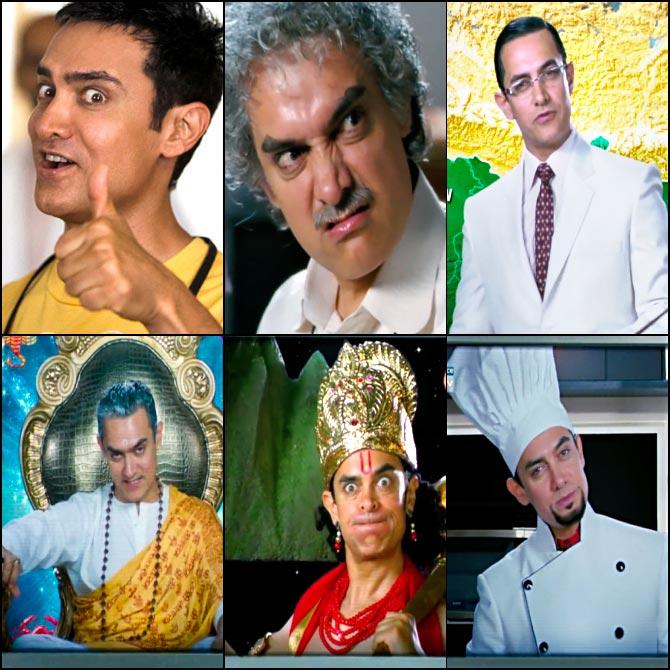 Ads or films, Aamir Khan's enthusiasm for role-playing is hard to miss.
As if playing a college student in mid-40s isn't crazy enough, he demonstrates his incredible energy and humour during the Zoobi Zoobi track when he appears before Kareena Kapoor sometimes as her father, sometimes the face of channel surfing.
Bobby Jasoos
Where's the fun in spying sans a wardrobe full of disguises?
A fantastic Vidya Balan gets into the sleuth spirit juggling between gender and get-ups to prove her mettle as a private detective in and as Bobby Jasoos.
Mr India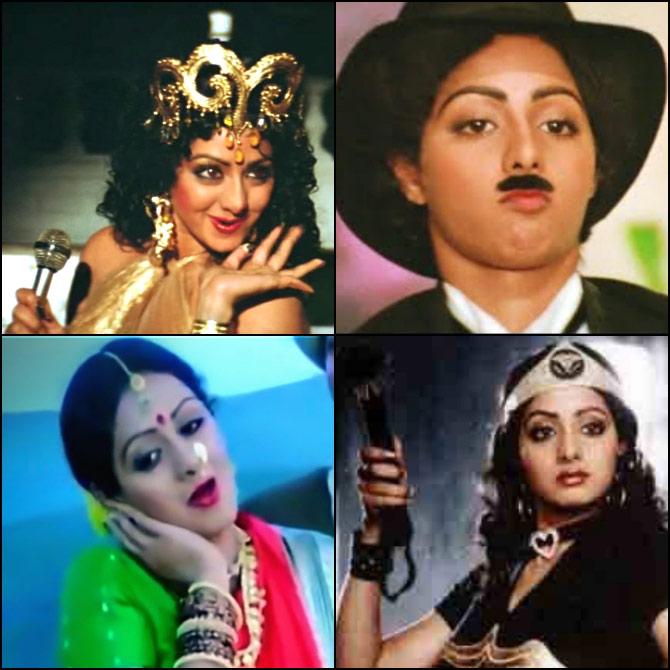 Equipped to change into a whole slew of costumes and hairstyles in less than 90 seconds, the art of multiple looks is not new for the Hindi film heroine.
Sridevi knows it only too well.
Yet, the sheer range of glamour and whimsy she provides in Mr India as correspondent, Chaplin, didi, diva and Ms Hawa Hawaii all rolled-in-one is out of this world.
Half Ticket
Things are never dull around Kishore Kumar.
The singer and comedian's all-rounder capabilities are obvious in the ease with which he jumps from a lollipop-licking schoolboy to girly-voiced ghagra-clad dancer and other comical avatars.
Jeevan Mrityu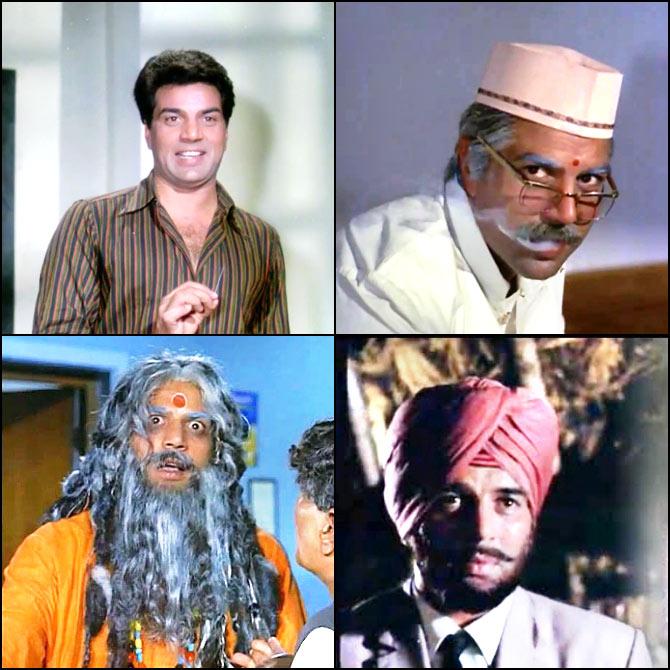 In Rajshri's version of The Count of Monte Cristo, Dharmendra plays a wronged banker getting back at the folks who betrayed him by masquerading as a Sardar, sanyasi and seth.
Jeevan Mrityu, which marks Raakhee's Hindi film debut, completely relies on the underrated star's comic prowess to make it all work.
Baar Baar Dekho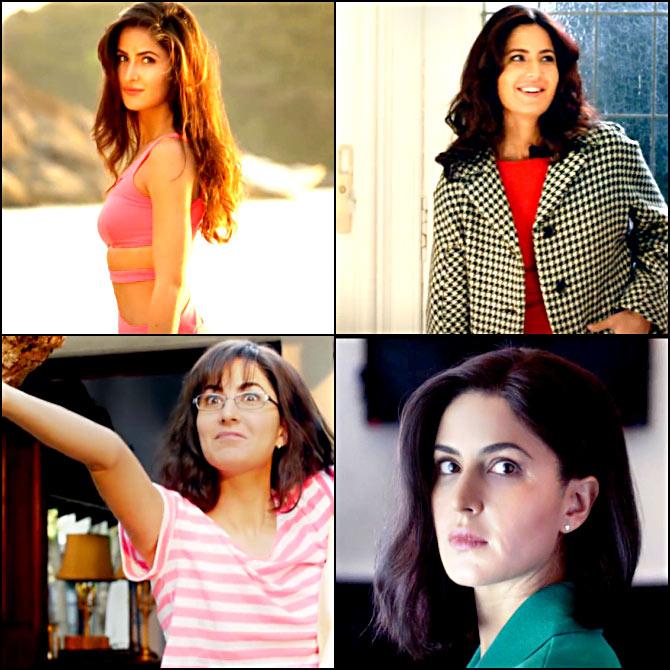 Despite a cool premise and constantly fluctuating timeline, which tells us how good Katrina Kaif or Sidharth Malhotra look as teens and senior citizens, Baar Baar Dekho's convoluted, sluggish contents do it very little good.
Hadh Kar Di Aapne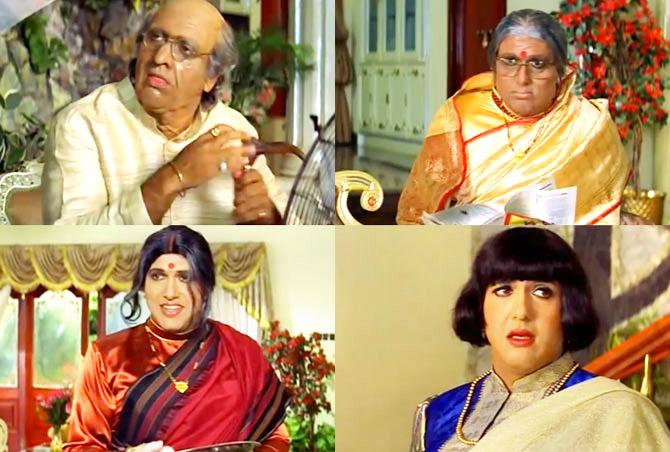 Hadh Kar Di Aapne is all kinds of forgettable if not for Govinda and his super kitschy tribute to comedy gurus Kishore Kumar and Mehmood's I-am-all-my-relatives ardour by playing mom, dad, grandparents, aunt, and uncle in his own inimitable way.
Khushi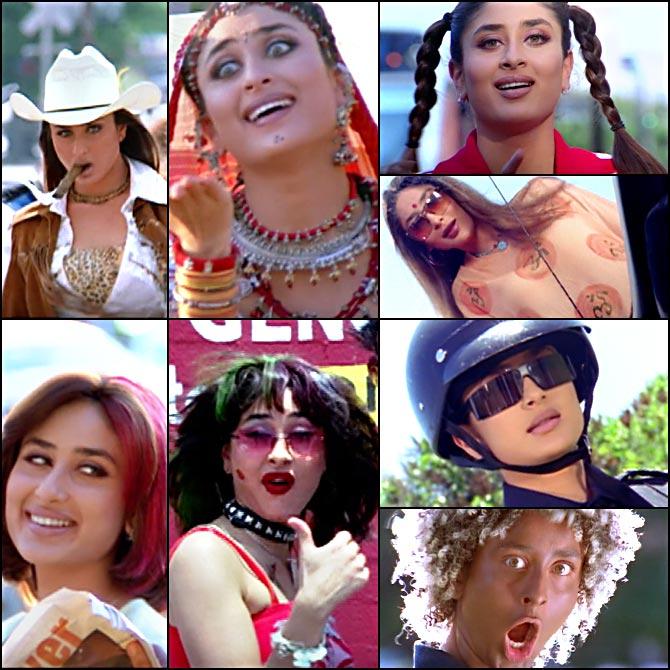 Bebo drives the 'variety is the spice of life' point too far throwing in a plateful of madcap appearances and expressions along with co-star Fardeen Khan for a song sequence of the 2003 baloney Khushi.