The filmi college saga, through the decades.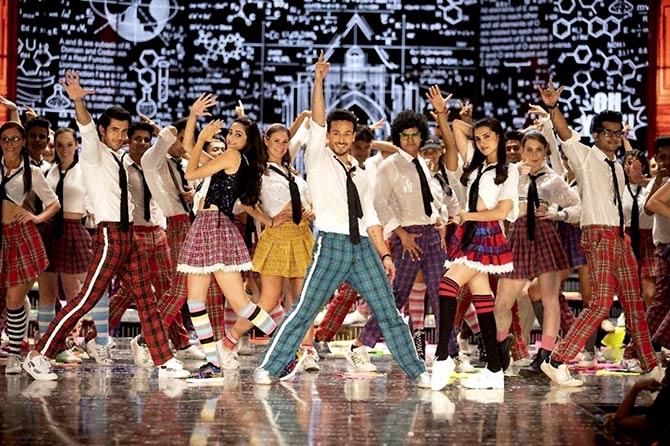 Whether or not they win awards, land magazine covers or make box office hits, there's one thing an Bollywood actor cannot avoid -- playing a college student on the silver screen.
It doesn't matter then how old the star is or has never seen a campus in real life as long as s/he gets to advocate literacy in the most filmi fashion.
Recognising the timeless potential of carefree youth-meets-college years, the screenwriter draws on the setting to brew breezy romance and delightful banter.
Over the decades, Bollywood's depiction of the institution of higher learning has gone all sorts of changes to mirror, reliably as ever, an exaggeration version of the times we live in.
As Student Of The Year 2 readies for release, Sukanya Verma looks at the filmi college over the decades.
The 1940s
Things were rather coy back in the 1940s, but Hindi cinema's portrayal of co-ed studies is elegantly communicated through Dilip Kumar and Noor Jehan's campus flirtations in the black and white classic, Jugnu.
Meanwhile, Raj Kapoor finds himself at the receiving end of his professor's rebuke after he catches him yapping with classmate and crush, Kamini Kaushal, in his directorial debut, Aag.
The 1950s
Soon after India gained Independence, films felt the need to propagate basic social ideas and the importance of education among girls through role model characters of Waheeda Rehman in Kala Bazaar and Vyajayanthimala in College Girl.
While Kishore Kumar fought for the rights of needy classmates holding mass protests outside his institution in Half Ticket, Rajendra Kumar and Mala Sinha took advantage of college debates to convey their sentiments through melodious songs in Dhool Ka Phool.
The 1960s
The swinging sixties, visibly, veered towards fun, froth and fashion.
If Babita rocked the latest trends to grab eyeballs (Haseena Maan Jayegi), Rajesh Khanna pastes 400 watts on Mumtaz's back to engage in practical jokes (Do Raaste), rich girl meets poor boy equation between Sharmila Tagore and Shashi Kapoor leads to scenic college picnics (Waqt) and Saira Banu faces hell during exams having spent all her study time in music and masti (Padosan).
The 1970s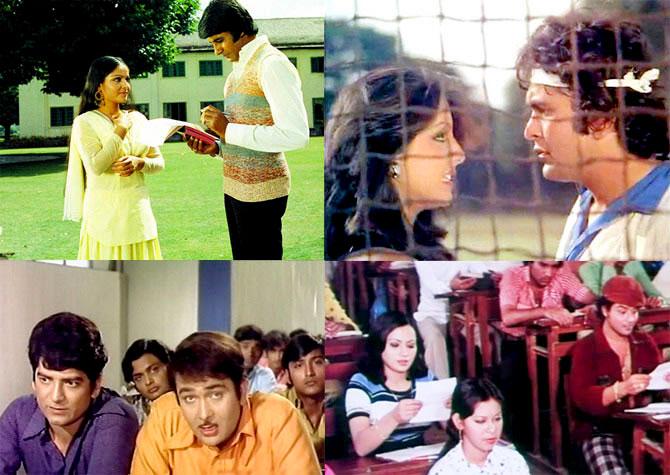 By the 1970s, romance dominated all the chapters of Bollywood's idea of what common folk do in college.
Only the pay off of watching Rishi Kapoor and Neetu Singh's gorgeous chemistry as campus sweethearts embroiled in a murder mystery (Khel Khel Mein), Randhir Kapoor and Jaya Bhaduri's tribute to the psychedelic madness of the decade (Jawani Diwani), Amitabh Bachchan and Raakhee's poetic encounter against the stunning, sprawling campus greens (Kabhi Kabhie) and Sachin-Ranjeeta's syrupy reproduction of the eternal college favourite, Eric Segal's Love Story (Ankhiyon Ke Jharokhon Se) is much too wonderful to find faults.
The 1980s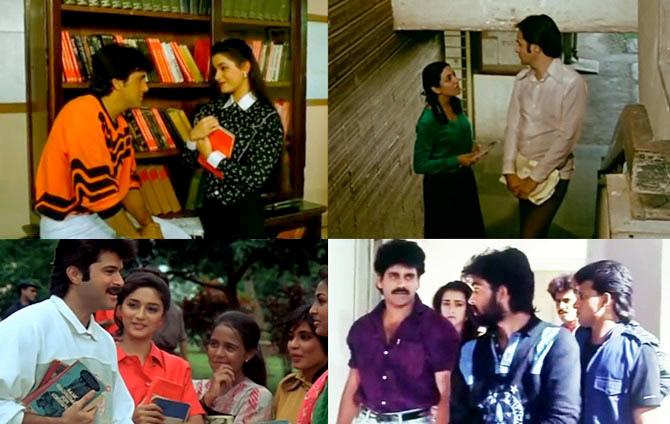 The 1980s showcased an interesting variety of the life in college.
Anil Kapoor and Madhuri Dixit used it as a backdrop to make each other jealous, jump off buildings, reconcile and romance in Tezaab.
Govinda and Neelam got another excuse to underscore their reputation as the cutest Bollywood jodi on the rise with the kerchief caper, Sindoor.
Farooque Shaikh and Deepti Naval, along with their band of buddies (Satish Shah, Avtar Gill, Rakesh Bedi, Neena Gupta) conveyed college time's 'dil, dosti' etc in manner most refreshing and realistic in Saath Saath's campus fairy tale gone sour tale.
But it's Ram Gopal Varma's Shiva, which turned its face on mushy elements to focus on the hostile facet of student politics.
The 1990s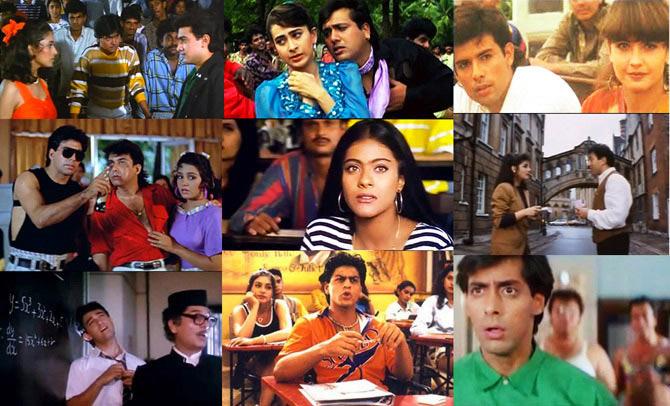 A sea of newcomers made their Hindi film debut in the late 1980s and early 1990s as college students in their first film and continued to play one for a good part of their early career.
So instead of paying attention in class, Aamir Khan and Madhuri Dixit fought like cats and dogs in the college doorways in Dil, Aamir, again, got a taste of heavy-duty campus rivalry in Jo Jeeta Wohi Sikandar, Govinda ribbed Karisma Kapoor about her sexy pant, shirt and more in the campus and still didn't get suspended in Dulaara, Ronit Roy came up with an elaborate proposal for 'romance ka bhi ek lecture' in Jaan Tere Naam, Akshay Kumar embodied the college/canteen dude in Khiladi, Pooja Bhatt got rid of her stutter and shyness thanks to her brilliant Sir, Salman Khan experienced the worst case of ragging in Baaghi, Kajol lost her heart to Bobby Deol on the first day of college in Gupt and Raveena Tandon and Sunny Deol pretended to be Oxford geeks in Kshatriya.
Right at the end of 1990s, Karan Johar's Kuch Kuch Hota Hai released featuring Shah Rukh Khan, Kajol and Rani Mukerji dressed up in hip Gap, DKNY and Tommy Hilfiger brands -- Bollywood would now officially graduate to the school of cool.
The 2000s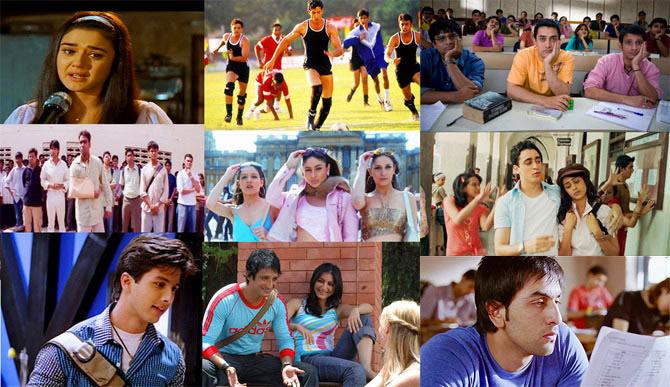 The new millennium focused on significant troubles surrounding teenagers.
On one hand, it addressed their sense of growing unrest through hard-hitting fare like Rang De Basanti, the need to erase apathy (perfectly essayed in Ranbir Kapoor's poor little rich boy of Wake Up Sid) against the backdrop of student politics in Yuva, the woes of Preity Zinta's college-going teen mom in Kya Kehna and the futility of mindless mugging or traditional training through the lively accounts of three best friends in 3 Idiots.
On the other, it stuck to its favoured route of launching fresh new faces through Riverdale romcoms like Ishq Vishk and Jaane Tu... Yaa Jaane Naa.
Meanwhile, Kareena Kapoor and Hrithik Roshan reminded us why they're every teen favourite poster celebs with their shiny 'Prom Queen' and 'Jock' avatars.
Karan Johar upped the ante yet again with his fantasy edition of a larger-than-life university to introduce Alia Bhatt, Siddharth Malhotra and Varun Dhawan to the audience. Where else on earth would your dancing abilities at prom night get judged for grades?
Sonam Kapoor and Abhay Deol engaged in active student politics spending more times in dharnas than class in the intense love story, Raanjhanaa.
Arjun Kapoor and Alia Bhatt played MBA students who fall in love while studying at an IIM campus in the big screen adaptation of Chetan Bhagat's 2 States.
Now, Tiger Shroff, Ananya Panday and Tara Sutaria go to college in Student Of The Year 2, and make the learning experience look shockingly HOT!
The college saga continues.