No Ganpati celebration is complete without Humse Badhkar Kaun's hugely popular song Deva O Deva Ganpati Deva Tumse Badhkar Kaun blaring out of the pandal speakers, says Mumbai native, now New Delhi resident, Sukanya Verma.
Few cities come as alive as Mumbai during Ganesh Chaturthi.
And there are few things Bollywood loves more than a celebration.
Many filmmakers have used its 'Ganpati Bappa Morya' fervor to enrich their narrative in the most cinematic fashion.
With the festival in full swing, here's taking a look.


Daddy (2017)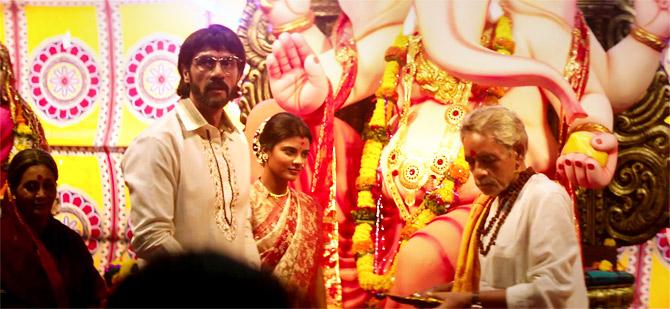 In Ashim Ahluwalia's upcoming biopic on gangster-turned-politician Arun Gawli, Arjun Rampal offers a glimpse of the latter's God-fearing character against the backdrop of a grand Ganesh pandal set up in his residential chawl.


Banjo (2016)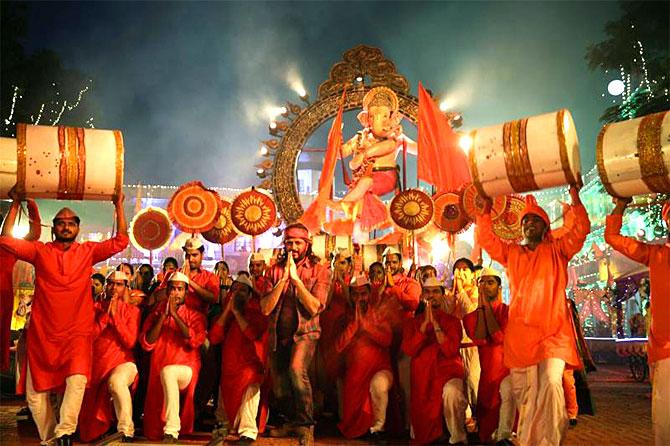 The Ritesh Deshmukh starrer about a struggling banjo orchestra unfolds around the festive season -- catchy Bappa ditty et al, lending its hackneyed underdog story an air of authenticity if not innovation.


Bajirao Mastani (2015)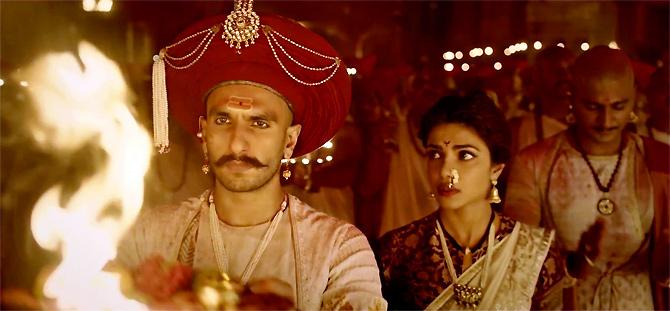 Sanjay Leela Bhansali's historical romance features a sensational sequence around the lavish Ganesha aarti Gajanana, just as Bajirao's first wife (Priyanka Chopra) warns him (Ranveer Singh) about the ongoing conspiracy to bump off his second wife (Deepika Padukone) and their son behind his back.


ABCD-Any Body Can Dance (2013)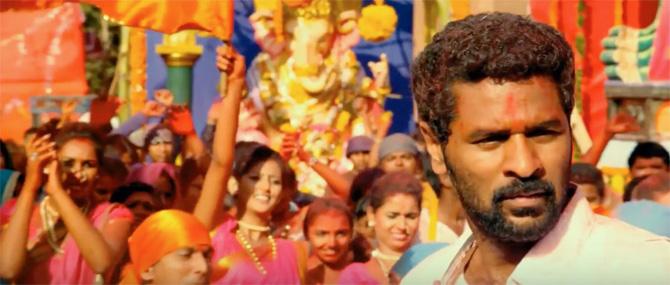 Ganpati love is a recurring motif in choreographer-turned-director Remo D'Souza's dance-based drama.
At first, Prabhudheva spots talent among a bunch of aimless delinquents at a local Ganeshotsav revelry.
Later, the same lot goes on to perform an impressive Ganesha-inspired dance number that wins the crowd and competition.


Agneepath (2012)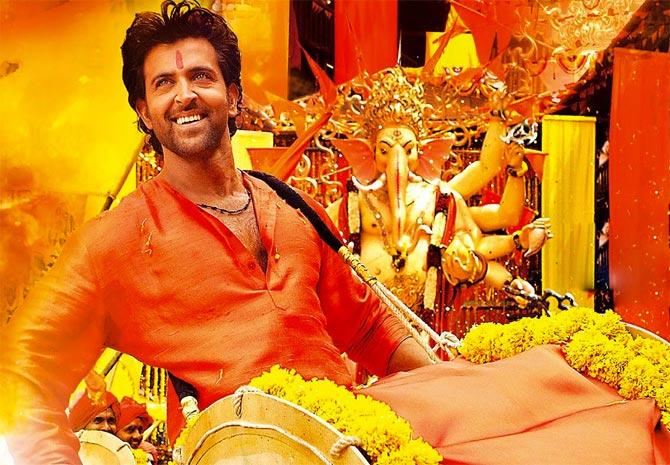 Immediately after a dramatic display of no-holds barred bhakti in Deva Shree Ganesha, Hrithik Roshan proceeds to recreate Amitabh Bachchan's iconic ' Poora Naam, Vijay Dinanath Chauhan' moment amidst chaotic visarjan activities in this successful remake of the 1990 original.


Shor In The City (2011)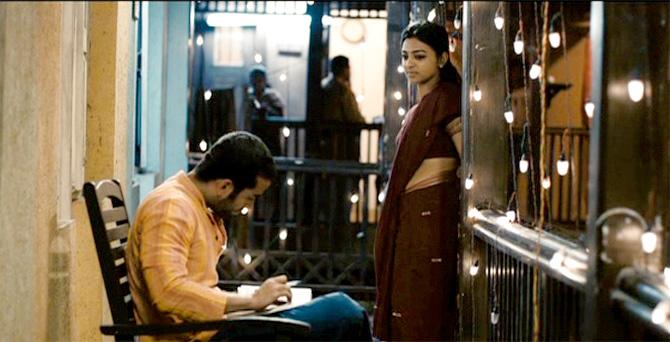 All the action in Raj and DK's well-received slice-of-Mumbai caper transpires over the 11-day long festival of Ganesh Chaturthi and intersects the scenes with its high spirits and heartiness.


Atithi Tum Kab Jaoge? (2010)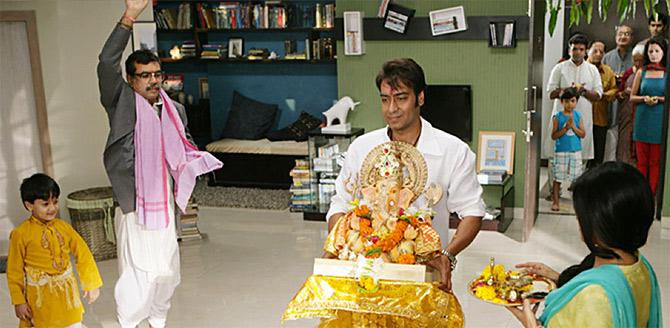 In Ashwni Dhir's part comic, part preachy reworking of satirist Sharad Joshi's short story, Ganesh Chaturthi acts as a metaphor to underscore the old Sanskrit belief, Athithi Devo Bhava after an exasperating houseguest, played by Paresh Rawal, overstays his welcome.


Wanted (2009)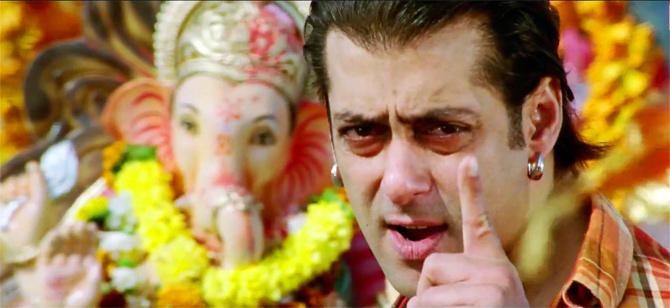 Throwing the hero in the middle of a colourful Ganpati parade establishes two of his biggest qualifications right away -- good guy, great dancer.
Salman Khan's Jalwa moves in Wanted are a case in point.


Don (2006)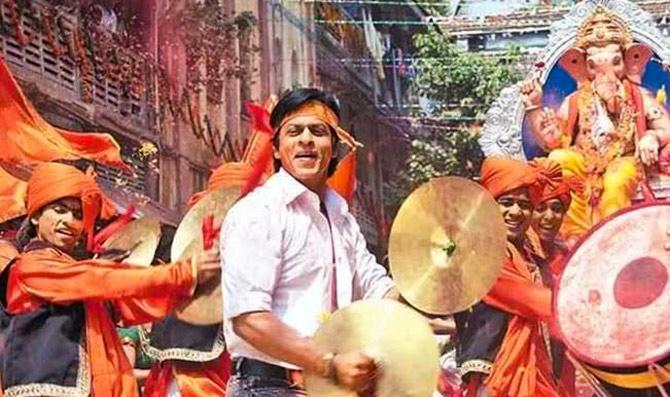 In Farhan Akhtar's Don remake, Shah Rukh Khan plays the sinister titular role as well his lookalike, a street musician compelled to work for the cops.
While it's no patch on his slick Don, SRK pitches in a lively entry bopping to Morya's tunes in the film's popular visarjan track.


Vaastav (2000)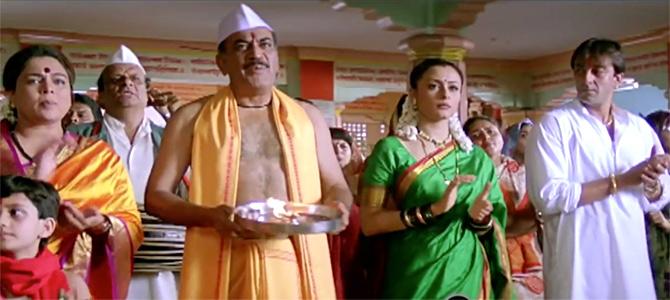 Being the black sheep of a pious Maharashtrian family, there's nothing surprising about Sanjay Dutt leaving the all-important Ganesh puja midway to address urgent matters in the world of crime.


Satya (1998)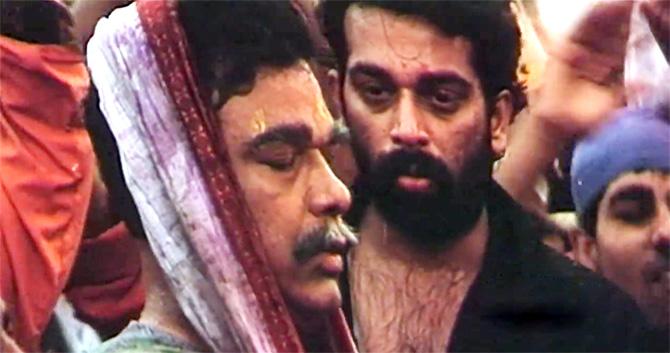 Mumbai is a ruthless character in Ram Gopal Varma's underworld classic, Satya.
The city's perilous face comes out most effectively in the climatic murder right in the middle of crowded processions gathered at the beach to immerse innumerable Ganesh idols.


Agneepath (1990)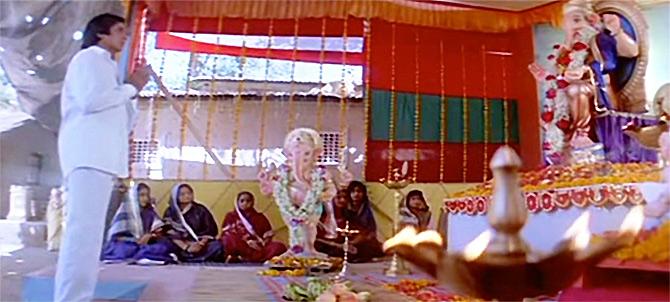 Leaving a life of crime behind, what better day to start afresh than the auspicious occasion of Ganesh Chaturthi or so insists Amitabh Bachchan in Mukul Anand's Agneepath.
What ensues on visarjan day though is more blood than bhakti bhav.


Dard Ka Rishta (1982)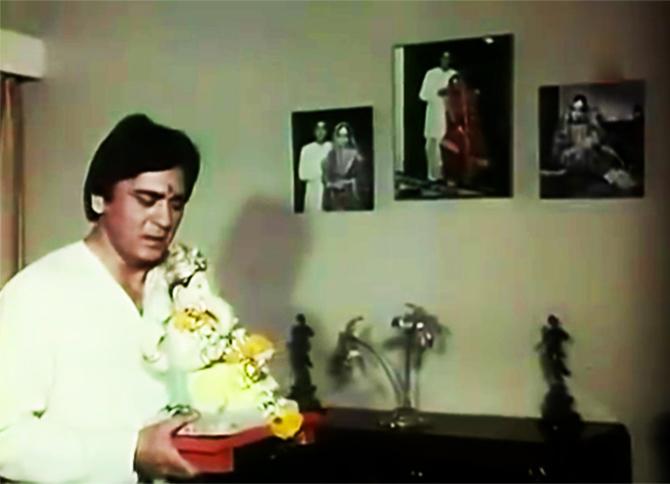 One can always count on Bollywood for divine intervention as reiterated by Sunil Dutt in his home production, Dard Ka Rishta.
Dutt's undying faith in 'Bappa' is immediately rewarded when he learns about a medical breakthrough that can cure his cancer-stricken daughter and catches the first flight to America to start treatment.


Humse Badhkar Kaun (1981)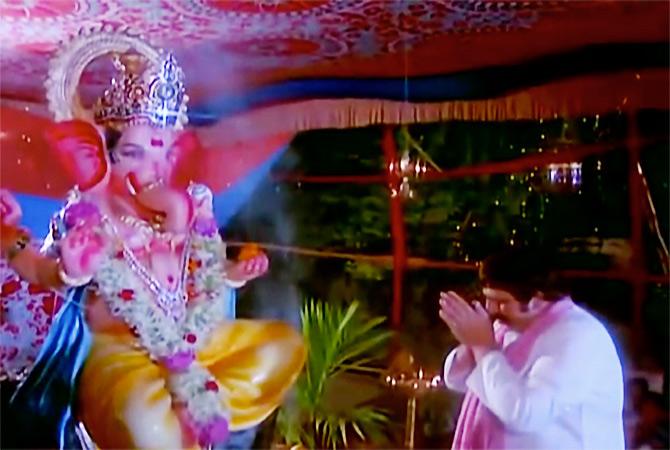 No Ganpati celebration is complete without Humse Badhkar Kaun's hugely popular song, Deva O Deva Ganpati Deva Tumse Badhkar Kaun blaring out of the pandal speakers.
In the little-remembered drama, Amjad Khan plays a devout doodhwala who spends all his life's savings to place a jewelled garland around a Ganesha idol eyed by the area's rampant thieves.


Takkar (1980)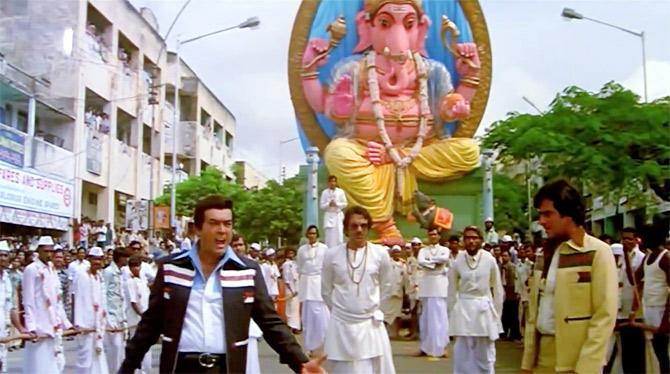 A quintessential 1980s brand masala, Takkar involves Vinod Mehra's international smuggler posing as a god man trafficking priceless statues from temples inside a giant Ganpati idol until Sanjeev Kumar and Jeetendra put a brake on him.
Except it's not the heroes, but the enormous Ganesha figure that exacts justice as it comes crashing down, releasing its deluge of concealed murtis, on Mehra.