'While narrating a scene to Amitji, Akshay and Tusshar, they learnt that Aishwarya was not the heroine opposite Akshay as they had presumed.'
'She had a negative role.'
'They were shocked, more so when they learnt that she didn't know this.'
'"Shooting will stop midway, she won't do the film", I was warned.'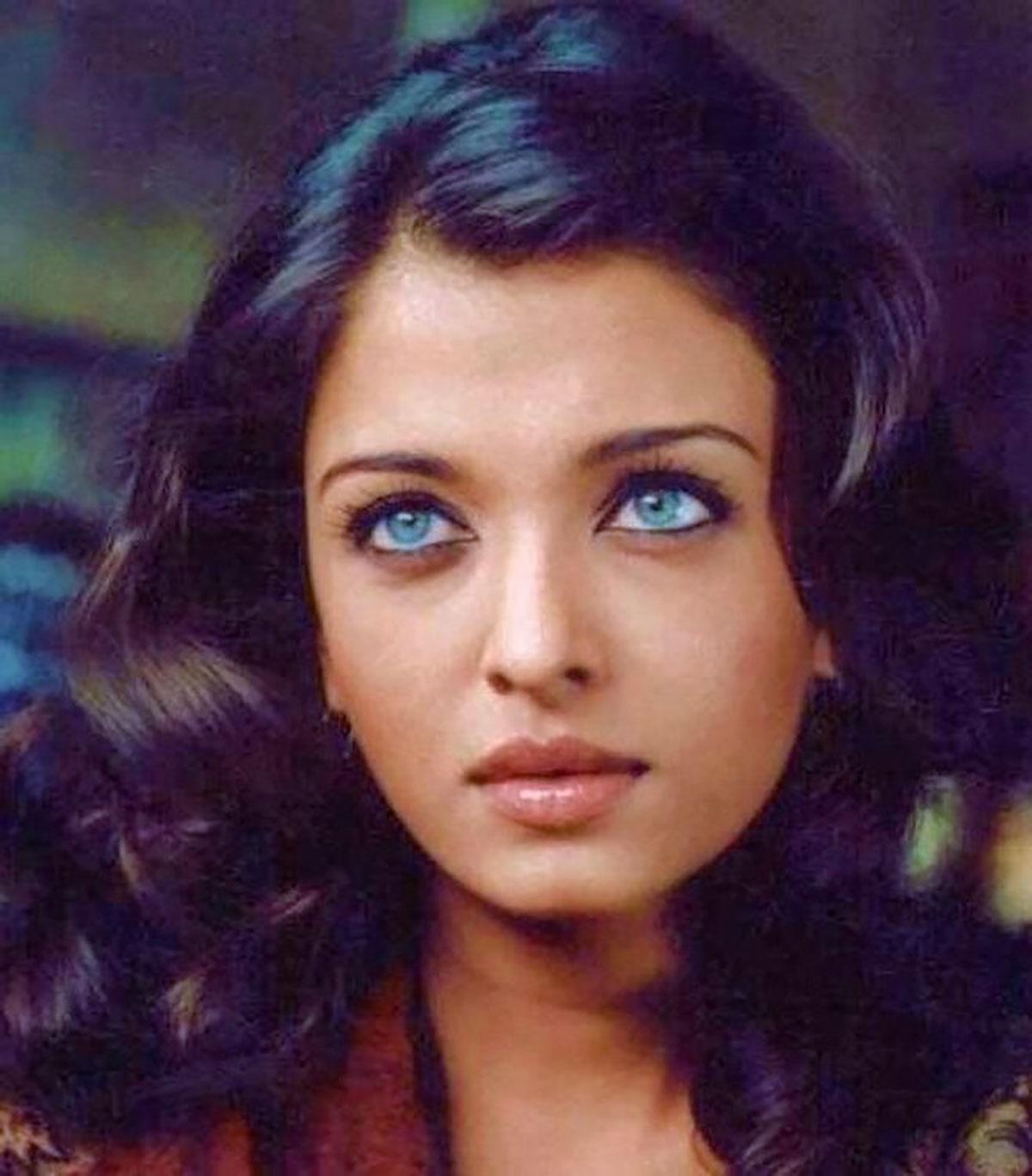 Aishwarya Rai Bachchan, who turns 48 today, November 1, is one of the most beautiful women in the world.
As her Khakee Director Rajkumar Santoshi points out, "Bahut fursat se, chhuti leke, Bhagwan ne unhe banaye hain. Her beauty is unreal... Ethereal."
Yet, he went against type and played down her beauty in the 2004 thriller.
And if that wasn't enough, in a surprise twist, he made the numero uno heroine of the time turn bad, putting a gun in her hand which she uses to knock out the hero. And Santoshi kept this a secret from Aishwarya till just before they shot the climax.
How did he do it? And so effectively?
Rajkumar Santoshi takes Rediff.com Senior Contributor Roshmila Bhattacharya back in time.
I was introduced to Aishwarya after she had won the Miss World beauty pageant in 1994.
She had started shooting for Mani Ratnam's Tamil film Iruvar by then and it amazed me that the most beautiful woman in the world could be such a down-to-earth person.
We both wanted to work and we kept discussing different subjects.
She enjoyed my narrations, as did her parents and brother.
There was a lot of fun and laughter during these story telling sessions. And though our film didn't materialise, I developed a close bond with Aishwarya and her family.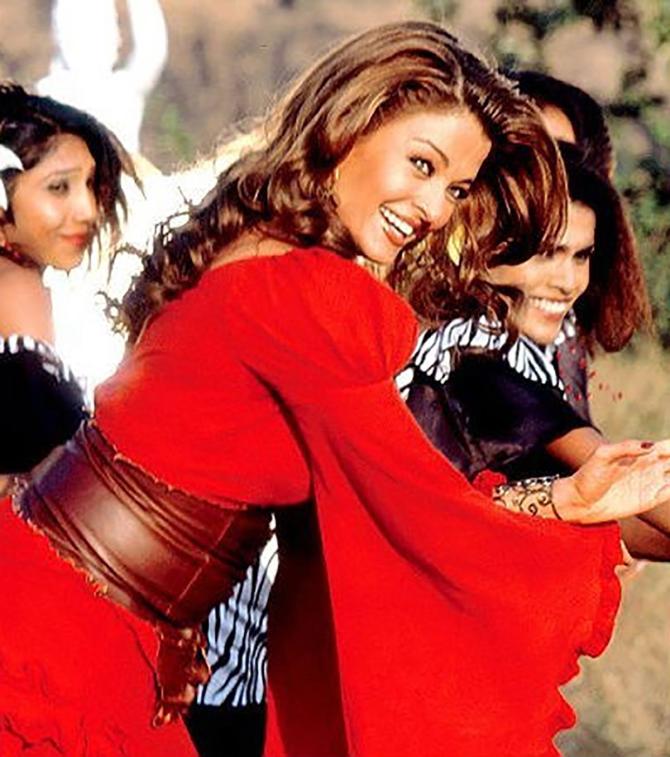 When Khakee came along, I decided this was the film for her.
It had around half-a-dozen prominent male characters, but just one strong female lead.
Aishwarya was the number one actress at the time and really busy, but she immediately agreed to do the thriller.
There were long outdoors and she was extremely cooperative.
There were no tantrums even when on occasions, I only shot with Amitji (Amitabh Bachchan), Akshay (Kumar), Ajay (Devgn), Tusshar (Kapoor) and the other actors and did not take a single shot with her all day.
Aishwarya is a team player, a rare quality, which I attribute to her upbringing.
The secret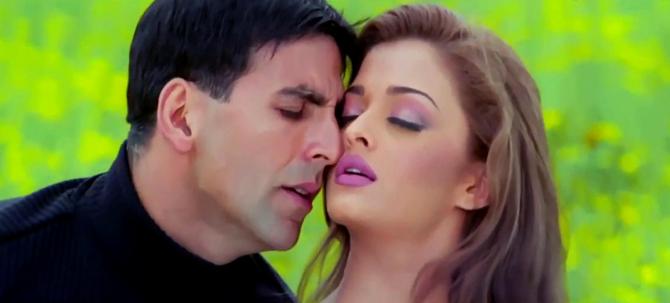 I had deliberately withheld one important bit of information from her.
She was totally in the dark about the fact that her character, Mahalaxmi, does a total turnaround in the climax. So were the others.
We were shooting in Nashik when while narrating a scene to Amitji, Akshay and Tusshar who were playing DCP Anant Kumar Shrivastav, Senior Inspector Shekhar Verma and Sub-Inspector Ashwin Gupte, they learnt that Aishwarya was not the heroine opposite Akshay as they had presumed.
She had a negative role.
They were shocked, more so when they learnt that she didn't know this.
'Shooting will stop midway, she won't do the film,' I was warned.
I assured them that nothing like this would happen, she was a good person and a true artist.
They insisted they wanted to be around when I was narrating the climax to Aishwarya so they could see her expression when it sunk in that Mahalaxmi was not the distraught school teacher she was pretending to be.
That she was a decoy planted on the team by Yashwant Angre played by Ajay, an embittered ex-cop out to avenge his dismissal and subsequent imprisonment.
That she was going to kill the hero.
Every evening, after 'pack-up', I was asked if I was planning on giving her the narration that evening. Smilingly, I would shake my head.
The accident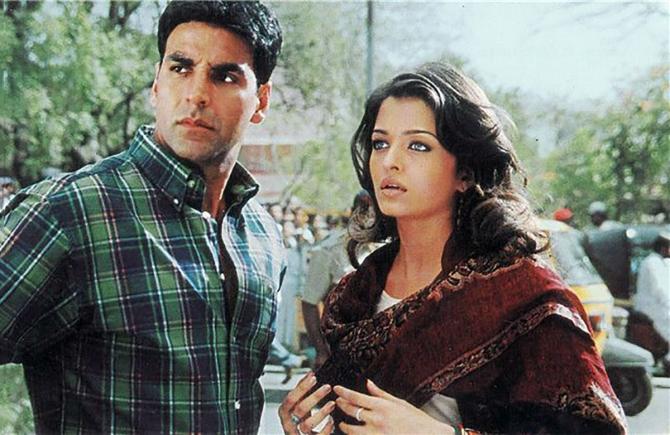 I had planned to 'reveal' the suspense to her during that schedule, but one evening, when Aishwarya was rehearsing a scene with Tusshar, the driver of the jeep was coming towards them at high speed, and lost control.
The car was supposed to stop 20 feet from them, but it overshot its mark and hit the duo who were sitting by the edge of the road. Fortunately, they fell into some bushes which broke their fall.
Aiswarya was rushed to a local hospital.
She had fractured her foot and was advised bed rest.
We airlifted her and brought to Mumbai where she was admitted to hospital for treatment.
The twist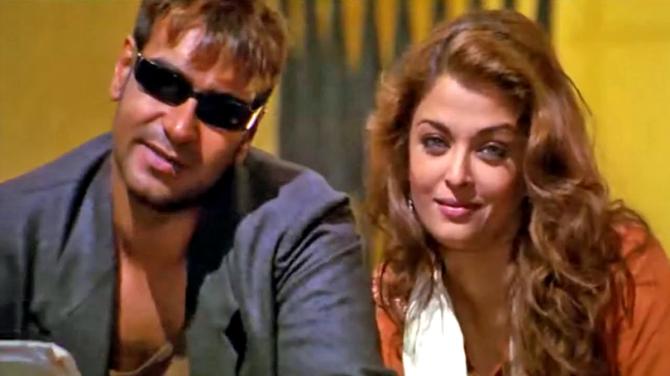 Once she was back home, I visited her and narrated the scene where she accompanies Akshay's Shekhar to the stadium.
There the inspector learns that the girl he loves is actually Angre's lover, hand in glove with him, to fool the cops.
Then, in a surprise twist, Mahalaxmi turns and coolly shoots him.
Shekhar dies, leaving the audience gasping.
What made the volte face even more startling for everyone was that there was no back sob story to justify her actions. No vile stepfather, no wicked stepmother.
Mahalaxmi is manipulative, matlabi (self-centered) and cunning.
A traitor, who romances the hero, sings a song with him, then betrays his love and trust.
She is bad because she is bad. Period.
Aishwarya reacted with a smile and quiet, "Achcha hai, Rajji. Nice. A very different role for me."
Being an actress who enjoys the challenge of going against type, she found this twist in the plot interesting.
Gratified, I pointed out that I had kept this secret to myself for so long because I did not want her to betray the fact that Mahalaxmi is not what she appears to be in any way, through gesture or expression, in the earlier scenes. That would kill the suspense.
She understood immediately where I was coming from.
Like a true artist, she returned to shoot the climax.
The ethereal beauty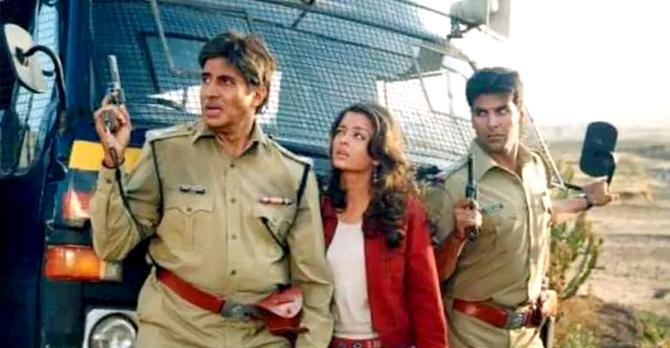 This wasn't the only thing that made Khakee a challenge.
I wanted a totally deglamorised Aishwarya. Just two changes and no make-up.
She didn't demur.
Samajhdar aur khandani (understanding and classy) actress hai woh. A wonderful performer and just so beautiful!
Bahut fursat se, chhuti leke, Bhagwan ne unhe banaye hain (God made her at leisure, with great care).
Her beauty is almost unreal... Ethereal. And she has grown more beautiful with the passing years.
But because she is so beautiful, her looks sometimes overshadow her histrionics.
I am so glad that she married into the Bachchan family.
Amitji is such a gentleman and Abhishek is a great guy. They are a khandani family, it's the right house for her.
The musical comedy that didn;t happen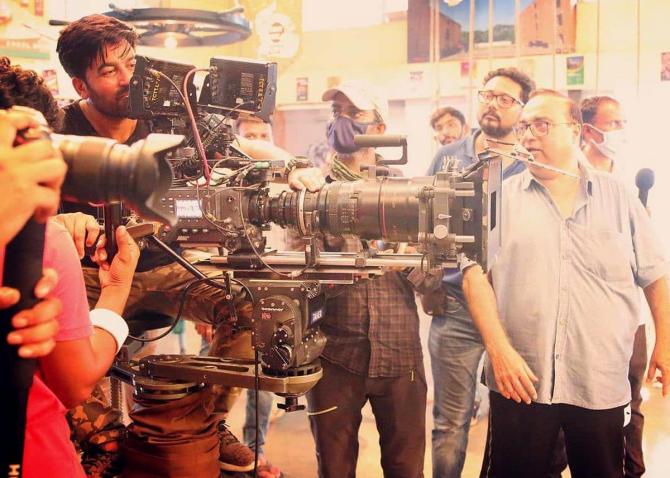 Khakee released in 2004.
Seventeen years have passed since, but the memory of the film and her performance has not faded.
I had approached Aishwarya for a musical comedy with Abhishek.
After Andaz Apna Apna, I wanted to make people laugh again.
I love the way Aishwarya laughs, dil khol ke hasti hain woh (she laughs so wholeheartedly).
She has great comic timing, but surprisingly, no one has explored this side of her.
I narrated the subject to both of them and they loved it. They laughed all through the narration.
But soon after, Aishwarya became pregnant and the film was stalled.
I hope I can find another great subject for her. Hopefully, I can have a narration next year.
Happy birthday Aishwarya, may God give you every joy.
I can only that jiss pyaar se bhagwan ne unhe banaye hain, he gives her that much of love too.
I pray for her health and happiness. She is beautiful and her life should be beautiful too.