Yuvraj Mehta remembers the time he, a first year college student, called on Soumitra Chatterjee at the legendary actor's home.
Growing up in Kolkata in the 1970s meant one thing: I was completely influenced by Bengal's rich cultural heritage.
By the time I reached my late teens, I was keen to follow the footsteps of my inspiration Soumitra Chatterjee, actor, poet, playwright, and arguably Bengal's last Renaissance man.
So on one sultry morning in August 1990, I found myself standing before Soumitrada's Golf Green residence.
A black iron gate that had been left ajar led me to a lawn with a teapoy and a set of chairs.
Beyond the patch of green was the main door of the house.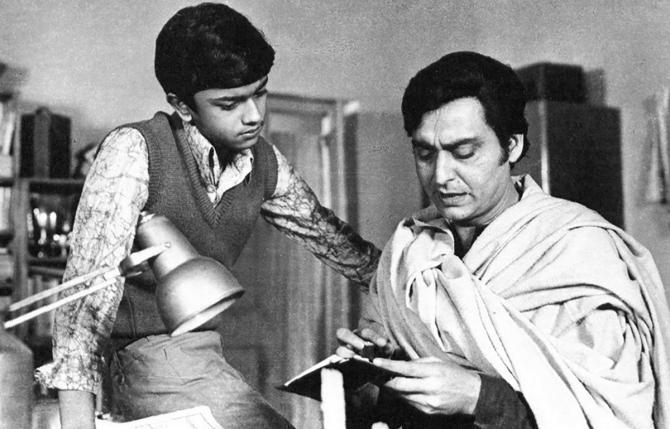 I rang the doorbell and heard a muffled ring from deep inside.
Was our Feluda in?
Would he even consent to see me?
How would he react since I, a first year college student, had come over without an appointment?
The door opened, and there he stood!
Almost six feet tall, with a ruddy complexion and an inexplicable aura, Soumitra Chatterjee himself stood a foot away from me, with an inquiring expression.
His first words: 'Who would you like to meet'?
I told Soumitrada that I was an ardent fan of his, that I was pursuing my graduation from Surendranath College, and that my heart was set on learning acting. All of it came out in a rush.
I was prepared for the door to be slammed in my face.
Instead, Soumitrada nodded and asked me to sit on one of the chairs at the lawn.
I told him that I had watched many of his films and was awed by his versatility, range and repertory.
Whether playing the dashing detective, Feluda, in Sonar Kella and Joi Baba Felunath or the brooding Prashanto of Shaka Proshaka with hardly any line to speak but a lot to say, he had done it all.
It was a long narration that came out in spurts.
All through, Soumitrada listened intently, with an occasional smile flitting across his florid, handsome, face.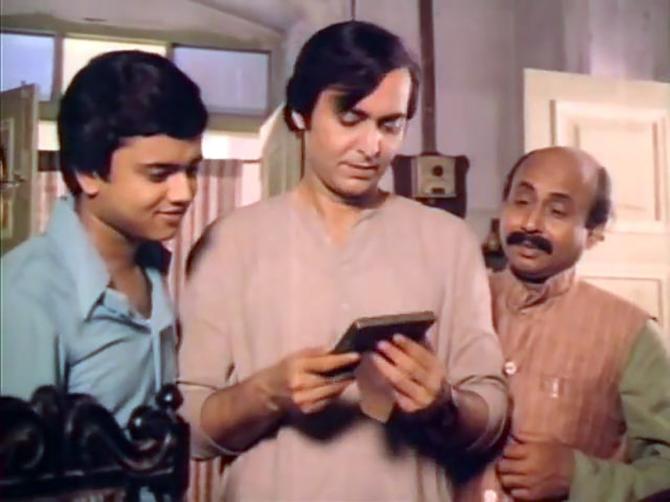 But like the truly great, Soumitrada was not interested in himself.
He was more interested in the person he was talking to: Me!
He advised me that my first duty was to continue studying.
"You must complete your studies first," he said. "Baba, you can't compromise there. On the side, you may pursue theatre and your passion for acting."
Then, he spoke about acting, cinema and theatre, and he talked in a language that was simple to understand and extremely motivating. Put simply, he was an inspiration and I took all of it in.
He asked me to meet the renowned theatre personality, Bibhas Chakraborty, who would teach me the craft of acting.
"Tell Bibhasda," he said, "that I referred you to him."
For several reasons, too complex to get into now, I could not take the road that Soumitrada had pointed to me.
But even now, three decades later, I remember one lesson that the legend taught me: To be a warm, accessible, sincere, genuine human being.
The eventual career I pursued was very different from theatre and cinema but Soumitrada's life lesson still guides me. And that was the finest gift I received from one of the greatest actors of our time.
Yuvraj Mehta heads Communication and Brand Management at the L&T group and has watched almost all Soumitra Chatterjee films.