Every single one of Parinda's magnificent frames is a masterclass in slick.
Sukanya Verma tells us why.
When I first watched Vidhu Vinod Chopra's Parinda 30 years ago, its grim depiction of Mumbai's underworld unsettled me while its intensity blew my mind.
The drama in VVC's 1989 classic isn't anything like the one I saw in Tezaab (November, 1988) or Ram Lakhan (January, 1989) on whose heels Parinda follows.
Resisting all the trappings of Bollywood masala, here is a film so fierce and grisly in its depiction of the underbelly and its remorseless nature, I winced and wowed in turns.
And a huge credit for its lasting glory goes to Cinematographer Binod Pradhan.
Parinda's by-the-second volatile momentum is thrillingly captured in Pradhan's seminal camerawork.
Despite a measly budget of Rs 12 lakh, the crime saga about two brothers sucked into a world, neither envisioned themselves in, is as cinematic as it is grungy.
Some of its melodrama may seem a tad shrill in today's times but its striking visual aesthetics, evoking Gordon Willis's artistry in The Godfather, are a benchmark in Indian film-making.
Parinda has no fancy sets or scenic outdoors.
Instead the story unfolds right in the middle of Mumbai's busy landmarks, dusty lanes, shady factories, dimly lit offices, creepy bungalows and cramped homes after Karan's (Anil Kapoor) police officer pal Prakash (Anupam Kher) is bumped off in broad daylight by his big brother Kishen's (Jackie Shroff) colleagues (Suresh Oberoi, Shiv Subramaniam, Kamal Chopra) following an order from the latter's boss and mobster Anna (Nana Patekar).
Prakash's sister and Karan's childhood sweetheart Paro (Madhuri Dixit) is a school teacher whose idealism and innocence has little place in this murky business.
A web of deceit, dilemmas and dangerous pursuits leads to its shocking climax.
Every single one of Parinda's magnificent frames is a masterclass in slick.
Here are 25 of my favourite shots from the film.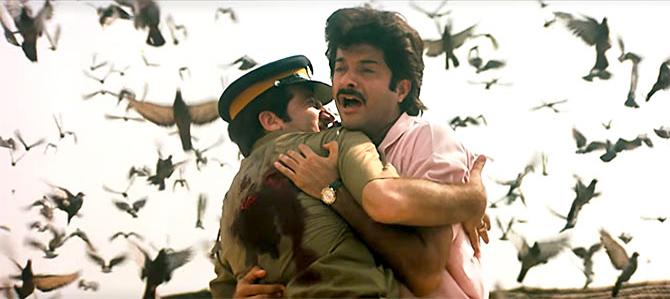 The pigeons of Dadar Kabutarkhana turned overnight celebrities after this iconic shootout scene.
What begins as a happy reunion of friends Anil Kapoor and Anupam Kher at the same place they first met as street kids becomes a site of slaughter when the latter is gunned down by three goons in full view.
Pradhan documents the horror and hysteria of the moment most viscerally.
It's the first of the many knock-in-the-cold moments Parinda is determined to deliver.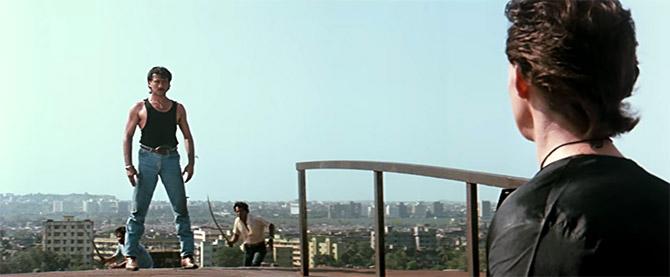 Parinda avoids mainstream vibes. But Jackie Shroff's whistle-worthy introduction scene summoning rival gang chief Musa (Tom Alter) simply screams machismo.
Atop a tank overlooking the city of extremes, danger stares him in the face and back but Jackie's fearlessness is ready to take it head-on.
Pradhan's play on vertical underscores the masculine flavour of this faceoff while its sense of elevation renders it an alternate reality, like a Mumbai away from Mumbai.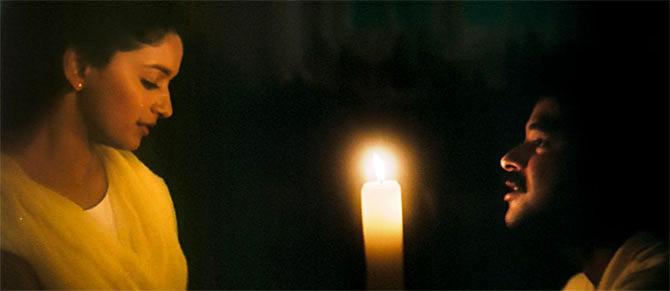 Pradhan's lighting is Parinda's most magnificent attribute.
Natural light, diffused light, rim light, lens flare, it's a thing of beauty.
It's like the man is painting with his camera.
And this candlelit shot of Anil Kapoor and Madhuri Dixit during the song Tumse Milke is one such vision.
Years before Dixit transformed into the most glamorous version of Chandramukhi for Sanjay Leela Bhansali (at the helm of Parinda's song choreography) in Devdas, she played guileless, gullible, Paro.
It's a small role but her easy chemistry with Anil Kapoor and lack of embellishment lends Parinda abundant heart and softness.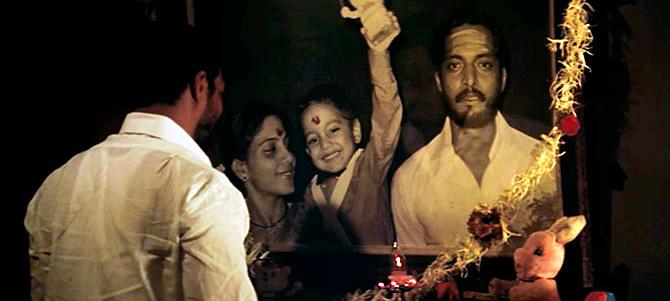 The monster in the picture and outside it.
This garlanded family photograph is a perfect introduction to Nana Patekar's Anna.
When the underworld kingpin burned down his wife and child alive, his soul died too.
What lives on is a fear of fire, a haunting keepsake of his heinous crimes.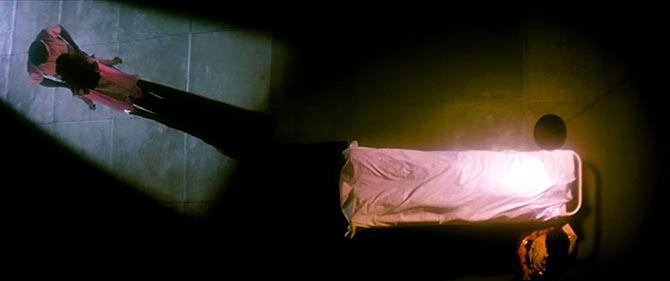 Karan and Paro's first meeting after he returns from America happens inside a morgue next to Prakash's dead body.
Poetic use of high-angle, light and shadows to punctuate the scene in beginning and end.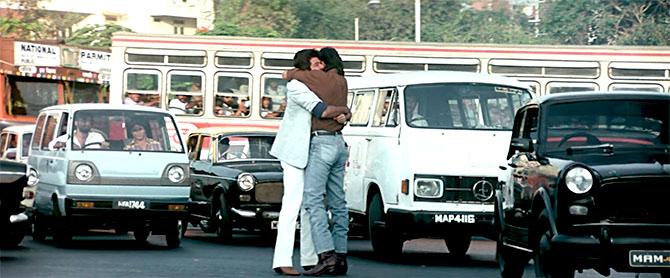 Karan's return from the States after completing his education is marked by three important reunions.
For better or worse, they are always dramatic.
If the one with Prakash and Paro is under grievous circumstances, the bear hug Karan and Kishen share amidst Mumbai's legendary traffic gives us a rock-solid understanding of their bromance.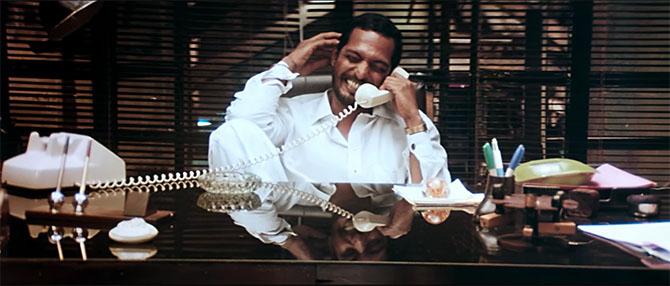 Parinda's fondness for ;The Godfather colours its stark mood and sensational betrayals.
Even the dimly-lit office Anna operates from takes obvious influences from Don Corleone's work space in Francis Ford Coppola's mafia masterpiece.
Except all the pristine whites and tiny specks of light escaping the panelled browns cannot mask Anna's wild ways as his demented laugh and its sinister echo duly reflect.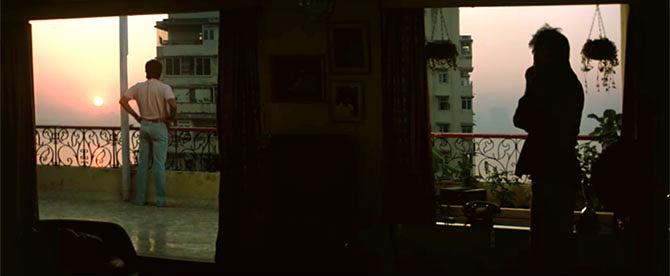 Sunsets are symbols of melancholy and misery in Parinda.
Pure awe for how Pradhan uses its natural fervour to draw an ideological wall between Kishen and Karan.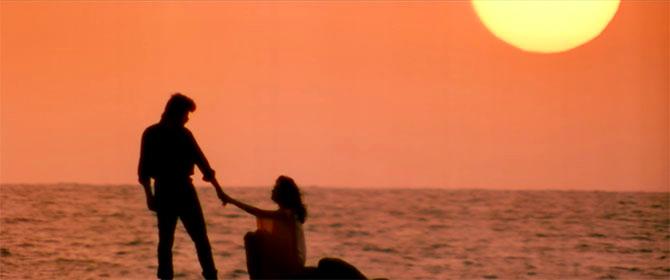 Or a picture-perfect illustration of a 'don't let the sun go down on me' scenario between Karan and Paro against R D Burman's lilting Pyar Ke Mod Pe Chodoge Jo Baahein Meri.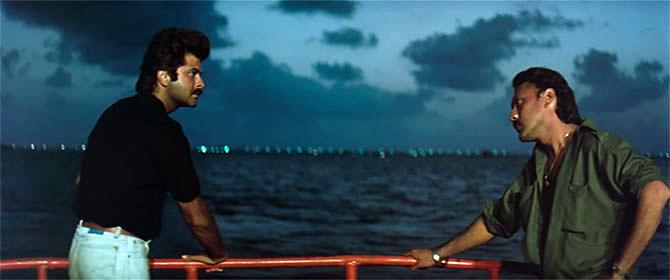 A feeling of nowhere-to-run envelopes a resentful Karan and worried Kishen as they confront the deadlock their relationship has hit to pick between the devil and the deep blue sea.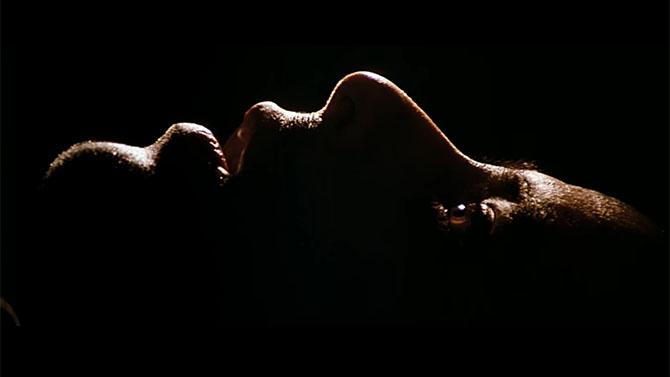 Death is a fearful thing, wrote Shakespeare.
Parinda knows it only too well.
And this affecting frame, featuring the director himself, lives it up faithfully.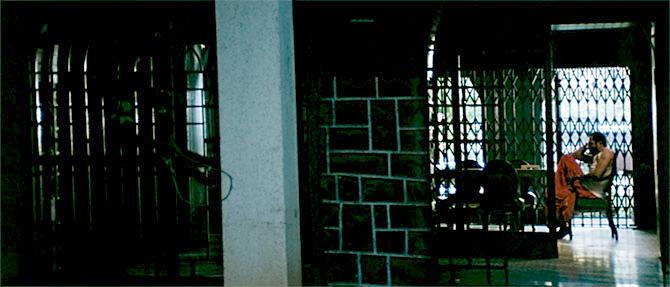 Anna is a complex creature. In one of his quieter moments, we catch a glimpse of a man flanked by grills, walls, bars suggesting no one is privy to his thoughts.
Now whether he's mulling over past guilt or planning a sinister scheme for the day, your guess is as good as mine.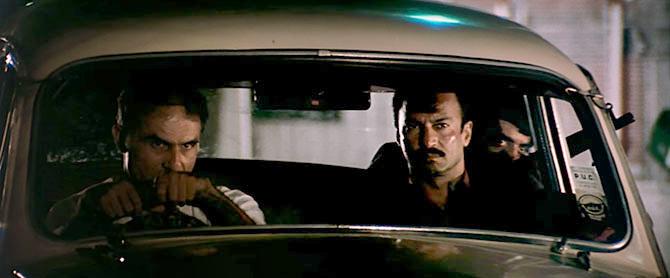 Featuring Anna's henchman troika -- Rama, Abdul, Francis, a sort of twisted tribute to the secular brotherhood of Amar Akbar Anthony.
If looks could kill, this simmering frame by Pradhan could singlehandedly annihilate.
This is such a groovy shot of one of the most key weapons in the story.
Pradhan's deceptively simple frames stump you with their ingenuity.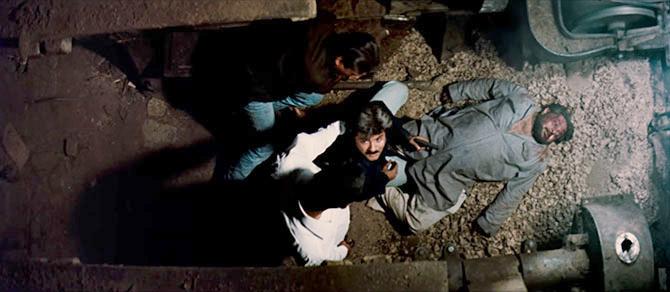 Parinda revolutionised the visual language of storytelling in Hindi cinema.
The death scene of Iqbal (Sameer Khakhar) -- better known as Khopdi to Nukkad fans -- in Anna's eerie oil factory would just become another gunshot, drop dead episode if Pradhan wouldn't show its reality in such a raw, hard-hitting manner.
Parinda's gangster workings are rich in decorum.
The grime, the gloss, the monochromes of this deftly composed interaction provides a window into their world.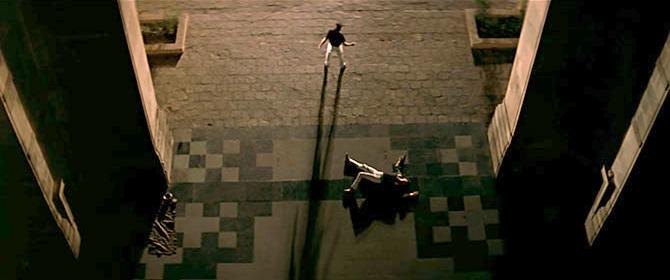 In an era when bright meant brilliant, gifted Director of Photography Binod Pradhan introduced us to the wonders of darkness.
Countless scenes feature the Gateway of India as its backdrop, but few as perceptively as Parinda.
Be it this high angle shot of a wounded Kishen while Karan cries for help.
Or this surreal silhouette of Kishen cruising away from Mumbai's most iconic imagery in the raptures of New Year's Eve revelry.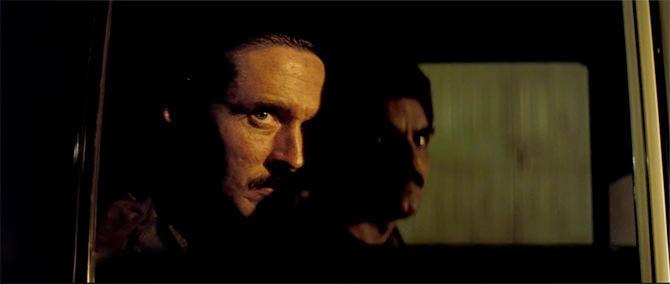 Tom Alter is Parinda's secret trump card.
Chopra uses him judiciously while Pradhan films him mysteriously. Win, win.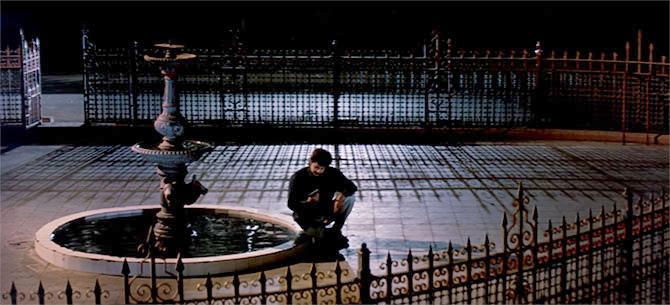 Pradhan, who also worked on VVC's directorial debut Khamosh four years earlier, knows the way into the film-maker's mind.
Their collaboration is seamless in translating what's on paper on celluloid.
Karan returns to the same spot in the dead of night and takes a silent vow to avenge his friend's murder.
Only this time a foreboding gun has replaced the flight of birds.
The way Pradhan uses the Kabutarkhana barricade to give him a caged effect where the only way out leads to violence.
Apparently, Chopra wanted to call the film Kabutarkhana until writer Javed Akhtar suggested that Parinda is better suited to the script.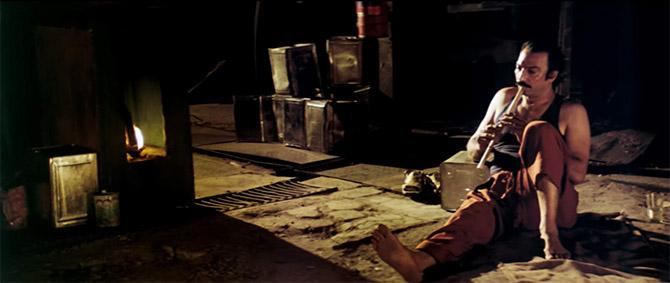 Suresh Oberoi's flute-playing Pathani hitman gathered notice for his ruggedness and menace.
The only time his ruffled feathers appear soothed is when he's playing the wind instrument.
Almost like a mental mating ritual before he goes for the kill.
Pradhan catches him enjoying some rare 'me time' in its trademark sepia rich tones.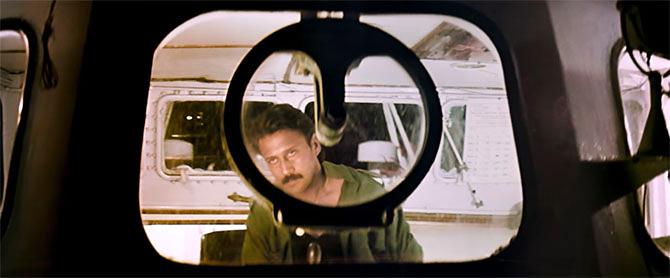 Example no #231 why Parinda is considered slick after three decades.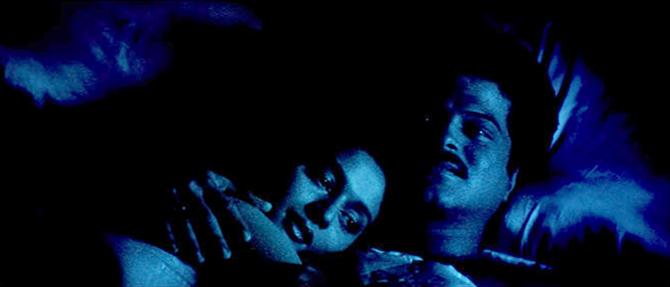 Pradhan's 'leave a lot to the viewer's imagination' approach for Karan and Paro's wedding night scene ensured lovemaking would never be the same again in Hindi cinema.
Intimacy was never so tangible. And blue was never this sexy.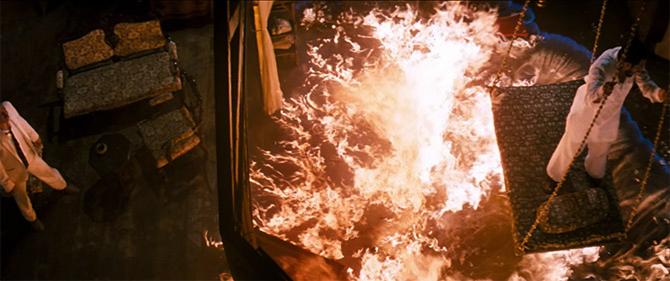 Of course it ends very, very, badly.
Anna's end demands a spectacular finish and Parinda's climax offers it in heaps.
By then we are familiar with his home, the strategic jhoola and the copious bottles of alcohol in his well-stocked bar.
Though unarmed Kishen's all-important lighter, gifted by Karan, and Anna's pyrophobia is all the arsenal he needs.
Not too long ago, Kishen had discovered Anna's kryptonite in this very room.
Now is the time to use it and finish him off the same way he once killed his family.
Another fabulous top shot by Pradhan allows us to experience the scene's strength.
As an aside, Patekar hurt himself while filming the aforementioned sequence.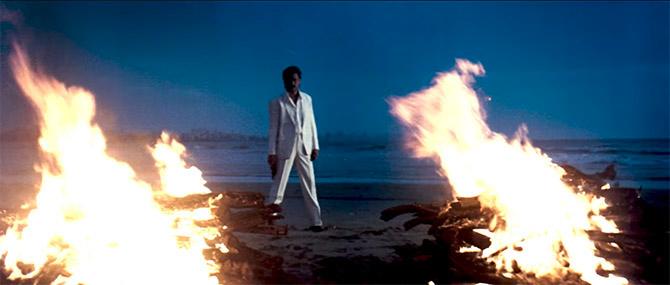 The fire that sets Anna ablaze cuts to the funeral pyre of Kishen's loved ones as he watches his world reduced to ashes against Mumbai's towering skyline.
Karan and Paro's souls are finally set free, but the burden of violence has clipped Kishen's wings for life.