Aseem Chhabra lists his favourite films from the recent Toronto International Film Festival.
As the pandemic situation began to improve and movie theatres opened up in North America, the Toronto International Film Festival made the decision to host an in-person event in September.
Due to travel restrictions, many foreign journalists were not able to come to Toronto and so the festival did give the option to the foreign media to watch the films online.
The best part of attending film festivals is to sit in dark theatres with like-minded audiences and engage in conversations after the screenings, sometimes right outside the theatre.
Alas, the pandemic still continues to deny that pleasure to many of us.
TIFF has often been called the festival of festivals because in addition to new films, its programmers also screen films that have played in other festivals like Sundance, Berlin, Cannes and Venice. So TIFF becomes a one-stop festival.
This year, the best films shown at TIFF took me around the world, as I experienced stories from different countries including Afghanistan, Indonesia, Spain, Russia, Israel, France, China and Turkey.
Each film was remarkable in its own way, giving us the sense of people's lives in far-flung corners of the world.
Here is a list of my favourite films from TIFF 2021.
Flee (Denmark)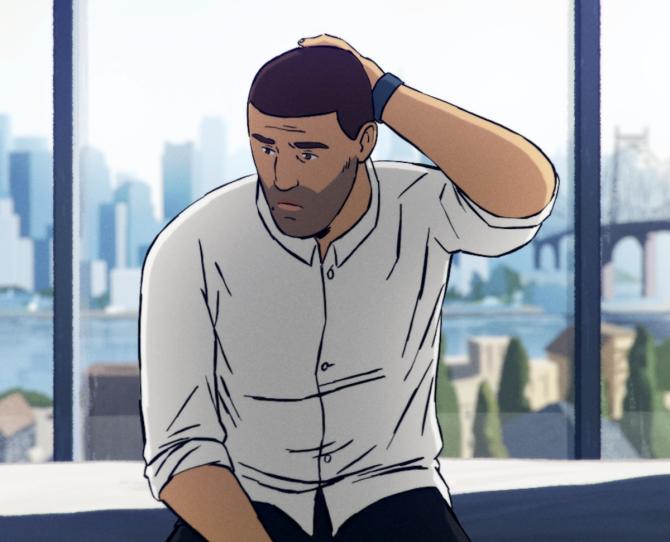 Many years ago, Danish film-maker Jonas Poher Rasmussen made friends with a new Afghan student Amin Nawabi (a pseudonym) in his school. But Rasmussen did not know much about his friend's background.
In recent years, Nawabi began to reveal details about his childhood in Kabul during Communist rule, the Taliban victory in 1996 and how his family had to flee Afghanistan.
Nawabi and Rasmussen then began to work on a film project -- an animation story about a refugee family.
A gorgeously made animation documentary film, Flee is the story of Nawabi, a young man discovering his sexuality as he watched Bollywood films (his favourite actor was Anil Kapoor) and those starring Jean Claude Van Damme.
It is also about how Nawabi and his family find a way to escape to Moscow, living illegally in Russia for a while, before they get refugee status in Europe.
Executive produced by Riz Ahmed, Flee premiered earlier this year at the Sundance Film Festival where it won the Grand Jury award in the World Cinema Documentary award.
Of course, at that time, no one could imagine that Afghanistan would once again fall to the Taliban.
The recent political developments in Afghanistan make Flee one of the most urgent and important films of this year.
Ali & Ava (UK)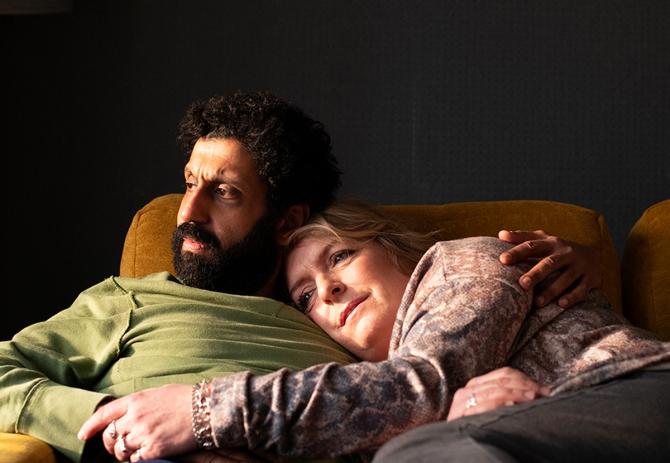 Ali & Ava is an unexpected British love story.
Ali (Adeel Akhtar) is a working-class British-Pakistani man, a landlord who has a close relationship with his tenants, especially a Hungarian family.
One day, while he is picking up the daughter of this family from her school, he meets Ava (Claire Rushbrook), a middle-aged Irish teaching assistant, who is a grandmother and mother to five children.
Ali is going through a separation from his wife, although he does not want his family to know about it.
Life is not easy for Ava either.
A friendship develops into a relationship, even though circumstances often do not work in their favour.
Director Clio Barnard has made a sweet romantic film, aided by performances by the two likeable leads.
Ali & Ava has the feel of a warm, small indie film and is perfect for the difficult times we are living in.
An added bonus: The film opens with Ava holding her grand-daughter, as her teenage son and daughter follow a Bollywood dance routine from a television show with Chaiyya Chaiyya playing in the background.
Compartment No 6 (Finland/ Russia)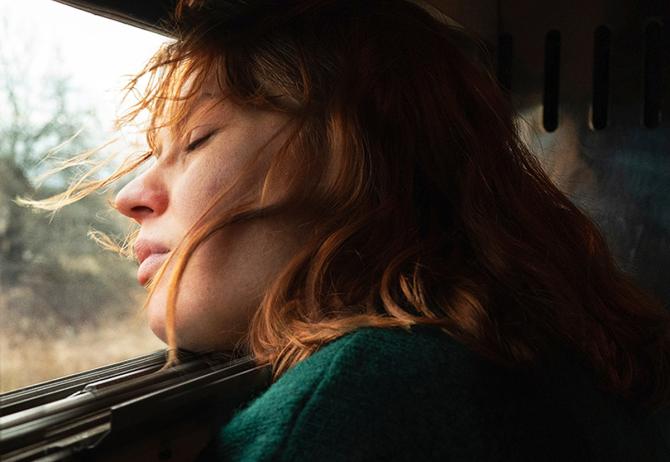 The Grand Prix winner at this year's Cannes Film Festival (shared with Asghar Farhadi's A Hero), Compartment No 6 is another surprising love story.
A Finnish grad student boards a train from Moscow heading to the Arctic Circle to study ancient rock drawings. She leaves behind her same-sex partner.
In the train compartment, she meets a working-class Russian man, who is uncouth, offensive and drinks a lot.
The journey lasts a few days and somewhere along the way, they two develop an attraction.
It is a promise the film had made with the audience in the beginning, so in the stunning conclusion scenes, our two young travellers finally make it to the Arctic Circle against all odds.
It is not quite Before Sunrise although Finnish director Juho Kuosmanen's film has been compared to the first installment in Richard Linklater's Before trilogy.
Compartment No 6 is romantic, although not in a conventional way.
It is definitely full of charm, wit and heart.
Titane (France)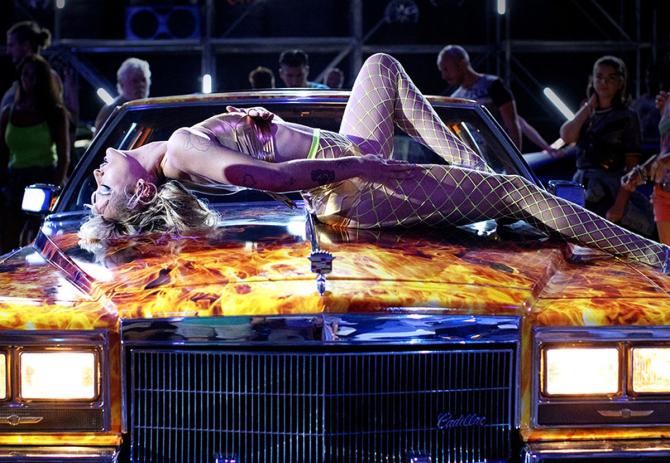 Titane won the Palm d'Or at this summer's Cannes Film Festival.
At TIFF, it was included in the Midnight Madness section, where the programming includes popular slasher, horror and violent films. It won the People's Choice Midnight Madness Award.
Director Julia Ducournau's film is quite unlike any I have seen before.
It is shocking, violent, disturbing, setting aside our ideas of gender and sexuality and yet, in a strange way, it is also warm, focusing on love and how families care for each other.
The film opens with a car ride. An an adult man driving, while his frustrated young daughter Adrien sits behind him.
A terrible accident follows and to save Adrien's life, doctors insert a metal plate in her head.
The plate and accident has a great impact on Adrien, as she grows up to love cars more than humans, and gets a job as a model at car shows. Automobiles, metal and oil become an integral part of her being.
Anyone who comes between Adrien and the cars must face dire consequences.
I read on Twitter about a woman who gasped, squirmed and squealed while watching the film. Yet, at the end, she gave the film a standing ovation.
I would expect most viewers to have similar reactions.
They might be terrified at times but will also be blown away by the film's brilliance.
Titane is an audacious film, so unique that it deserves more than one viewing.
Ahed's Knee (Israel)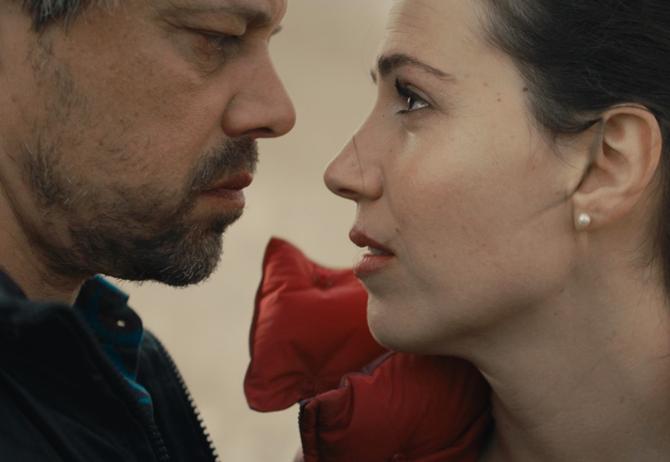 Israeli Director Nadav Lapid's last film Synonyms focused on a protagonist living in Paris and trying to shed his Jewish and Israeli identity. The film won the Golden Bear at the Berlinale in 2016.
In his latest film Ahed's Knee -- winner of the jury prize at the Cannes Film Festival -- a filmmaker travels to a remote part of Israel to screen a film of his in a public library.
But his main focus is on censorship in Israel and the possibility that his future works will not be seen by many.
Ahed's Knee is four-film-old Lapid's most angry work, especially in the third act when the film's protagonist identified as Y (Avshalom Pollak) forces his host -- an attractive government official Yahalom David (Nir Fibak) -- to acknowledge that his films could be banned and he could be restricted to engaging in film-making in the future if he goes against the official line.
Ahed's Knee is partly autobiographical.
Y collaborates with his mother but she gets cancer and he is dealing with the possibility of losing her.
Likewise, Lapid's mother was his editor and she died of cancer while he was working on this film's script.
But underneath the personal tragedy and Lapid's anger, lies his love for Israel.
He cares for his country and feels the need to be critical of its failings.
Ahed's Knee rises above just a simple critique of the way Israeli democracy handles opposing points of view.
It is, in fact, a plea by the film-maker for his country to become a balanced, fair society where minorities like Arabs, and different points of view can co-exist.
Are You Lonesome Tonight? (China)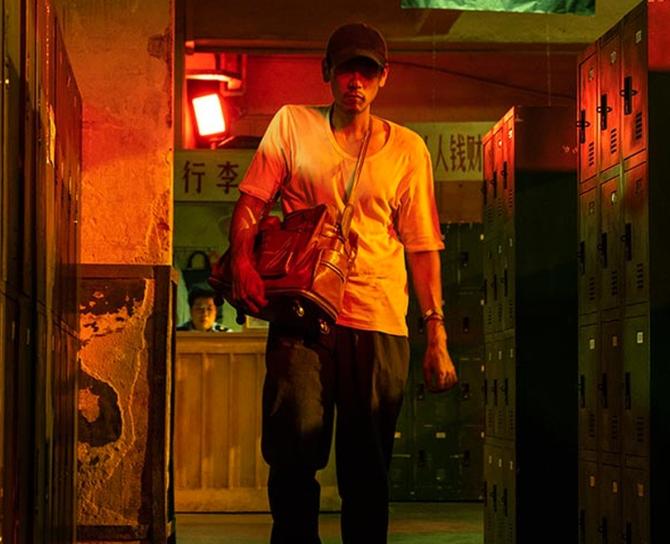 First-time Chinese Director Wen Shipei has made a film noir set in the late 1990s, with vibrant colours and a mood reminiscent of the early works of Wong Kar-wai.
A young air-conditioner repairman Wang Xueming (Canadian-Chinese actor Eddie Peng) accidentally hits a man with his car at night.
He believes he has killed the man and out of guilt, plans to confess his crime to the police.
But before he can do that, he sees the dead man's widow Mrs Liang (played by veteran Chinese actress Sylvia Chang).
Instead of going to the police, he decides to make amends by helping out the widow through her daily struggles. Along the way, we learn the dead man's life was not so clean.
A layered thriller driven with elements of guilt, melodrama and magical beauty -- a blind singer performs the Elvis Presley song Are You Lonesome Tonight in a practically empty club -- Shipei's film is a visual treat.
It also has a redeeming quality. Strangers can become friends and start caring for each other in ways that we often cannot imagine.
Anatolian Leopard (Turkey)
In Director Emre Kayiş's debut feature Anatolian Leopard, a public zoo in Ankara is set to go private with Arab money.
But the impending change is creating tensions and insecurities among the zoo employees, especially its director, a quiet, middle-aged, divorced man named Fikret (Uğur Polat).
With a nod to the works of Turkey's most celebrated film-maker Nuri Bigle Ceylan, especially his 2002 film Distant, Anatolian Leopard maps out the alienation of Fikret.
The zoo is the only living part of his life and the closure or change of management will disrupt his existence.
One New Year's Eve, after a few drinks with a group of friends, Fikret decides to visit the zoo and check on its prized possession: the rare Anatolian leopard.
The fate of the leopard and Fikret's own uncertain future gives the film an existentialist moody tone.
Although Anatolian Leopard has plenty of absurd humorous situations, Fikret's state of mind also reflects that of a nation under change and how the inevitable development is alienating many of its citizens.
Intregalde (Romania)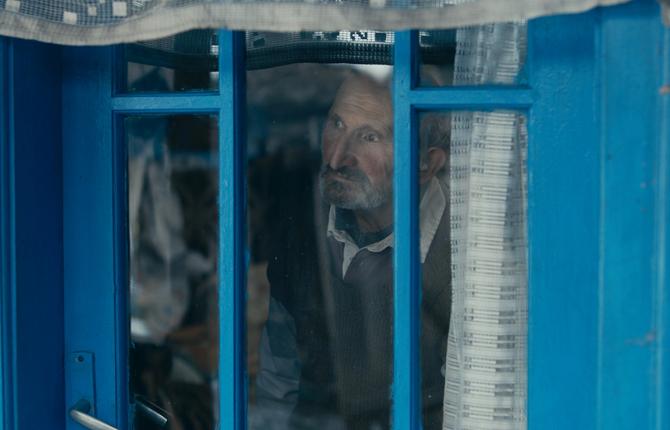 In Director Radu Muntean's film, three aid workers, who are delivering relief packages to remote Transylvanian villages, meet an old man on the road whose memory and facts are muddled.
What would have been a routine day of dropping off the packages at central spots in villages, with little interaction with the villagers, gets filled up with a generous gesture to take the old man to another far off destination.
But the old man turns out to be unreliable, and our relief workers get lost.
Their truck gets stuck in the mud and they are forced to spend the night in the vehicle as temperatures drop.
Muntean's seemingly simple film actually takes on a complex tone, with life lessons for all.
How much should we care for the less fortunate?
How much of our time and energy can we dedicate to a person, a cause that will not get us anything in return?
And when do we step back and say, this is all we can do?
Întregalde's workers learn this the hard way.
Their lives -- and perhaps also those of the viewers -- will change by the end of the film.
Yuni (Indonesia)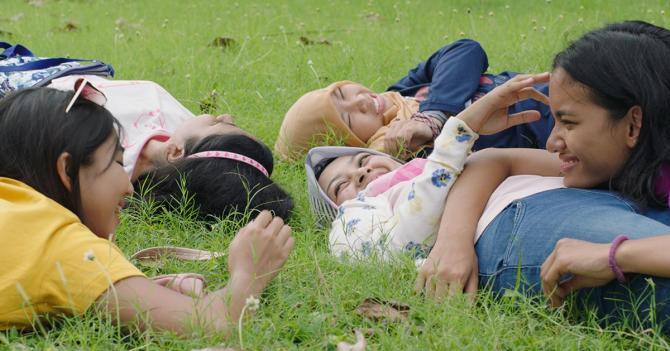 In Director Kamila Andini's Platform Award-winning film, Yuni is a high school teenager who enjoys hanging out with her friends and dreams of the crush she has on a schoolteacher. And she has an admirer: a classmate, who is unable to utter a word in her presence.
But Yuni's conservative Muslim family -- she lives with her grandmother in a small town, while her parents work in Jakarta -- would like to see her get married.
Marriage proposals start to roll in while Yuni is still in school.
She manages to reject every suitor, but her grandmother warns her of the bad luck she will face if she continues doing that.
But how can the carefree Yuni accept the idea of living with older men, some of who are already married?
Andini's film is a tough portrayal of the lives of teenagers charting their paths in a conservative society, just one step ahead of the patriarchy that will eventually stifle their desires to be free.
Arawinda Kirana, a beautiful actress who plays the title role, carries the film with her charm and a strong-willed spirit.
Murina (Croatia/ Slovenia)
The story of an oppressive father and a teenager trying to flee the coop, Murina reminded me of Vikramditya Motwane's Udaan.
But Director Antoneta Alamat Kusijanović's film is set in Croatia, a picturesque landscape of the world of fishing, deep-sea diving and soaking in the sun.
The film also deals with patriarchy and the limited choices women have in traditional European societies.
Sixteen-year-old Julija (Gracija Filipovic) faces daily humiliation from her father.
Her mother is also not spared, but she has resigned to her fate.
A visit by a handsome family friend changes the dynamics and opens Julija to the possibility of attending college in the US and escaping this tough life.
This year's Camera d'Or winner at the Cannes Film Festival -- an award given to first-time film-makers (Mira Nair received the award in 1988 for Salaam Bombay) -- Murina is gorgeous to look at.
But the daily abuse that Julija and her mother endure makes us look beyond the physical beauty of the film and understand why the teenager needs to free herself.
The Odd-Job Men (Spain)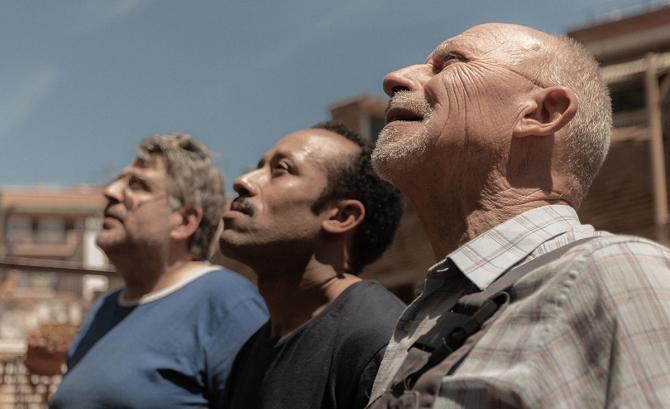 Narrated from the point of view of its protagonist, Mohamed (Mohamed Mellali), a recent Moroccan emigre in Barcelona, Neus Ballús's The Odd-Job Men looks at another facet of the refugee story in today's Europe.
For once, we do not see Mohamed's struggle and his journey to Europe, a subject often explored in narrative and documentary films in recent years.
Instead, we find him trying to improve his life, finding a job, learning Spanish and Catalan while facing subtle racism from a colleague at an electrical repair job.
Mohamed is initially given a week to train and find his way. Every day, work takes him and his two colleagues to different a location where they meet an assortment of quirky people and humorous situations.
But it is Mohamed's positive demeanour and the smiling face of actor Mellali that makes the film a charming experience.
You root for the young man even as he makes mistakes. You want him to succeed.
The Odd-Job Men is a lovely, sweet film, brimming with hope.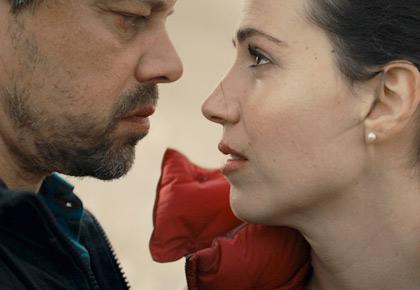 Feature Presentation: Rajesh Alva/Rediff.com