Indira Kannan picks Made in Bangladesh, Greed, Moothon.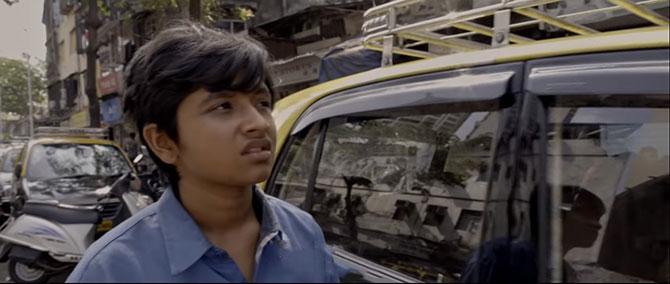 The labels are a common sight on the racks of most fast fashion stores in the West -- Made in Sri Lanka, Bangladesh, Cambodia, Guatemala or any other developing country, including India.
The clothes change several times in a season, and are meant to be worn while they are trendy -- it could be balloon sleeves one month, raw hems on ripped jeans the next.
Or it could be colours that are in fashion -- as Meryl Streep memorably explained to a naive Anne Hathaway in The Devil Wears Prada how 'cerulean blue' trickled down to street fashion.
Pricing and turnaround are key in this industry -- the price tags must appeal to young budget-conscious shoppers and the collections must hit the shelves when the taste-makers are still sporting those trends -- a shipment of moto leggings that lands in stores when the Instagram influencers have moved on to lace-trimmed shorts would be, like, so out of date.
The pipeline that keeps this market going is less attractive -- factories in developing countries where employees -- mostly women -- work long hours in unhealthy conditions to churn out pieces that may be discarded in a few weeks.
Slowly, however, the trend of trendy clothes at throwaway prices is itself showing signs of change.
American fast fashion behemoth Forever 21 recently filed for bankruptcy in the US and Canada and announced it would close hundreds of stores worldwide.
European chains like H&M and Zara have also seen slowing sales in recent years.
Industry experts point to a mix of factors as the reason, including a steady growth in online retail, and a greater awareness among consumers today about the sustainability of a throwaway culture and questions about how cheap clothes are produced.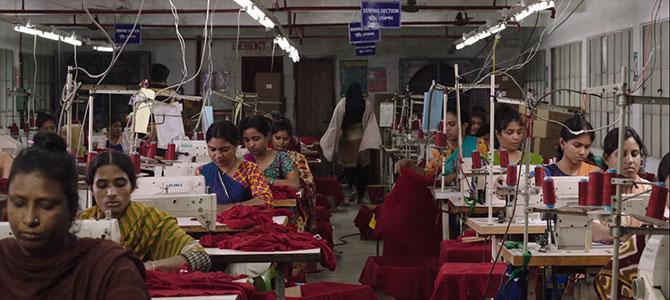 In an interesting juxtaposition at this year's Toronto international film festival, two engaging films looked at this industry from opposite ends.
Made in Bangladesh, a film by Rubaiyat Hossain, shows viewers where and how cheap fashion is manufactured.
British film-maker Michael Winterbottom's Greed, on the other hand, follows the exploits of an unscrupulous billionaire owner of a fast fashion empire.
Hossain uses a serious approach to narrate the story of Shimu, a garment factory worker in Dhaka, and her struggle to organise her co-workers in the face of strong opposition at work and at home.
The subject is especially relevant to Bangladesh, which is the world's second largest exporter of readymade garments.
The sector accounts for four-fifths of the country's exports and about a fifth of the country's economy.
In an interview, Hossain explained why she chose to focus on this sector for her latest film: "The garment industry was an obvious choice. Also, Bangladesh is now becoming a middle-income economy, and how is that happening? It's happening because of these women."
But the women are often forced to work under hideous conditions for minimum wages that are a fraction of those in the West.
A series of disasters in Bangladesh in recent years drove home this point, the most infamous of them being the Rana Plaza collapse in Dhaka in 2013.
The death toll of over 1,100 from the collapse of the building that housed garment factories employing over 5,000 workers, shocked the world when it emerged that clothes from several well-known brands like Benetton, Joe Fresh and Primark had been manufactured there, and that the workers had been ordered to work that day despite reports of damage to the building the previous day.
Just a few months earlier, a fire at a garment factory in Dhaka had killed over a hundred workers.
Made in Bangladesh is a powerful voice for these workers.
Shimu, played confidently by Bangladeshi actor Rikita Nandini Shimu, is the assertive voice in the film, rallying co-workers who are routinely abused and exploited by their employers and their families.
"These women are the driving force of the Bangladesh economy but there is very little recognition for them," says Hossain.
"People look down on them because they are poor or they are factory workers."
They are also exploited by fashion retailers in the West, and indirectly, by their consumers.
The protagonist of Greed, named Sir Richard McCreadie, is a ruthless businessman, determined to drive down costs, no matter what it takes.
In a scene, he explains why he started sourcing clothes from a factory in Sri Lanka rather than from one in Leicester -- the worker in Leicester would earn 2.88 pounds an hour, as against 50 pence for the one in Sri Lanka -- and, he adds, that's 50 pence for a day, not an hour.
If another factory owner was willing to pay his workers even less and sell his clothes cheaper to McCreadie, he would gladly switch suppliers.
Speaking at TIFF, Winterbottom said he was taken aback by the sheer scale of the problem while working on his script.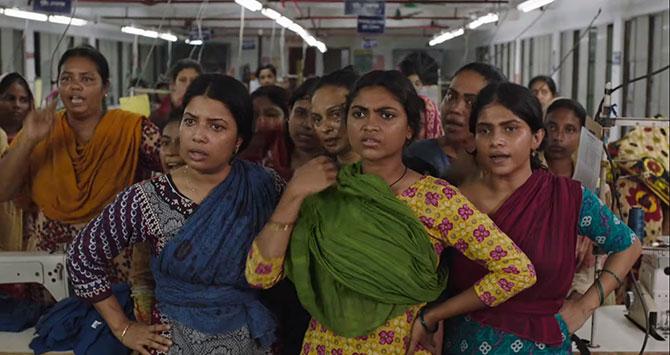 "I didn't realise how big the industry is," he said, adding that he found "97 per cent of the clothes sold in the US were made abroad" and that "the real numbers of the wage gap were shocking".
In contrast to Hossain's approach, Winterbottom effectively uses satire to skewer the sellers of fast fashion.
Greed's McCreadie is clearly a caricature of Philip Green, the billionaire founder of the troubled British fashion chain Topshop.
After a screening in Toronto, Winterbottom said the film and its characters were fictional, but added, "Anything that you find absurd or extreme -- remember, the reality is much worse."
Indeed, the setting for the film is the Greek island of Mykonos, on the eve of an extravagant 60th birthday party for McCreadie, to be attended by global A-listers.
The tycoon is played in flamboyant fashion by Steve Coogan, as he readies for an opulent bash that he hopes will repair his image in the midst of ongoing investigations into his business.
Guests are all to be decked out in Roman costumes, and a key part of the entertainment is a real lion flown out to the island for a gladiator-type event.
But all the arrangements are running behind schedule, and a group of refugees has come ashore and camped out at a nearby beach, rather spoiling the view. McCreadie wants them evicted for the sake of his guests, because, as he explains without any sense of irony, 'some of them are quite superficial.'
As celebrity guests start dropping out fearing bad publicity from associating with McCreadie, an assistant suggests hiring lookalikes and confining them to dimly lit areas so that paparazzi photographers don't catch on.
Another assistant's history is tied to McCreadie in an unexpected way, and as you might expect from this chaotic arrangement, the lion plays a pivotal role in the climax.
Through the biting humour, Winterbottom manages to highlight the prevalent practices in the fast fashion industry to inform consumers in the West.
Winterbottom says he made the film to draw attention to the issues, not to offer solutions, which, he believes must come from consumers: "It's to make you think that when buying a $10 t-shirt, it's not a piece of Beyonce I'm buying, but the woman who made it."
Public outrage and pressure in the wake of the Rana Plaza accident led to corporate initiatives to improve safety measures and inspections of factories, although these cover only a small portion of the industry.
There is also increasing awareness of the pollution caused by mass manufacturing and mass disposal of used clothes.
It's an especially topical subject at this time-- the World Premieres of Greed and Made in Bangladesh at TIFF also coincided with Penguin Random House publishing Fashionopolis: The Price of Fast Fashion and the Future of Clothes, by veteran fashion journalist Dana Thomas.
The works help buyers see the hidden message on the tags of their cheap chic: Those deep discounts mask some steep costs.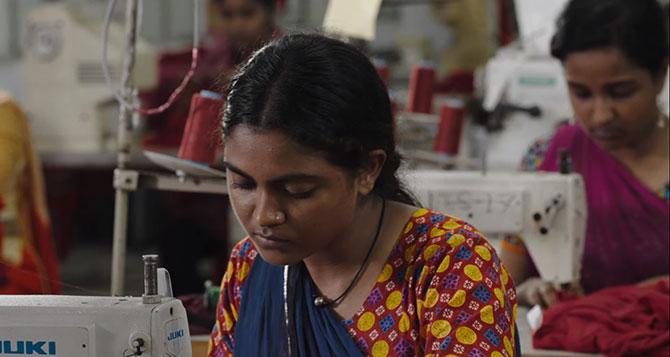 While working on the script for her latest film Moothon, or The Elder One, at the Sundance Lab three years ago, Geetu Mohandas kept worrying about how she would transfer it to the big screen.
Would the characters seem too edgy?
Could she afford to shoot at the locations she wanted?
Until, she says, her mentors at the lab gave her some game-changing advice: 'When you're writing, don't be a producer.'
And so she set out to write the script she wanted, buoyed by the mentors's additional advice.
"They said 'Write anything you want, go wild'."
Then came the reality check, sort of: "So I'm like ok, how much wild? And I wrote wild, and they said not that much... and when you come to shooting, the producers say, uh, not that much... and you bring it down."
Even so, Mohandas has delivered a compelling film that boldly goes some places where Indian film-makers rarely venture.
For starters, it is set partly in Lakshadweep, a novel locale to Indian viewers outside of globetrotting, costume-changing backdrops for songs.
It also provides a homosexual backstory to its central character, played by Malayalam film star Nivin Pauly.
The film, which had its world premiere in Toronto in September, also opened the Jio MAMI film festival in Mumbai on October 17.
Moothon is mounted as a bilingual film in a Malayalam-like dialect used in the island territory and Hindi, with its Hindi dialogues penned by film-maker Anurag Kashyap, who is also one of its producers.
It's about the quest of a teenager who sets out alone in a rickety fishing boat from a Lakshadweep village in search of an elder brother who had gone to Mumbai years ago.
Mulla is armed with nothing more than a telephone number of a fellow villager, also now believed to be living in the big city.
When Mulla manages to reach Mumbai, the teenager is flung straight into its underworld, complete with criminal gangs, prostitutes and groups of orphans, all consumed in a fierce struggle to survive.
One of the bosses in this petty criminal niche is Bhai, a stocky, drug-addled, ruthless tough played superbly by Pauly in a role that's vastly different from his usual fare as a popular star.
He had to bulk up considerably for the part, a task that he carried out gleefully, according to Mohandas.
"He was so happy (to eat), but that was the exciting thing for me, the fact that he's got commitments with other films. That an actor would do it is one thing, a star doing that is something else," she said in an interview in Toronto.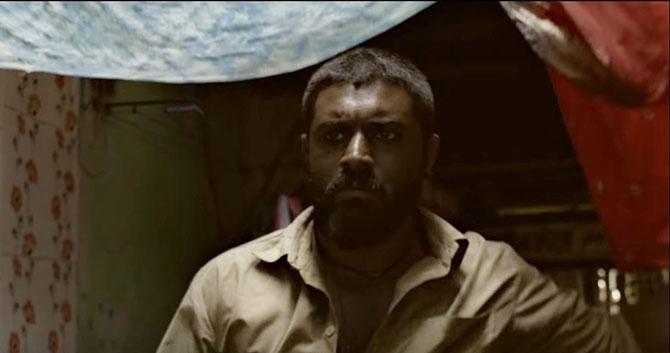 Yet Bhai's physical appearance was the least of Pauly's challenges.
The film also delves into his past as Akbar, a fisherman, also from Lakshadweep.
Akbar's tranquil life is jolted by the brief return of his boyhood friend, the mute Aamir, who had gone away to Mumbai but has been summoned back by his family so that they can find him a local bride.
As the young men lock eyes during a traditional kuthu ratheeb ritual that involves piercing oneself to the accompaniment of Sufi hymns, Akbar is awakened to his homosexual identity.
As they explore their mutual desire, communicating tenderly through sign language, the spectacular beauty of Lakshadweep forms an idyllic backdrop.
Predictably, their affair doesn't go down well with the orthodox villagers.
In an interview during TIFF, Pauly talked about stepping out of his comfort zone for this role.
"I badly wanted to do it but since it was so powerful, I didn't know how to answer yes to it. Later, I told Geetu that I need a complete revamp, this is not a film which I've done so far, so I need to find Akbar in a better way," Pauly said.
That included an acting workshop with Atul Mongia.
"He (Mongia) took out the inhibition to approach scenes, which was much needed for me. So from that moment I started believing in myself and felt like I could do Akbar, and I am Akbar."
Mohandas added that Akbar's character was not originally gay, but evolved organically after she visited Lakshadweep and worked on the script.
"I saw so many closet homosexuals in that space and I just thought that I needed to tell their story," she said.
"And I think that a big star being part of a film like this is a big political statement and it's much needed."
Similarly, Akbar was also originally located in a fishing village near Kochi, but Mohandas moved it to Lakshadweep to sharpen the contrast between his laidback life in a scenic village, and the frenetic pace and brutality of Mumbai's seedy underworld.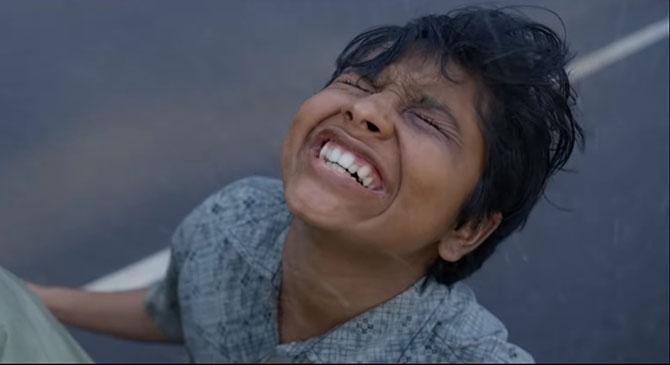 Apart from Dipu's heart-stealing performance as Mulla, another intense part in the film is that of the manic Salim, Bhai's sidekick in Mumbai.
Mohandas zeroed in on Shashank Arora for the part as soon as she watched Brahman Naman at Sundance.
Mohandas said, "I knew that there was this certain madness and energy that he brought, just being himself, that I wanted for his character."
Parts of Moothon evoke memories of Mira Nair's 1988 film Salaam Bombay, and there are some portions that seem facile, as for instance, Mulla managing to reach Mumbai despite the ramshackle fishing boat capsizing soon after it leaves the shores of Lakshadweep.
Still, Mohandas keeps a tight rein on the twists and turns of the plot and extracts powerful performances from her cast.