'Shah Rukh Khan has to like you, and then it is easy to work with him.'
'Aamir knows more than me when it comes to tattoos!'
Remember Aamir Khan's cool tattoo look in Dhoom 3?
Or Anushka Sharma's sassy 'dekho magar pyaar se' tattoo in Matru Ki Bijlee Ka Mandola?
More recently, John Abraham's smoldering hot inked look in Pathaan?
Actors have loved to express themselves through their tattoos in the movies, with some help from Vikas Malani, who runs BodyCanvas Tattoos & Piercing along with his brother Micky.
Over their two-decades-long journey, the Malani brothers have marked collaborations with some of the biggest stars and production houses and cemented their position as Bollywood's go-to tattoo artists.
But like most success stories in the world, they went through a fair share of struggles too.
When Vikas first encountered the art of tattooing at age 14, he was transfixed by it. He started practicing it as a hobby.
His family rebuffed his enthusiasm and discouraged him from following it, but his mother encouraged him on the condition that he first complete his graduation.
Vikas kept his promise and moved on to doing odd jobs for eight-nine years, until he decided to dedicate himself to tattooing.
"When you are rebellious, you want to do something creative. Anybody, who is a black sheep in the family has a creative brain because they don't accept stereotypical rules," Vikas tells Mayur Sanap/Rediff.com.
"I wanted to do something rebellious because that's what outshines you. I found that spark in tattooing and I said to myself, I am going to give my heart and soul to this."
Today, the Malani brothers have chains in Mumbai, Delhi and London, with a glamorous client roster of names like Rhea Chakraborty, Prince Narula, Shibani Dandekar, Debolina Bhattacharya, Vishal Singh, Disha Parmar, Dhiraj Dhoopar and Ambika Anand.
They have also designed tattoos for Salman Khan's sister Arpita, Ajay Devgn's daughter Nysa, Alia Bhatt's sister Shaheen and Arjun Rampal's daughter Myra, among many others.
Vikas shares some fun anecdotes with Bollywood celebs.
John Abraham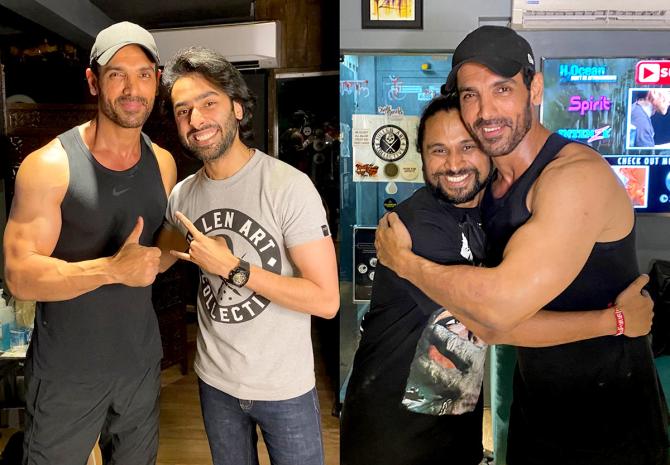 We connected with John from day one.
He was so friendly.
During the first sitting, John had come to our Bandra studio (north west Mumbai) in the morning and left at 11:30 in the night!
He spent about 12 hours with us, and made us feel so warm and happy.
We took more than 200 pictures with John.
He gave us the comfort zone to express our ideas freely. He also shared his ideas for the tattoo.
John has an amazing knowledge of physique and appearance. He gave us tips on how to go with the muscle movement of the body, from his forearm to his wrist and to his biceps. Before working on tattoos, it is integral to study human anatomy.
The actor sported a compass on his right forearm with the coordinates for the city of Mumbai and on the other hand, there was 'Family' with a heartbeat motif and a cross on his finger.
For his sleeve tattoo, there is a clock, eagles and roses design.
The ideas of the tattoos were based on his character in the film. The tattoos were like a supporting character to his personality.
We have worked with Yash Raj Films on Pyaar Impossible and Dhoom 3 before, but Pathaan was a much larger platform for us.
The whole process was a journey of about two months.
Shah Rukh Khan
We had worked with Shah Rukh on a Dish TV commercial almost 10 years ago.
During my meeting with him, I realised SRK has a very analytical brain.
He has a go-with-the-flow attitude.
He is always busy with his work.
He has to like you, and then it is easy to work with him.
(At work) He doesn't communicate much. The less you talk, the better it is for you.
But I think, when SRK is on a film set, he talks to people around him.
(When on the job) You are not allowed to take pictures with him.
Aamir Khan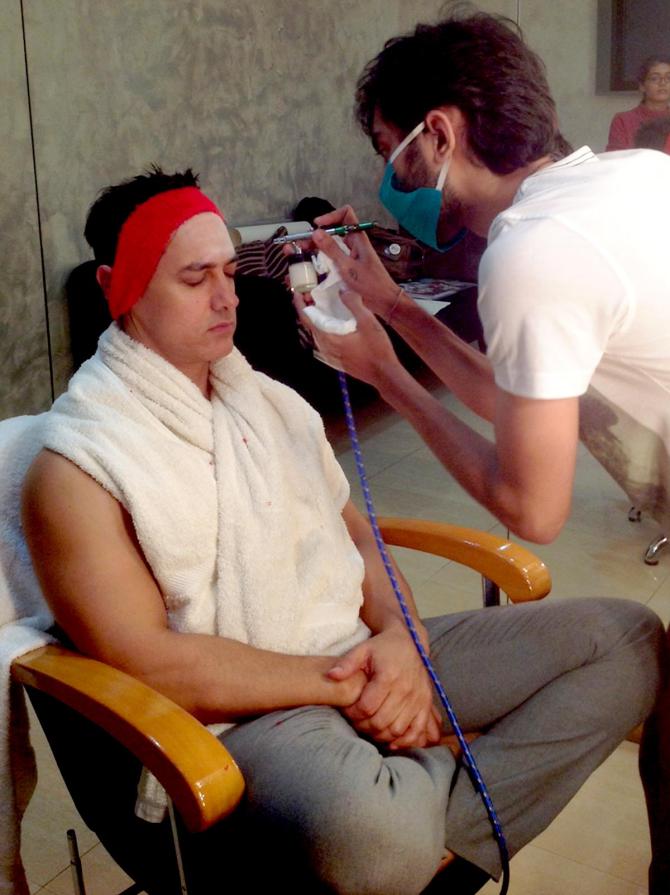 Aamir knows more than me when it comes to tattoos!
He goes neck-deep to fully understand things.
He knew about everything when we were working together -- from the things that I put on to him to the techniques I used -- I was surprised at how much he knows about my job!
I call him Mr Encyclopaedia, not just Mr Perfectionist.
He asks you many questions. He asked me about the products I was using, the service, the technique...
I have not met anyone like Aamir Khan, in terms of multitasking. He is an all-rounder.
Aamir has very high standards, and was happy with our work on his look.
Anil Kapoor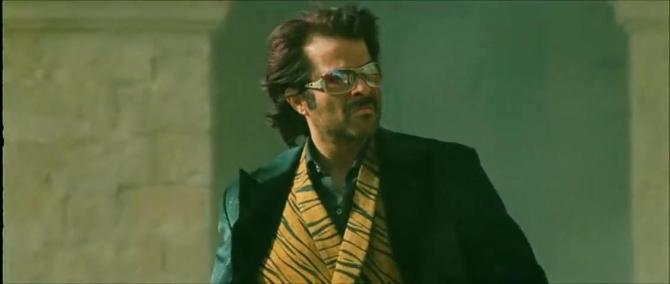 Anil Kapoor is a very kind man.
We worked with him for Tashan where he played the villain.
To do the look test, we visited his house. After work, he offered us dinner.
Anil Kapoor said he is not a tattoo person, and did it only for the film.
He had to shave his chest, and that was an awkward situation because we all know Anil Kapoor has a lot of hair.
He was cool throughout the process, and even made jokes about it.
Priyanka Chopra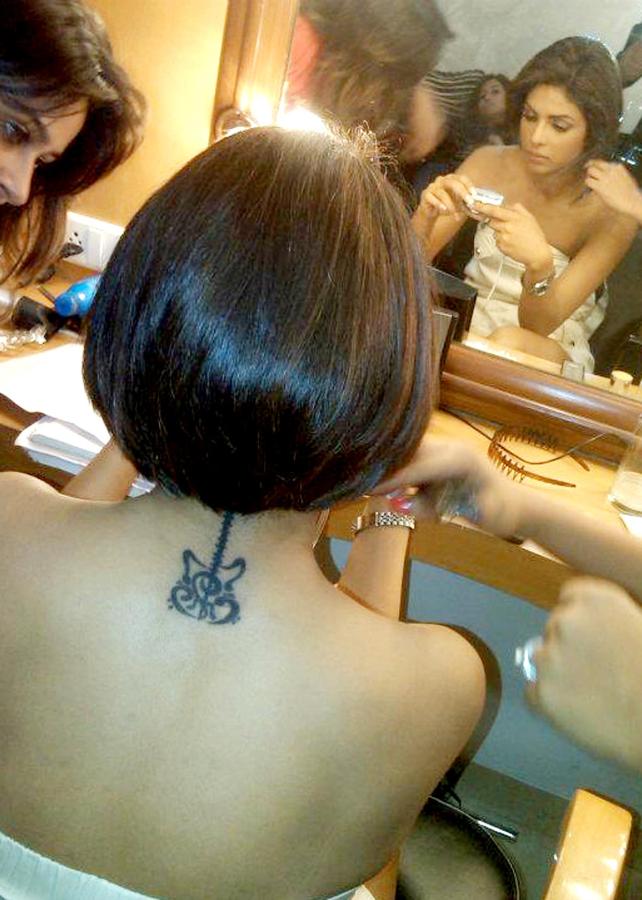 We worked with Priyanka on Pyaar Impossible.
Priyanka likes precision.
Everything has to be perfect.
She is also very particular about cleanliness.
She was very respectful and generous to us, and would always inquire, 'Did you have food?' 'Are you okay?' 'How was your day?'
Sidharth Malhotra
We had an amazing time with Sidharth. He was very respectful to us.
He has no tantrums, but he doesn't like tattoos.
He loves bikes, and has one too. We were talking about Harley Davidsons.
I liked the fact he is not a tattoo person, and yet was so respectful towards the art.
Anushka Sharma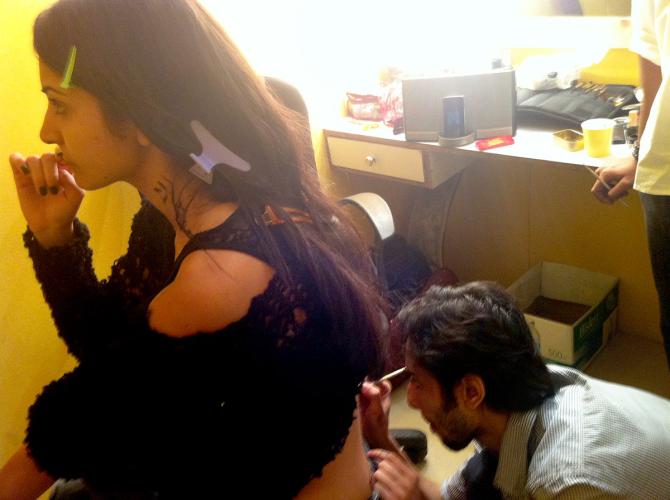 Anushka was nice and humble.
She used to be very calm during the tattoo process but did not speak too much.
M S Dhoni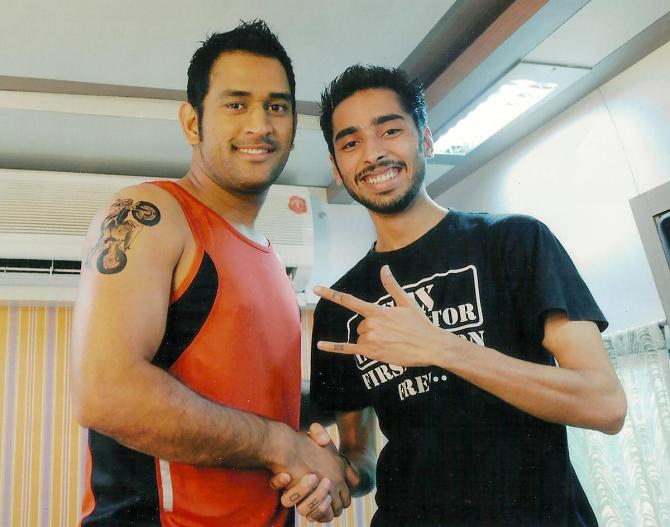 We did a Maxx Oil commercial with Dhoni.
He told us that he is not a tattoo person and if it wasn't for this ad, he would have never gotten inked.
He loved our work and was super impressed with the job.
He loves bikes, and the commercial needed him to have a superbike on his arm.
I remember he said to me that he has a lot of respect for artists because he has seen struggles in his own life.
He treats you so normally because he is so normal and humble himself.