After injecting life into Mumbai's Prithvi Theatre and running it for years, Sanjna Kapoor tells Anjuli Bhargava that she is consumed by a new passion -- Junoon.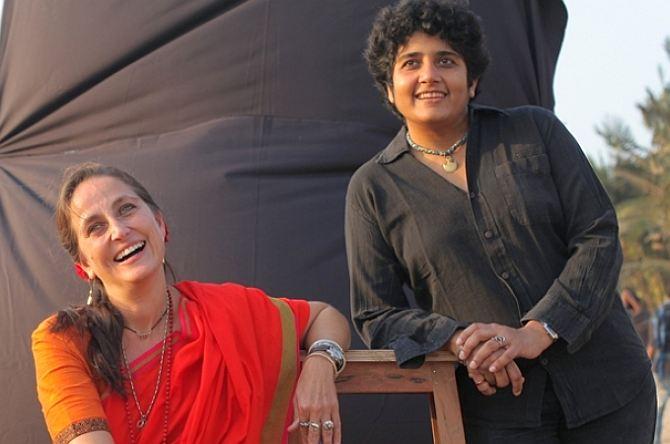 IMAGE: Sanjna Kapoor and Sameera Iyengar co-founded Junoon. Photograph: Kind courtesy Junoontheatre.org
Even in a room full of people, Sanjna Kapoor stands apart.
We are meeting for lunch at the Delhi Club House in the Sangam Courtyard at R K Puram and I spot her almost as soon as I step in, seated calmly and absorbed in her reading.
I shake her out of her reverie and we move to a quieter table, aware that soon the restaurant would be taken over by kitty party groups, of late a regular feature at almost all Delhi restaurants. Noise levels in restaurants at lunchtime -- no matter where you choose to go -- have hit new highs.
The restaurant has a nice drawing-room feel about it during the day; sunlight filters in through large windows. We decide to share a spinach chaat. She orders a railway mutton curry and I an Amritsari kulcha with channa. We both order fresh juices -- indistinct and average -- but neither of us manage to finish them.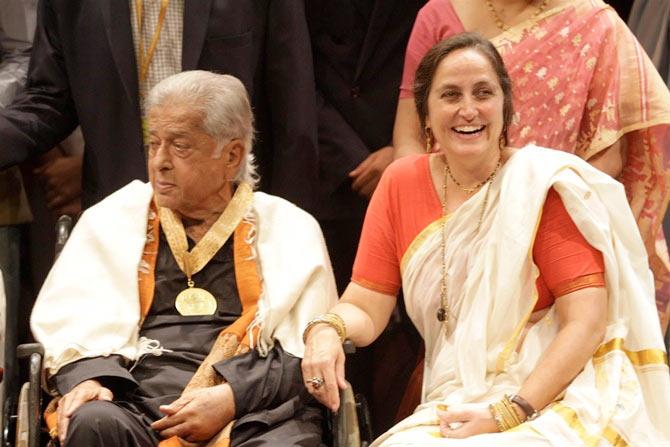 IMAGE: Sanjna with her father Shashi Kapoor soon after he was honoured with the Dadasaheb Phalke award. Photograph: Pradeep Bandekar
Sanjna was only 14 or so when she realised that what she wanted to do in life didn't exist any more: To be part of a travelling theatre company -- the kind her maternal grandparents had run and one that had allowed her mother to leave school earlier than usual and never to go back. "A rude shock," she says.
Although she always thought of Prithvi as her mother's baby, it was actually her father's idea. "I remember my mother's letter to my aunt Felicity Kendall where she said: 'Shashi's gone mad. He wants to build a theatre here in Mumbai'."
Kapoor says her father's heart was always in theatre and he worked in films only to finance and keep alive his true passion.
She was 15 when Prithvi had its first international theatre festival in 1982, curated and orchestrated by her mother. "It was the best Prithvi festival ever," she recalls.
"I was the lowest of the low rung of volunteers: Picking up people from the railway station, buying diyas and decorating, running around doing the smallest jobs."
The energy and excitement of that first festival remains with her even today.
Her mother, who had been ailing, died around the same time and Sanjna was at her "most rebellious" after that.
Although options such as Oxford and Cambridge were considered, young Sanjna had no interest or aptitude for academics. Her upbringing -- and her mother's -- had been unconventional and she managed to escape a formal college education.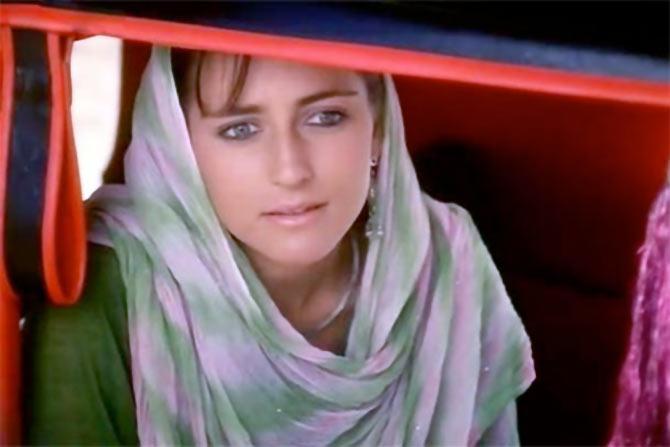 IMAGE: Sanjna was just 18 when her first film, Hero Hiralal, was released. She starred opposite Naseeruddin Shah.
She did one film around the time she was 18 -- Hero Hiralal -- and realised she didn't know much about acting despite being surrounded by actors. So she headed to drama school in New York -- the Herbert Berghof Studio -- and plunged into "the best year of my life ever", an experience that would shape the rest of her life.
"I remember I smelt the first Prithvi festival when I entered the studio in New York and knew I had come home" even though she was several thousand miles away.
At the Berghof Studio, she realised she had found her calling. While she and her siblings have all flirted with films, they have always remained on the fringes; it is theatre that runs in their blood.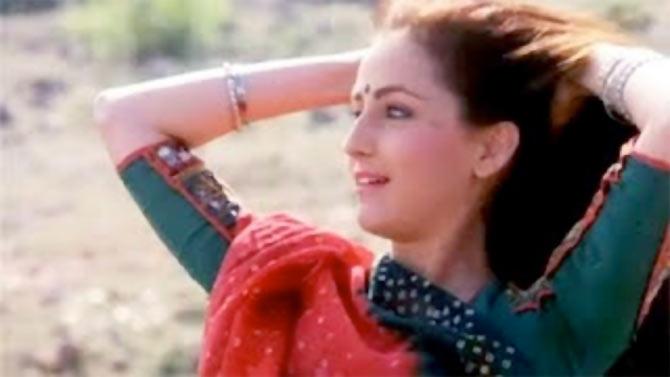 IMAGE: Sanjna's look in Hero Hiralal.
In 1990, she assumed charge of Prithvi, almost seven years after her mother organised the first festival. For a year, she watched every show.
"The quality of shows had fallen, the audience was often quite dismissive, even obnoxious. Groups that were doing great quality work earlier were doing terrible work then."
She knew Prithvi needed a complete overhaul -- "it was an uphill task ahead", she concluded.
To her, theatre is not just a show; it is an experience. With that fundamental thought in mind, she plunged right in.
A children's theatre workshop was launched; a book shop, café and art gallery were resurrected -- all essential ingredients to bring theatre to life. A newsletter was started.
"The art gallery was tiny, nothing to speak home about, but it was essential to opening up one's mind. The attempt was to weave one's way into the life of Mumbai city," she explains. "The café gave it the feel of an adda."
The children's theatre workshops were hugely successful. Booking queues would start the night before a new play opened and within moments of opening, seats for the workshop would be filled out.
Little Prithvi players did four shows, productions that travelled and performed across India. All along, Kapoor knew Prithvi would hold a niche appeal, never competing with commercial cinema, but it would be a force nonetheless.
Over the years, Prithvi has become just that -- "a place in Mumbai to head to for an energetic arts experience."
If you wanted to spend an evening watching a good show, enjoying a nice cup of tea or a light snack at a café, seeing what's latest in the art world, you knew you had to go there, making your way through Mumbai's nightmarish traffic.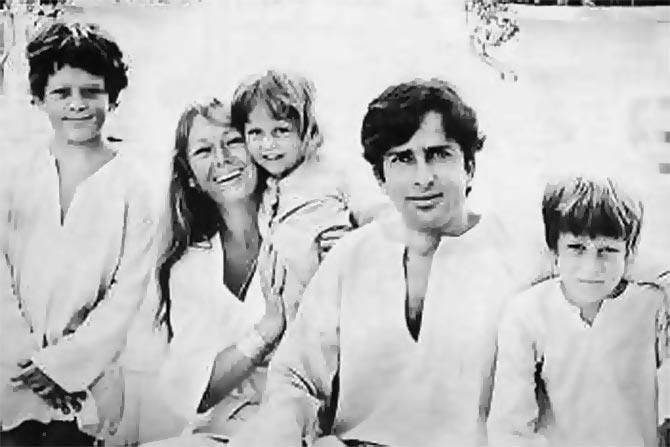 IMAGE: Sanjna cuddles her mother Jennifer as the Kapoor boys -- Kunal, Shashi and Karan -- gaze into the camera. Photograph: Kind courtesy Shammi Kapoor's official Web site junglee.org.in
Through Prithvi's productions, she tried to revive her original passion -- the travelling theatre culture -- but she says she felt "absolutely alone".
No one else shared her passion. She also knew she was not content just organising shows and conducting workshops. She felt the need to "build" something.
By 2007, Kapoor was married and living more in Delhi.
We spend a few minutes mourning Delhi's lack of theatre culture.
Why is it that Mumbai's theatre performances are so much better than Delhi's, I ask.
I recall watching six plays (including one in Marathi, just for the experience) when she brought some of Prithvi's shows to Delhi's Kamani Auditorium some years ago and tell her they were the best two days of theatre in Delhi. High-quality performances added to the energy that Kamani exuded.
"I get mortified when I go to theatres in Delhi -- one can barely get a chai at most of these places." She feels it's an insult to the audience and to theatre lovers.
"We, in India, keep talking about smart cities and how global we are going to be," Kapoor says. "But if we don't have institutions in cities that are hubs of creativity, we will build cities without a soul."
Institutions and organisations that become "homes" to the arts are critical, but Delhi lacks that sort of infrastructure.
"In Delhi, the National School of Drama should be doing that, but sadly it does not," she adds.
I ask why she doesn't take it upon herself to change that. "Why should I do it for them?" she asks, adding that she already has her hands full.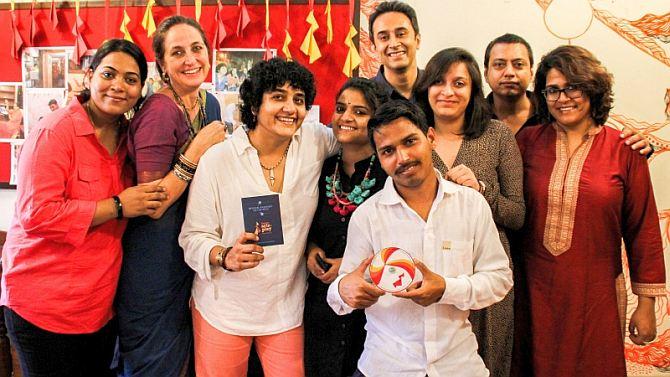 IMAGE: Sanjna with her team at Junoon. Photograph: Kind courtesy Junoontheatre.org
Called Junoon, it is an initiative that seeks "to weave art experiences into the fabric of society". It works with schools across India to introduce young minds to the potential of theatre through a five-day "immersive experience" with the arts.
The biggest delight for her is working with children.
"My years at Prithvi made me see how much India needed this," she says. "I was terrified running Prithvi. I had no prior experience or any training."
But theatre is not the only thing that consumes her. She enjoys scuba-diving and travelling.
When I e-mail her to check some detail for this piece, I get a simple response: 'I am on my annual migration to the wonderful wilds of Africa.'
That sums up the woman I had lunch with: Sanjna Kapoor believes in living life to the fullest.