... Memorable couple outings at the glamorous film festival.
Monali Sarkar gives us fascinating glimpses from Cannes in years past...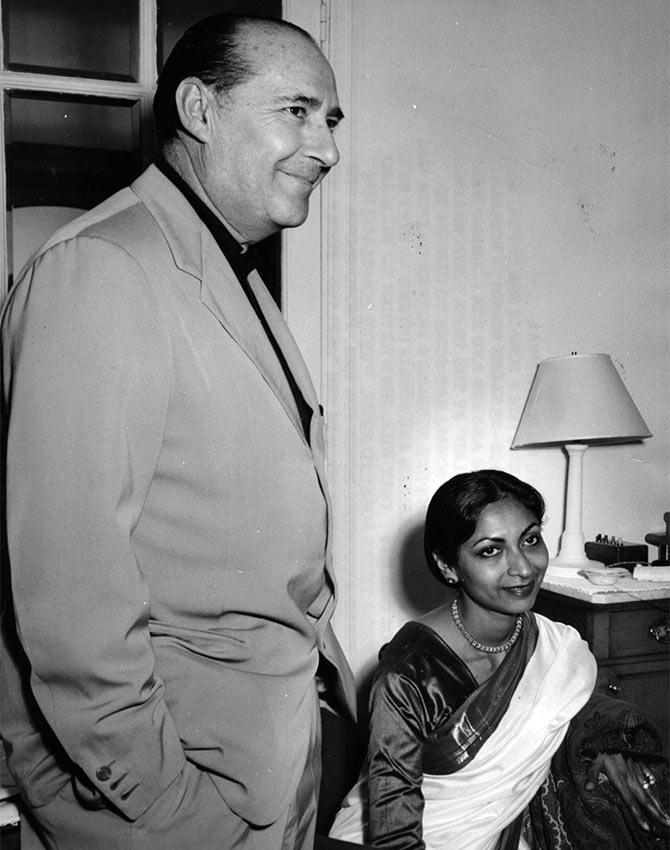 Photograph: Keystone/Hulton Archive/Getty Images
Director Roberto Rossellini and writer Sonali Dasgupta were photographed at the Carlton Hotel during the Cannes film festival in 1959.
He was 52 and she was 27 when they met in 1957. And both were married -- the Italian filmmaker to actress Ingrid Bergman; Sonali to Indian filmmaker Harisadhan Dasgupta.
Sonali ran away with Rossellini and settled down in Rome where they remained together for 17 years before he left her for another younger woman.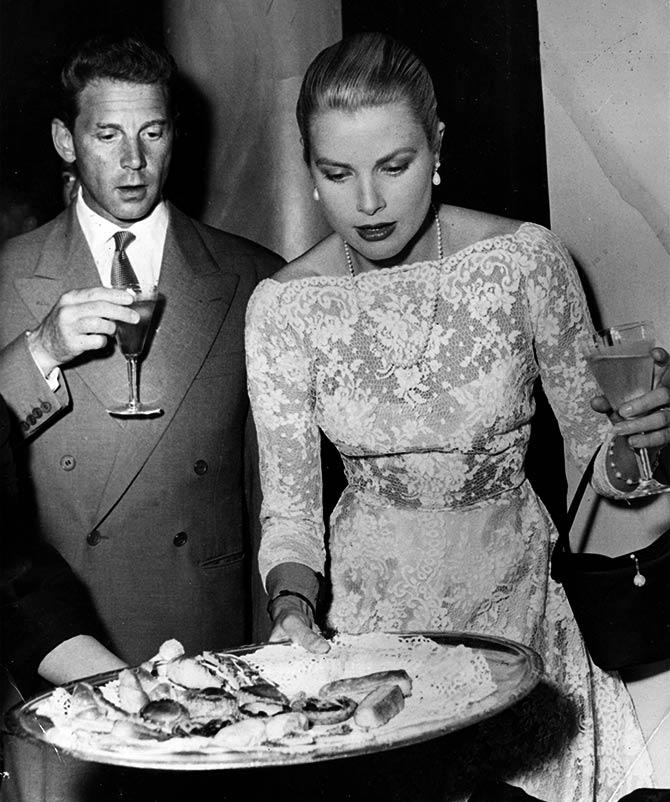 Photograph: Central Press/Getty Images
Grace Kelly with French star Jean Pierre Aumont at a reception in Cannes in 1955.
As the head of the American delegation at Cannes that year, Kelly was invited to participate in a photo session with Prince Rainier III, the sovereign of Monaco.
Less than a year later, she had married her prince and became 'Grace of Monaco'.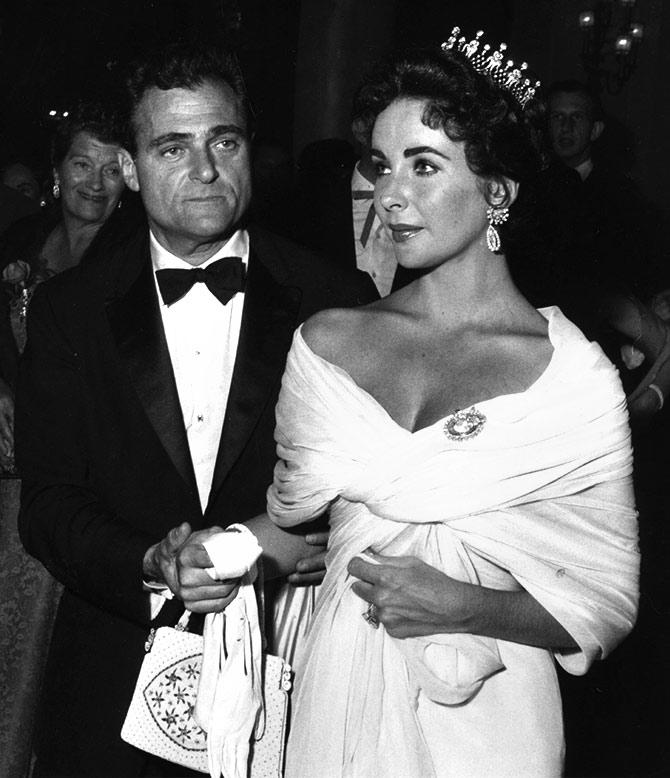 Photograph: Express Newspapers/Getty Images
Elizabeth Taylor with her husband, producer Mike Todd, in Cannes in 1957.
Todd was the third of Taylor's seven husbands, and they were married till his death a year later.
Taylor once said Todd -- next to Richard Burton -- was one of the greatest loves of her life.
Photograph: Charles Platiau/Reuters
The official poster for the 66th Cannes film festival in 2013 was a picture of Joanne Woodward and Paul Newman from the 1963 film A New Kind of Love.
The iconic Hollywood couple's -- they were married for 50 years -- Cannes connection began with their first film together, The Long Hot Summer (1958), which screened in competition. That was also the year they got married.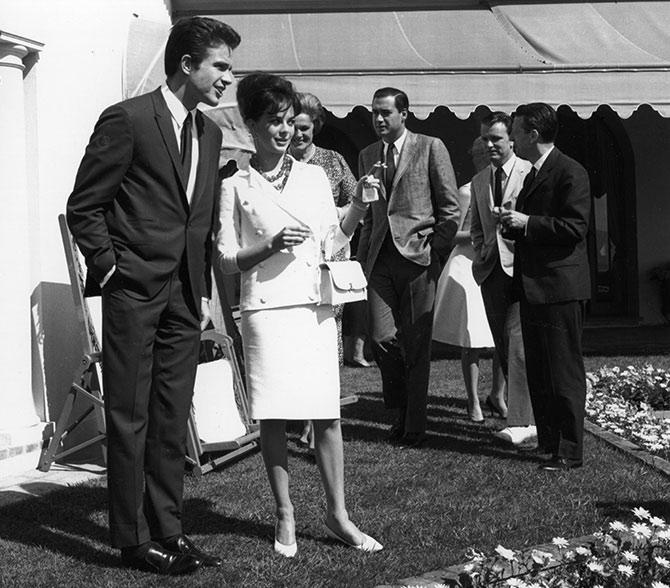 Photograph: Keystone/Getty Images
Natalie Wood and Warren Beatty -- two of the most talked about stars of their time -- were understandably the talk of Cannes in 1962.
According to Wood's diary entry, 'Although our romance lasted approximately two years, our affair was a 'collision' -- a combination three-ring circus and five-alarm fire.'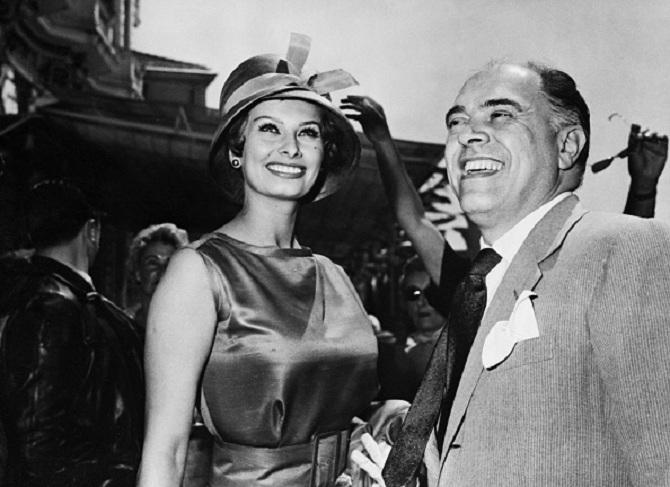 Photograph: Getty Images
Italian siren Sophia Loren with her filmmaker husband Carlo Ponti in Cannes in 1959.
They were opposites in every way possible, but theirs turned out to be one of the great movie love stories.
In paying tribute to Ponti after his death in 2007, Time magazine had this to say: 'They faced plenty of obstacles: The rude public merriment at their pairing; all the misery the Vatican-cowed Italian government tried to bring to their joint political, financial and personal life; the stories of his infidelities and of the movie stars (Cary Grant, Peter Sellers) utterly smitten by her allure. Yet Ponti and Loren persevered, becoming a metaphor for the lasting attraction of opposites.'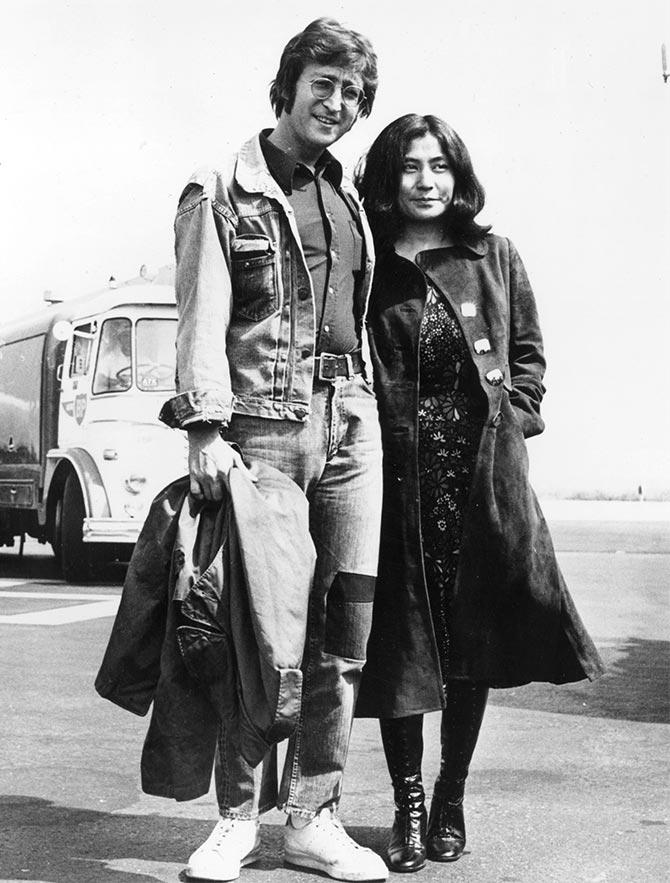 Photograph: Keystone/Getty Images
The Beatles had split up and much of the blame was being laid on Yoko Ono's shoulders when John Lennon and she arrived in Cannes in 1971. The spotlight was firmly on them.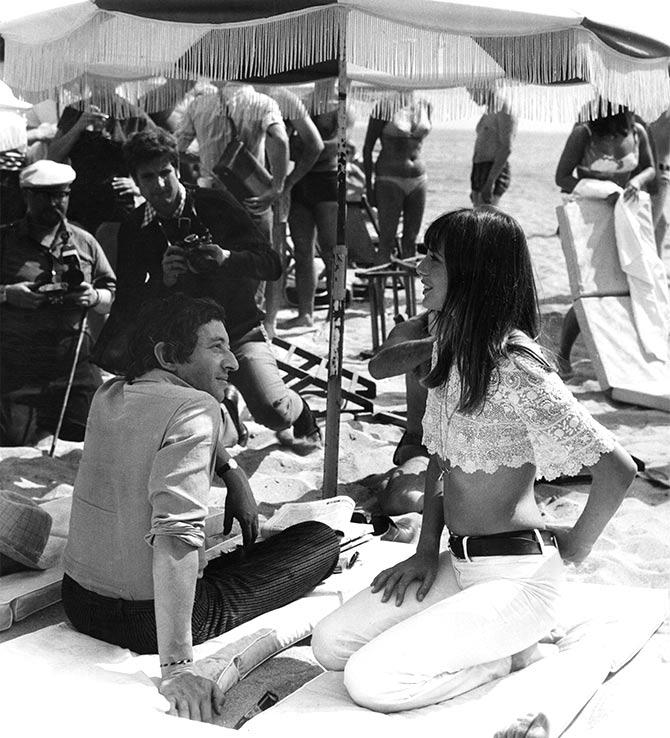 Photograph: Keystone/Hulton Archive/Getty Images
French singer-songwriter Serge Gainsbourg with English actress Jane Birkin on the beach at Cannes in 1969.
In the 13 years that they remained together they were one of the coolest couples in Cannes.
As Vogue put it, 'You can't get more quintessential Cannes than Jane Birkin and Serge Gainsbourg.'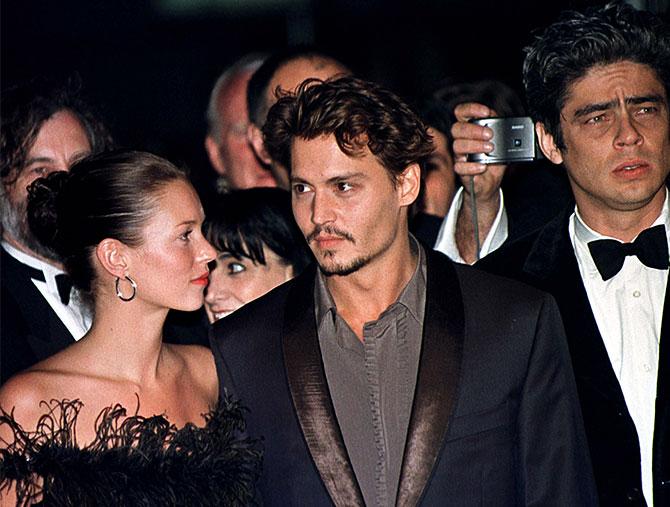 Photograph: Eric Gaillard/Reuters
Johnny Depp and super model Kate Moss arrive for the screening of Fear and Loathing in Las Vegas, a Palme d'Or contender, in 1998.
They were the 'it couple' of the '90s -- from love at first sight to drugs, champagne, passion, epic fights, and a devastating break-up.
Over a decade later, Moss told Vanity Fair, the break-up was 'a nightmare, years and years of tears. Oh, how many tears.'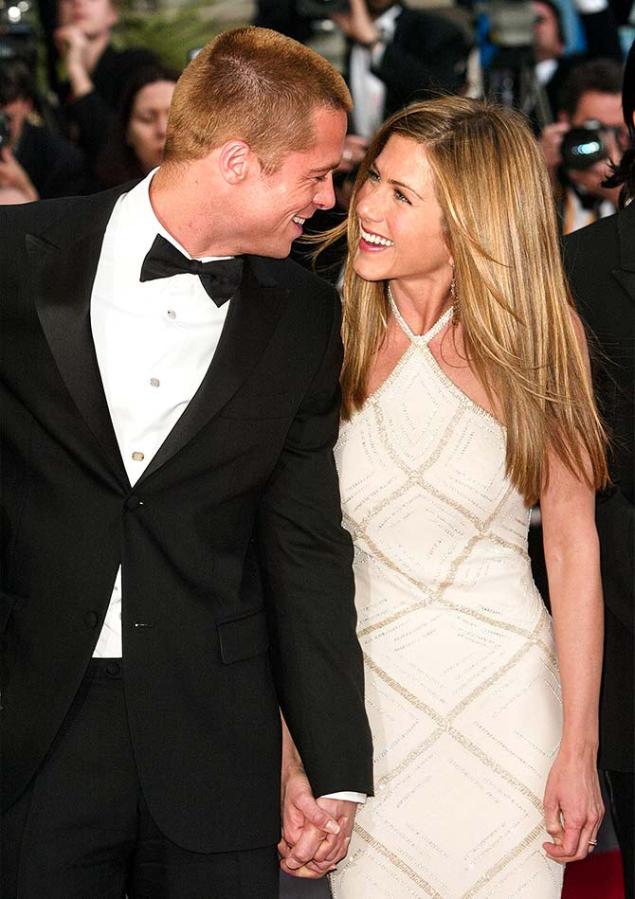 Photograph: Evan Agostini/Getty Images
When Brad Pitt and his then wife Jennifer Aniston walked the Le Palais de Festival red carpet in 2004 they were America's sweethearts, and fans couldn't get enough of them.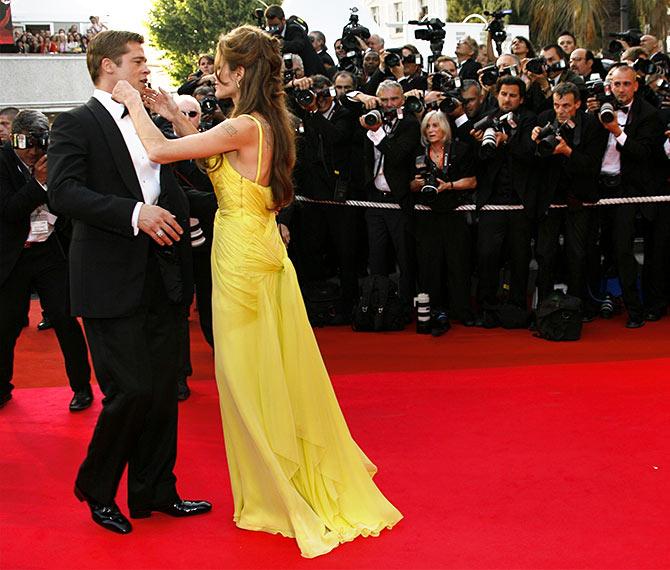 Photograph: Jean Paul Pelissier/Reuters
In less than three years, Brad went from being part of Hollywood's golden couple to being part of Hollywood's power couple.
His first appearance on the Cannes red carpet with wife Angelina Jolie in 2007 -- she was there with Mighty Heart and he with Ocean's Thirteen -- captivated the world just as much as his outing with Jenny Anniston.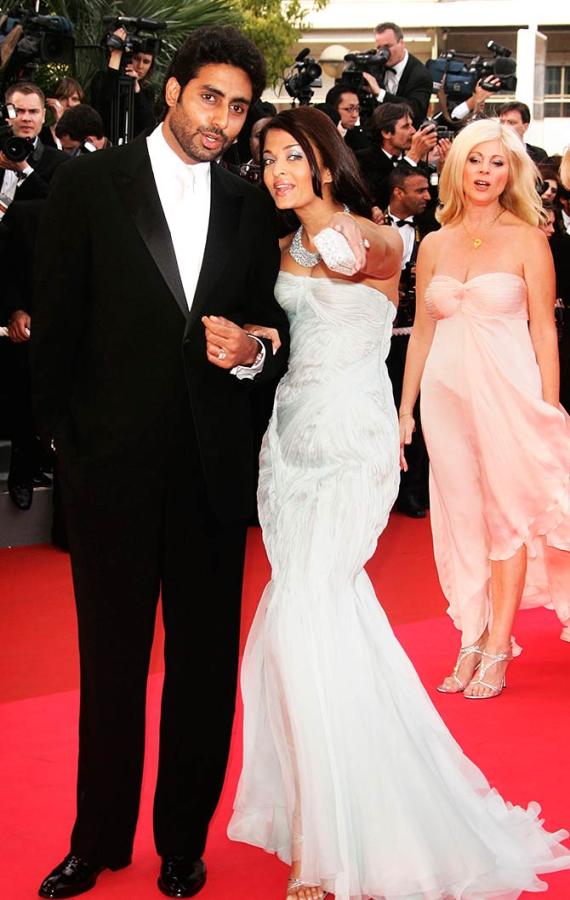 Photograph: Pascal Le Segretain/Getty Images
Before Aishwarya Rai Bachchan and Abhishek Bachchan's red carpet walk in 2007, no A-list Bollywood couple had seen this kind of mainstreaming at Cannes.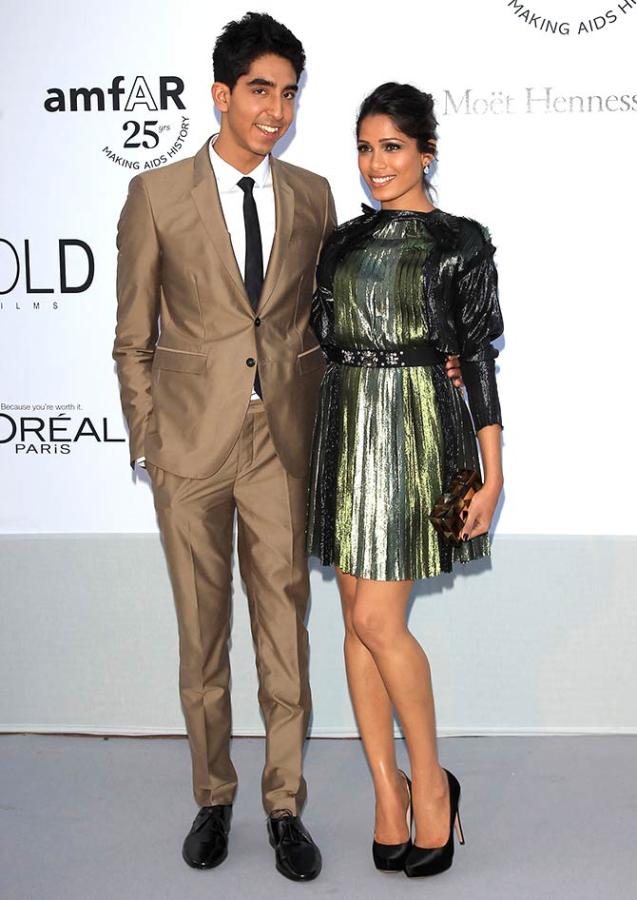 Photograph: Andreas Rentz/Getty Images
Two years after their Oscar-winning debut Slumdog Millionaire (2009), Dev Patel and Freida Pinto were adored when they attended amfAR's Cinema Against AIDS Gala in Cannes.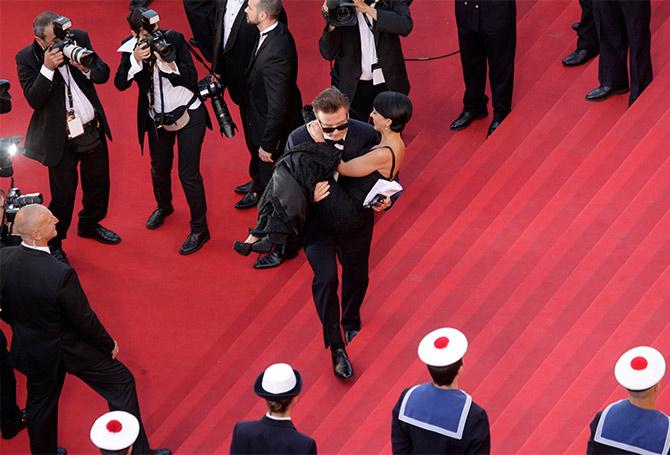 Photograph: Virginia Mayo/Reuters
Like a scene straight out of a Hollywood romance, Alec Baldwin swept fiancée Hilaria Thomas off her feet and carried her up the stairs in 2012.
An encore was hoped for and delivered the next year when the couple attended the photocall for Seduced and Abandoned.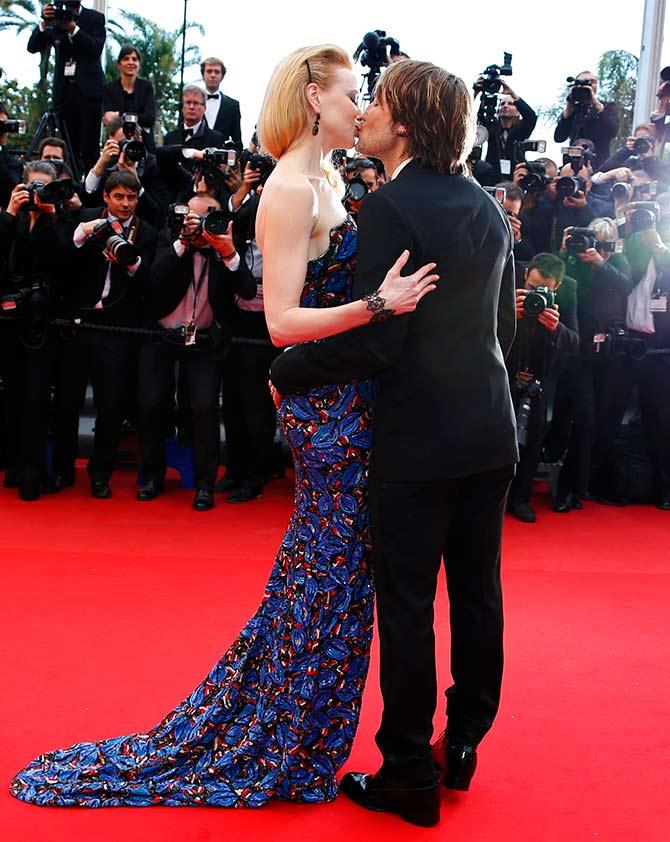 Photograph: Eric Gaillard/Reuters
Despite her earlier appearances on the Cannes red carpet with Tom Cruise, it is Nicole Kidman's red carpet PDA with her husband, singer Keith Urban, in 2013 that will be most remembered.
The show of newlywed bliss in a couple that had been married for nearly seven years thrilled fans.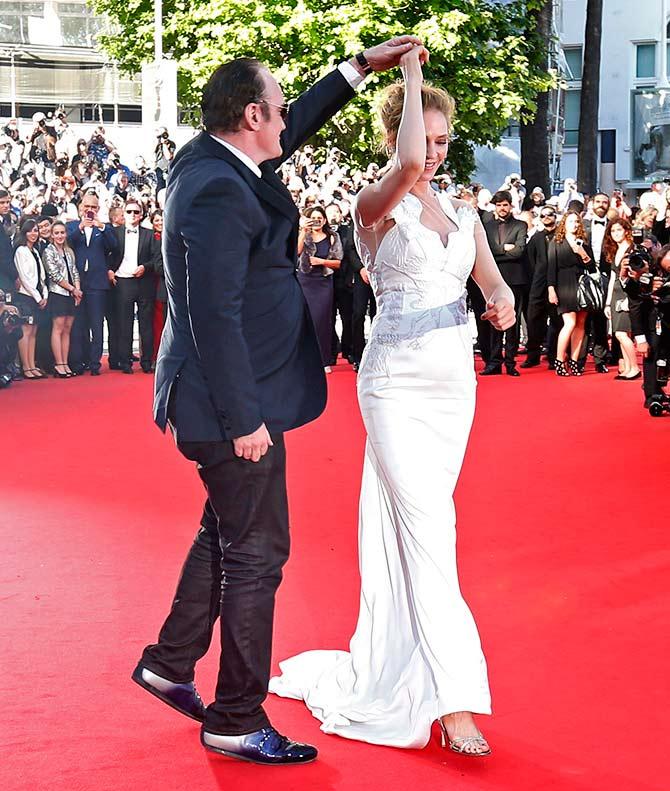 Photograph: Yves Herman/Reuters
They walked hand-in-hand, got cosy and even danced on the red carpet, sending flashbulbs and fans into frenzy at Cannes in 2014.
Director Quentin Tarantino and his muse Uma Thurman -- who were back in Cannes 20 years after the Palme d'Or for Pulp Fiction -- were in love.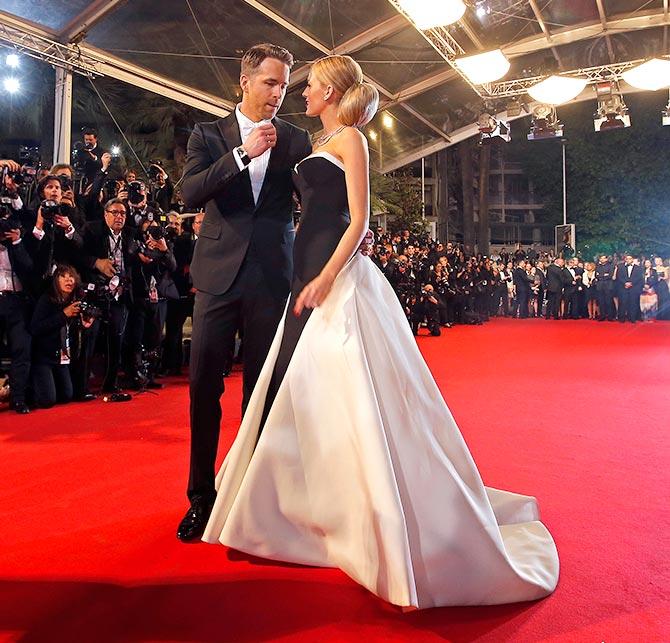 Photograph: Eric Gaillard/Reuters
If any couple in 2014 could take the spotlight away from the explosive news about Tarantino and Thurman it had to be Blake Lively, in a stunning Gucci gown, and her husband Ryan Reynolds.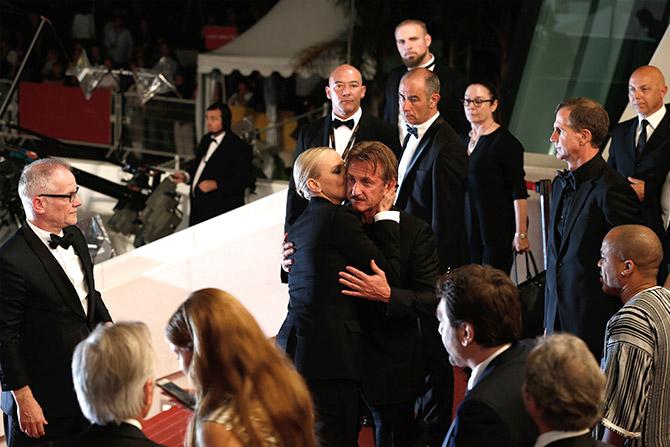 Photograph: Tristan Fewings/Getty Images
Charlize Theron and Sean Penn at The Last Face premiere in May 2016 -- after their split.
Though the couple was the talk of Cannes just a year before, Lisa-Marie Rae, director of entertainment, Getty Images, chose this photograph among her favourite moments in 70 years at Cannes.
'This image isn't your usual beautiful red carpet moment,' she told the BBC. 'This was the first time Sean Penn and Charlize Theron had been photographed together in public since their shock split. They had been careful to walk as a group and separated by their cast mates, but right at the end, when most of the press had put their cameras down to pack up, Charlize reached out to Sean and kissed his cheek, at the top of the steps. Luckily, we caught the moment, proving a picture is worth a thousand words.'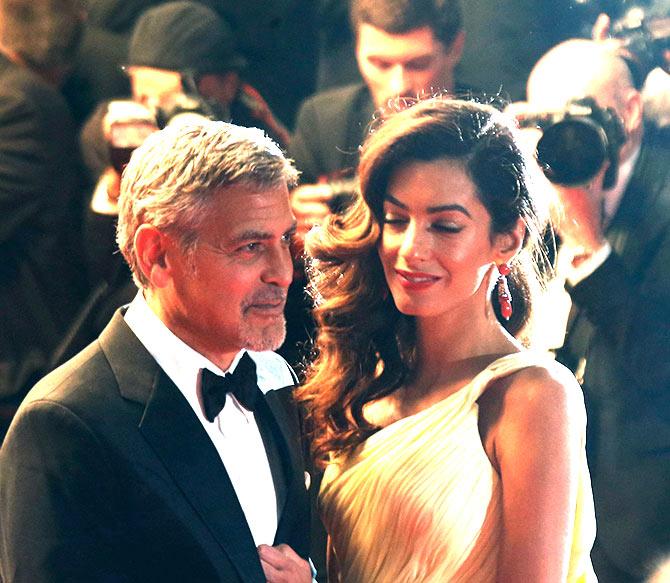 Photograph: Regis Duvignau/Reuters
And then there was Mr and Mrs Clooney!