Aseem Chhabra lists his favourite Indian films of 2021.
In the second year of the pandemic when movie theatres remained closed for an extended period of time, we saw many strong films release on streaming platforms. It is hard to imagine that most of these films were made in 2020, after the first COVID-19 wave was subsiding.
Here is a list of my favourite Indian films from 2021, both mainstream with big budgets and those made with indie spirits.
Many of the films are available on streaming platforms.
The list also includes films that premiered at international and Indian film festivals, and are awaiting wider releases in theatres or on streaming platforms.
As has been pointed out by fellow critics and observers, the most exciting Indian films being made in recent years are in the four South Indian languages -- Malayalam, Tamil, Kannada and Telugu -- but this list also includes films in Hindi, Bengali, Marathi and English.
Garuda Gamana Vrishabha Vahana, Kannada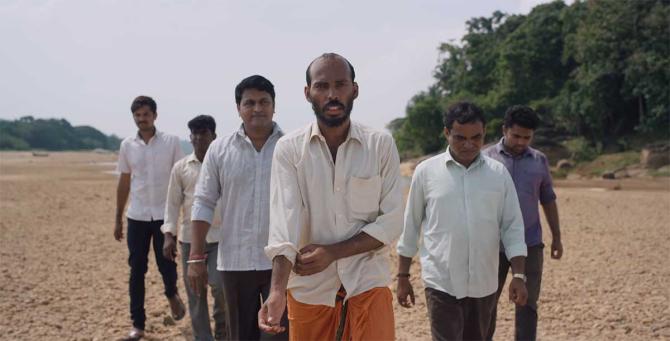 Writer, director, actor Raj B Shetty follows his quirky Ondu Motteya Kathe (2017) with an explosive gangster saga where he refers to the holy trinity of Hinduism, Brahma, Vishnu and Mahesh, by creating three remarkable characters: Two gangsters -- the ambitious, yet insecure Hari (Rishab Shetty) and his adopted brother, a calm, but very brutal Shiva (Raj B Shetty), and a cop Brammayya (Gopal Deshpande) sent to finish their reign of terror.
Shiva and Hari start their journey of crime together but soon, there is a departure in their vision, leading to an intense, gripping drama.
There are insecurities, betrayals and disappointments.
Watch the film for Raj B Shetty's performance and his intense tiger dance after he has killed a rival gangster, while onlookers stare in a state of shock and disbelief.
Garuda Gamana Vrishabha Vahana is a finely crafted film.
Strong performances, a tight script, cinematography plus editing (both the work of Praveen Shriyan), and a powerful sound design make it the best Indian film of the year.
Pebbles, Tamil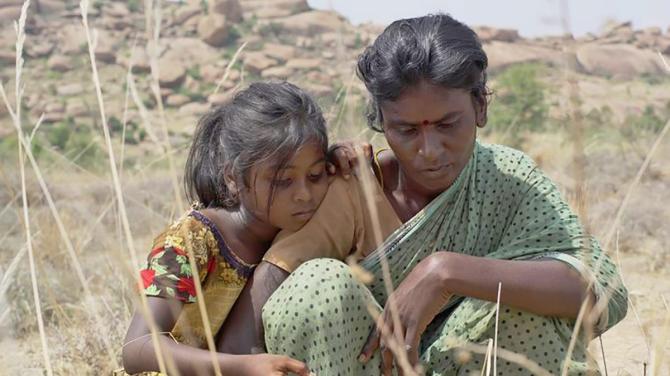 A young boy in rural Tamil Nadu is pulled out from school by his drunk father, who then drags the kid in a bus to the neighbouring village. The barefoot man is looking for his wife who walked out of an abusive situation and took off for her parents' home.
The young boy, also barefoot, feels estranged from his father, especially as he has become a ping-pong ball in his parents' bad marriage.
First time film-maker PS Vinodraj-s Tiger Award-winning film at this year's International Film Festival Rotterdam, Pebbles was selected as India's official entry for the best international film Oscar.
It is unfortunate it did not make the Oscars shortlist.
Pebbles is inspired by a story close to Vinodraj -- his sister had to walk miles of deserted terrain with her baby after a domestic squabble.
The film is a beautifully shot by Vignesh Kumulai and Che Parthi through sparse, dry sun-baked landscapes close to the director's village, Arittappati, which he has described as a 'forgotten dry strip of land... isolated from any major income source.'
The lead actor Karuththadaiyaan, who plays the father Ganapathy has a theatre background, although this is his first film.
All other characters are played by local villagers, non-actors who look their parts.
The film has minimal sets, production design and basic costumes.
But with strong performances, a fluid camerawork, tracking and drone shots that go on for several minutes following the actors, Pebbles is cinema in its truest indie form.
A Night of Knowing Nothing, English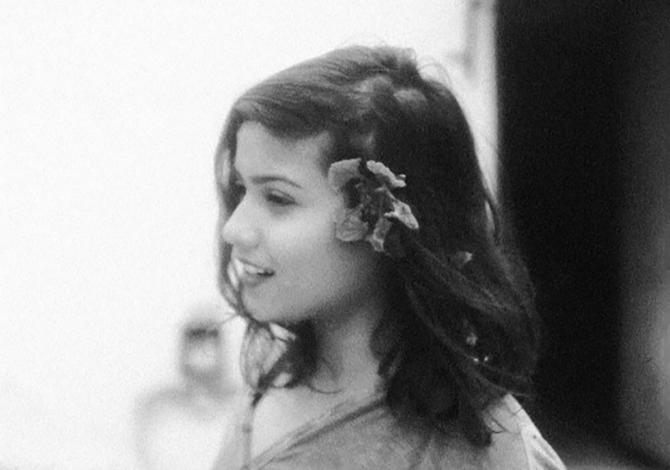 Payal Kapadia's experimental film A Night of Knowing Nothing won the Oeil d'or award for the best documentary at this year's Cannes Film Festival. It has since then played at many international film festivals in Europe and North America.
Shot and edited by Ranbir Das, and written by Kapadia and Himanshu Prajapati, the mostly black and white film starts as a moody piece.
The narrative follows a series of letters written by a student identified as L to her former lover who has left the Film and Television Institute of India programme.
But then A Night of Knowing Nothing takes up larger issues as we first witness FTII student protests against the appointment of chairman Gajendra Chauhan. The film then transitions to other student protests on campuses in India, including those at Jawaharlal Nehru and Jamia Milia universities.
A Night of Knowing Nothing is a rare documentary, a story of India's students, the conscience keepers of the nation.
Karnan, Tamil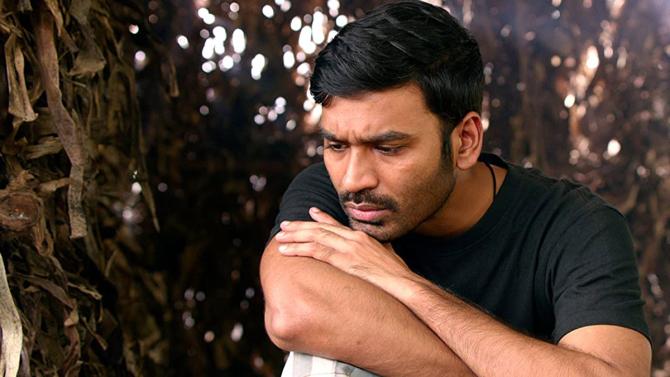 Mari Selvaraj follows his 2018 critical hit Pariyerum Perumal with a larger tale of a village and its characters, many inspired from the Mahabharat. Dhunush plays Karnan, the young spirit of the village headed by the chief farmer Dhuriyodhana.
The village does not have a bus stop, which makes it hard for the residents to travel for emergencies or even other visits, and this is a reminder of the daily struggles of the underprivileged Dalits.
Karnan loses his sister at the beginning of the film and that becomes his motivating factor to fight for injustice.
Karnan is a stirring film, a lot more angry and violent than Pariyerum Perumal. Selvaraj is an ace film-maker.
Watch Karnan smash the windows of the bus in the middle of the film, with a souring soundtrack, his dead sister's ghost and a donkey standing on top of giant rocks, observing the scene.
It is one of the best film-making moments in Indian cinema in 2021.
And Selvaraj executes his songs so well, from the stunning opening video of Kandaa Vara Sollunga set to Santosh Narayanan's music, to the lovely romantic Thattaan Thattaan in Dhanush's voice.
Later in the film, as the villagers rally together to fight the police, the rousing Uttradheenga Yeppov song plays with ghosts of young girls in masks watching over them.
Sardar Udham, Hindi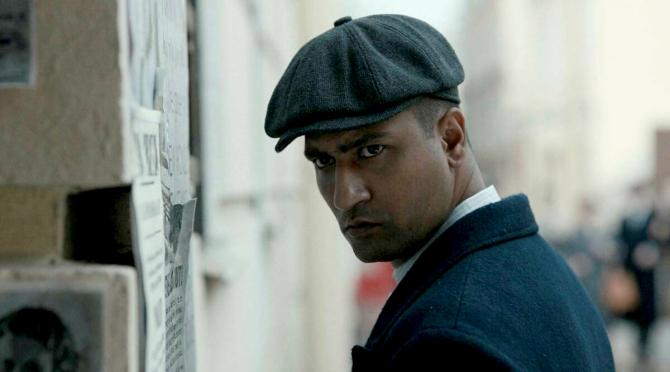 Shoojit Sircar follows the quiet (October) and smaller charming stories (Piku and Gulabo Sitabo) with his most ambitious project, Sardar Udham.
The film traces the life of Udham Singh, his politicisation and final act of killing Michael O'Dwyer, the lieutenant governor of Punjab who ordered the Jallianwala Bagh massacre in Amritsar 1919.
Sardar Udham is a rare film for our times.
It reflects on a side story of the Indian freedom movement, with nods to Bhagat Singh, the revolutionary fervor of the Ghadar Party and the Hindustan Socialist Republic Association.
There is no jingoism, flag waving and anti-Pakistan hysteria that we see in so-called patriotic films.
Instead, we get a solid biopic, an inspiring story about one man's efforts to take revenge for what is perhaps the greatest crime committed by the British in India.
Sardar Udham is also one of the best period films from Bollywood, with a lot of attention to detail --from the production design to realistic costumes, make-up and hair styles of the characters.
The success of Sardar Udham rests on the script by Shubhendu Bhattacharya and Ritesh Shah, a solid, career-defining performance by Vicky Kaushal, and an impressive supporting cast including Amol Parashar, Banita Sandhu, and a lesser-known pool of British actors.
Writing with Fire, Hindi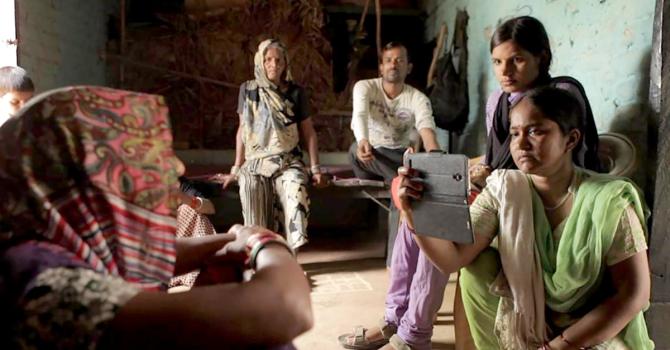 In the first Indian film that is one step close to be nominated for an Oscar in the best documentary category, a Dalit woman journalist speaks these words: 'Journalism is the essence of democracy. When citizens demand their rights, it is us journalists who can take their demands to the government... The journalists must use this power responsibly. Otherwise media will become like any other business.'
Writing with Fire is first-time film-makers Rintu Thomas and Sushmit Ghosh's powerful documentary about a women's collective called Khabar Lahariya.
The film explores the hard work undertaken by the Dalit women journalists of Khabar Lahariya, operating in tough terrain in rural Uttar Pradesh, where patriarchal attitudes prevail, and women are disrespected and often sneered at.
The film created buzz at the Sundance Film Festival where it won the audience award in the world documentary category.
Since then, it has had a remarkable journey -- the first for an Indian documentary -- as it has traveled to several international film festivals and won over 20 awards.
It is also the first Indian documentary to be released in art-house theatres across the US.
Malik, Malayalam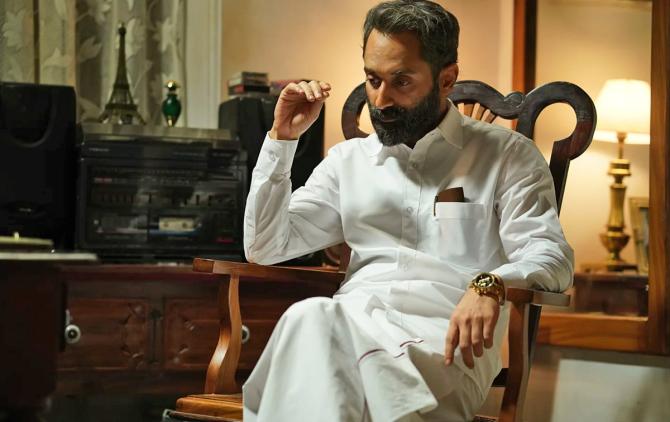 In his third project with Fahadh Faasil after Take Off and C U Soon, Director Mahesh Narayanan gives us a powerful epic saga about a gangster with a heart of gold, who makes his money through smuggling in Ramadapally, a town located by the coast of Thiruvananthapuram, and gains respect of the community around him.
But he also makes enemies out of those close to him, including his mother and brother-in-law.
Malik follows the traditional path of a gangster narrative -- revenge, bloodshed and scheming police officers, who plot to get their adversary killed.
But it is the characters, well rounded, genuine and believable that makes this film stand out.
The length of film at 162 minutes gives Narayanan's screenplay ample time to explore the situations and the characters.
Faasil plays the protagonist Ahammadali Sulaiman or Ali Ikka, as he is popularly known to his followers and family members.
In the flashback scenes, as his smuggling career takes off, he moves swiftly as if there are springs attached to his shoes.
As the older Ali Ikka (owing a lot to the Don Corleone performance in The Godfather, which is often the norm in gangster films) Faasil is pensive, with minimal hand gestures, slight smirks, although he is still frightening.
It is yet another stunning performance that makes Faasil one of the best actors of our times.
The talented Nimisha Sajayan appears as Roseline, the strong-willed wife of Ali Ikka, as she ages with grace and fights for her husband's right to survive.
Shankar's Fairies, Hindi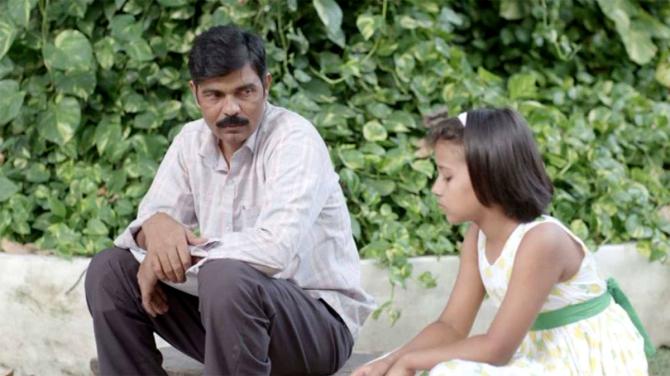 In her debut film Shankar's Fairies, theatre director Irfana Majumdar works on an autobiographical script written by her mother Nita Kumar. It is a gentle film, full of nostalgia, the smells, the light and the moods of Kumar's childhood, set in a sprawling house in Lucknow where she grew up.
But what makes Shankar's Fairies stand apart from other films that deal with childhood memories is that it does not get lost in melodrama.
Instead, it lovingly observes and carefully walks around the characters, giving us a sense of time and place.
Jaihind Kumar plays Shankar, the family's domestic help, whose tasks go beyond just cleaning and cooking.
When his employers (Majumdar as her own maternal grandmother, while her husband Gaurav Saini plays the grandfather) are out at parties, which happens quite often, Shankar spends the evenings narrating stories to the family's two children. Naturally, fairies often appear in these stories.
But Shankar's Fairies has many more layers and universal themes: The larger narrative of domestic workers who leave their own children in villages so they can take care of wealthy people's homes and their offspring; parents who are busy with professional and social engagements and find very little time to focus on their children; and the rhythm of life in a medium level Indian city in the early 1960s.
Sarpatta Parambarai, Tamil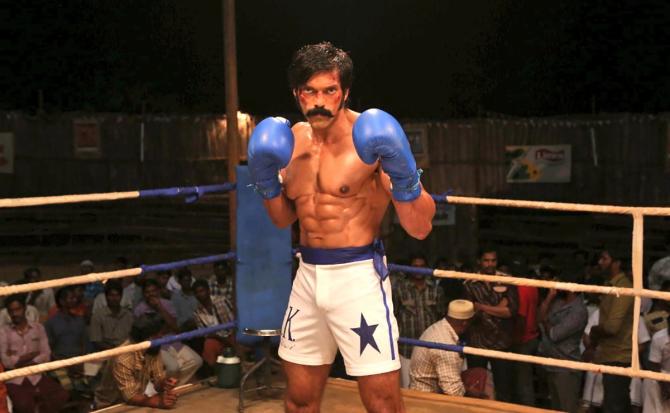 With a nod to Muhammad Ali, and his quote 'float like a butterfly and sting like a bee,' Pa. Ranjith directed a three-hour long drama set during the mid-1970s in North Madras. Sarpatta Parambarai salutes the city's boxing culture, the clans and their lifestyles.
As sports dramas go, Sarpatta Parambarai takes a familiar route about the boxing career of the underdog Kabilan (Arya).
He is not the first choice to head the Sarpatta team to fight the rival Idiyappa clan's top boxer Vembuli, and is discouraged by his mother as well.
But despite the odds stacked up against him, he finds support from his coach Rangan Vaathiyar (a generous performance by Pasupathy).
There are highs and lows in Kabilan's career and at one time having failed in his attempt to defeat Vembuli, Kabilan even starts an illicit liquor business.
Kabilan's final victory is expected, as is common in most sports dramas. But Director Ranjith keeps the energy high, with the boxing match dragging into 11 rounds, and both the players bloodied and badly injured.
Sarpatta Parambarai is a gripping drama with soaring music composed by Santosh Narayanan, and populated with a large supporting cast.
The narrative incorporates the politics of the time.
There are many references to the Emergency imposed by Indira Gandhi in 1975, the state government led by DMK that the opposes the measures, its dismissal and the arrest of the party leaders and supporters. The period details like hairstyles and costumes give the film an authentic feel.
Nayattu, Malayalam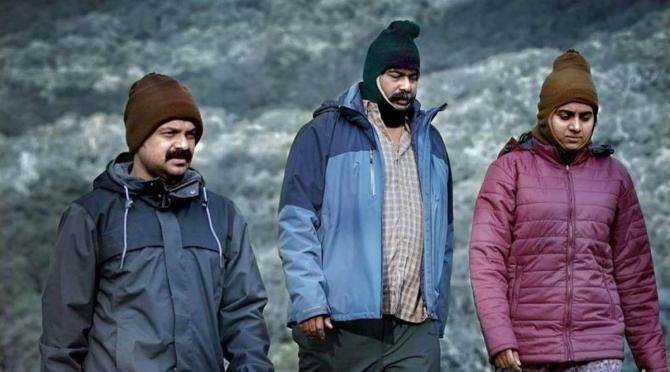 It is election time in Kerala and three cops who are used to concocting evidence and witnessing police wrong doings find themselves hunted and accused of murder.
There are political pressures and suddenly the cops (played by Kunchacko Boban, Joju George and Nimisha Sajayan) are framed in a case. Their only way out is to run.
Director Martin Prakkat's Nayattu is a political thriller that explores the functioning of the police machinery often manipulated by politicians.
The film is scripted by Shahi Kabir, a police officer himself, who brings in his knowledge of the inner workings of a flawed system. It is sharply edited by Mahesh Narayanan (director of Malik) and Rajesh Rajenndrran.
There are underlying caste dimensions to the narrative as two of the cops on the run are Dalits and the whole sequence of events start with an angry Dalit youth creating ruckus in a police station. Some observers have criticised the film for getting its politics wrong.
But the chase and the cat and mouse game as the three cops find themselves trapped in a remote part of Munnar make Nayattu a very entertaining experience.
Once Upon a Time in Calcutta, Bengali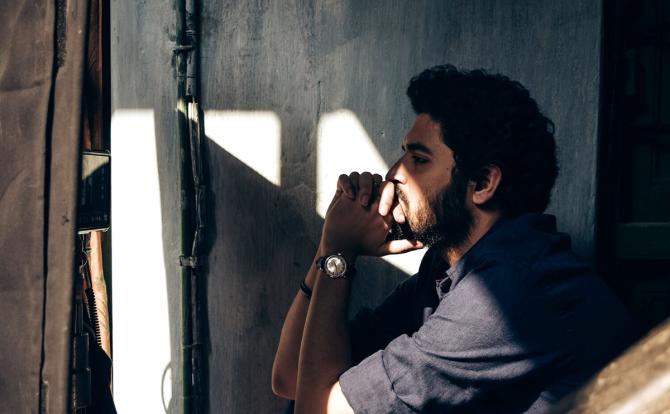 Director Aditya Vikram Sengupta follows his two experimental films, Asha Jaoar Majhe and Jonaki, with his ode to the old city Calcutta and how it is transitioning from decades of a Communist government to now the 10-plus years of rule by the Trinamool Congress.
But Sengupta's Once Upon a Time in Calcutta is not a political film.
Rather, it looks at the lives of people whose appetite for consumerism increased with the collapse of Communism, while there are others holding on the past, like the theatre owner (played by TMC MP Bratya Basu) who refuses to sell his property and locks himself up in the dilapidated building.
In making OUATIC, Sengupta collaborated with a few leading non-Indian technicians. The film has moody cinematography shot by Turkish DP Gokhan Tiryaki (Nuri Bilge Ceylan's regular collaborator) and a haunting score by Dutch Composer Minco Eggersman.
OUATIC should also be seen as Sengupta challenges the Bengali obsession with Rabindranath Tagore.
It is his way to break away from the tradition of Tagore, his writings and thinking and to create a new form of narrative -- very Bengali, but also unique in its approach.
Jai Bhim, Tamil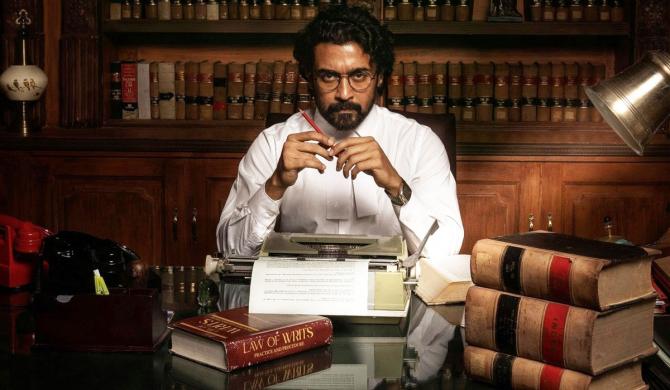 At the beginning of Director T J Gnanavel's Jai Bhim, police officers are shown separating a group of suspects based on their castes.
Those from the upper castes are let go, while others who are Dalits or belong to tribal communities are made to stay back. Later, the police files false charges against those in the second group.
A fiery 165 minutes-long film, Jai Bhim is based on a true story of K Chandru a crusading lawyer (played by Surya) who fought in the courts in support of a petition filed by a pregnant woman Senggeni (Lijomol Jose) whose husband Rajkannu (Manikandan) was placed in a police lockup and was later declared missing.
The lines are drawn between the good and the evil.
The police determined to win this battle keep concocting situations that become huge hurdles to overcome for Chandru and Senggeni. Often, women are sidelined in films with similar narratives, but Senggeni's grit is the force that keeps Chandru's case energised.
The film does resort to portraying extreme violence to drive home the point and some scenes are particularly disturbing. At times, Jai Bhim seems over-the-top, but all of that is essential for the film to work.
Jai Bhim is a significant film for today's India, and its streaming on Amazon Prime assures that it is watched by the largest number of viewers.
The Great Indian Kitchen, Malayalam
Kitchen and cooking play an important part in Director Jeo Baby's The Great Indian Kitchen. But food is only an incidental aspect of the film where the main focus is on how married women in many Indian homes lead a submissive life, tied to the kitchen, at the whim of the male members of the families.
Nimisha Sajayan (her third film in this list) plays the young bride married to a schoolteacher (Suraj Venjaramoodu).
The excitement of getting married dies down quickly as the wife is forced to follow the rules of her new family -- constantly cooking and cleaning, unless she is menstruating, which is when she is given a break and shunned from the kitchen.
The Great Indian Kitchen may seem a tad bit repetitive but that is done by design.
We may know women being mistreated in their homes, while their lives are reduced to cooking for the families, but Jeo Baby's script wants us to be very angry.
Fire in the Mountains, Hindi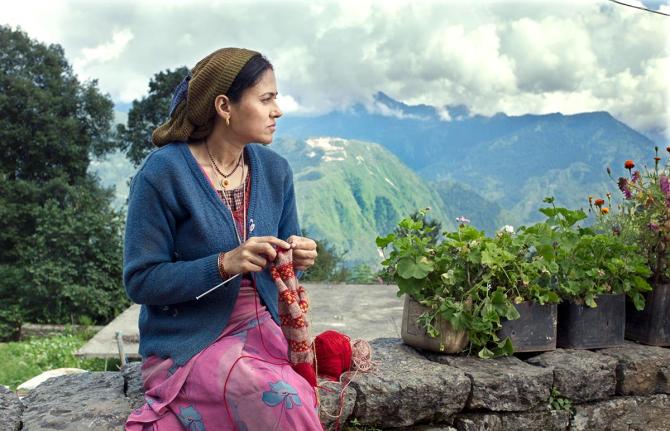 Self-taught film-maker Ajitpal Singh was moved by the tragic story of his cousin who died when her husband refused to take her for a hospital treatment (he was convinced she was possessed by a ghost).
So he wrote the script for his first feature Fire in the Mountain, portraying the tough life of a family in remote Uttrakhand where the mother saves money to get a road built so she can take her wheelchair bound son to school and for his physiotherapy sessions.
Meanwhile, her husband set on his traditional beliefs wants to hold a Jagar, a shamanic ritual to cure the son.
Gorgeously shot by French cinematographer Dominique Colin, Fire in the Mountains captures the beauty as well as the rich colours, moods and textures of rural India deep in the Himalayas. The opening shots of the mountain range with the early morning sunlight are breathtaking.
But despite its beauty, Fire in the Mountain is a deeply sad film about many women in India, who have no way to express their sorrows, pains and difficulties.
Godavari, Marathi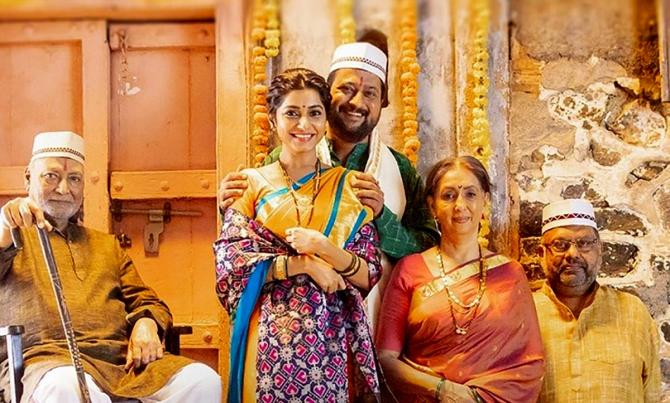 Nishikant Deshmukh is an angry young man. He is angry with life, his work (he spends most of the day collecting rent for his properties) and his family, which consists of his grandfather suffering from dementia, a father who doesn't speak with anyone, mother, wife and young daughter.
While he gets along fine with his wife and loves his daughter, he prefers to live alone in a dark, lonely apartment overlooking the river Godavari.
Nikhil Mahajan's third feature Godavari is set in Nashik, where many Hindus perform the funeral rituals for dead family members.
Jitendra Joshi plays Nishikant (he also produced the film and written its lyrics), a man having a spiritual crisis that deepens as he begins to question the significance given to what he considers as a filthy river and the rituals that are tied to it.
Eventually, things will shake up Nishikant and he will break down following a death in the family, and a chance encounter with a stranger who is also grappling with the tragic demise of the loved one.
Godavari is a moving account of grief caused by loss and other realities of life.
The film grounds us, so we can stop running away from who we are, what our traditions are, but like the river, we have to move forward and not remain bottled up.
Barah x Barah, Hindi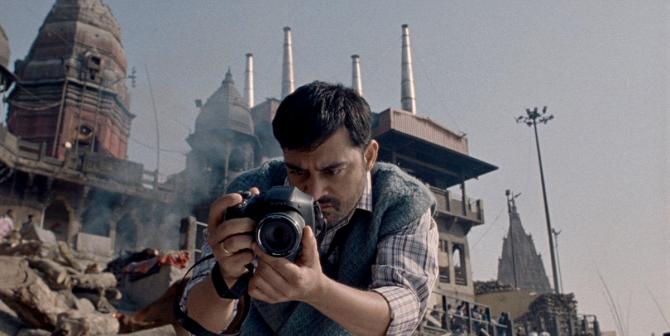 Also set on a holy river, this time the Ganga in Varanasi, Director Gaurav Madan's Barah x Barah explores the idea of faith in a decaying city.
Sooraj, the film's protagonist (played by Gyanendra Tripathi) makes a living taking photographs of dead bodies just before the cremation ceremonies on the ghats. He now has big competition -- smartphones carried by many mourners, that are making his profession redundant.
But Sooraj is also witnessing the decay of the ancient city, his home that he is losing touch with.
A visit by his sister Mansi (played by Geetika Vidya Ohlyan of Soni) and the death of his father (a terrific Harish Khanna) triggers the desire for Sooraj to finally leave his home and move to the bigger city. Anything would be better than the sadness that surrounds him in Varanasi.
Madan wrote the script along with Sunny Lahiri (who also produced and shot Barah x Barah), creating a meditative film about our changing times and how one man's photography and artistic eye captures those transitioning moments.
Pedro, Kannada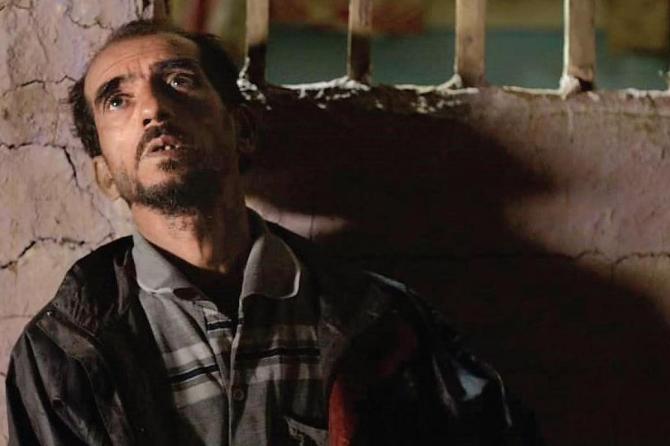 Writer, director Natesh Hegde's protagonist Pedro (played by the director's father Gopal Hedge) is a simple man, an outcast living a lonely existence in a village in Karnataka. He lives with his mother and brother's family, but his drinking problem often keeps him locked out.
An electrician, that is his only qualification (the director's father is actually an electrician), Pedro is often given other tasks such as to watch over the farm of the village leader.
Tragedy strikes Pedro when his dog is killed by a wild boar. But in his attempt to hit the animal, Pedro accidentally shoots the leader's cow and then sets off a series of events making him a pariah in the village.
As an observational film staged in the style of a documentary and gorgeously shot by Vikas Urs, Pedro is true art-house cinema where we watch the village life unfold in small gestures, buses passing, green fields in the monsoon season, poorly lit drinking establishments.
It is remarkable that a star like Rishab Shetty (he played Hari in Garuda Gamana Vrishabha Vahana) produced Pedro.
Indie films in India need the support of the mainstream industry. It is a healthy move that assures the two strands of cinema and art forms to coexist.
Dostojee, Bengali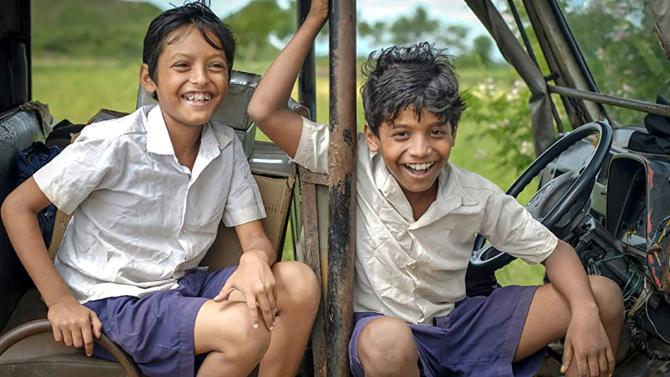 In the early 1990s, two eight-yea-old boys living in Bengal's Murshidabad district, bordering Bangladesh, are engaged in things that kids do -- flying kites, watching bioscope at a village fair and catching fish.
The world around them is changing as the Babri mosque is torn down and its repercussions are felt across India, including in rural areas.
In first-time film-maker Prasun Chatterjee's film that he also wrote and produced, one of the boys Palash, is a son of the Hindu priest, while the other Safikul comes from a family of Muslim weavers. But the religious differences have no impact on the kids's friendship.
Dostojee is an adorable film, one of the best exploration of childhood friendship in the recent years.
It is warmly shot by Tuhin Biswas, using only natural light with lush green landscape.
When a tragedy strikes -- not related to the religious differences of the time -- the mood of this beautifully realised film immediately changes.
I can assure you by the time the film finishes, there will not be a dry eye in the theatre.
Mail, Telugu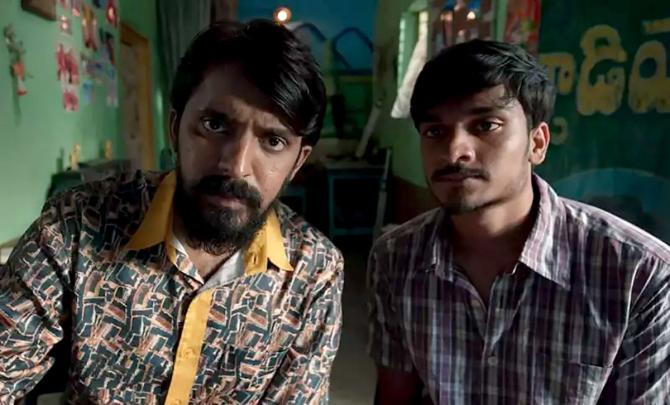 For his first film Mail, Uday Gurrala goes back to life during simpler times in Kambalapally village in Telangana, at a time when desktop computers and e-mails were just being introduced.
Ravi Kumar (Hashith Reddy) plays a high schooler who believes that the future lies in understanding how to operate personal computers -- those boxy machines we all used to work on before life became easier with laptops.
Naturally, his father, a farmer, does not understand his son's passion.
Ravi is excited when an Internet café, more like a video gaming shop, opens in the village. He hopes that the computer knowledge will help him win over Roja (Gowri Priya), the girl he is in love with.
But instead of making the Internet work in his favour, Ravi gets trapped in an online scam and that complicates his life.
Mail is a sweet film, full on nostalgia, with a charming performance by Reddy. It is a passion project which got made with the backing of Producer Priyanka Dutt, the force behind the critical and box office success Mahanati.
Cinema Bandi, Telugu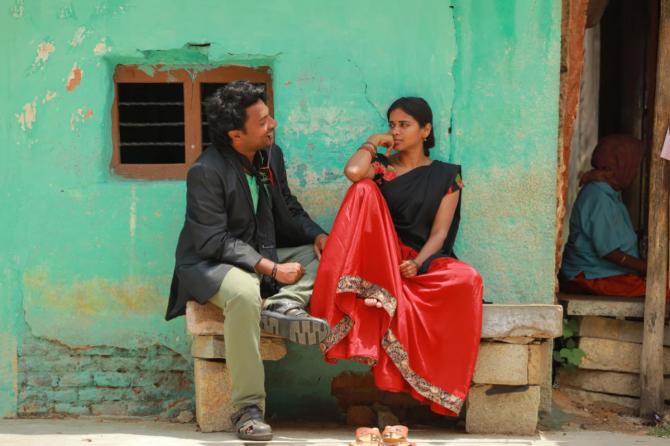 Another delightful film, perhaps the sign of an indie movement emerging in the Telugu film industry, Cinema Bandi is produced by Raj Nidimoru and Krishna DK, two software engineers trained in the US and now making critically acclaimed films (99, Shor in the City) and shows (The Family Man 1 & 2) in India.
Cinema Bandi is a part of the two film-makers's new initiative D2R Indie.
Directed by Praveen Kandregula, Cinema Bandi has shades of Superman of Malegaon (2008).
Set in a village Gollapalli, Cinema Bandi is the story of an autorickshaw driver Veerababu (Vikas Vasistha) who finds a bag with a large camera. Along with his wedding photographer friend Ganapathi (Sandeep Varanasi), they decide to make a film.
The film-making process is ridden with hurdles. The first girl they hire to play the lead suddenly elopes with her boyfriend and the camera's battery keeps draining.
The film they are making is full of cliched situations with dialogues such as, 'Your sharp looks have pierced through my heart, which is as pure a cow's milk. Will you please glue it back with your sweet lips?' But the hard work of the two amateur film-makers, their cast and the rest of the village pays off nicely.
Cinema Bandi is a very enjoyable film about regular people with big dreams and their innovative initiatives to achieve them.