Rediff.com's Rajesh Karkera and Divya Nair bring you the action from the Kaala screening at Mumbai's Aurora theatre.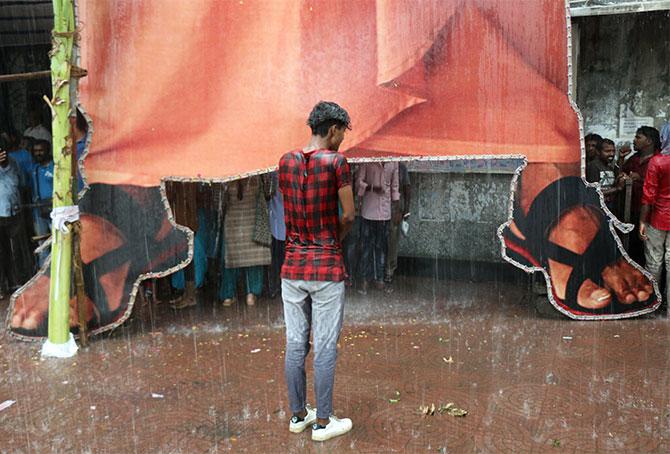 Mumbai may have been drowning in the monsoon deluge on Thursday, June 7, but that did not stop Rajinikanth's ardent fans from being a part of the mega celebrations.
Hundreds of fans turned up for the release of his latest film, Kaala, at the Aurora theatre in Matunga, north central Mumbai.
It started with a puja at 4 am, which went on until the screening two hours later.
"We've been here since 2 am today," the ticket collector at the Aurora theatre tells us. "The 3 pm show is also houseful. But people are very disciplined. They are not breaking the queue despite the rain outside.
Above, a drenched fan is seen paying his respects in front of a 67-feet cut-out of Rajinikanth.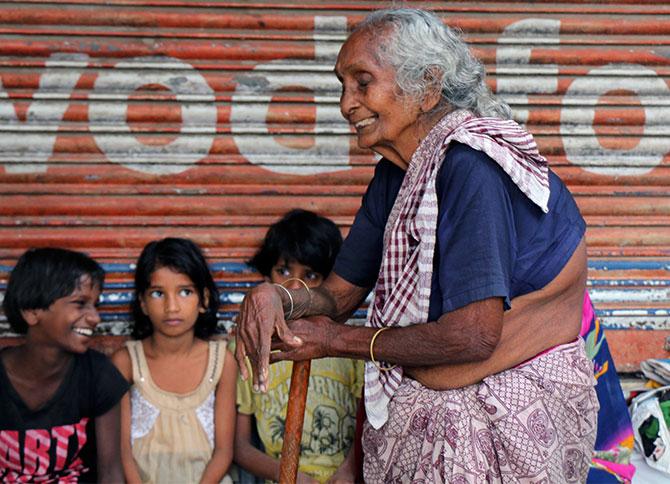 This elderly lady, who watched the movie twice on Day One, had only good things to say about the superstar.
"Rajini nallavaru. Vazhkayila nallavaru. Padathileyum nallavaru. Nalla superstar (Rajini is a good man. In real and reel life. He's a good superstar)," she says.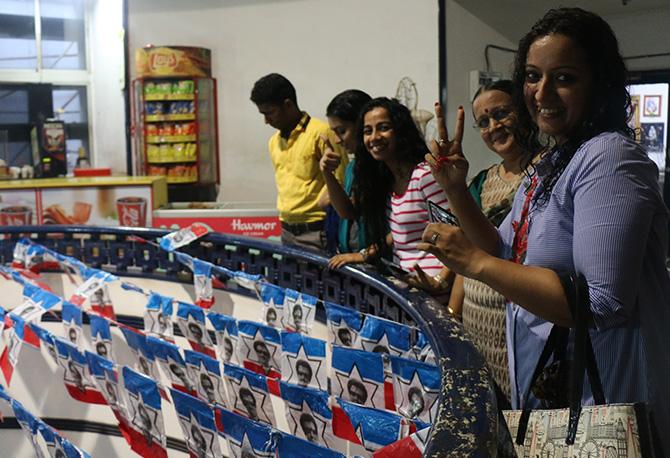 Nisha Iyer (in red stripes) and Aarti (in blue) have never missed a Rajini movie in their lives.
"Watching it here at Aurora is a ritual for us. We've watched Padayappa, Linga, Kabali and Kochadaiiyaan on the first day itself," Nisha says.
There is no match for Rajini's style and charisma, asserts Nisha. "He proves that age is just a number," she adds.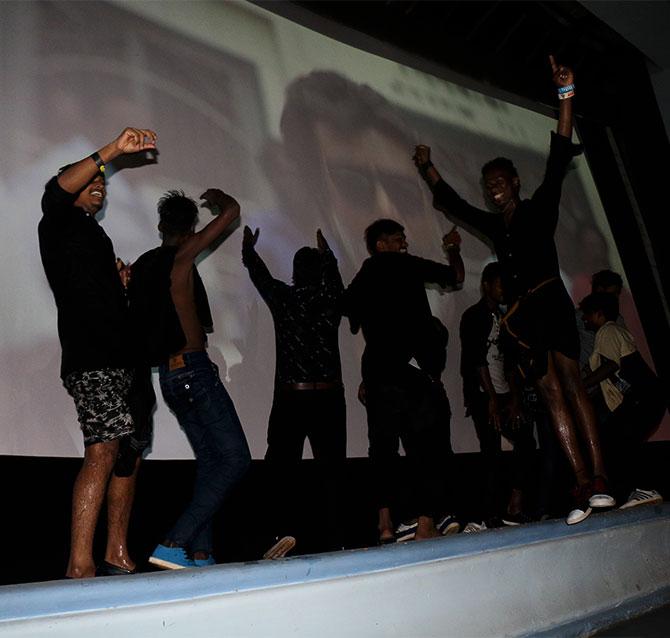 As Rajinikanth takes centrestage on screen, some fans show their devotion while others follow it up with some dancing.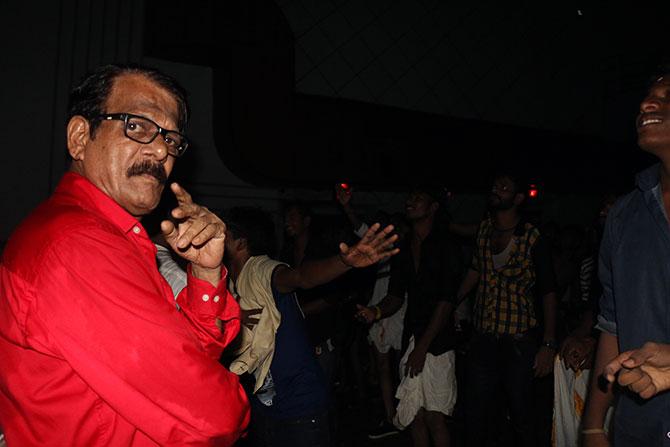 The theatre manager gives his support even as he ensures there is no damage to property.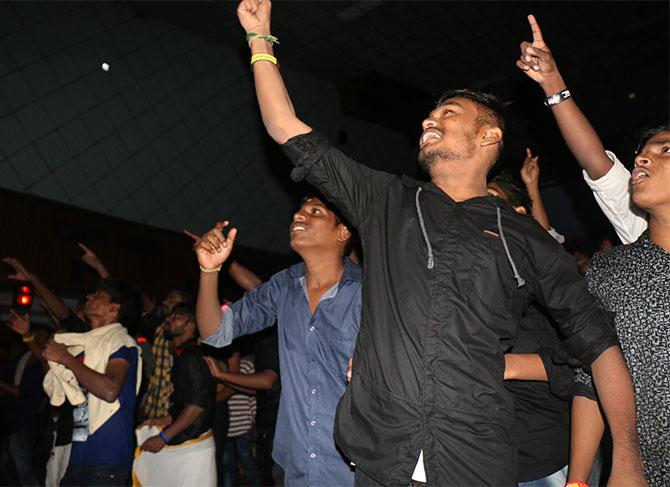 There is only one superstar: Rajinikanth.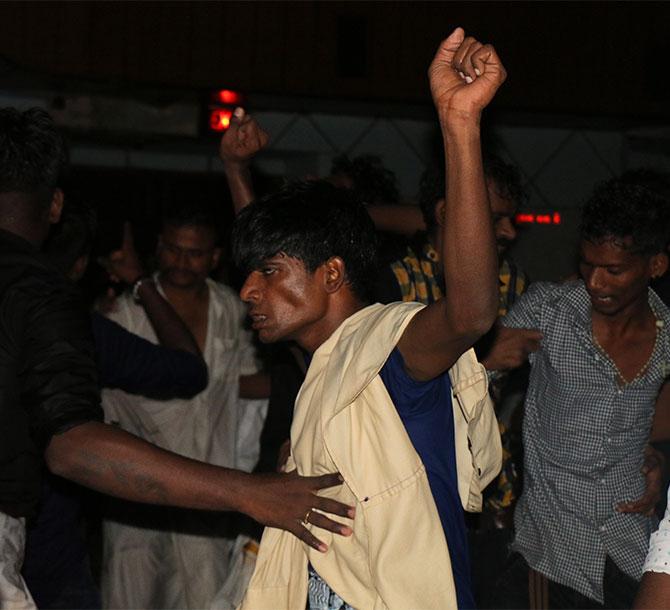 Some took off their shirts and whirled them in the air.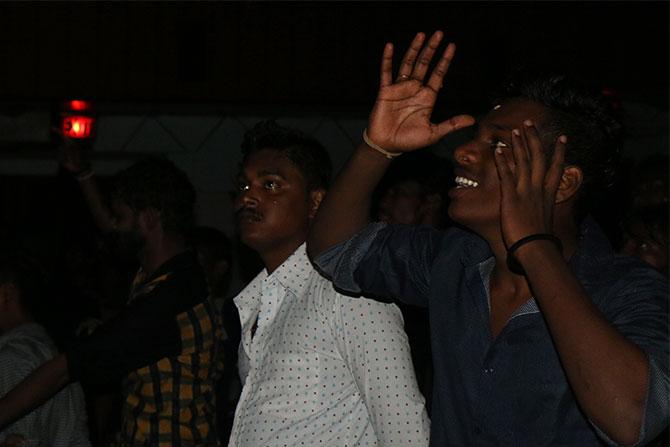 "I watched the 6 am show with a set of friends. Now I am going to watch it with my other group."
"Thalaivaa, kalakkiteenga! (Thalaiva, you proved you are the best!)," says Ilavarasan (not in the picture), who operates a taxi service out of Dharavi.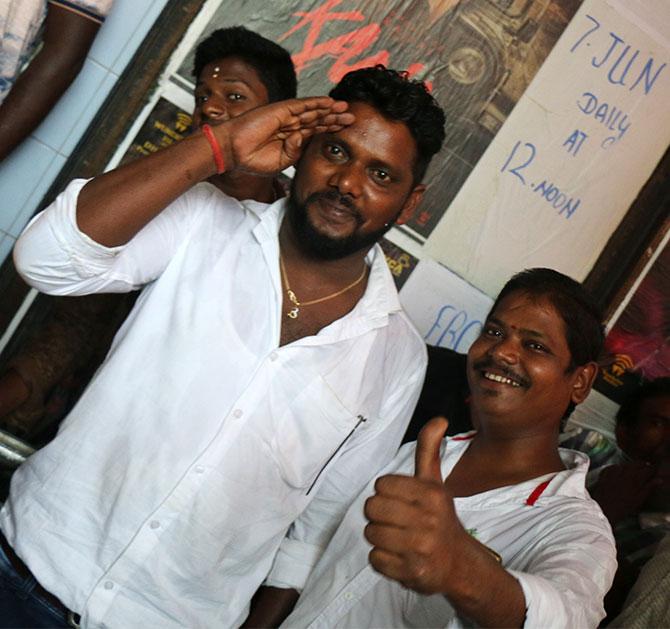 A Thalaiva salute!
"Athigama aasai padra aambalayum athigama kova padra pombalayum nalla vaazhndhadha sarithrame kedayathu (A man who cannot tame his desires and a woman who can't control her temper can never live happily)," he recites a Rajini dialogue.
Watch him in the video below!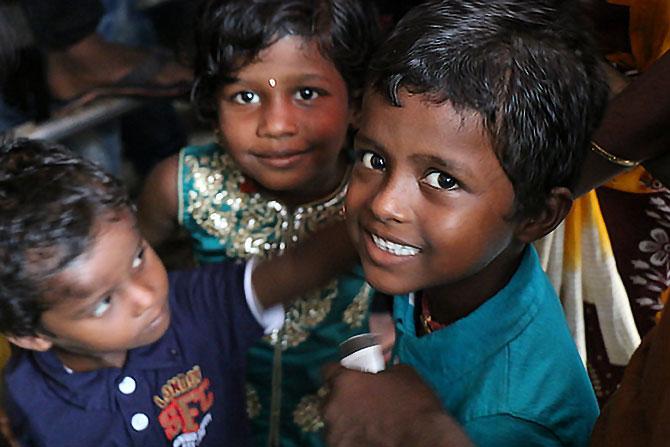 These kids will always remember their first Rajinikanth film.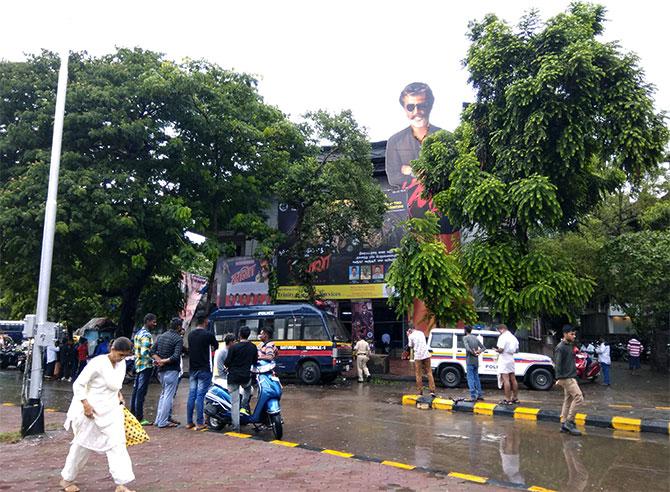 The superstar's poster dominates the surroundings.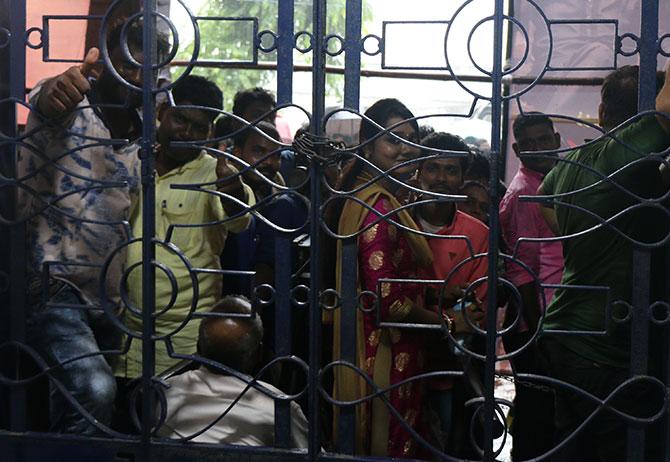 Despite the pouring rain and excitement to watch the film's 12 noon screening, which was delayed by 30 minutes, disciplined crowds waited in an orderly queue for the gates to open.