There's a reason he was called Baba Ranchoddas in 3 Idiots.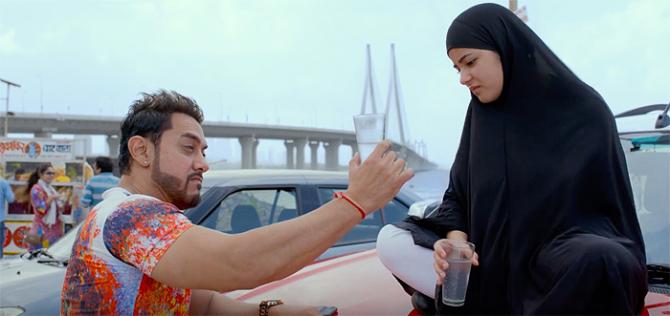 IMAGE: Aamir Khan and Zaira Wasim in Secret Superstar.
Celebrated actor, socially conscious filmmaker and master of movie promotion Aamir Khan is a man of many talents.
Yet his most spectacular gift is to inspire with words.
When Advait Chandan heard him comfort an anxious father by likening talented kids to soda bubbles who cannot be stopped from rising to the top, he decided to turn it into the focal point of his directorial debut, Secret Superstar.
Starring Aamir as the quirky mentor to his Dangal daughter Zaira Wasim, these golden words are once again repeated to inspiring effect in the film.
As we wait to be dazzled by the star's Diwali offering, here are 10 times he impressed us with his profound gyaan and unbeatable logic.
3 Idiots
IMAGE: Aamir Khan in 3 Idiots.
As the problem-solving engineering student, Aamir's Rancho is bubbling with exceptional ideas.
'Dil darpok hai, isko bewakoof banake rakho,' he advises, while passing on the 'all is well' mantra to his roomies.
The crazy amount of money 3 Idiots made at the box office says a lot about the cult of Baba Ranchoddas.
Taare Zameen Par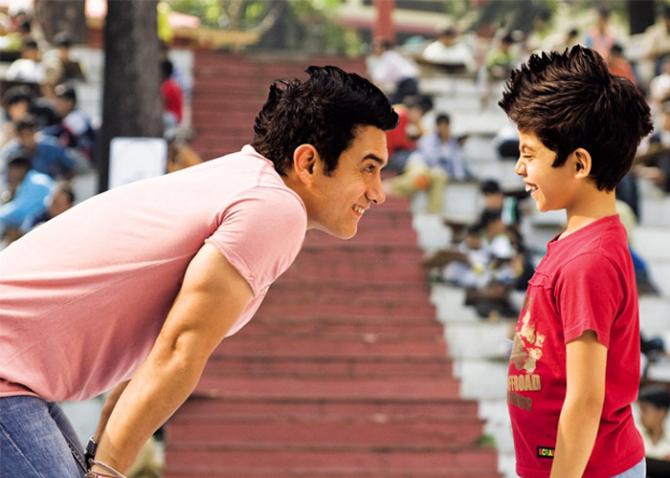 IMAGE: Aamir Khan and Darsheel Safary in Taare Zameen Par.
A super serious Aamir lectures on the importance of TLC and good parenting in his 'Khayal mein ilaaj ki shakti hai' speech, as part of his sympathetic art teacher gig on screen and purposeful filmmaker off it.
Rang De Basanti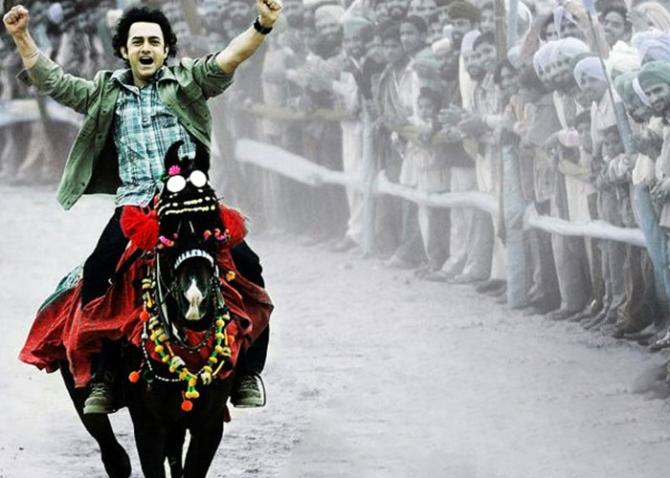 IMAGE: Aamir Khan in Rang De Basanti.
Aamir's do or die desperation leads to Rang De Basanti's most pertinent realisation about empathy and apathy -- 'Zindagi jeene ke do hi tareeke hote hain. Ek -- jo ho raha hai hone do. Bardasht karte jao. Ya phir zimmedari uthao use badalne ki.'
PK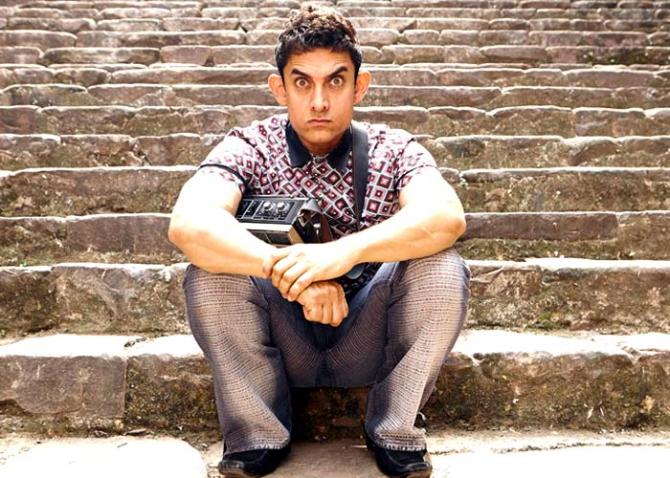 IMAGE: Aamir Khan in PK.
'Kauva nanga baitha hai, ajeeb lag raha hai ka? Ab tie pahen kar baithega toh ajeeb lagega!'
Whether aliens wear clothes or not, Aamir's hilarious naked crow retort does have a point.
Dil Dhadakne Do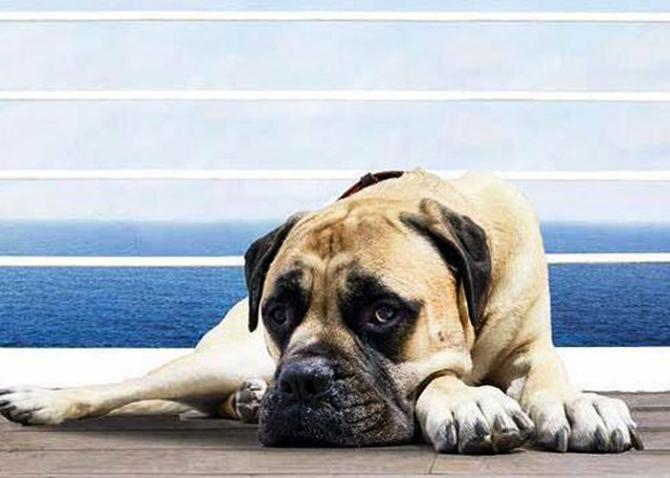 IMAGE: Aamir Khan voiced Pluto, the dog who played the narrator in Dil Dhadakne Do.
Trust Aamir to have a serious opinion even when he's voicing a cute canine.
That jibe on desi parents -- 'Humare desi maa baap kabhi yeh maan hi nahi sakte ki unke bachon mein itni akal aa gayi hai ke woh apni marzi se jeeyein' -- hits the nail on the head.
Andaz Apna Apna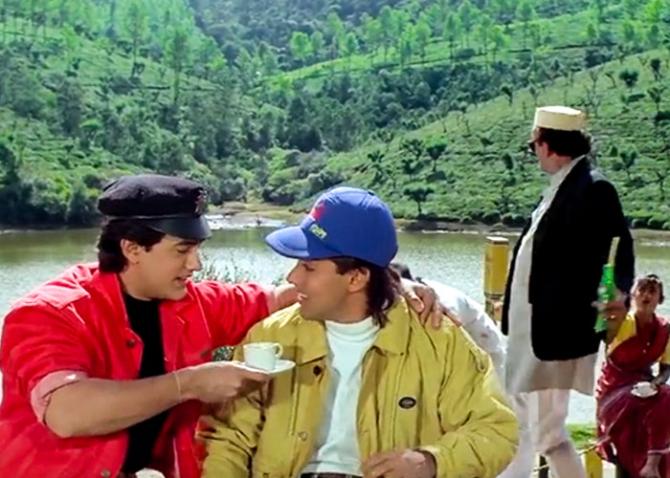 IMAGE: Aamir Khan and Salman Khan in Andaz Apna Apna.
When Aamir says 'Do dost ek pyaale mein chai peene se dosti badhti hai', no one argues. Not even Salman Khan.
Dangal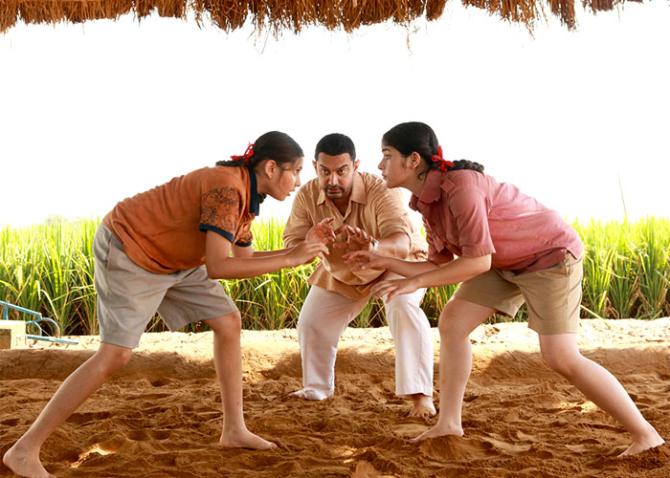 IMAGE: Suhani Bhatnagar, Aamir Khan and Zaira Wasim in Dangal.
Aamir's taskmaster bapu in Dangal is not easy on his girls or their pursuit of Olympic glory.
But he's quick to see through the stupidity of his previously held sexist views by acknowledging 'Gold toh gold hota hai' whether won by a boy or a girl.
Dhoom 3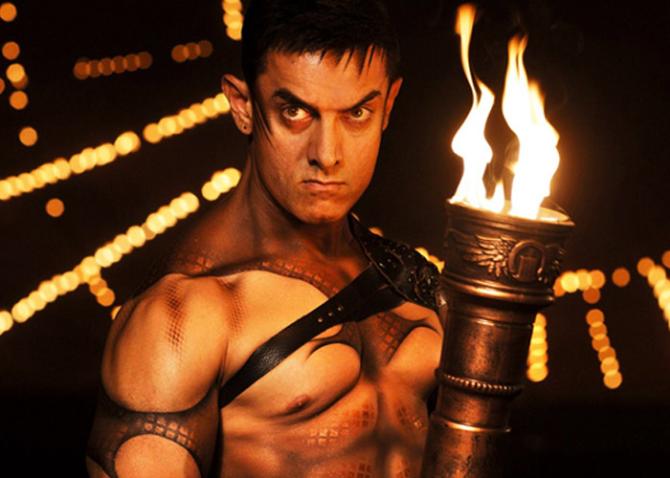 IMAGE: Aamir Khan in Dhoom 3.
'Hoshyari, tarkieb aur dhokha -- teeno mil jaaye toh log usse jadoo samajhte hain.'
The star's anti-hero turn, juggling circus and robbery in Dhoom 3, is a clear nod to the flamboyant breed of Bollywood antagonists.


Dil Hai Ki Manta Nahi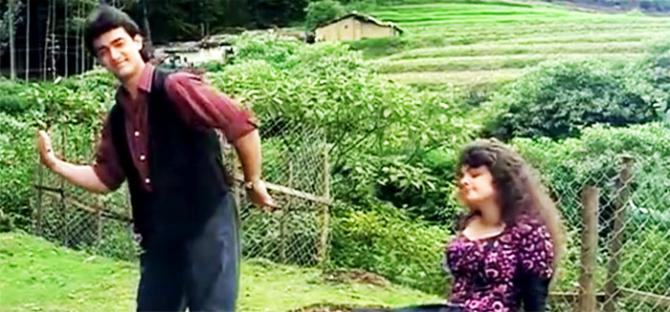 IMAGE: Aamir Khan and Pooja Bhatt in Dil Hai Ki Manta Nahi.
'Lift mangna bhi ek kala hai,' insists an overconfident Aamir, while demonstrating the thumb rule of hitchhiking from transport of various sizes and shapes to hilarious results.


Rangeela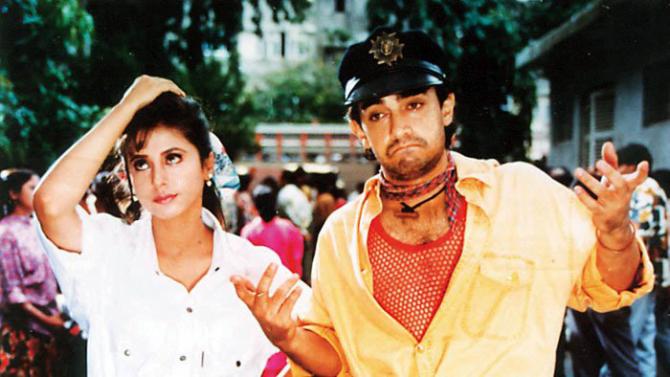 IMAGE: Urmila Matondkar and Aamir khan in Rangeela.
Every time an Aamir release hits the screens, general public sentiment is it will have something substantial to offer.
Looks like he's influenced by the bluntly conveyed wisdom of his tapori alter ego in Rangeela -- 'Public hai, kisi ko bhi kuch bhi bol sakta hai. Jismein apna paisa vasool nahi, uska dabba gul.'