After an interruption of two years, the Berlin Film Festival returned in full force.
A range of remarkable films were show, from new discoveries, return of old masters and a celebration of classic cinema, including a retrospective of Steven Spielberg's works and even a screening of Satyajit Ray's Aparajito.
There was a lot of Indian presence at the European Film Market and a small number of Indian films were showcased at the festival -- two Marathi language entries, a documentary by an Indian film-maker on the state of Iranian cinema and an introduction to a new Indian series created by Zoya Akhtar and Reema Kagti.
Aseem Chhabra highlights 10 films that moved him, films that may show up in theatres near you.
1. Past Lives (US)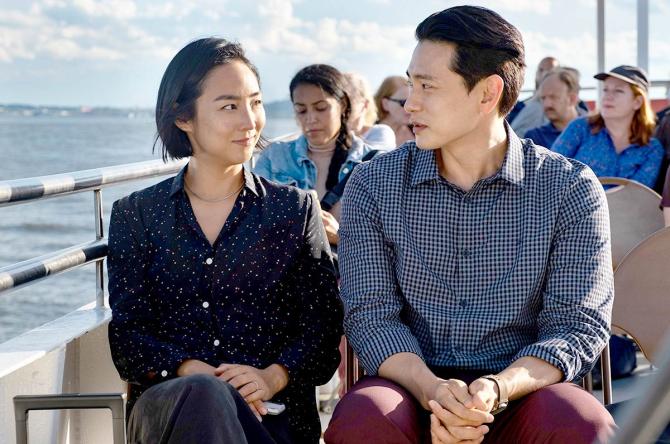 When she was in her teens, Nora migrated to Canada with her parents from South Korea. She left behind memories of her first love: a Korean school boy Hae Sung. Now an adult living in New York, Nora (Greta Lee) is married to a Jewish-American man Arthur (John Magaro).
One day, she hears from her childhood friend Hae Sung (Teo Yoo), who is planning a trip to New York to meet her.
In director and playwright Celine Song's autobiographical film, Hae Sung and Nora rekindle their friendship, and as they walk through the streets of New York City, they wonder what if life had shaped out differently.
Past Lives is a sweet ode to the memories of those who remember their first love or did not have the courage to express their love or perhaps feel the pain of unrequited love.
It is a small indie film but makes a huge impact on audiences.
2. The Teachers' Lounge (Germany)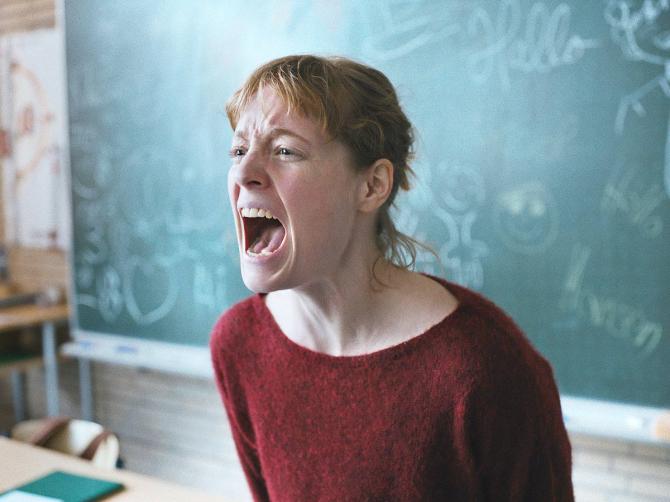 A German thriller, The Teachers' Lounge is based on a simple premise: Someone is stealing money in a school and a student is suspected of the crime. But when the student and his immigrant parents are called into the principal's office, we know this film will tackle many complicated issues, including race relations in present-day Germany.
Director Ìlker Çatak and co-writer Johannes Duncker have created a complex plot.
In the centre of it is a relatively new teacher Carla Nowak (a terrific Leonie Benesch), who tries hard to be fair and yet is pulled into the internal politics in the school.
Winner of two awards at the Berlinale, The Teachers' Lounge is an entertaining film but is also deeply unsettling. It tense mood is enhanced by sharp editing, music and sound design.
3. The Burdened (Yemen/Saudi Arabia)
Winner of the Amnesty International Film Prize at this year's Berlinale, The Burdened (Al Murhaqoon) is perhaps the first film from war-torn Yemen to be programmed at a major film festival. It is a searing representation of life in a country that few of us can imagine.
Some of the everyday occurrences, like food and electricity shortages in Aden, are facets of life that we can comprehend. But there is a general sense of so much is lost and yet, people have to continue living.
In the midst of it all is the story of a young couple, Isra'a and her husband Ahmed, who has not been paid wages for months. Now, Isra'a learns that she is pregnant with their fourth child.
The couple cannot imagine raising a fourth child under these circumstance but chances of abortion are limited in the conservative Muslim country.
As Isra'a and Ahmed traverse through difficult times, it is clear that no one is a winner in this situation.
4. Dahaad (India)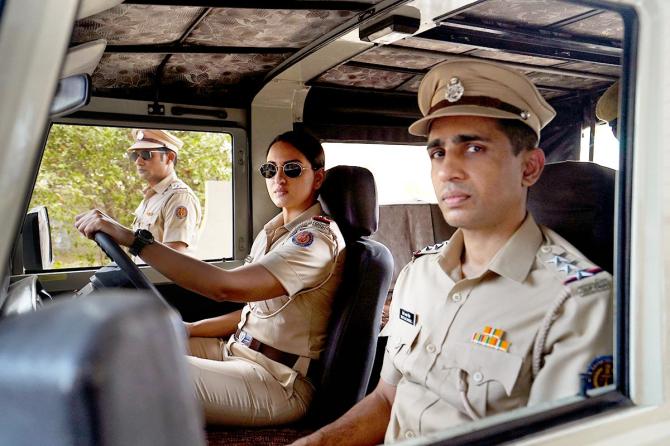 Reema Kagti and Zoya Akhtar came to Berlinale with their new Amazon series called Dahaad starring Sonakshi Sinha, Gulshan Devaiah, Vijay Varma and Sohum Shah.
Only two episodes of the series were shown in the Berlinale Series section, the idea being just to whet the appetite of the audience, who will then wait for the show when it drops on Amazon Prime Video.
Sinha, Devaiah and Shah play cops in a small town in Rajasthan, investigating several unreported cases of missing women, all of whom have supposedly eloped with their boyfriends. But their stories are similar and it raises a suspicion that there might be a single person kidnapping the women.
Dahaad is a gripping show, rooted in caste and religious politics that often cause sharp rifts in rural India.
5. Joan Baez I Am Noise (US)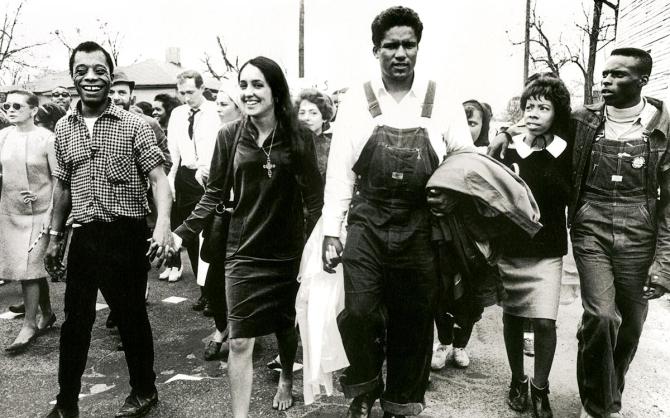 Three directors Karen O'Connor, Miri Navasky and Maeve O'Boyle capture the life and times of 82-year-old iconic singer and activist Joan Baez through candid interviews and video footage that have never been seen before.
We see Baez's life as a young singer, her years of activism (marching with Martin Luther King), relationships (there are lovely black and white photographs of Baez and Bob Dylan), her brief marriage and sometimes strained relationship with her sisters.
But what emerges is a life driven by the desire to sing, the gift of a golden voice, coupled with years of insecurities, depression and drug abuse.
Now that she is much older, Baez is comfortable with herself, honest to the core and talks about a lot of issues which celebrities often do not touch upon.
Joan Baez I Am Noise is a fabulous documentary, a great treat for fans of the singer and even those who may discover her for the first time.
6. Seven Winters in Tehran (France/Germany)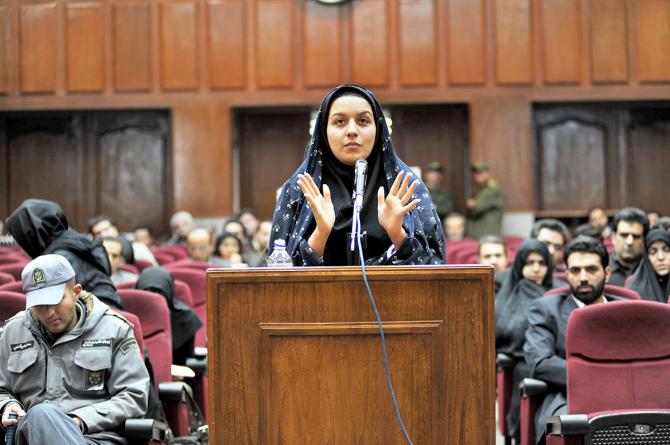 In German director Steffi Neiderzoll's powerful documentary, an Iranian student is imprisoned and then hanged for killing a man who tried to rape her.
The student, Reyhaneh Jabbari, insists that she killed the man in self-defence. But the deceased was a prominent man in the society. In any case, in Iran, the courts and laws are stacked up against women.
At times, Seven Winters in Tehran will remind the viewer of last year's Cannes winner Holy Spider. It's a coincidence that the lead actress in Holy Spider, Zar Amir-Ebrahimi (she lives in exile outside Iran) does the voice-over narration in the film.
There are so many times one has hope that justice will prevail, but the film is stark reminder that despite some small gains, women's protests and struggles in Iran have a long way to go.
7. Afire (Germany)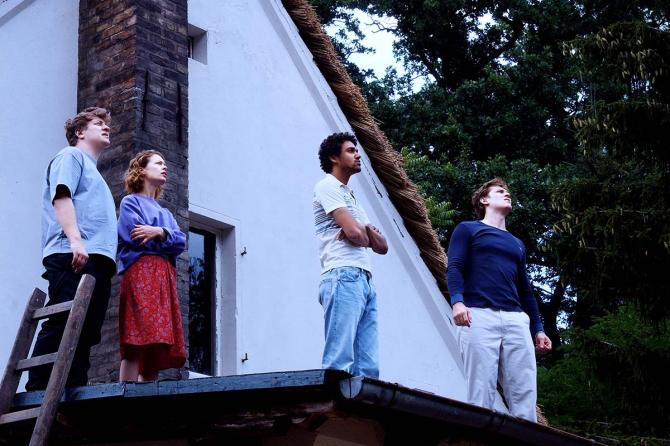 One of the best-known German film-makers and storytellers, Christian Petzold won the grand jury prize for his new film. Afire narrates the story of a summer when four young people end up sharing a cottage close to a beach town.
Leon has a manuscript to finish that he is struggling with.
His friend Felix has to put together his art portfolio and is also fixing up the cottage that belongs to his parents.
Nadja is spending the summer selling ice cream.
David is earning money as a lifeguard on the beach.
The lyrical pace of life, the struggles that no one wants to acknowledge, and relationships -- sexual and beyond -- come head-on with a fire that starts to quickly spread in the neighboring areas.
The promise of a productive summer flies off with wind, as ash falls from the sky and our characters' lives will never be the same.
8. Opponent (Sweden)
A slice of life in today's Europe, Opponent is the story of an Iranian refugee, living in temporary housing with his wife and two daughters. Back home in Iran, Iman (Payman Maadi of the Oscar-winning film, A Separation) was a wrestler, until he had to flee because of some rumours.
In order to improve the chance of getting a residence status for himself and his family, Iman starts to wrestle for the Swedish team.
A chance friendship with a team-mate leads Iman to explore his repressed sexuality. The friendship will create a strain in Iman's marriage and complicate his visa situation.
In his last film The Charmer, Iran-born director Milad Alami narrated the story of a refugee trying to get a foot inside the world of the wealthy Iranian Diaspora in Denmark. In Opponent, he once again reminds us how precarious the lives of refugees can be, no matter how much they try to assimilate.
9. Femme (UK)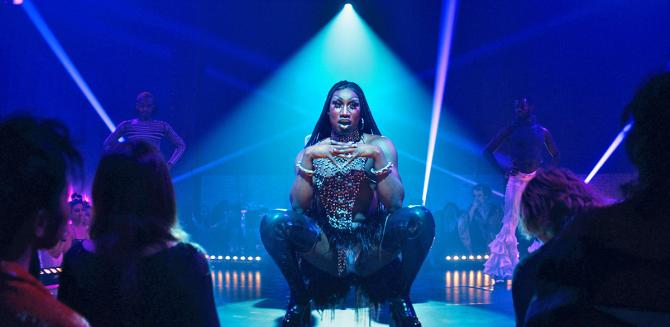 Jules (Nathan Stewart-Jarrett) is a well know drag performer. His stage persona's name is Aphrodite Banks.
One day, Jules steps out of the night club where he has performed and is attacked by a gang of young men, including a self-loathing, closeted young white man Preston (George MacKay). When the initial shock of the incident is over, Jules visits a sauna where he sees Preston again and seeks his attention.
What starts off as a potential revenge drama turns in a romantic liaison between the two men. But things that start on a wrong footing cannot be expected to end well.
Directors Sam H Freeman and Ng Choon Ping have made a tough film where love, same-sex attraction, homophobia and violence is all poured into a blender. What we get is a heartbreaking, unsettling drama where a gentle situation can explode and tear apart any good that life presents to the films' characters.
10. Golda (US/UK)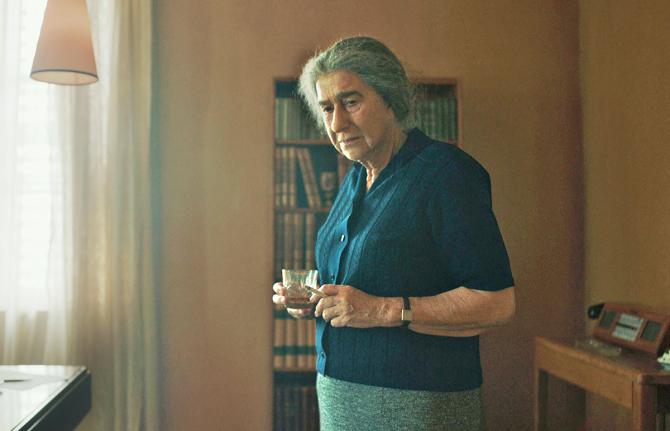 Few actors can transform themselves into historical figures and yet put their unique stamp on the characters they play. In Queen (2006), Helen Mirren did a wonderful job of playing Queen Elizabeth II and she won an Oscar for her performance.
Now, in Oscar-winning director Guy Nattiv's new film, Mirren plays Golda Meir, the iron-willed politician and Israel's fourth prime minister during a key period of her political career -- the October 1973 Yom Kippur War with Egypt and Syria.
The only woman in her war cabinet (in fact, other women in her office are all assistants) Mirren's Meir is stern, at times despondent. But throughout the film, she is a force to reckon with.
Add to that, there are some really charming moments in the film, such as when Meir insists that then US secretary of state Henry Kissinger (Liev Schreiber) eats her cook's Borscht soup before he flies to Cairo to negotiate a peace deal with then Egyptian president Anwar Sadat.