'In so many colonies, mohallas, villages across India, your movies have entertained and brightened up community evenings. Thank you Ma'am.'
Love pours in for Sridevi from all around the world.
We asked you Dear Readers to share your fondest Sridevi memories.
This is what the huge and irreplaceable loss means to you: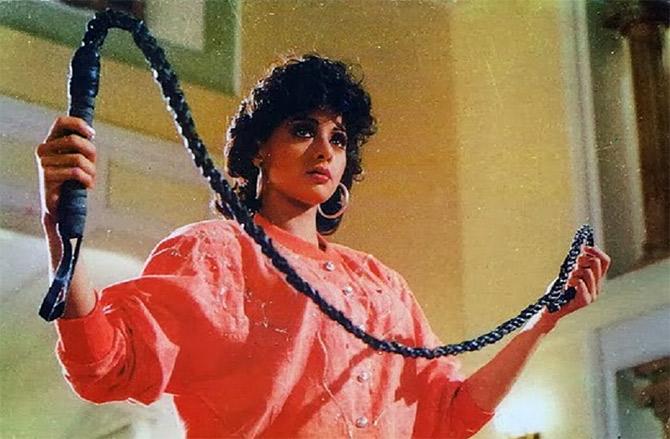 IMAGE: Sridevi in ChaalBaaz.
Name: Jessy Suresh
Age: 38
Hometown: Bangalore
Sridevi Ma'm, there was Chemical Locha in the mind of a 7-year-old girl after watching Nagina (1986)!
I was convinced that Ichhadhari nagins are real and they can spring out from the bushes anytime!
Such was the influence that your stellar performance had on the masses.
We used to stay in hospital quarters in the Mumbai suburbs and during those times our colony used to collect money and rent a TV-VCR from the video rental shops.
Everybody would huddle around below the building in the evening to watch blockbuster movies.
Sridevi movies are part of such beautiful childhood memories and yes, Nagina was watched in such a setting.
Likewise, in so many colonies, mohallas, villages across India, your movies have entertained and brightened up community evenings. Thank you Ma'am.
As a child I was so mesmerised with your expressions of comedy that I kept looking for your replica in other actresses, but was sorely disappointed.
To be able to make people laugh at oneself, one has to let go of our deepest inhibition and you were the only one to attain that.
ChaalBaaz (1989) is a cult movie and your portrayal of Manju, the hard-hitting action queen, was an aha! punching moment for us girls.
I wanted the whip to fall so hard on Tribhuvan's character. And the reverberating rendition of your dialogue is very haunting -- 'When the hand that wears bangle holds the whip the entire earth is less for the crook to run.'
***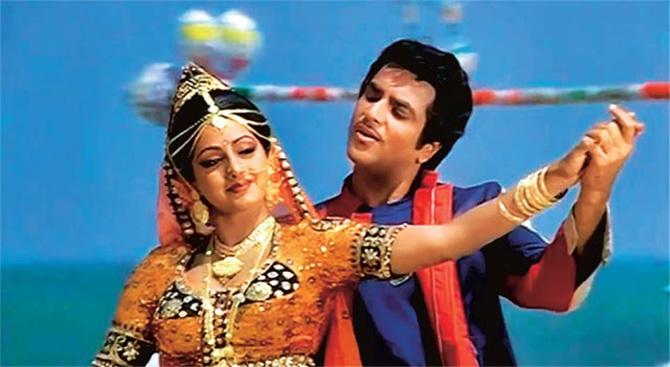 IMAGE: Sridevi in Himmatwala.
Name: Vijayendra Pratap Singh
Age: 37
Hometown: Varanasi
A big part of my celluloid memory -- gone forever.
I think the first time she made an impact on my memory was in the song Naino mein sapna in Himmatwala.
As a child you get entertained only by songs mostly. You don't have an understanding of acting that much.
After her passing, I came to know that she was not a trained dancer. My heart is filled with more respect for her knowing this, as she was numero uno always in dance numbers.
Her acting affected me when I watch her in Sadma. She is too good in the role of a mentally challenged women.
In front of a actor like Kamal Hassan it is always tough to get recognition, but Sri stole the limelight by her innocent but believable act.
Chaalbaaz is also one of my favorites as you can see Sri in a double delight. Naaka Bandi is not too good as a film, but Sri is fabulous in tyhe Are you ready song.
My most favorite is Lamhe. In the mother and daughter role she totally owned this movie.
I like Lamhe as a whole package -- great script, great songs and great acting by all the actors -- but Sridevi stood her ground.
She played the mother with so much belief, and then played the bubbly daughter with flawless genuinity.
You totally believe when she confesses her love to Anil Kapoor, and feel sympathetic when he rejects her completely.
I felt the ultimate joy at the end when he finally accepts her. That dialogue 'Tum sirf tum ho on the triumph of love is never this sweet on screen.
I like her in her later roles in Laadla, Judaai, English Vinglish, but Lamhe remain my all time favorite. Hands down.
Actors like Sridevi appear once in a millennium. She is most graceful on screen and when she danced she stole your heart every time.
RIP Sridevi.
***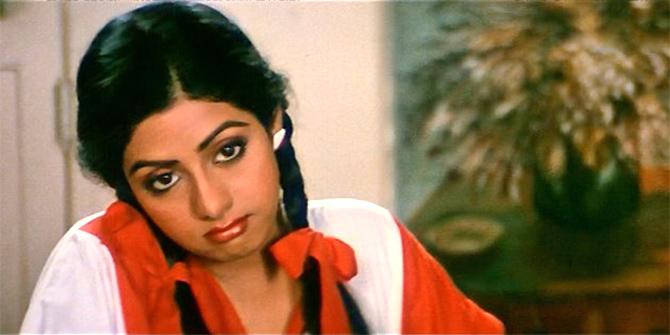 IMAGE: Sridevi in Mr India.
Name: Sudipto Basu
Age: 36
Hometown: Kolkata
ROFL.... Roll On The Floor found it way up and down my stomach when I first watched Mr India in my 5th standard on our newly purchased VCR.
Sridevi rocked the screen with those children making me go crazy every single time.
Since then Mr India became my bribe which my mom paid me from the local video library to make me score better in mathematics, the subject I dreaded.
I was too small when Mr India released, watched it only a couple of years later, only to be transfixed on it forever.
Earlier Nagina caught my imagination. The idea of a snake charmer trying to transform a serpent in the disguise of a woman into her real self -- being resisted against in full vigor and force by her with the help of musical energy and the power of dance -- was a fantastic idea.
The artistic rendition was overwhelming, making it a treat to watch it in my childhood when cinematic exposure was rare and limited and even now when it all happens at a single simple click.
I went out to watch Judaai in the theatre after my school finals, repeatedly to see her act as the comfort crazy, money hungry, social climber who wanted to get everything, material and emotional, at her disposal very easily.
That was the time I had just stepped out of my domestic closet to see the world all by myself.
She retired into happy matrimony as I moved on with my life.
Our lives unfolded parallelly with her blossoming into a dutiful wife and doting mother and me starting my professional life as a mass communication graduate.
The publication I worked for introduced me to a fellow journalist who was a Sridevi fan. I enjoyed our chit chats on her films and personality as encountered by her while interviewing her during the release of English Vinglish, a film where she could do away with her electric image to play a simple but cerebral character echoing the woes of a multitude living in an English occupied India.
I did not watch Mom as movie watching took a backseat with me contemplating donning the director's hat myself. And the news of her death reached me only after I completed an actor's meet for my maiden venture.
---
WATCH: The 5 Best Minutes of Sridevi You Need Today
---
What does Sridevi mean to you, dear reader?
Write in to us at moviesdesk@rediff.co.in (Subject line: Favourite Sridevi moment) with your NAME, AGE and HOMETOWN.
We'll publish them right here on Rediff.com