Nutan was the kind of woman Shammi got drawn to -- sensitive, aware and erudite, yet seductively feminine.
He admitted he was infatuated with her. 'We had a sort of calf love going between us,' he recalled with a wicked twinkle in his eyes.
Rauf Ahmed reveals Shammi Kapoor's other love stories.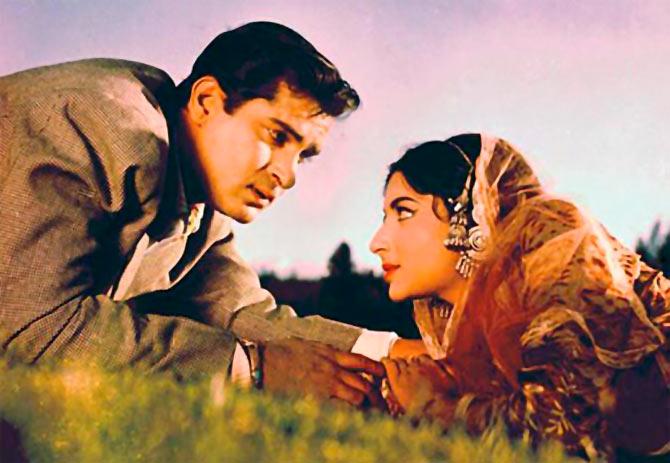 IMAGE Shammi Kapoor and Sharmila Tagore in Kashmir Ki Kali (1964).
Madhubala wasn't the first or the last among the beautiful icons of the time to ignite Shammi Kapoor's 'grand passion.'
Actress Nutan was another one who had bowled him over completely during the early phase of his life. Sharmila Tagore was yet another one, who came into the picture much later.
Shammi and Nutan had met as kids. She was three and he was six and the two used to get along like a house on fire. "We lived in the same neighbourhood," Shammi had recalled. "My father and her mother Shobhna Samarth were very good friends and we had innumerable opportunities to meet."
The two had been dating even before they began doing films together. Shammi had escorted Nutan to the premiere of her debut film Nagina (1951, opposite Dilip Kumar's younger brother Nasir Khan) at the New Empire cinema in Bombay. But the doorman had played a spoilsport by not letting Nutan in, because Nagina was for 'adults only.' She was only 15 at the time.
Nutan was the kind of woman Shammi got drawn to -- sensitive, aware and erudite, yet seductively feminine. He admitted that he was infatuated with her. "We had a sort of calf love going between us," he had recalled with a wicked twinkle in his eyes.
But those who knew the two say it was much more than that. According to someone who had been close to the family, Shammi wanted to marry Nutan. Though Shobhna Samarth had no objection, actor Motilal was dead against the suggestion. Motilal had been Shobhna Samarth's closest friend, philosopher and guide from the time she and her husband Kumarsen Samarth had moved apart after a turbulent marriage.
Soon after Nagina, Nutan was packed off to La Chatelaine, a finishing school in Switzerland.
***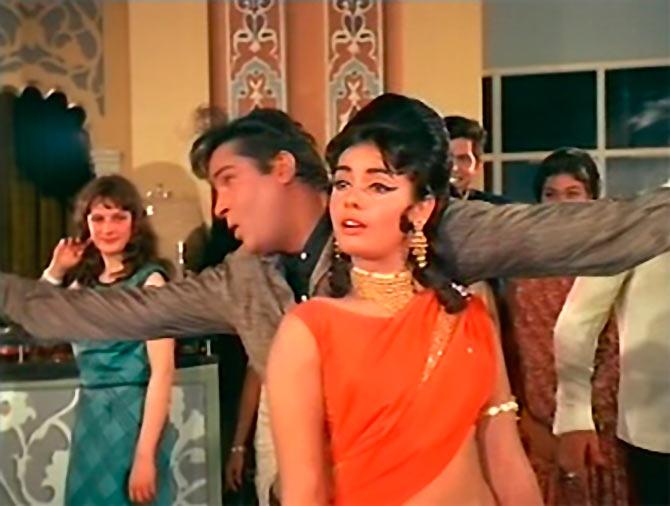 IMAGE: Shammi Kapoor and Mumtaz in Brahmachari (1968).
Shammi considered Nutan a "cerebral actor with an uncanny ability to lend depth and individuality to the characters she was assigned to play. She was among the very few who could interpret a role with total understanding, not just play it."
Though she was very fond of Shammi, she used to find him a bit whimsical as a person, who would do just about anything which would give him the reputation of being 'abnormal.' Maybe it had something to do with his desire to be unconventional.
She also found him a glutton. 'He loves Goan fish curry,' she had observed while analysing the personality traits of her male co-stars. 'If you like watching a man eat, you can never see a more fascinating sight than Shammi eating.'
Among his 'disconcerting habits,' she had singled out his fascination for ladies' purses. 'If he sees a lady's purse anywhere, he just can't resist opening it.'
Nevertheless, the two shared a strong bond on the personal plane. Professionally, however, they did only three films together in 14 years.
***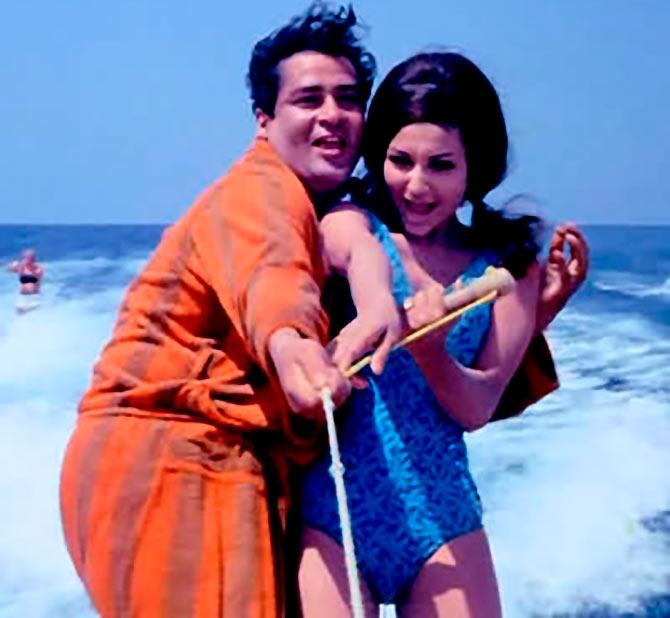 IMAGE: Shammi Kapoor and Sharmila Tagore in An Evening In Paris (1967).
Sharmila Tagore was another co-star Shammi held in high esteem and whose company he enjoyed even though she was among the few who was gutsy enough to stand up to him and tell him off whenever he tried to be high-handed.
Sharmila Tagore, who had made her debut in Hindi films opposite Shammi Kapoor in Shakti Samanta's Kashmir Ki Kali (1964), had done one more film with him, An Evening in Paris (1967), also directed by Shakti Samanta. Both the films were huge hits.
Coming into a Hindi film straight after working with a legend like Satyajit Ray in his Devi (1960), Sharmila was 'not at all overawed' by the prospect of working with Shammi Kapoor, she had said in an interview. At the same time, she was quite impressed by the fan-loyalty he commanded.
'Back at school, there was a girl who thought Shammi was the greatest and would say so. But I told her frankly that I didn't think he was all that great. To my surprise, she just turned away and never spoke to me again. Looking back, I thought it was typical of the extreme reactions Shammi used to evoke. It was possible to like Shammi immensely or dislike him strongly.'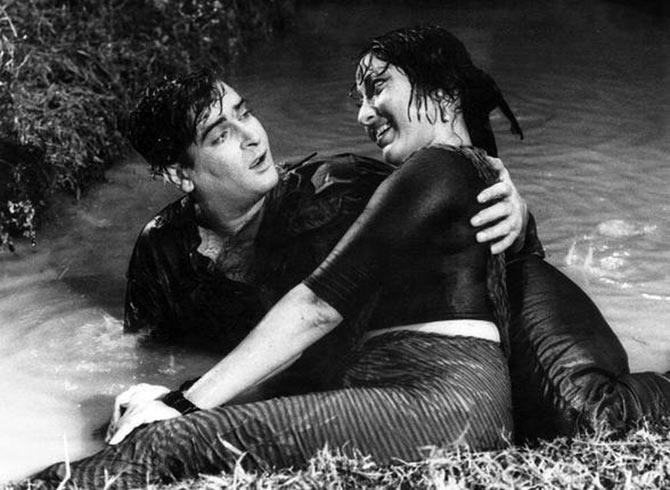 IMAGE: Shammi Kapoor and Mala Sinha in Dil Tera Dewana (1962).
'I still remember our first shooting day. There he was, tall and handsome and, to my mind, a bit theatrical. He came up affably enough to greet me. He had a way of walking up, as if to bow and fold his hands in a "Namaste.". It seemed at once a curious mixture of a salutation and a mockery.'
'As I got to know him, I realised that like the extreme opposite reactions he evoked in people, he was a combination of contradictory traits.'
'He was committed to doing his job well to the point of looking selfish, but as a human being, he could be generous to a fault as in helping out a friend in trouble.'
'He was earnest about his career. His work meant everything to him. He had his ego. But then his ego seemed to almost always lead him to give of his best, but it also hurt him at times.'
'He could talk trivially or irritatingly about his "conquests." At the same time, he could also discuss books and writers knowledgeably. I know it, because once I had claimed to have read a book when I hadn't, and he had exposed me in a minute.'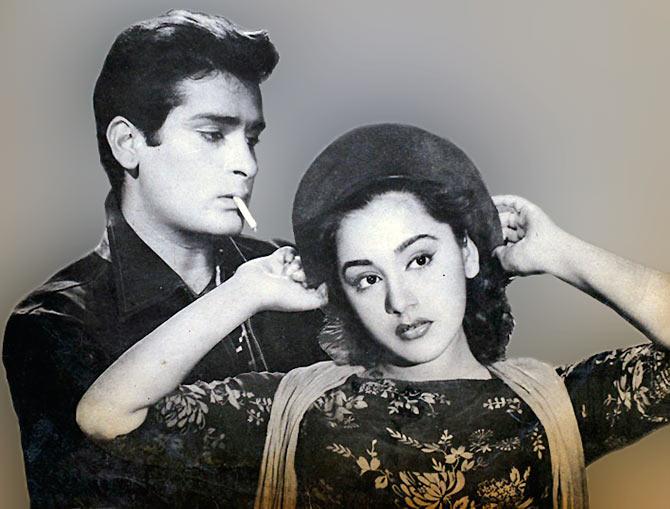 IMAGE: Shammi Kapoor and Amita in Tumsa Nahi Dekha (1957).
'As an actor, I could learn a few basic things from him. He had taught me the importance of insisting on the best facilities for work. When I had begun, I had a business-like approach to work. I would reach the studio at the appointed time, do the make-up, wear what they had chosen for me, face the camera, speak the lines given to me and, after pack-up, drive back home. It was the right thing to do. But being right need not necessarily be always wise.'
'Shammi told me I should take an interest in every aspect of my work and, even if I had to make a fuss, I should ensure that I get the best and, in return, give of my best. I never forgot that.'
'He taught me about lip-syncing as well. We in Bengal weren't familiar with it those days.'
'Even when he was ill over a long period of time, he didn't let his spirit sink. He made the best of even adversities. Instead of letting his illness overpower him, he used it to extend his horizon.'
'His zest for life was infectious. I remember both of us were to go to Pune a few years ago to receive Lifetime Achievement Awards. Even though he was confined to a wheelchair then, he insisted on getting into his Mercedes and driving it himself all the way to Pune.'
'On his 76th birthday, he had called me out of the blue from a little town in Switzerland, where in the '60s we had shot the song Akele Akele Kahan Jaa Rahe Ho for Kashmir Ki Kali, and brought alive memories of the time and the place we had shot.'
'I can look back and say that there has been nobody like Shammi Kapoor. His sense of music, his sense of rhythm, his comic timing and his unique performing style were just amazing. They made him stand apart. He was an original. Whatever he had done decades ago, the youngsters are doing now.'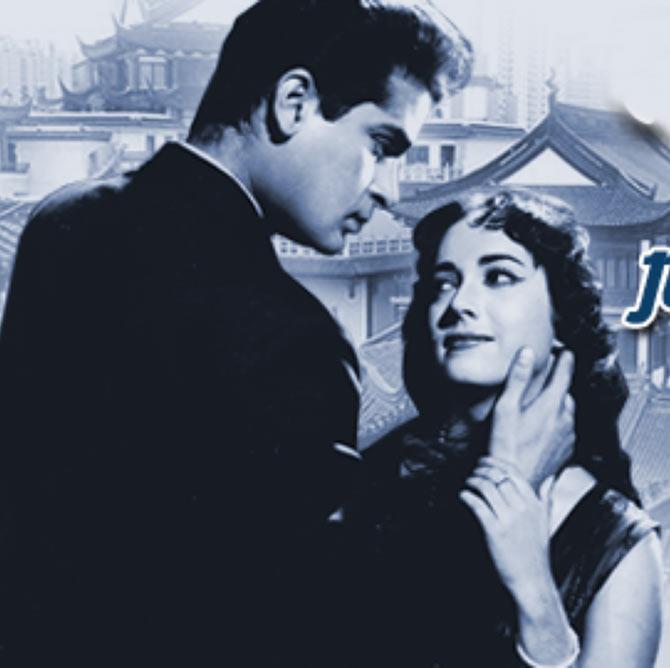 IMAGE: Shammi Kapoor and Shakila in China Town (1962).
Even as his friends kept pulling his leg about him carrying his heart on his sleeve, sometime in 1953 Shammi shouted from the rooftop that the real thing' had finally happened to him.
In Ceylon (now Sri Lanka), he had met a famous belly dancer, Nadia Gamal from Cairo (Egypt). 'She was gorgeous,' he had gushed, 'and I am irresistibly in love with her.'
He said he would marry her even if it meant him settling in Egypt forever.
Shammi was in Ceylon as part of a star-studded cricket team, which included the likes of his brother Raj Kapoor and Dilip Kumar, and had gone to play friendly cricket matches and also explore the film market there.
"One evening," Shammi had recounted, "I had gone to watch a cabaret. I had never seen one before. The girl who performed was a celebrated belly dancer by the name of Nadia Gamal. She was breathtakingly beautiful and danced brilliantly. I made it a point to meet her after the performance and compliment her."
"She was so beautiful that I could not take my eyes off her. I was totally bonkers. Though I was scheduled to be in Ceylon for three days, I extended my stay by a day. We met every day and fell madly in love with each other."
"On the fourth day I proposed to her and she accepted, but said as we were both very young -- she was 17 and I was 22 -- we should wait for five years. 'At the end of five years if we are still in love with each other, we will get married,' she assured. I thought it was a sensible suggestion," said Shammi.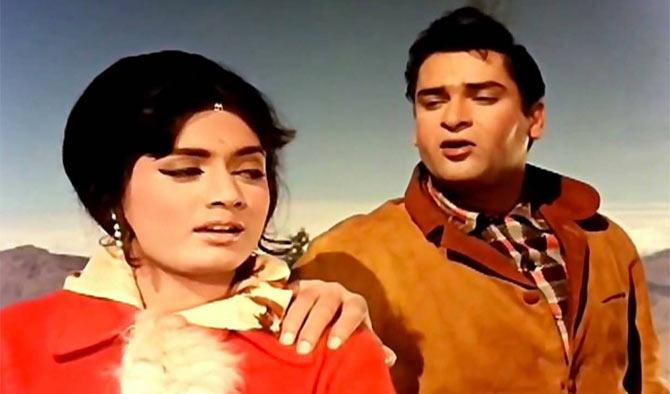 IMAGE: Rajshree and Shammi Kapoor in Janwar (1965).
Nadia and her mother, who was escorting her, had a stopover in Bombay on their way back to Cairo. Shammi received them at the airport and booked them in at the Taj Mahal Hotel as his guests.
"I escorted Nadia to the premiere of one of Rajji's films. I think it was Awara, but I don't remember for sure, at the Liberty Cinema. I was totally engrossed in her. I even introduced her to my family, including my parents and grandparents," Shammi had reminisced.
"The next day, Nadia flew back to Cairo, and I returned to work with a heavy heart."
Two years later, in 1955, Shammi met actress Geeta Bali and fell madly in love with her while shooting for Kidar Sharma's film Rangeen Raaten (1956) at Ranikhet and married her the same year on August 24.
"Nadia and I lost touch with each other thereafter," Shammi had said. "I came to know later that Nadia too got married in Egypt. Wonder what would have happened to the Shammi Kapoor saga had I married Nadia and settled in Egypt as I had fancied. But then, like always, destiny had the last word." And the last laugh.
Excerpted from Shammi Kapoor: The Game Changer by Rauf Ahmed with the permission of the publishers, Om Books International.