If one drops the book-versus-series chatter, is Sacred Games watchable?
Very much so, promises Vanita Kohli-Khandekar.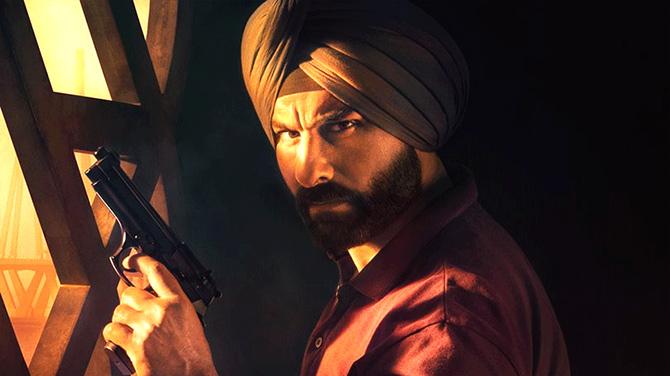 A dog is thrown off from a high-rise building in Mumbai, raising shrieks from the schoolchildren standing below.
Netflix's first original Indian series based on Vikram Chandra's novel Sacred Games starts off by being true to the 2007 book, literally.
The first line in the novel is about a white Pomeranian, Fluffy, being thrown off five floors.
The eight-part series, of which I previewed four, follows the plot-line, character names et al of Chandra's complicated tale. Yet, it acquires a life and texture different from the book.
The action is fast and furious.
Against a nifty background score, the story moves almost too quickly.
The look and feel of this gritty crime drama is pitch perfect. However, the contextualisation is not as sharp as the book's.
From the first episode, you are drawn into the story when gangster Ganesh Gaitonde (Nawazuddin Siddiqui) calls up Inspector Sartaj Singh (Saif Ali Khan).
He tells Singh that his life is going to change, that he will get a case that will make him famous, that something is going to happen in 25 days.
You are drawn into the whole gory mess of Gaitonde's terrible childhood, his initiation into crime, from peddling drugs to gold smuggling (in the 1970s) to helping a local politician win by blanking out the Muslim vote in an area.
The dirt and grime of Singh's life and the utter debauchery of Gaitonde's may gross you out a bit.
But neither Anurag Kashyap (he directed the parts involving Nawazuddin Siddiqui) nor Vikramaditya Motwane (he directed the ones involving Saif Ali Khan) mess with a fundamentally good plot.
The grime, the debauchery, the politics, and modus operandi of gangsters and cops is very real.
The cocktail created when religion and politics is stirred in too, and how politicians and intelligence agencies use it, is real too.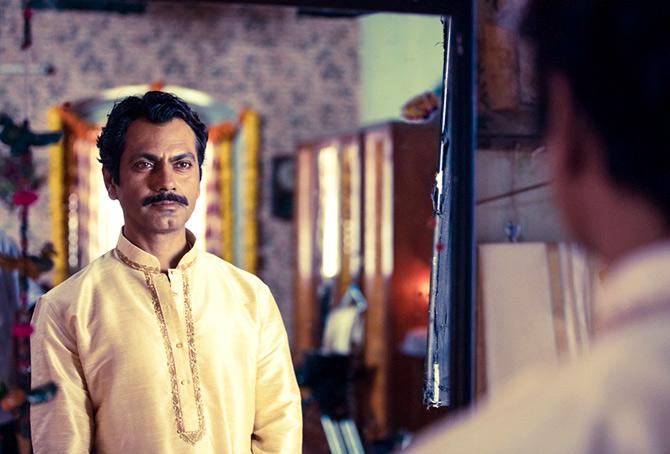 Books are usually difficult to adapt to screen.
If you are a Harry Potter fan, you will feel that the films are inadequate; they do away with half the characters and much of the context.
But if you are a fan of The Lord of the Rings, then you probably love Peter Jackson for staying true to everything in J R R Tolkien's fantasy world.
Much like Ayn Rand's Atlas Shrugged or Vikram Seth's A Suitable Boy, Chandra's Sacred Games is tough to convert to screen -- the 947-page novel has many characters, each etched in detail, with their backgrounds, their compulsions, their imperfections, all on display.
And if, like me, you are a Mumbaikar who has grown up on a staple diet of bhai-type Hindi films and regular newspaper coverage of underworld dons, you can so relate to the cop-versus-gangster story.
What raises it to a fine art is the layered plot-line, with its wheels within wheels (think L A Confidential).
Maybe that is why nobody attempted to adapt it to screen, though the book was released to popular acclaim in 2006.
But the streaming video format helps.
Unlike a film or a (linear) television series, online streaming offers 8 to 10 episodes, all of which viewers can (and usually do) watch whenever and wherever they want.
So, long-winded stories such as Sacred Games get more space and time.
And yet they offer both viewers and film-makers more flexibility than, say, a series of three films released one or two years apart.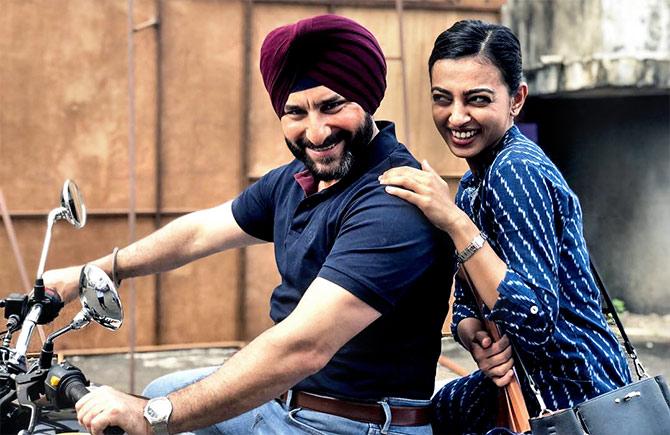 There are portions in the book that have haunted me for years.
Aadil Ansari is an educated man trying to find his calling in a world gone topsy-turvy. However, so far in the series Ansari's story, among those of others, is missing.
Then there is Singh's story.
Vikram Chandra makes you feel the touch of his mother Kamna Chandra who has been through the pain of Partition. He makes you smell the decay in his life since his divorce and feel the sweat on his shirt as he is shunted around on insignificant cases by a police department that rewards cunning and political smarts, not honesty and courage.
The series adapts Singh's story somewhat differently. Many facts are changed but to the same effect.
And Khan plays the stout, can't-seem-to-get-ahead cop with aplomb. But unlike the book, his character remains unexplained.
Then there is Gaitonde, played competently by Siddiqui. It feels familiar somehow. Maybe because he has by now done several of these slightly mad characters -- Raman Raghav 2.0, Gangs of Wasseypur. His transformation into the older Gaitonde is particularly good.
Radhika Apte, as the R&AW (Research and Analysis Wing) officer Anjali Mathur is totally in sync with her character in the book -- in the way she dresses, talks, holds herself. She, too, comes without her story.
If one drops the book-versus-series chatter, is Sacred Games watchable? Very much so.
And if this gripping crime drama is the first Indian original that Netflix will release in 190 countries, it does the creators proud.
So, go for it.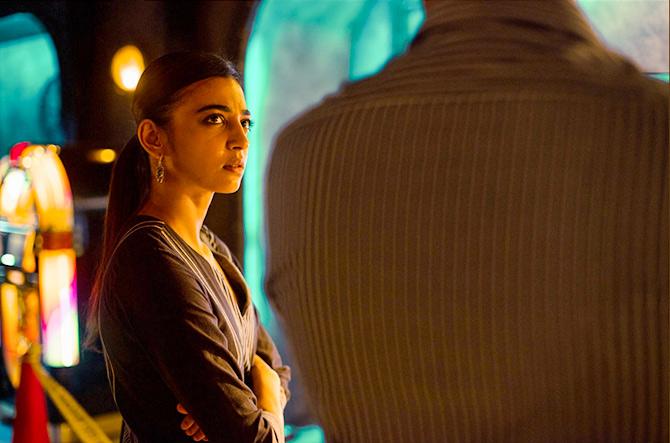 On quality, casting and production, Sacred Games beats Inside Edge, the first big show from Amazon Prime Video.
However, I am not sure how it compares with, say, Test Case or any other original show on streaming sites.
It ups the game on commissioning content online, not just because it comes from the $11.7 billion Netflix -- arguably the world's largest subscription-driven video service. But also because Netflix commissions for the world market.
So Sacred Games went into 190 countries and to 125 million subscribers in one shot from July 6. The series is in Hindi (with a smattering of Marathi) and is subtitled in English.
Last year Netflix had a $6 billion budget for content, which went up to $8 billion this year.
Ted Sarandos, the chief content officer of Netflix and the man who decides how this money will be spent, believes that authentically local and good stories find an audience worldwide.