'With his going, my relationship with the Kapoor family has ended.'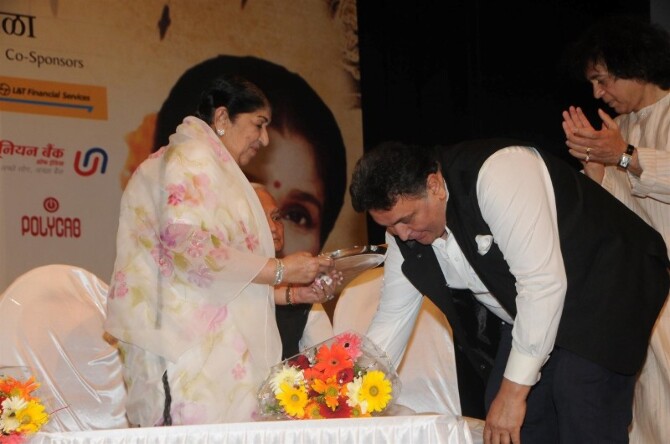 Everyone who is a fan of the music in Raj Kapoor's cinema knows Lata Mangeshkar was the Showman's muse. He called her Mata Saraswati and unconsciously dedicated all his best works to her voice.
"I often visited Rajsaab's home to meet Krishna Bhabhi (Mrs Raj Kapoor) and the children. It was during one such visit that I first saw Rishi who was all of six months old then," Lataji tells Subhash K Jha.
The moment was captured on camera for posterity.
"And recently Rishiji sent me that picture of him in my godee (lap). Main tasveer dekh ke bahot khush hui. Sara Kapoor khandaan mujhse bahot pyaar karta hai. But I was specially close to Rajsaab and then his son Rishi."
Not many people know this. Lataji is known to send gifts to members of the film fraternity whom she is fond of. She sent Rishi a statute of Shirdi Sai Baba.
After receiving the gift Rishiji had said emotionally to Subhash, "When Lataji heard that I was a Sai Baba devotee she sent me a beautiful Sai Baba moorthi (statue). It is a gift I'll cherish forever."
Says Lataji, "Rishiji and I exchanged communication constantly. When he went to America for medical treatment he would call me. I would call him to ask about his health. When he returned, he assured me he had recovered."
"And now all of a sudden, he's gone. Mujhe vishwas nahin hota woh chale gaye. 67 is no age to die."
"Rishiji was my favourite Kapoor after Rajsaab. It's a big personal loss to me. With his going, my relationship with the Kapoor family has ended."
Lataji loves Rishi's acting. "He was a natural-born actor, born for the camera. So handsome and so full of life and sunshine!"
"I loved him in Bobby, Prem Rog, Chandni, Henna, Kabhi Kabhie and so many other films. He was one of the finest actors of our country."
"Indian cinema has lost a giant. And I've lost someone very precious."
Lataji and Rishi's son Ranbir Kapoor share the same birthday, September 28. "I met Ranbir when he was a child at Rajsaab's home. I don't know him now. He is a fine actor. Is he as good as his father?"