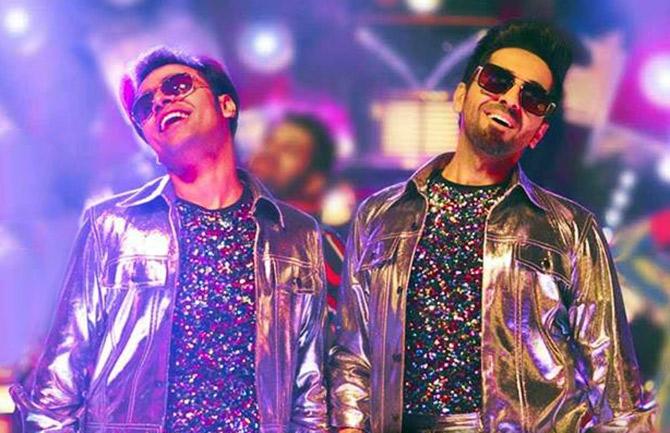 Sonam Kapoor recreated Rekha's Khoobsurat, Kartik Aaryan's Love Aaj Kal had Qayamat Se Qayamat Tak-inspired courtship, Sonakshi Sinha's dance number in Himmatwala saw some Reena Roy-ripped disco fervour and recently, we saw Ayushmann Khurrana's shimmering ode to Bappi Lahiri's 1985 classic, Pyar Bina Chain Kahan Re in Shubh Mangal Zyada Saavdhan.
Just proves that if there's one thing about the decade our glamorous lot is in NO RUSH to replicate, it is the '80s's kitschy, over-the-top sartorial style.
Sukanya Verma curates a gallery of outrageous '80s Bollywood fashion purely for your amusement.
Amrita Singh, Shukriya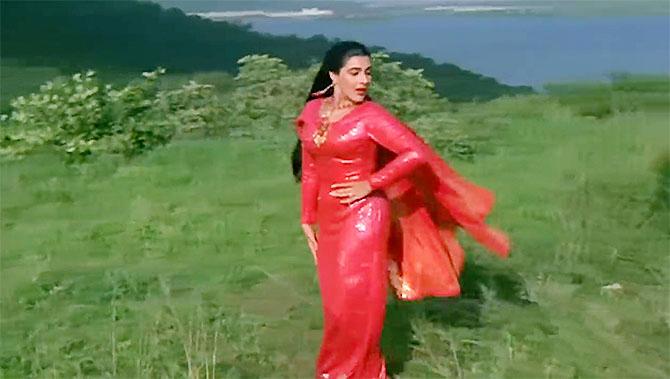 My Caped Valentine, anyone? If an actress was cast as a super hero in that era, this is what her costume would be.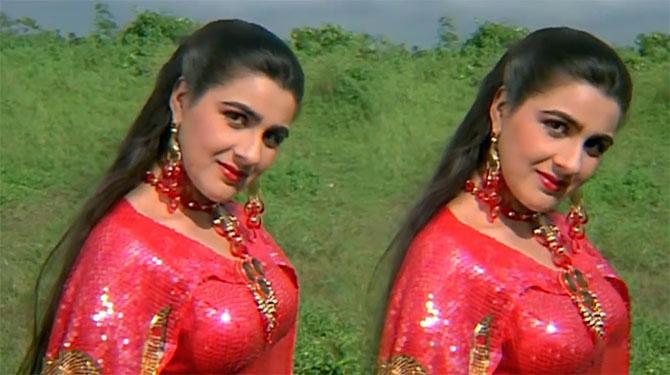 A closer look proves there's nothing like match-much or bling overkill in the 1980s.
Padmini Kolhapure, Bewafai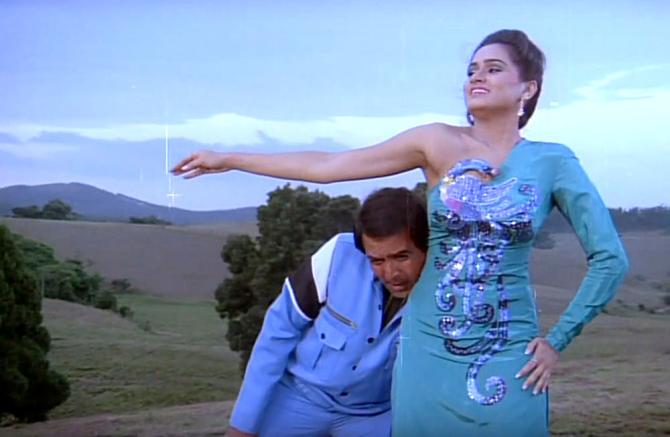 As if Bollywood lyrics likening the heroine's heart, walk, dance to a peacock wasn't enough, there's one giant sequinned motif embroidered on Padmini's kurta to make its point.
Less is Mor?
Juhi Chawla, Love Love Love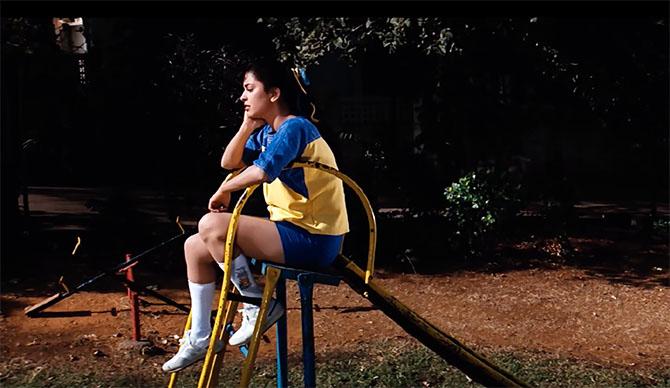 This is what happens when the costume designer mistakes the leading lady for Master Raju.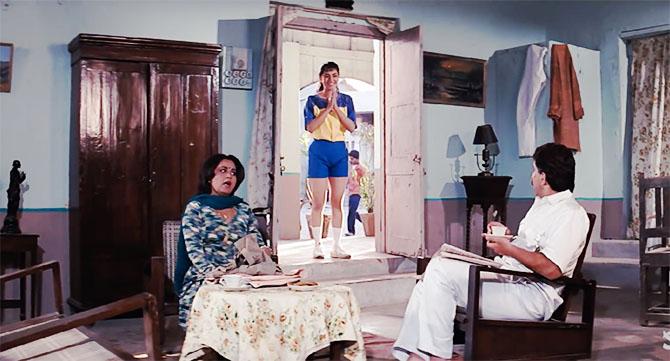 Oh look, she even does 'Namaste Uncle' like Master Raju. Cho Chweet!
Dimple Kapadia, Sikka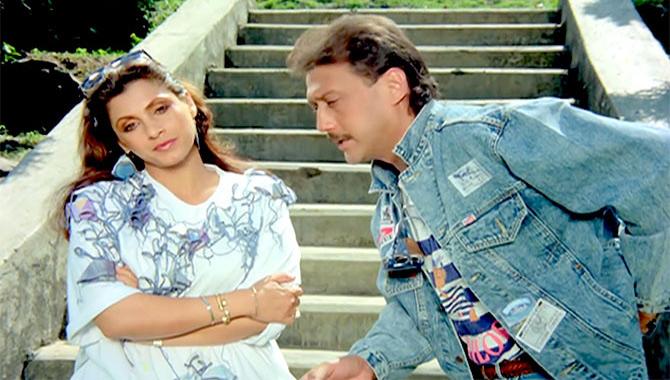 They are probably called distressed denims for a reason.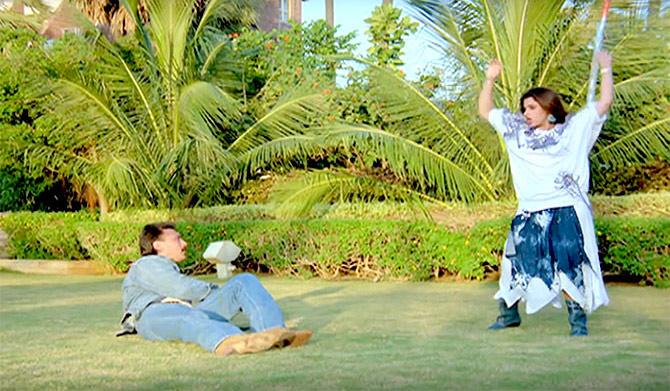 Except Dimple Kapadia's unintended tribute to Phatichar is stuff of junk.
The kind that should never, NEVER be recycled.
Meenakshi Seshadri, Shahenshah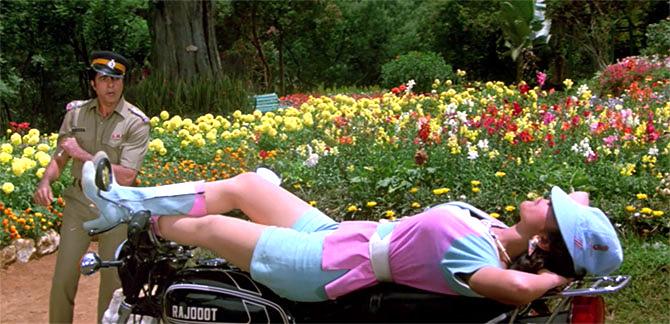 I am still collecting my thoughts about Meenakshi's two-tone Barbie.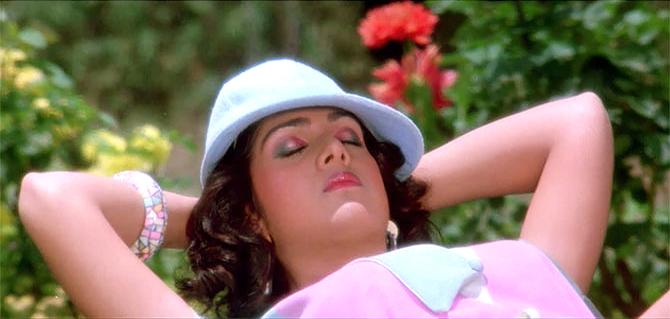 But the lady's two-tone eyeshadow is stuff of Harvey Dent's dreams and Simi Garewal's nightmares.
Mithun Chakraborty, Aamne Samne
What's shinier than one Mithun in a leather jacket?
Easy.
Two Mithuns in leather jackets.
Govinda, Dariya Dil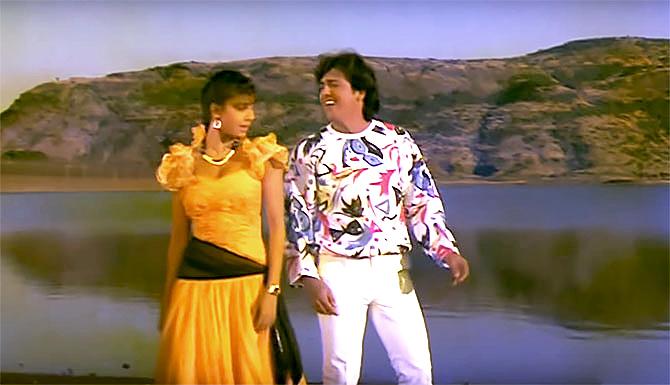 Movie titles only Govinda could do justice to? Let's see -- Colour No 1, Rangeela Babu...
Poonam Dhillon, Laila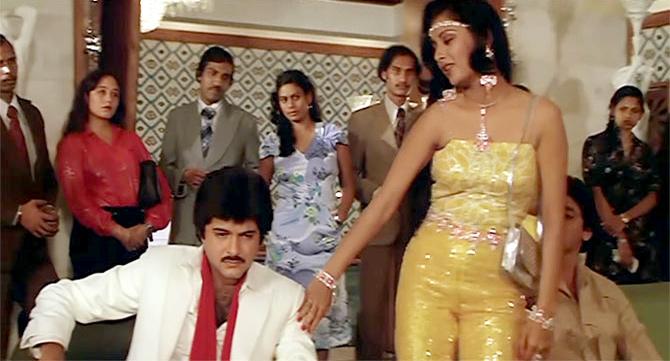 Miss Chamko has competition!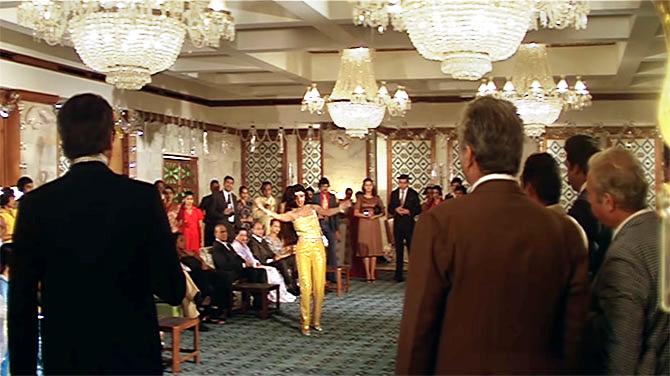 Mission outshine all the zillion chandeliers in the room.
Neelam, Sindoor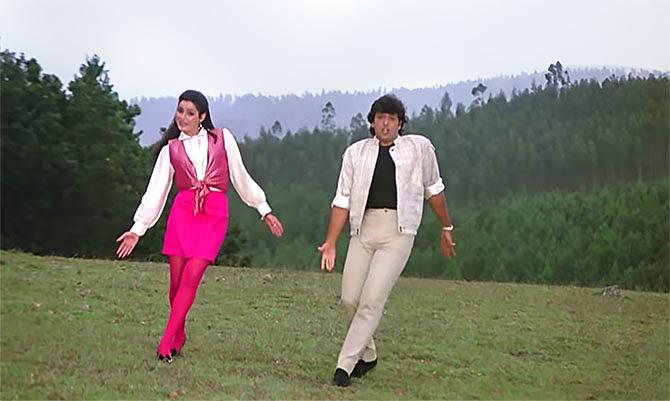 What do you think of retro Bollywood's Little Miss Gulabo?
Reena Roy, Main Intequaam Loonga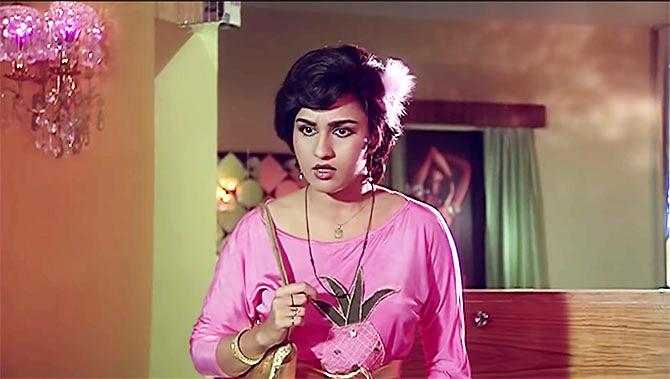 While on unsubtlety, how's Reena Roy's pink on pink, pink pineapple, pink furry hair clip next to pink wall lamps for matchy-matchy?
Tina Munim, Bade Dilwale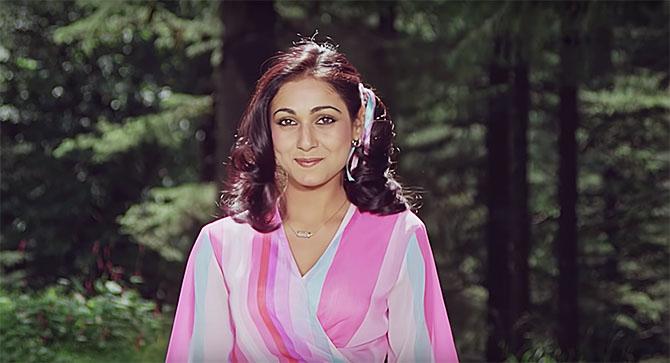 Why bother tying half the hair when one can half can do the trick? It's the one-trick pony tail!
Rati Agnihotri, Star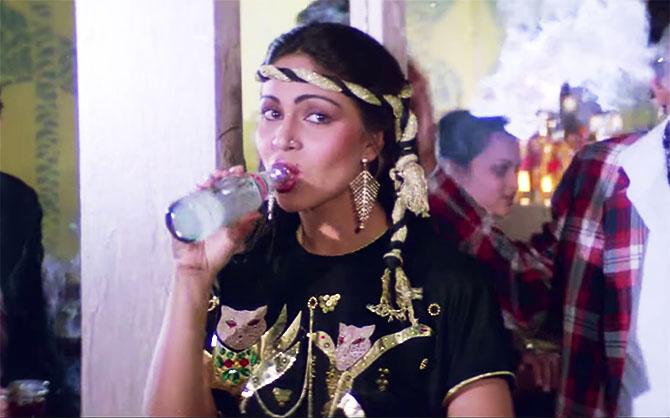 Where would '80s be without all its gold?
But it's the pair of creepy cats embellished on Rati's top that's attracting all the attention. Cult stuff, this!
Shatrughan Sinha, Zalzala
And that's Shotgun in his best Rodeo Romeo avatar showing what it takes to khamosh the world in one instant. Three decades gone, lips remain sealed.
Sridevi and Jeetendra, Dharm Adhikari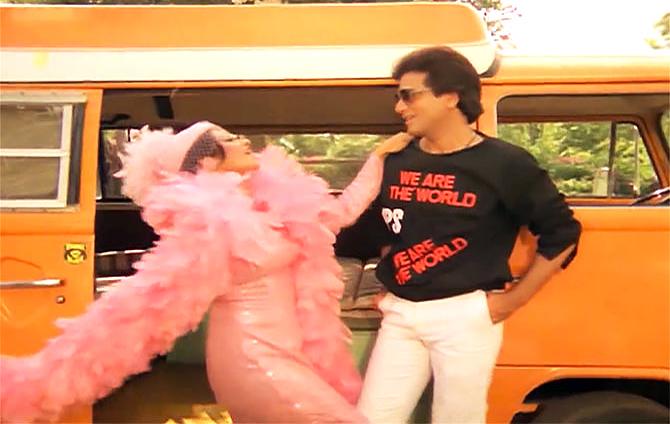 Between Sridevi's fur overload and Jeetendra's We are the world sweatshirt, we are hard pressed to find dots that connect.
And that's the '80s best explained.