We can't wait to see Ranveer Singh's brand of policeman in Simmba.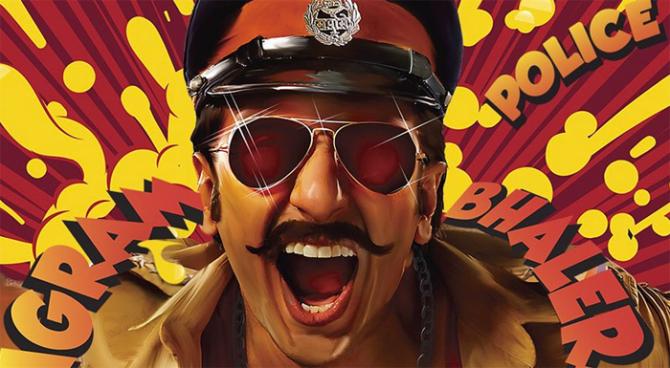 Cops in Hindi films love to harp about duty and daring.
Once in a while though, the no-nonsense, super serious archetype makes way for a quirky, maverick, filmi variety that's equally adept at getting the job done in his/her own peculiar style.
We are rather chuffed about seeing the perpetually zippy Ranveer Singh as this brand of policewalla in Rohit Shetty's December offering, Simmba.
With a year-long wait before us, Sukanya Verma looks at all kinds of kooky khaki portrayals on the silver screen.
Amitabh Bachchan, Shahenshah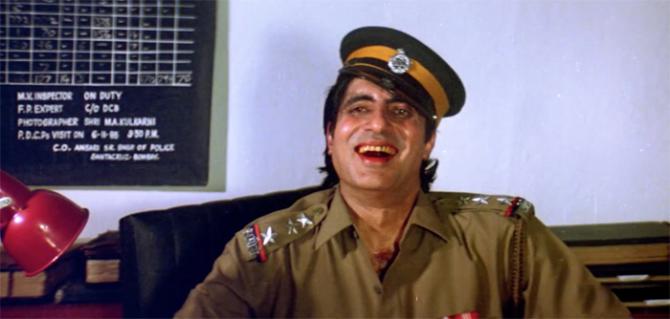 Though his straightforward policeman in Zanjeer is both iconic and breakthrough, Amitabh Bachchan's paan chewing, bribe-loving corrupt cop, in obvious contrast to his justice seeking Shahenshah, is equally notable for its broad, campy humour.
Amjad Khan, Qurbani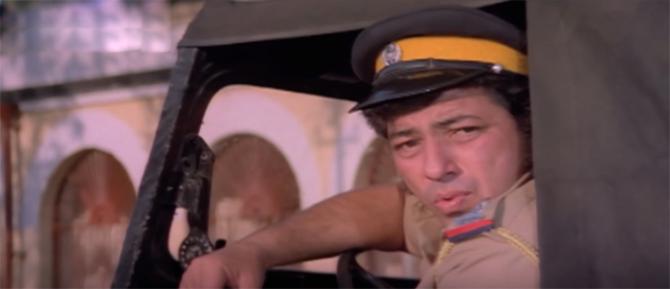 Quoting Ghalib, chewing gum, crooning Laila, catching crooks, Amjad Khan ticks all the boxes to play the über cool and whimsical cop in Feroz Khan's stylish superhit, Qurbani.
Anil Kapoor, Ram Lakhan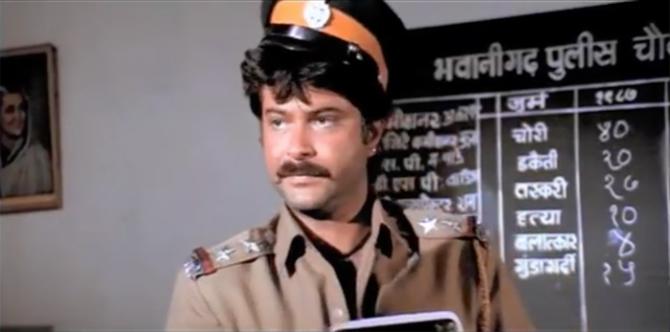 Good cop bad cop acquires a new meaning under Subhash Ghai's direction as he pits Anil Kapoor's roguish Lakhan as the one-two-ka-four disposed rookie providing a a dramatic contrast to bade bhaiya Jackie Shroff's fair and square top cop.
Salman Khan, Dabangg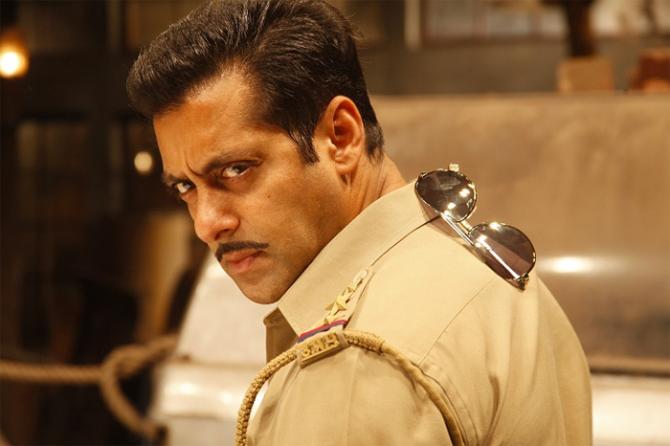 'Hum yahan ke Robinhood hai -- Robinhood Pandey,' brags Salman Khan about one of the most famous roles of his career.
The actor has a ball playing a consciously cheeky, unscrupulous, cop dedicated to robbing the rich and helping the poor.
Raaj Kumar, Police Public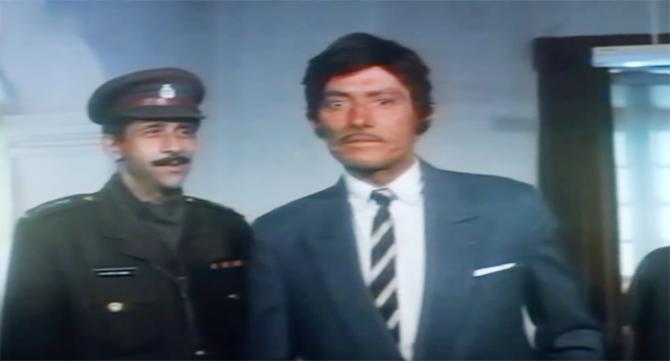 Raaj Kumar must have made one hell of a cop in real life going by the sheer dialoguebaazi he employed to tackle insubordination or solve cases without moving as much as a finger.
Akshay Kumar, Khakee, Khiladi 786, Rowdy Rathore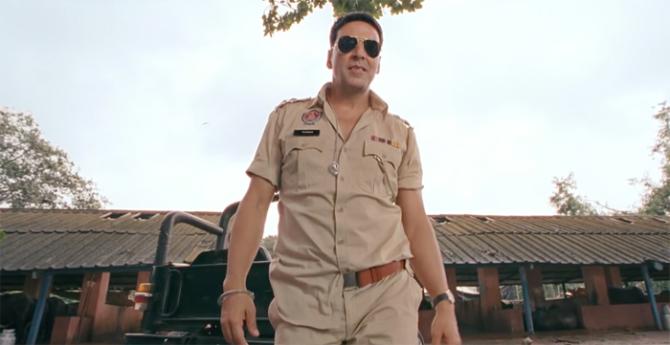 Bollywood has a thing for cops who're hard to tell apart from criminals.
Akshay Kumar has covered quite a spectrum of shady inspectors -- amoral, flaky, grammatically-challenged even though we still have a soft spot for his sourpuss Inspector Karan Joglekar in Main Khiladi Tu Anari.
Madhuri Dixit, Khal Nayak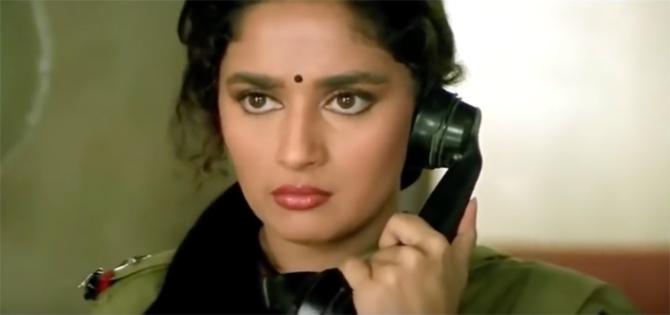 From a sharp-tongued policewoman to an undercover folk dancer running off with a dangerous fugitive in a bid to nab him and hand over to the law, Madhuri Dixit's transformation from sassy cop to Choli Ke Peeche teasing seductress is terribly unconvincing and totally entertaining.
Sunny Deol, Chunky Pandey, Vishwatma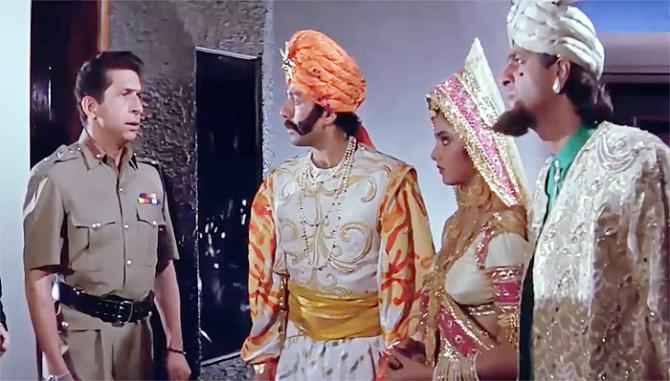 There was a time in Bollywood when catching thieves inspired cops to travel to faraway lands and dress up in fancy dress costumes and succeed in their objective.
Not to mention make a complete fool of themselves in the most delightful manner like Sunny, Chunky, Naseer in Rajiv Rai's action masala, Vishwatma.
Om Puri, Naseeruddin Shah, Maqbool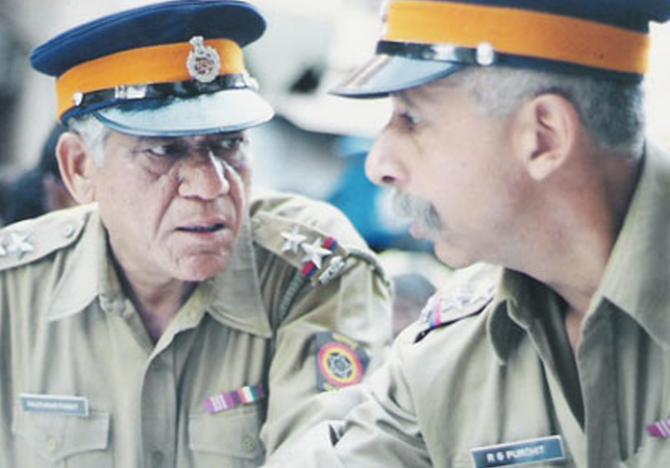 Vishal Bhardwaj lends an ingenious treatment to Shakespeare's classic by reworking the witches of Macbeth into Om Puri-Naseer's incredibly sneaky, depraved, cop duo.
Even in its most murky form and humour, their chemistry is a joy to behold.