'He played all his roles with a characteristic elan and amiability: He looked like a clever, all-knowing, winking Super Mario, gloriously grey around the edges. Irresistible, really.'
Raja Sen first encountered Saeed Jaffrey as a child, playing the unforgettable Suri Saab in Masoom.
The first time I saw Saeed Jaffrey I refused to believe he was an actor.
Shekhar Kapoor's Masoom released when I was two years old, and soon became one of the few Hindi film VHS tapes in our house, one often played to placate children because of the Lakdi Ki Kaathi song.
In the film Jaffrey played Suri Saab -- a gregarious gent, a proud Punjabi papa -- with such complete credibility that I always felt someone had sucked one of my father's easily-sloshed friends into the TV set.
Growing up in Delhi, I was sure this man was obviously someone just like one of those many men who patted me on the head and found my retelling of the same joke hilarious every single time.
It was a classic film and his performance endured, but many years later I saw him again in -- of all places -- Subhash Ghai's Ram Lakhan, tweaking Anil Kapoor's ear and patting Jackie Shroff on the back.
Here he was again, a distinguished foreign-type with well-sandpapered Rs and twinkling eyes, in a place of paternal authority.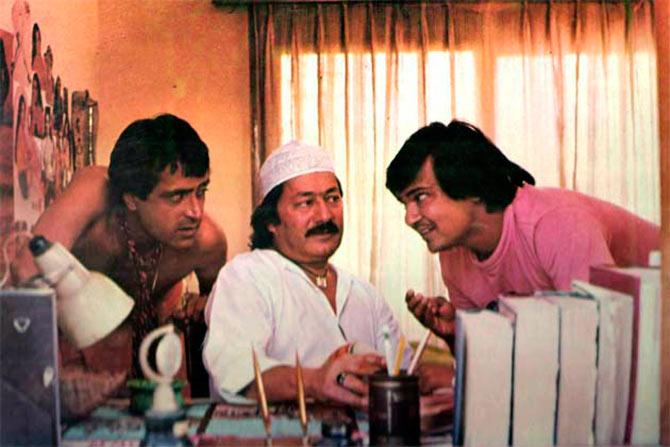 IMAGE: Ravi Baswani, Saeed Jaffrey and Rakesh Bedi in Chashm-e-Buddoor.
But then, as more movies were allowed into my life, the Britishness of Jaffrey began to wear off: First with his turn as Sardar Patel in Richard Attenborough's Gandhi, and then all preconceptions about his image -- from accent to upper-crust -- were spat out after watching his magnificent local paanwallah Lallan Mia in Sai Paranjpye's Chashm-e-Buddoor.
All that remained across those superbly varied performances were those eyes, ever sharp and ever twinkling. Cunning. As cunning as a fox who has just been appointed Professor of Cunning at Oxford University, in the words of Rowan Atkinson's Blackadder.
Which reminds me... One of Atkinson's early bits of comic gold was a routine called Indian Waiter, where he played the long-suffering waiter in an Indian restaurant, forced to patiently stand by while lager-laden hooligans made jokes about pappadum and 'Paperback Raita.'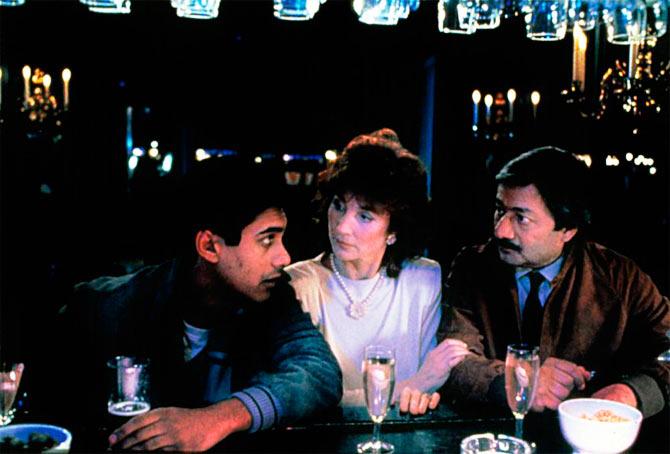 IMAGE: Gordon Warnecke, Shirley Anne Field and Saeed Jaffery in My Beautiful Laundrette.
While the great comedian and satirist made the point about increasingly dignified Indians in the UK, Jaffrey was the one who indeed ran with it and broke ground, creating an on-screen Indian of refinement and extreme sophistication.
His characters rattled off the Queen's English with Wodehousean aplomb while he dashed about looking, well, dashing. This was the achieving Indian, the prosperous Indian, the entrepreneur and the upstart who ran restaurants and laundrettes and was as easily at home in England as the Queen.
The range was superlative. He did films with James Ivory and Ismail Merchant before making his Hindi film debut with Satyajit Ray's masterful Shatranj Ke Khilari. He appeared in movies as diverse as Hero Hiralal, Ram Teri Ganga Maili and My Beautiful Laundrette.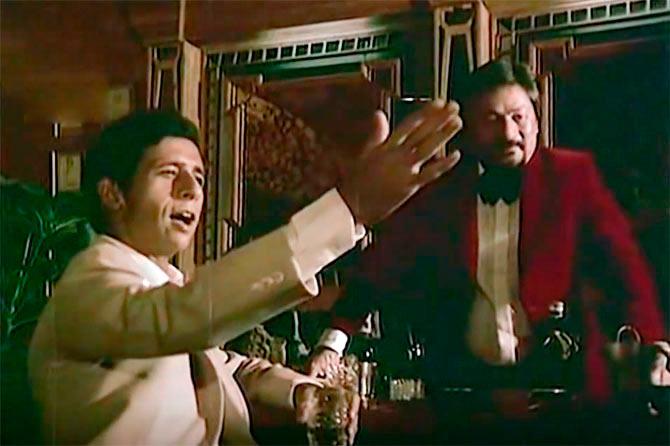 IMAGE: Naseeruddin Shah and Saeed Jaffrey in Masoom.
Hindi cinema, attracted to his obvious strengths, often cast him as an officer of some sort -- some uniformed man with a clipped accent -- or a posh father-figure.
And, more often than not, Jaffrey played all his roles with a characteristic elan and amiability: He looked like a clever, all-knowing, winking Super Mario, gloriously grey around the edges. Irresistible, really.
Rarely did he get the opportunity to completely disappear into his characters, though when he did -- like in the Ray film or Chashm-e-Buddoor or in Masoom as the unforgettable Suri Saab who bought his crockery from Harrods -- he was sensational.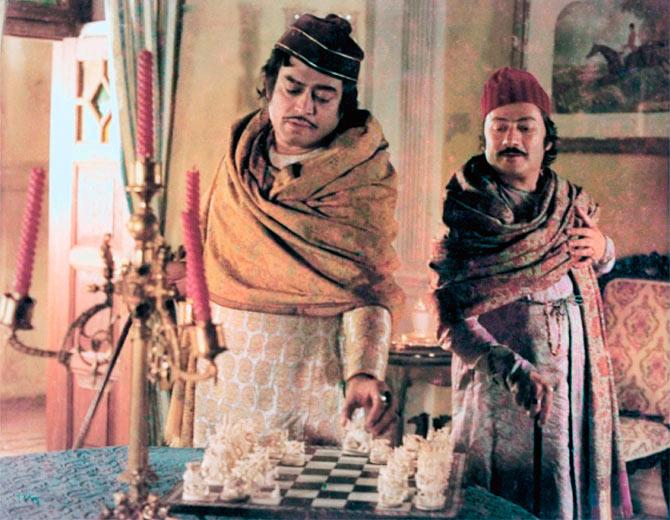 IMAGE: Sanjeev Kumar and Saeed Jaffrey in Shatranj Ke Khilari.
His character in Shatranj Ke Khilari, in fact, provides a good parallel for Jaffrey's onscreen persona. Mir Roshan Ali was a man so obsessed with a game of chess that he cared little for the ongoing British invasion of his country.
Jaffrey, as we knew him on screen, always seemed to know better, always seemed to know what mattered more than the obvious. And those twinkling eyes invited us along for the ride.
So long, Suri Saab. We raise our bowler hats to you.