We turn the pages of Abhishek Bachchan's journal as he takes us inside the sets of Manmarziyaan.
Movie-making is certainly not as easy as it seems.
One look at Abhishek Bachchan's Instagram page will confirm it.
The actor beautifully documents the sweat and toil behind the cameras on the sets of his new film Manmarziyaan in 30 days.
Each day captures a moment on set, along with Abhishek's interesting commentary and anecdotes.
Here's looking at Abhishek's Manmarziyaan journey, in his words and pictures.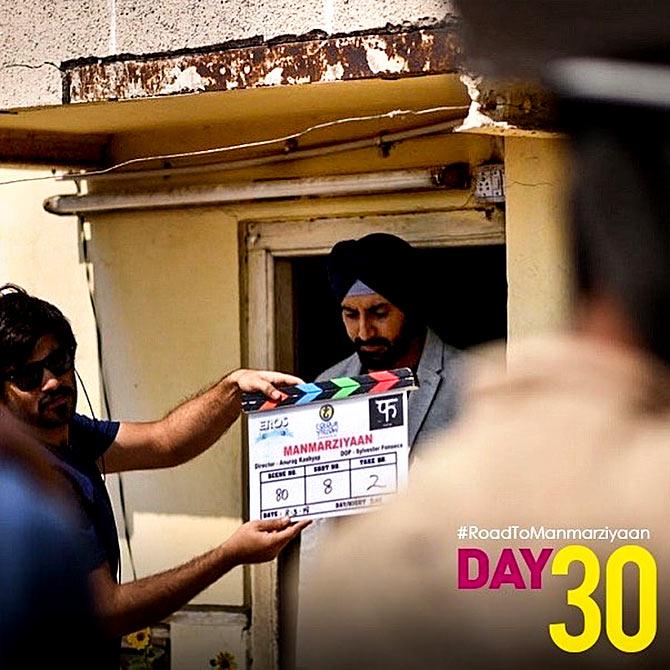 'This was my second day of shoot in Amritsar. A wonderful scene when Robbie meets Rumi for the 1st time. The location was this beautiful house in the centre of old Amritsar which was meant to be Rumi's home.'
'#RoadToManmarziyaan, over the next couple of weeks I'll share photos from the sets which in a way symbolise my journey during the making of this film. Some personal anecdotes, experiences or just visuals I liked. I want to thank the immensely talented @khamkhaphotoartist for all these beautiful photos and for being such a sport always. Let the countdown begin...'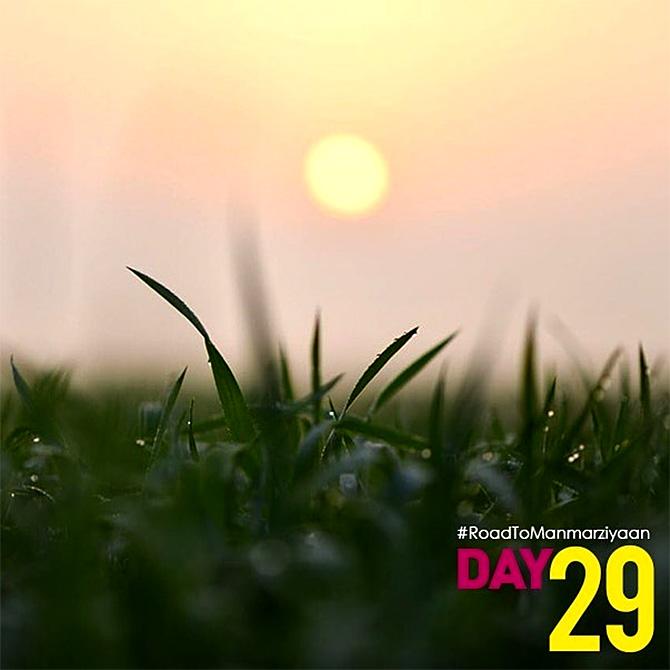 'They say - After a long dark night... The sun will rise. Sunrise is a symbol of a new beginning. Manmarziyaan, for me, was that new beginning. I hope I can payback the faith that @anuragkashyap10, @aanandlrai and @kanika.d had and showed in me by giving me the opportunity to be a part of this film, Abhishek writes, tagging director Anurag Kashyap, producer Aanand L Rai and writer Kanika Dhillon.
'So here's to eternal hope and beautiful sunrises.'
'We were rehearsing a rather intense scene.... I know it doesn't show from our body language.
'But, this is how @anuragkashyap10 approaches such scenes. He makes the environment and atmosphere very relaxed and allows his actors time to just effortlessly slip into the mind space he wants.
'This was a very new approach for me but I really enjoyed it. He removes the stress and hustle-and-bustle of the set and just gives his actors space and time. A true luxury if you've ever been on a film set.
'And once everyone is at ease and ready he throws you a curve ball!!! "Let's shoot this entire scene in 1 shot #RoadToManmarziyaan."'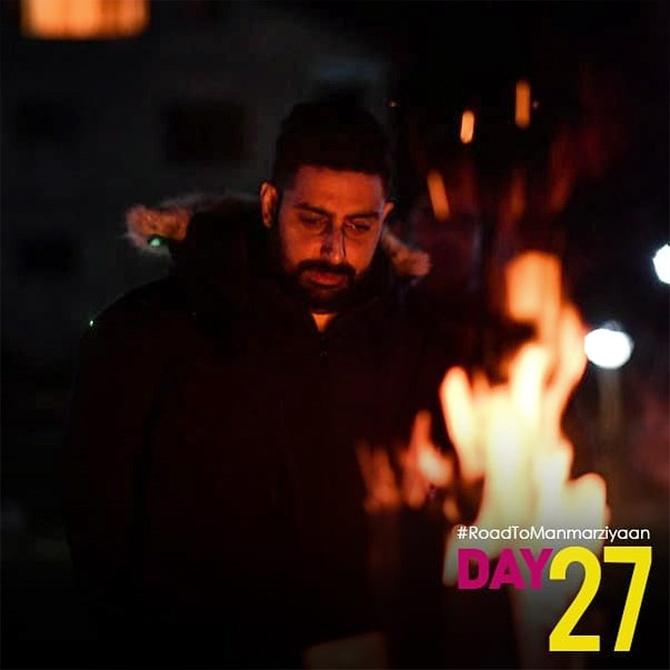 'Bonfire nights in Kashmir. #Manmarziyaan #RoadToManmarziyaan #TakeTwo.'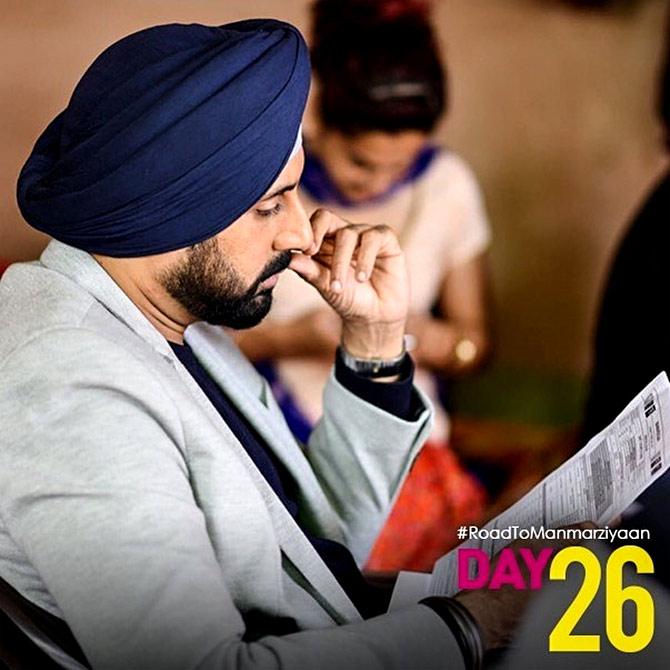 'Two hard working actors!! In between shots on the sets.
'Hope @anuragkashyap10 appreciates the hard work and concentration. Let's not tell him that @taapsee is actually playing Word Trek on her phone and I'm not studying my dialogues but reading the call sheet to check how early I would need to report the next day. #Manmarziyaan #RoadToManmarziyaan #TakeTwo.'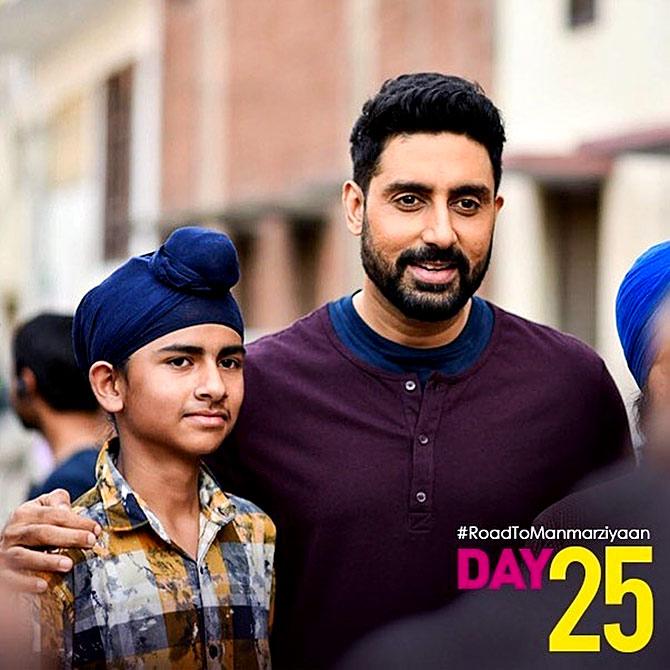 'The people of Amritsar showed us so much love. They made the entire process of filming so enjoyable. Can't wait to go back...Especially for the food which I had to stay away from during our shoot. But, must indulge soon. #RoadToManmarziyaan #Manmarziyaan.'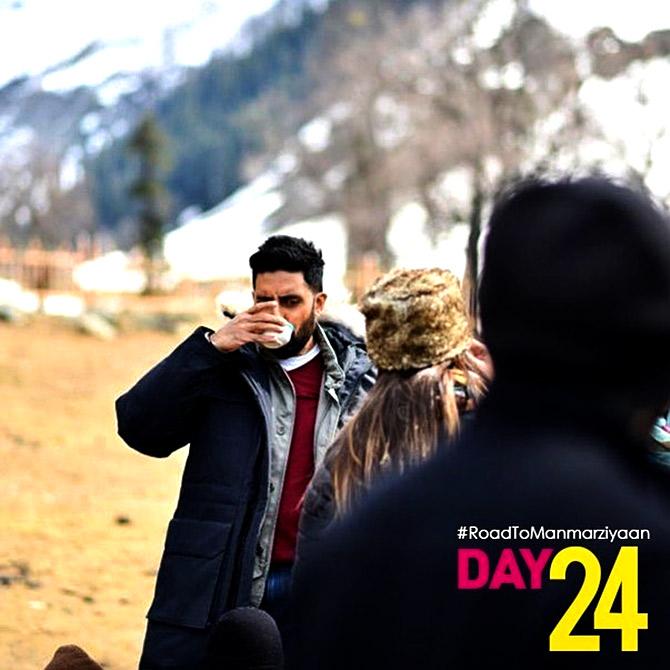 'The best way to keep warm in Kashmir... Kahva! We were shooting in Sonamarg for the film and my fuel for the entire shoot was Kahva (Kashmiri tea)
'A very nostalgic trip for me... The last time I was there, was as a kid accompanying my father for the shoot of his film Silsila in the early 80's. I have many wonderful memories of that time and of Kashmir.
'It was a big moment for me to be able to also say that I had shot there like my father before me. #RoadToManmarziyaan #manmarziyaan.'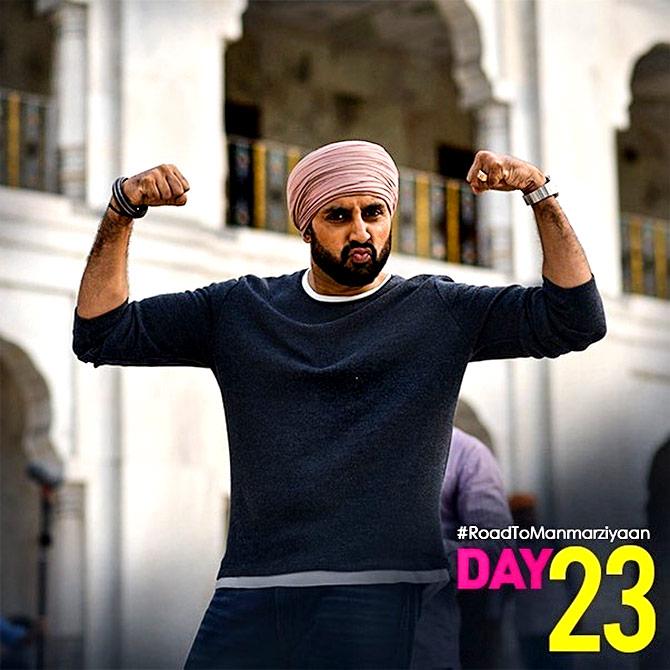 'Wait... So should I flex, or should I pout?... Aha!! I'll do both.
'Result? Epic fail! #RoadToManmarziyaan #Manmarziyaan.'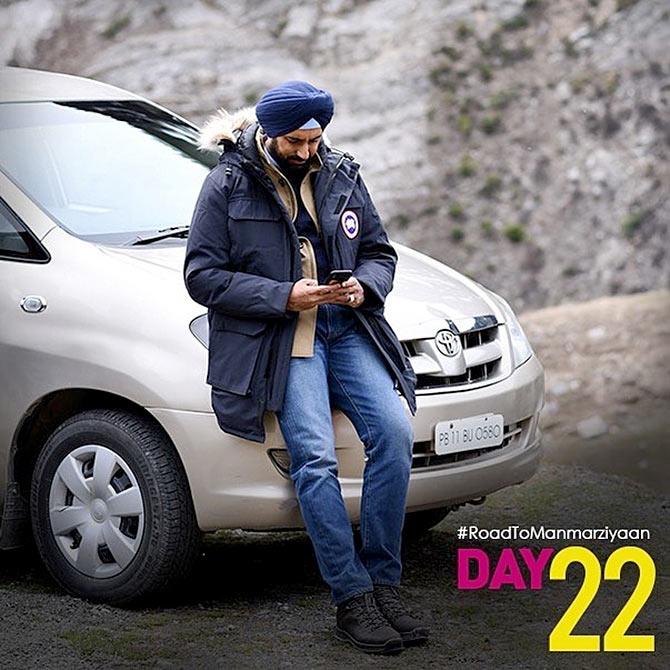 'In between shots in Kashmir. We were shooting a song.
'Playing the unofficial game of the #Manmarziyaan team... Word Trek.
'All were trying to catch up to the champion @anuragkashyap10 We'll catch him soon. #RoadToManmarziyaan.'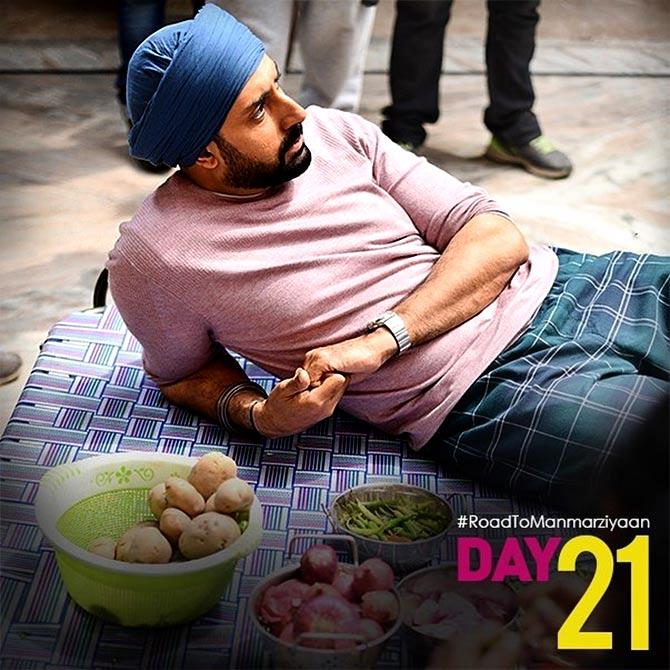 'In between takes while shooting the beautiful track "chonch ladiyaan". Possibly one of the fastest song shoots I've ever done. @anuragkashyap10 finished shooting the day in about an hour! 2 shots and he was done.
'Hence, we had a lot of time to hang out on set as is evident in the above photo. #Manmarziyaan #RoadToManmarziyaan.'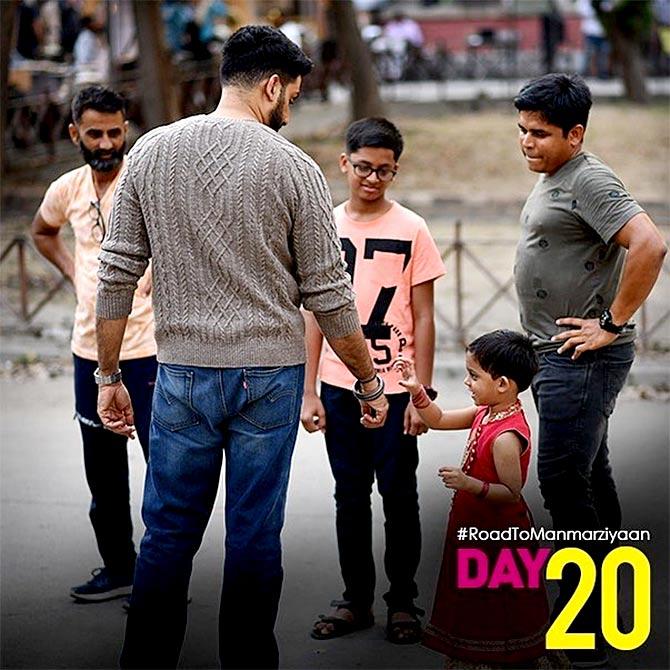 'While making a film you're part of a larger family...
'We were lucky to be visited by the children of our wonderful steadycam operator Manoj. It was his birthday and his wife and kids came to spend time with him.
'I truly love this about our industry; one big family!!
'And as my brother @karanjohar said... It's all about loving your family. #Manmarziyaan #RoadToManmarziyaan #TakeTwo.'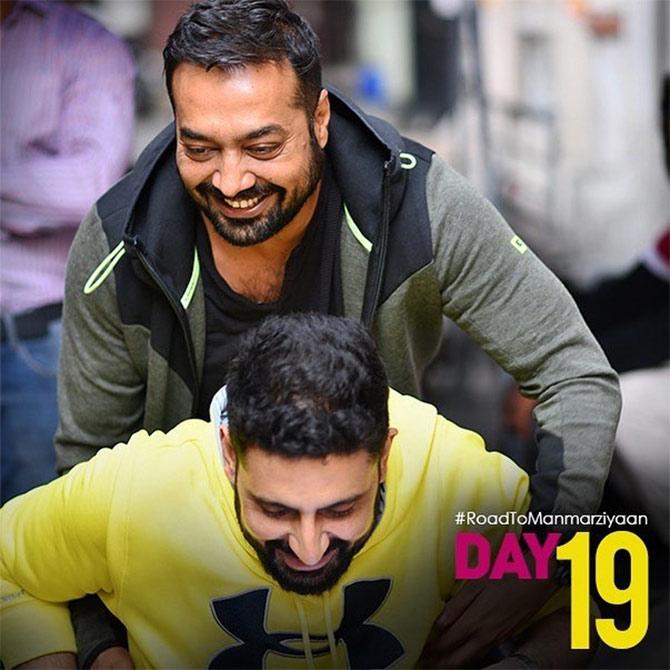 'So @anuragkashyap10 is prone to give random hugs to his actors and even start dancing if he likes the shot they've given. Here's proof!!!
He could also be trying to get me to finish breakfast and get into hair and wardrobe. (If you're shooting in Amritsar you can only imagine what the breakfast must've been like!!)
'But the hug story looks and sounds better. #Manmarziyaan #RoadToManmarziyaan.'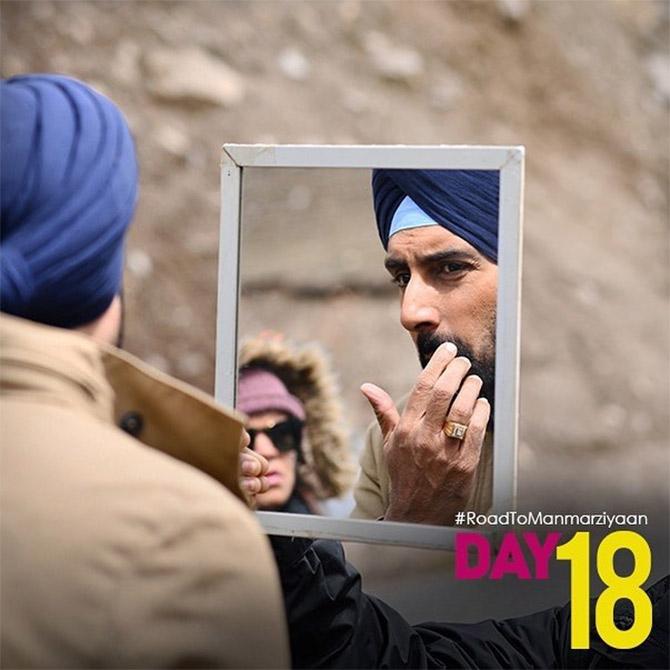 'The mirror is a great tool for an actor.
'Many of us rehearse our scenes in a mirror while we do our make-up. Similar to how dancers rehearse in front of a mirror. 'Also, just before our shot we tend to do a last check to make sure everything is looking as it should be. For me, personally, it kind of acts like a switch. Once you take a look... It's all systems go!!!
'Also, it's great to make sure there's nothing stuck in your nose!! #Manmarziyaan #RoadToManmarziyaan.'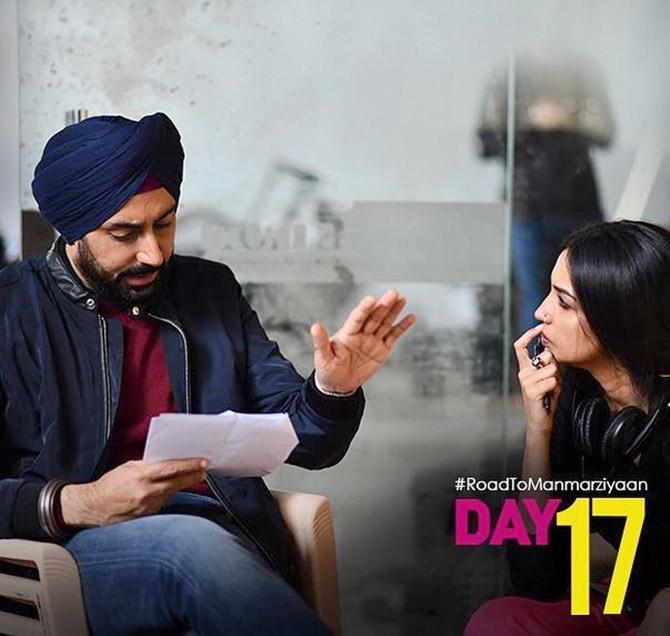 'This was my 1st day of shoot for #Manmarziyaan. We were shooting in a night club. @kanika.d our immensely talented writer and I were rehearsing my lines for the day.'
'From the 1st time I met and interacted with her, I tease her saying that the film is actually her biopic ( which it clearly is NOT).
'I loved her involvement in her work and even her dedication to @anuragkashyap10 's vision.
'To have the writer on set is such a boon and offers a very unique perspective to the material, especially to the actors.
'Kanika worked so selflessly on the film and was so generous with sharing her work with us and being so supportive and open to different interpretations to her written work. She made all of us better, and for that I will be eternally thankful. #RoadToManmarziyaan.'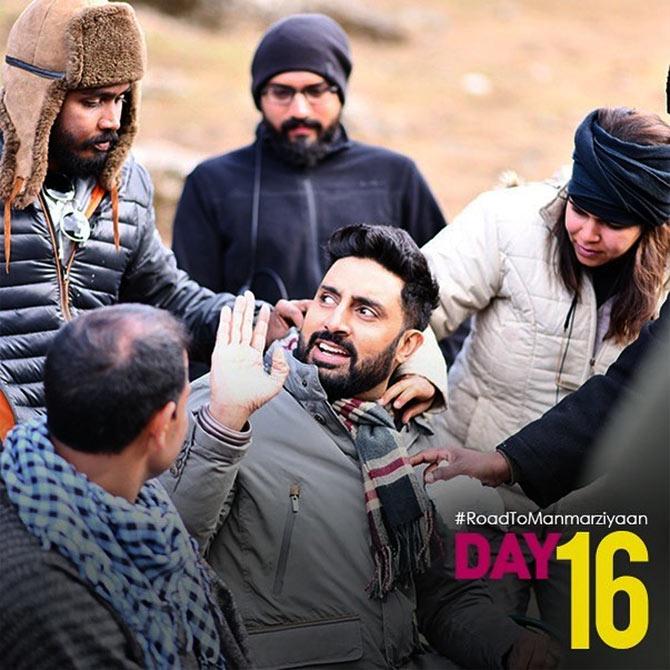 'It takes a village!
'Our talented and hard working AD and costume teams worked tirelessly to make sure Robbie looked and acted the part. They were also a constant source of great music. #RoadToManmarziyaan #Manmarziyaan.'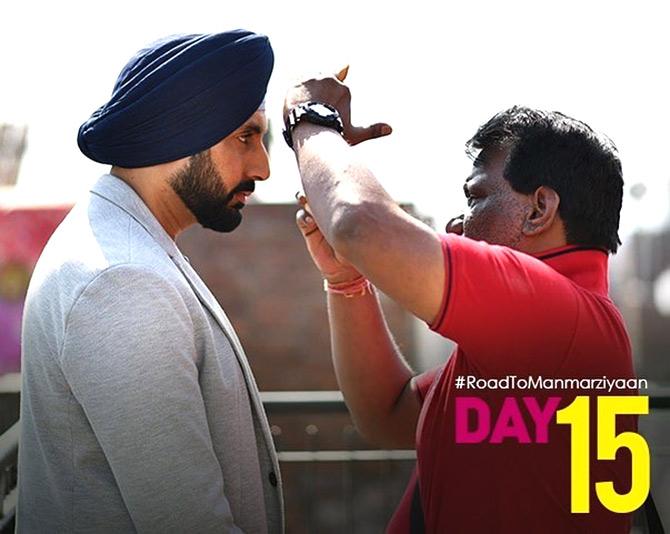 'I always say that make-up is an actors armour. And make-up artistes one of the most important people of an actors team.
'Vinod Upadhyay has been doing my make-up on and off since Dostana. A bond of trust and belief. He was another integral part of me becoming Robbie. #TeamRobbie #RoadToManmarziyaan #Manmarziyaan.'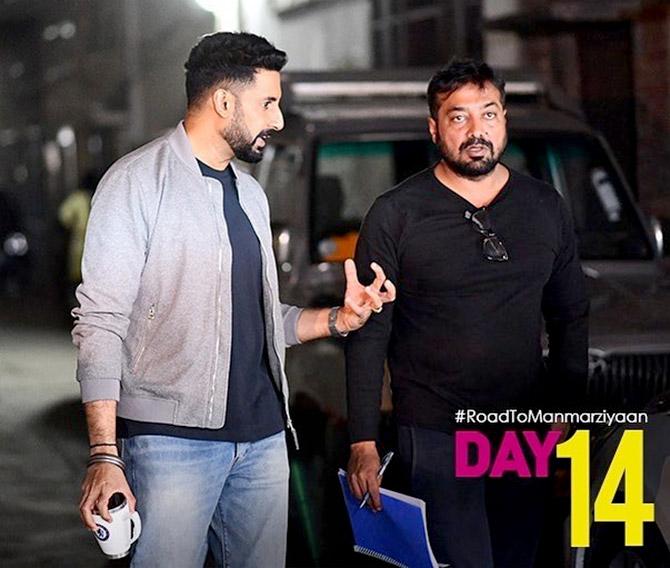 'Coffee, a good script and conversation! @anuragkashyap10 provides all three. #RoadToManmarziyaan #Manmarziyaan.'
'Sometimes expressions speak louder than words.
'This when, your director suddenly decides that it would be a great idea for @taapsee to put snow down your back in the shot when you're shooting in sub zero temperatures.
'Needless to say, there wasn't much love for @anuragkashyap10 that day. #Manmarziyaan #RoadToManmarziyaan.'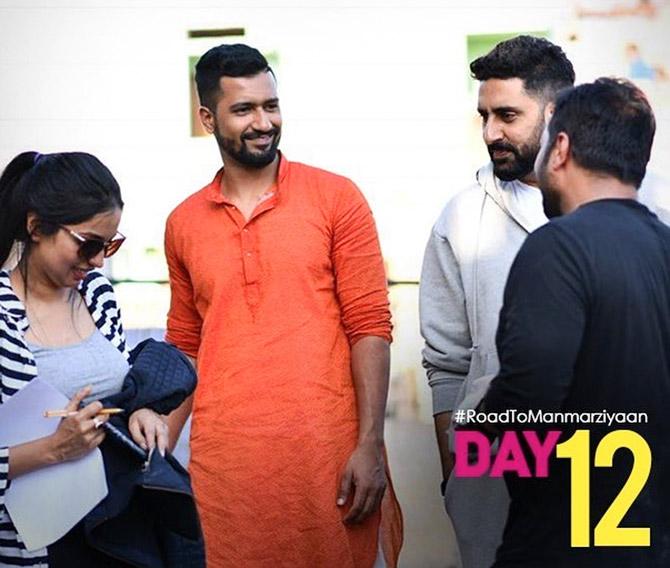 'My first visit to the sets of #Manmarziyaan. I wasn't shooting but @anuragkashyap10 had asked me to come on set just to get an understanding of the set and film. In film parlance we call it "feel"!
'I enjoyed the experience so much that often, even when I wasn't shooting I would come and hang on the sets and just observe this amazing group of actors perform. #RoadToManmarziyaan #TakeTwo.'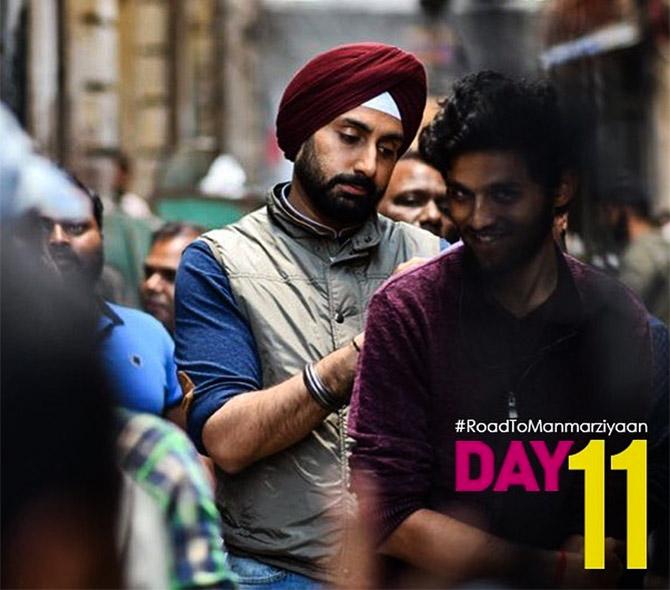 'With my favourite... @probirsabnis. Multi-talented, Actor, Assistant Director, singer, DJ, creative producer and all time favourite punching Bag!!!
'There's always one person in a unit that you bond with and connect with. They become the go-to person for everything you need to know and want. Probir or "Farjee bandook" as I lovingly call him, was that guy. A great sport and an all round great guy.
'Good luck with all your future endeavours and best wishes always FB. #RoadToManmarziyaan #Manmarziyaan.'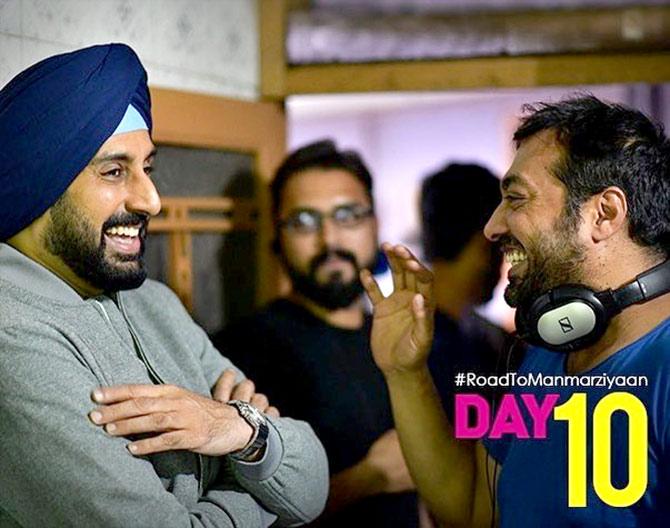 'No matter what the content, the aim is to put a smile on your directors and audiences face.'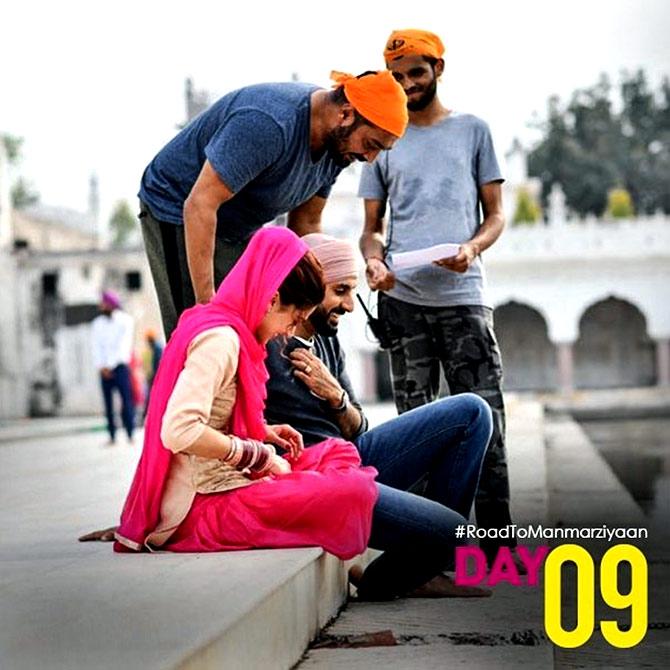 'A very tough and intense scene in the film. But true to style of @anuragkashyap10 everyone was all smiles. This approach of his, sets a very relaxed tone and atmosphere.
'Makes the filming process a little less intimidating.'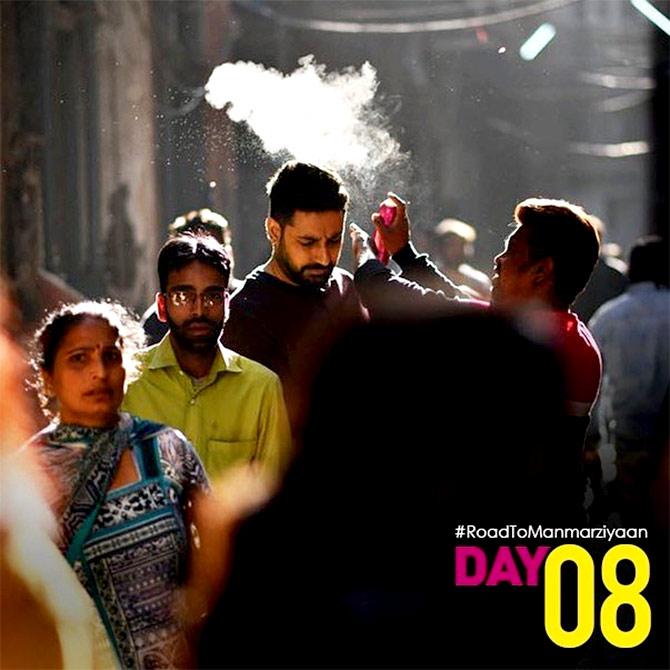 'Just loved this moment captured by @Khamkhaphotoartist.
'Despite all the activity around an actor you have to find your own peace and concentrate on the task at hand. This task was trying not to get fumigated by hair spray!!!
'Raghu my hairstylist for the film works for the brilliant @aalimhakim and was a constant source of entertainment and stress equally for me. He took his revenge with his hair spray!'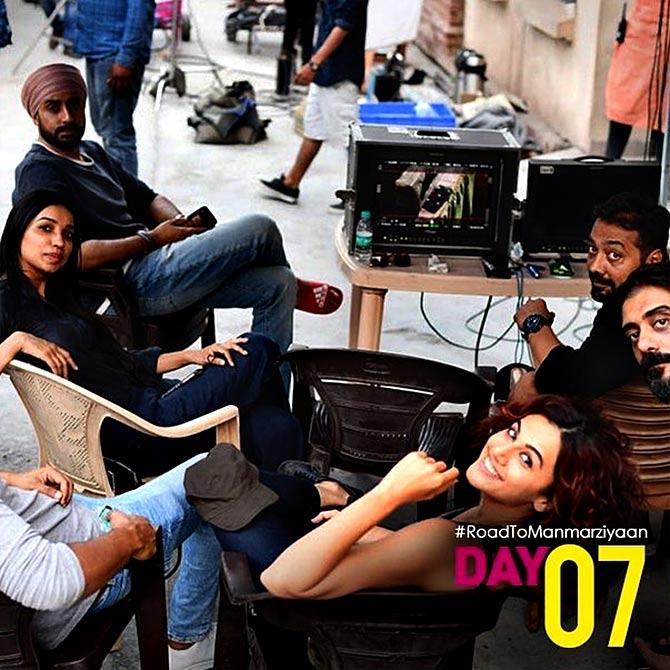 'Hanging out at the video village (the video monitor area) where the Director calls the shots from,' Abhishek writes tagging Anurag Kashyap, Kanika Dhillon and actors Sachdeva Saurabh and Taapsee Pannu.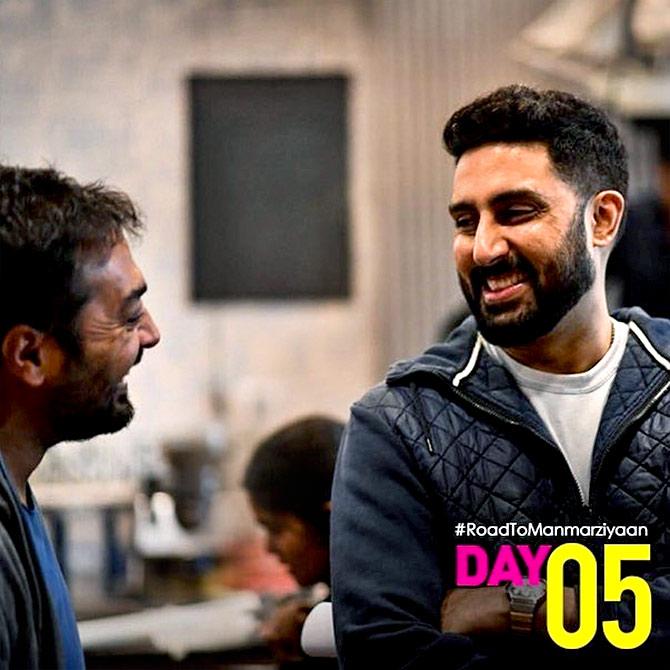 On Anurag's birthday on September 10, Abhishek writes, 'May you always smile. So much to say and thank you for. Will wait to do it in person.'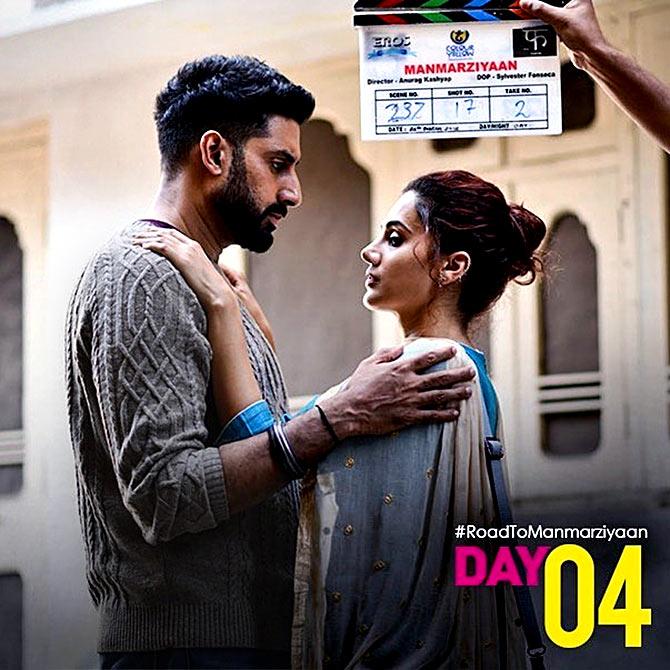 'Possibly the one time this tornado of an actor was calm and still....
'@taapsee you were an absolute pleasure to collaborate with. Your crazy energy has translated so beautifully into Rumi. I don't think anyone would disagree that you were born to play Rumi. The only irreplaceable cast member in the entire film. Thank you for your love, generosity and patience with me.
'Don't forget @vickykaushal99 and me during your exceptance speeches.'
Photographs: Kind courtesy Abhishek Bachchan/Instagram