Raksha Bandhan is one of Bollywood's favourite festivals and these pictures on social media prove it.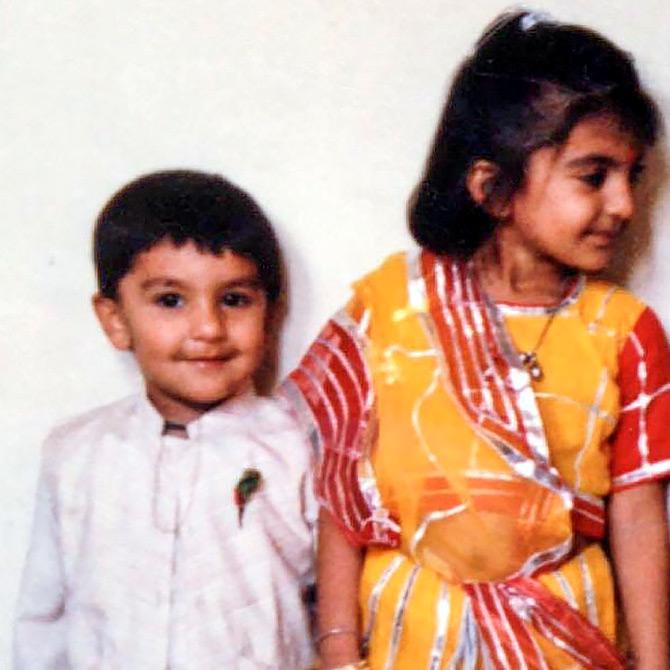 Ranveer Singh posted a throwback picture with sister Ritika Bhavnani and wrote, 'My Bestie, My Protector, My Angel love you दीदी #happyrakshabandhan @riticulousness'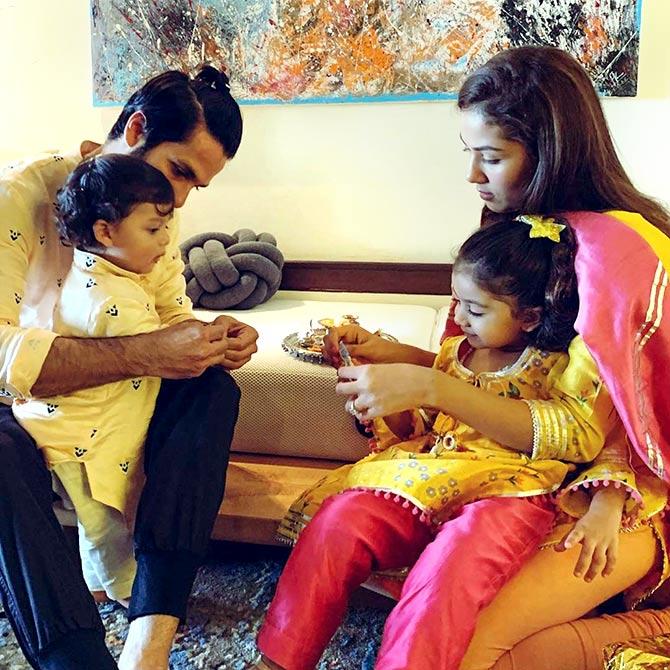 Mira Rajput posted this cute family picture of Misha tying a rakhi to her little brother, Zain, under daddy Shahid Kapoor's careful gaze. 'Promises to keep', she captioned this picture.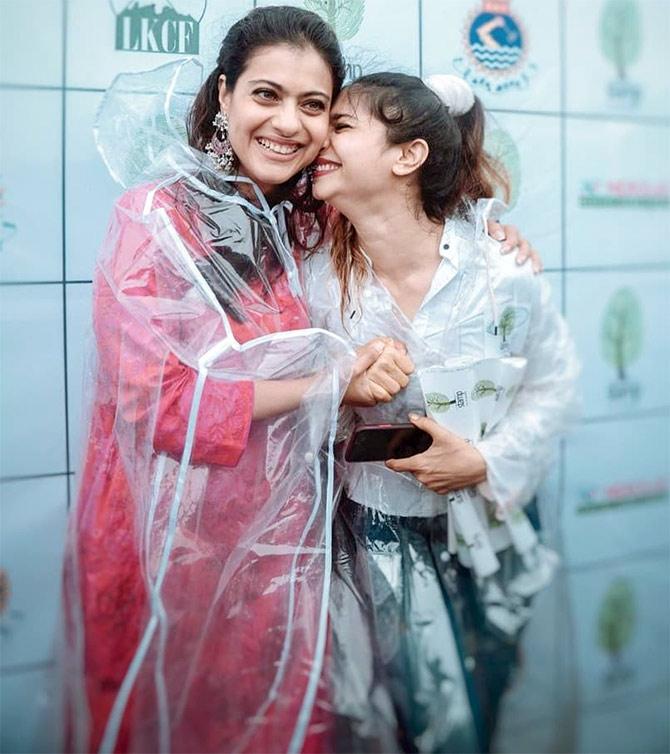 Kajol posted a picture with younger sister Tanishaa Mukerji and asked a valid question, 'Who says protection is male and only one sided? Flexing my big sis muscles this Raksha Bandhan! #happyrakshabandhan'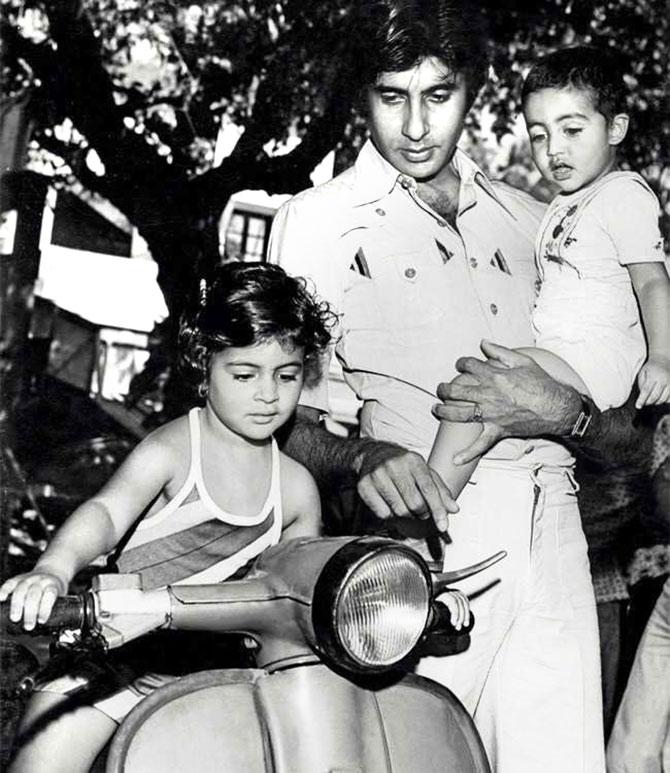 Amitabh Bachchan posted throwback pictures of his children, Shweta and Abhishek.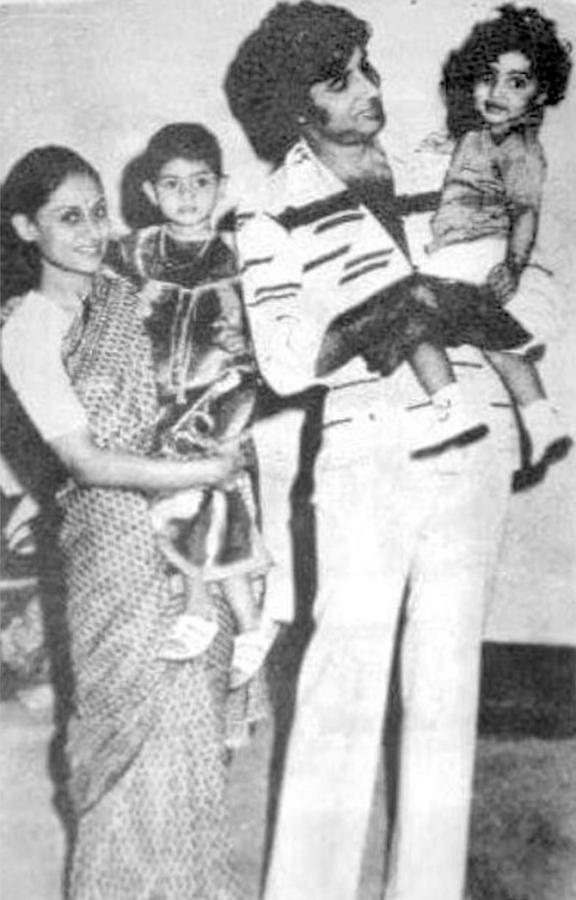 He writes 'RakshaBandhan .. the love of the sister .. the protection of the brother .. the strong bond everlasting and sincere .. रक्षाबंधन ! बहन का स्नेह ; भाई की सुरक्षा ; ये बंधन पवित्र , निरंतर , निश्चल'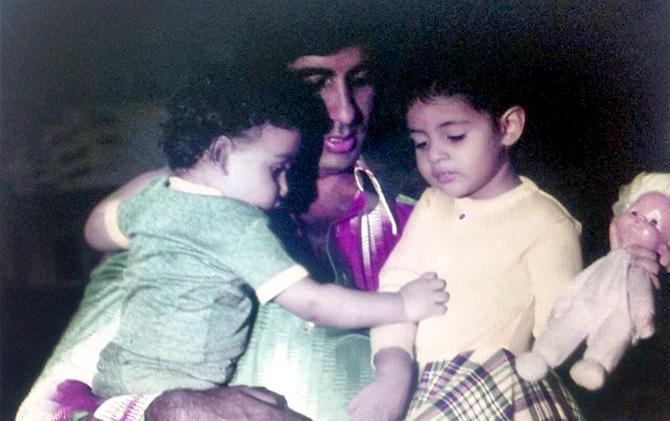 Abhishek Bachchan posted a childhood picture with elder sister Shweta, 'Been picking on her since 1976! Happy Rakhi @shwetabachchan Love you.'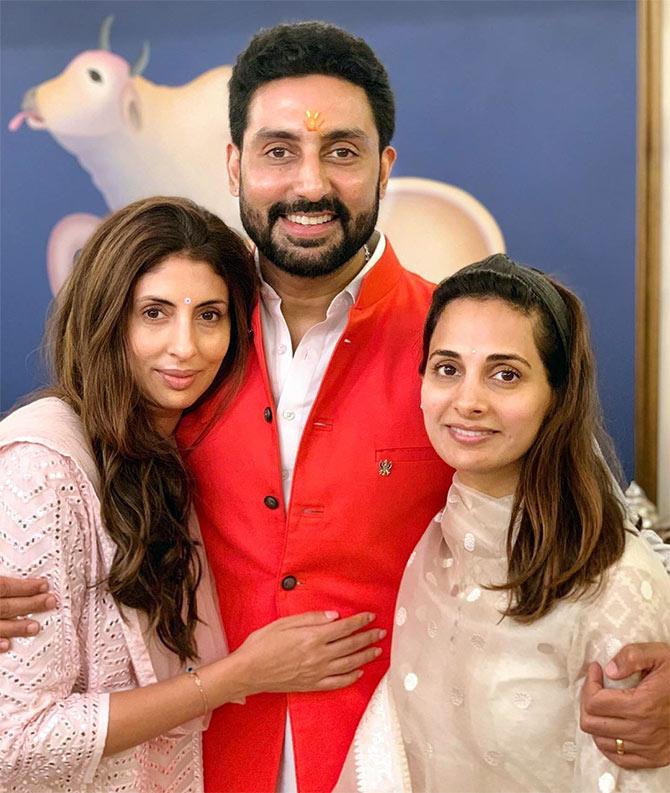 Here's another picture he posted a picture with Shweta and cousin Naina Bachchan.
'They have been by my side through it all ( also the other 2 not pictured here), and still, they stand in support and with love. Happy Rakhi @shwetabachchan @nainabachchan, Namrata and Nilima.'
Shweta Bachchan posted quite a few pictures from yesterday's festivities.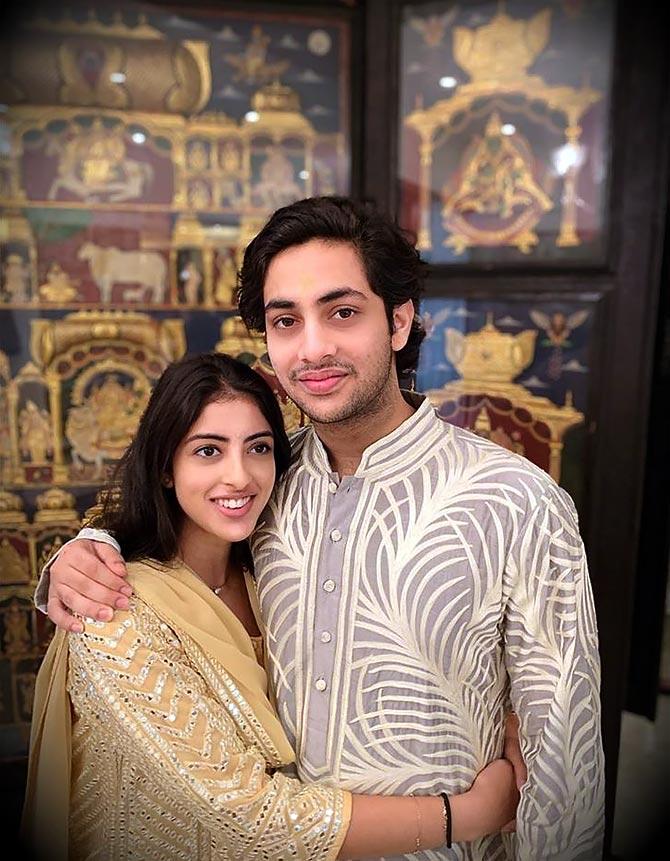 Shweta's children -- elder daughter Navya Naveli Nanda and her younger brother, Agastya Nanda.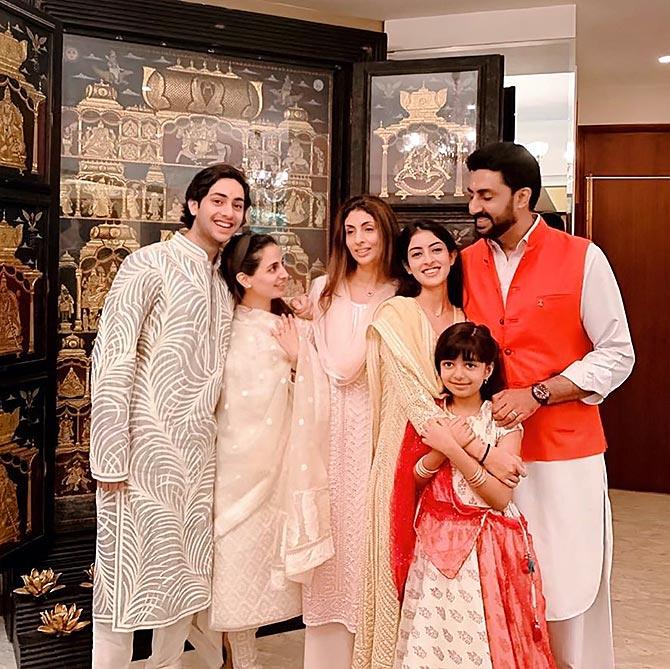 Agastya, Naina, Shweta, Navya, Abhishek and his daughter, Aaradhya.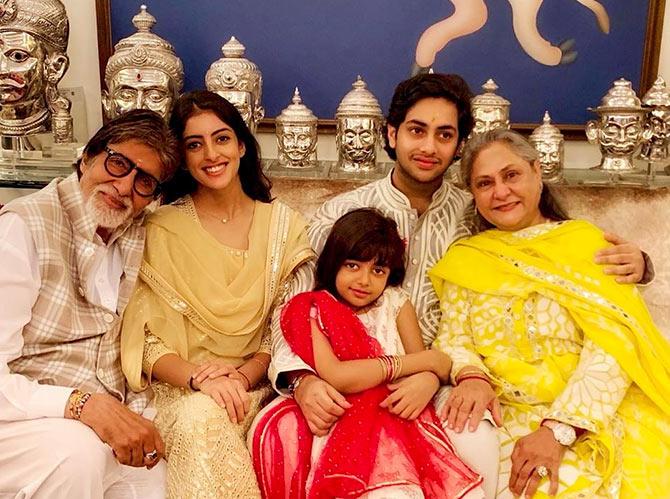 Proud grandparens Amitabh and Jaya Bachchan with their grandchildren -- Navya, Aaradhya and Agastya.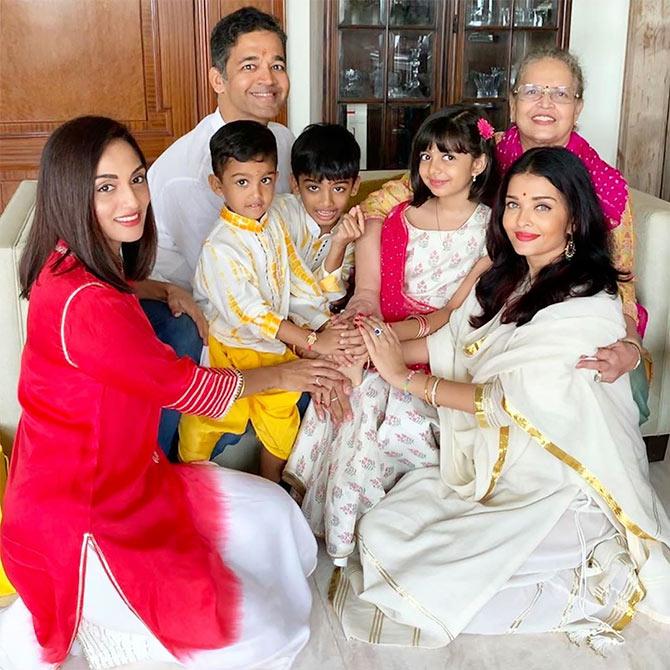 Aishwarya Rai Bachchan spent Raksha Bandhan with her brother Aditya, his wife Shrima, their two little boys and mother Brinda Rai.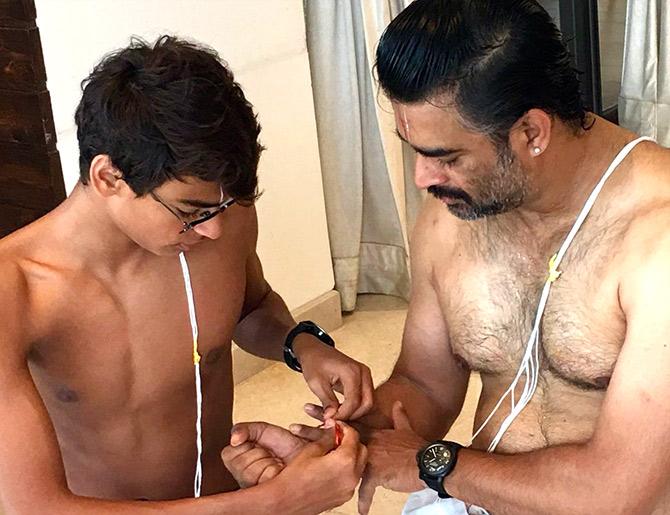 R Madhavan posted a cute picture of his son Vedaant, 'When your son ties Rakhi to you because your Sister sent it to him . Ha ha ha .. WISH YOU AL A VERY HAPPY RAKSHA BANDHAN.'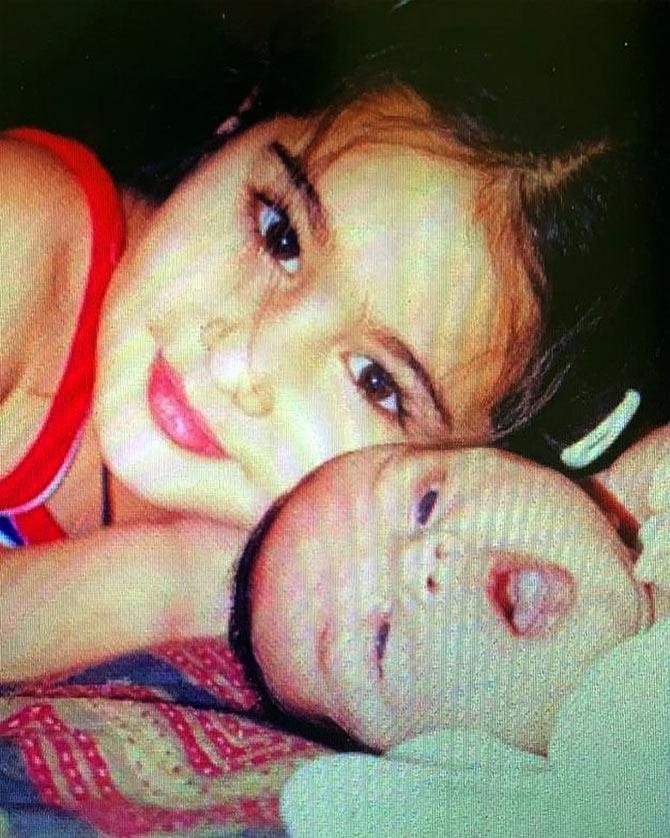 Sara Ali Khan posted a throwback picture of her younger brother, Ibrahim Ali Khan, and wrote, 'Happy Rakhi to my baby brother Missing you today- touching my , giving me , feeding me and hugging me . I promise to bully you, extort you, greedily eat all your food and force love and cuddles out of you forever. #bestbrother #partnerincrime #safeandsecure'.
She also posted a picture of her father with his three children -- Saif turned 49 today. 'Happiest birthday Abba... I love you so much' she wished him.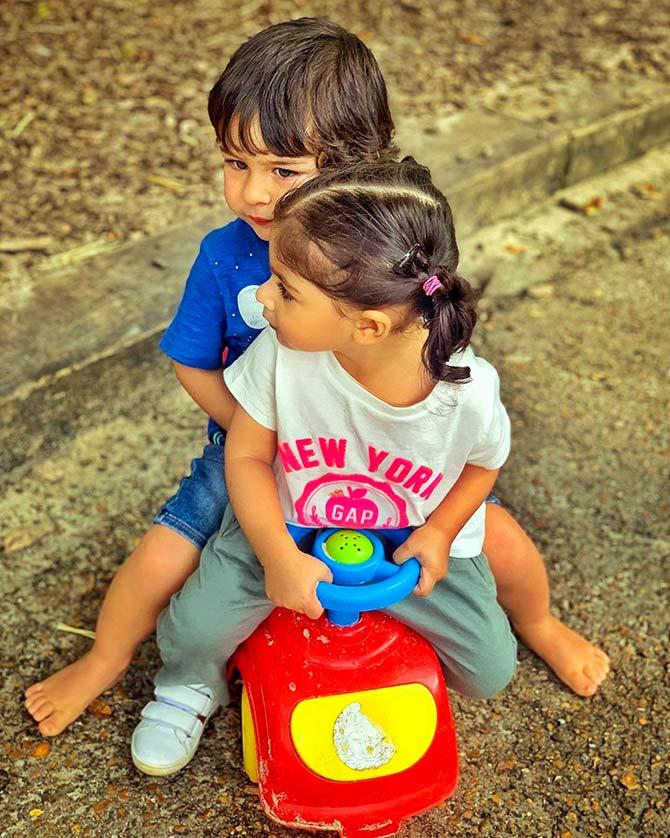 Soha Ali Khan shared cute pictures of Taimur Ali Khan and Inaaya Naumi Kemmu and wrote, 'I know there will be times when I will drive you round the bend, but I know you will always have my back #happyrakshabandhan #timandinni'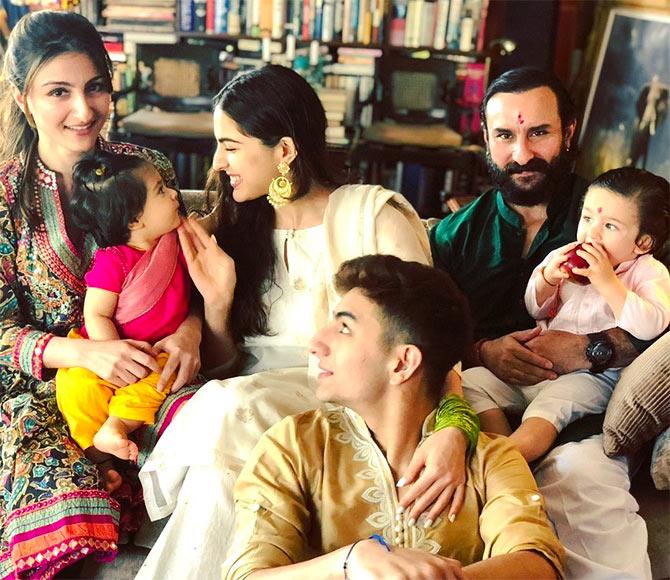 She also posted a picture from last year's Raksha Bandhan celebrations and wrote, 'Thursday throwback to rakshabandhan last year #happyrakshabandhan @saraalikhan95'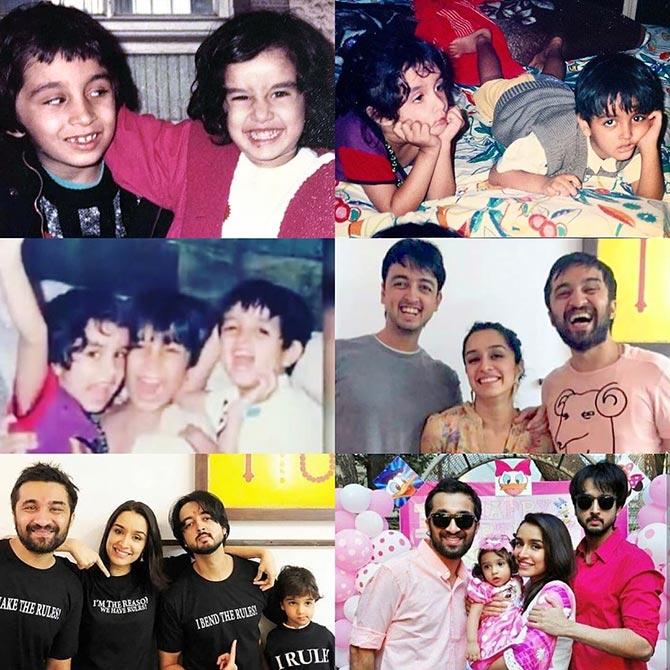 Shraddha Kapoor posted a collage of pictures with her younger brother, Siddhant, 'Happy Rakhi Day to my precious, amazing, best brothers and sister and to all the brothers and sisters out here!!! @siddhanthkapoor @priyaankksharma Thank you to my sweetest and best fan clubs for putting out these pictures!'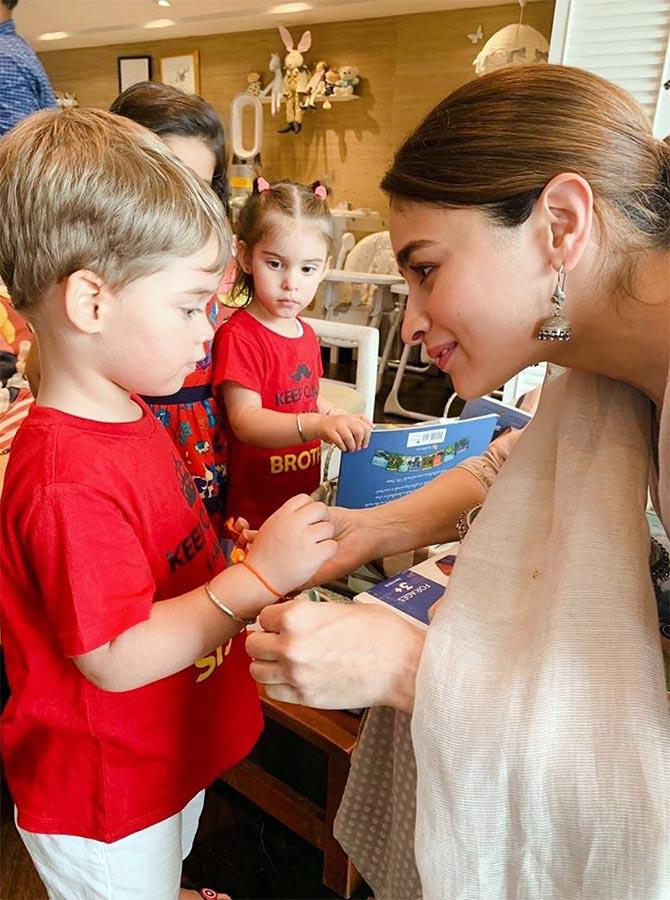 Alia Bhatt tied a rakhi to Karan Johar's son, Yash, as his twin, Roohi, looked on.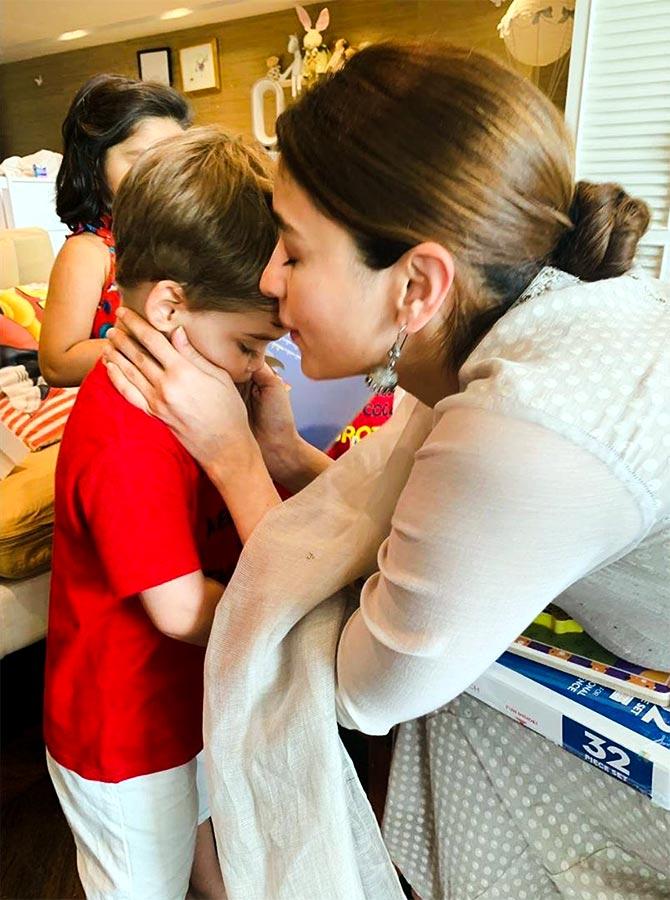 Alia wrote, 'Just too much love..'
Arjun Kapoor posted pictures with his sisters and cousins and wrote, 'Rakhi day !!! #inthepinkofhealth #famjam @sonamkapoor @anandahuja @rheakapoor @anshulakapoor @mohitmarwah @antara_m'
Sonam Kapoor with cousin Arjun.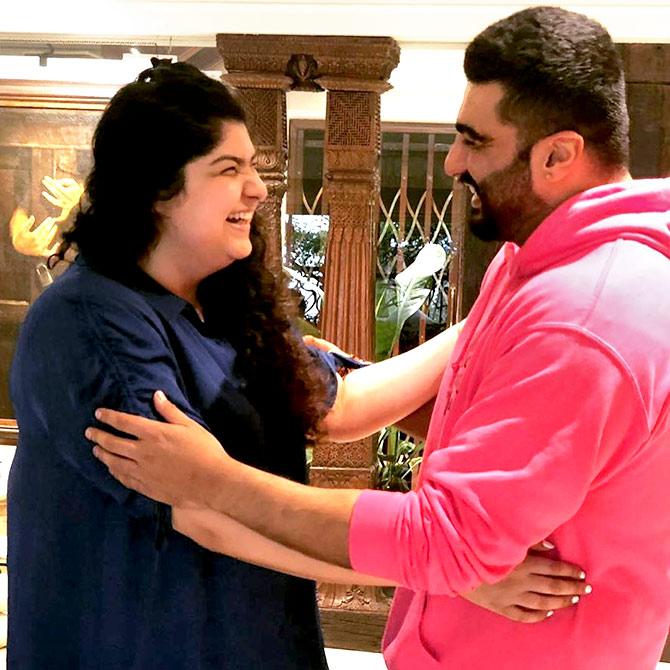 Arjun with his sister, Anshula.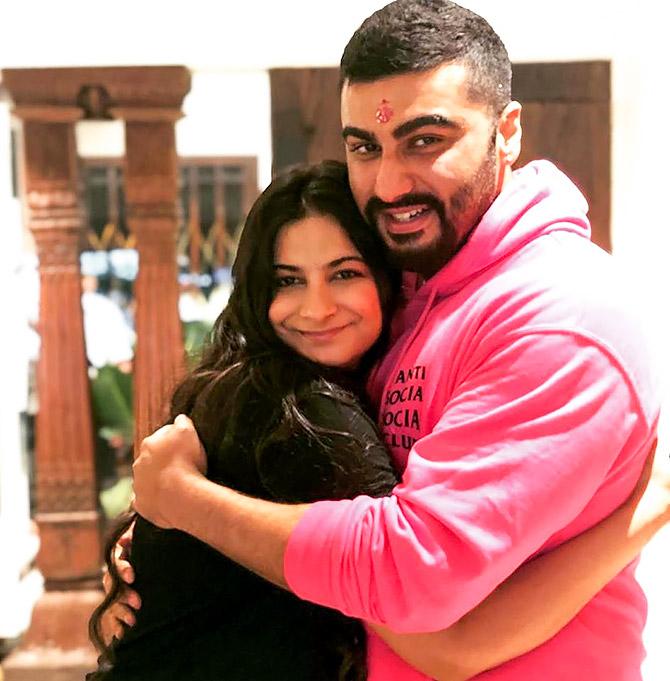 And Rhea Kapoor.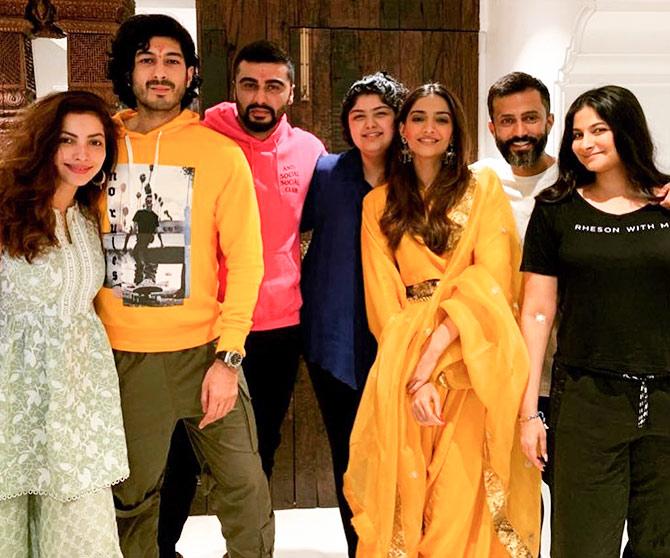 The younger Kapoor khandaan -- Antra Motiwala, Mohit Marwah, Arjun, Anshula, Sonam, Anand Ahuja and Rhea.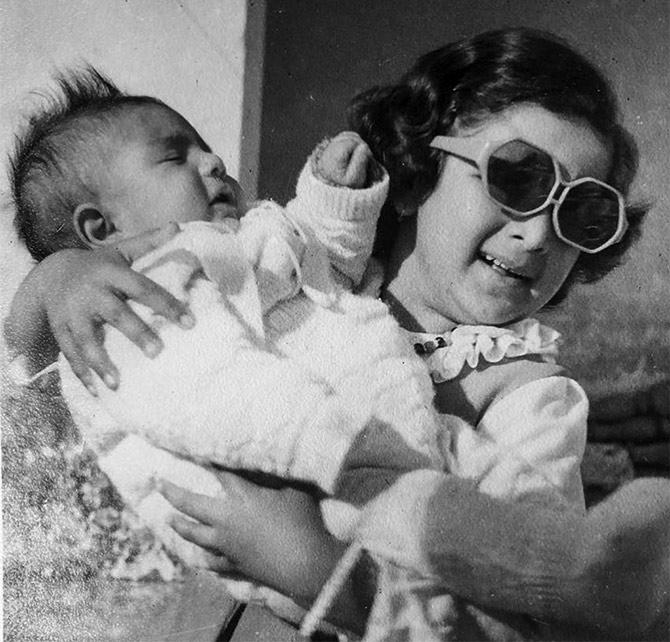 Tisca Chopra shared a childhood picture with younger brother Mayur Arora.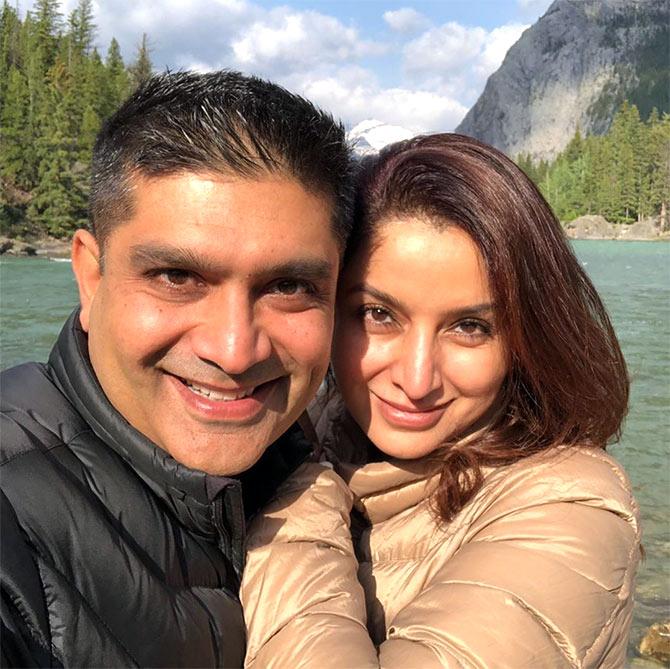 She also posted a picture of them as grown-ups and wrote, 'हम तुम दोनो हैं इक डाली के फूल.. सारी उम्र हमें संग रेहना है @mayurarorarealtor .. #happyrakshabandhan .. stay blessed junior #togetherforever #milesbetweenus #seperatedsibblings'.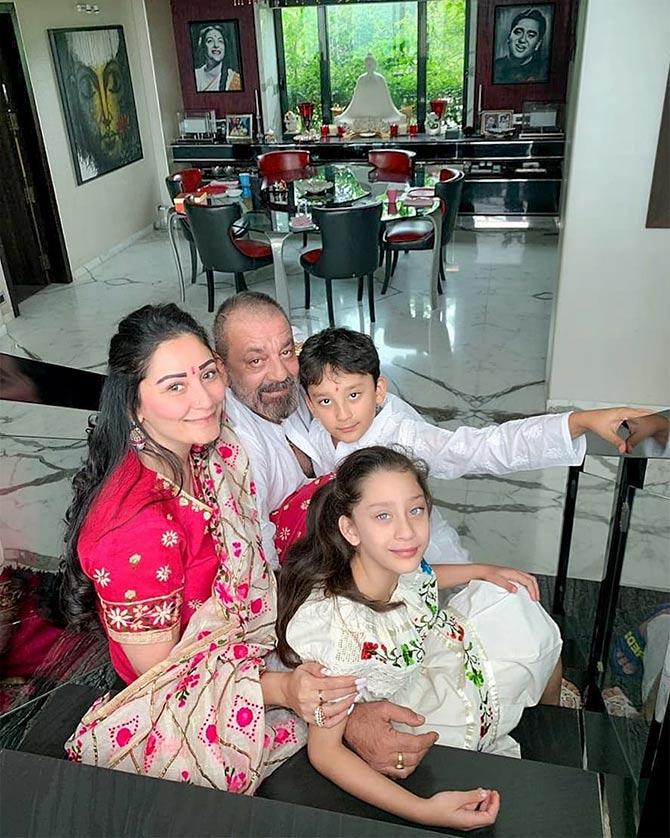 Sanjay Dutt posted a picture of his wife Maanyata, son Shahraan and daughter Iqra, and wrote, 'The bond of love & togetherness! #Rakshabandhan'.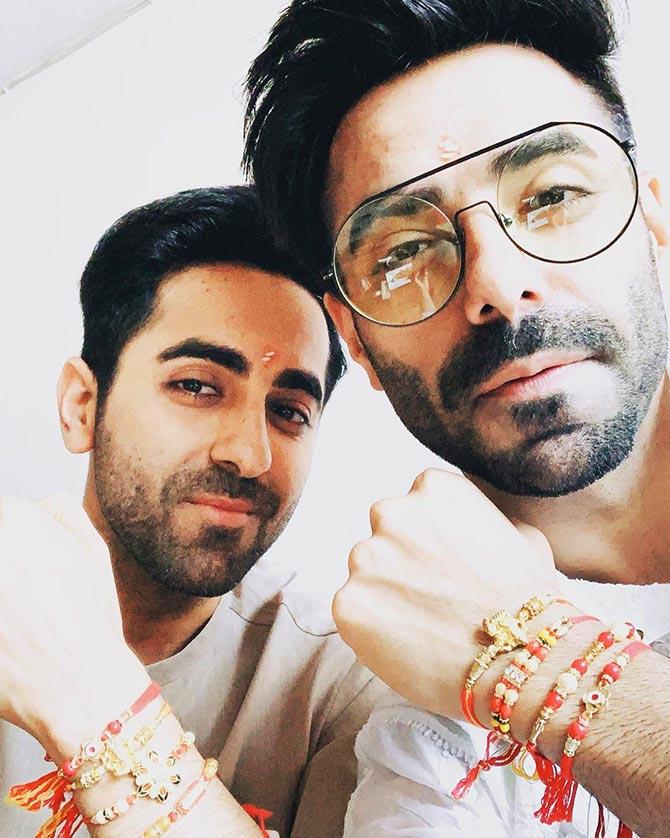 Brothers Aparshakti Khurana and Ayushmann Khurrana show off their rakhis.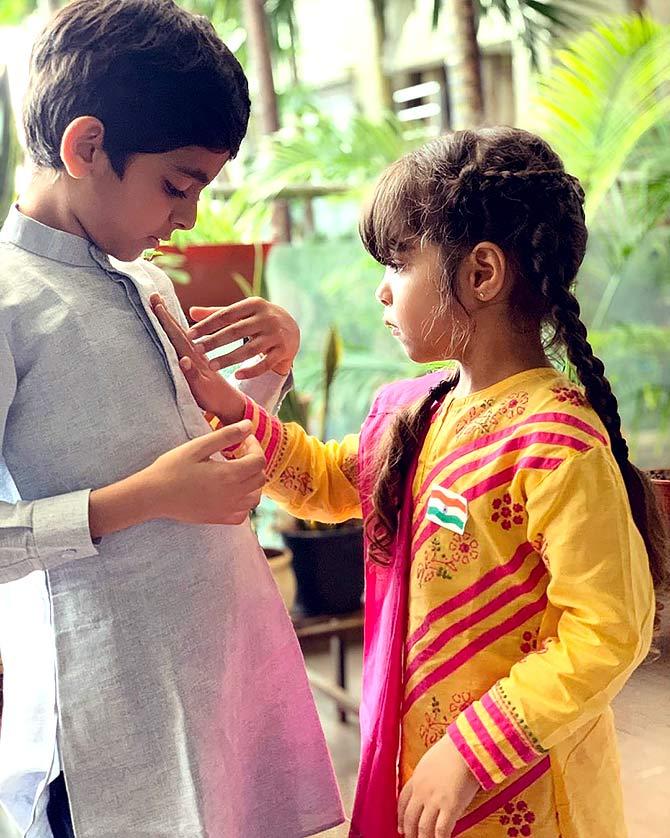 Ayushmann's wife Tahira Kashyap shared a picture of their children, Virajveer and Varushka, and wrote, 'Sticking the flag on the chest, Sense of pride bursting at the crest, When the sister says I also got your back, Then you know it's truly an 'independent' Rakhi, pretty much on track! #independenceday #rakhi #brothersister #toomuchrhyming #bhavnaokosamjho'.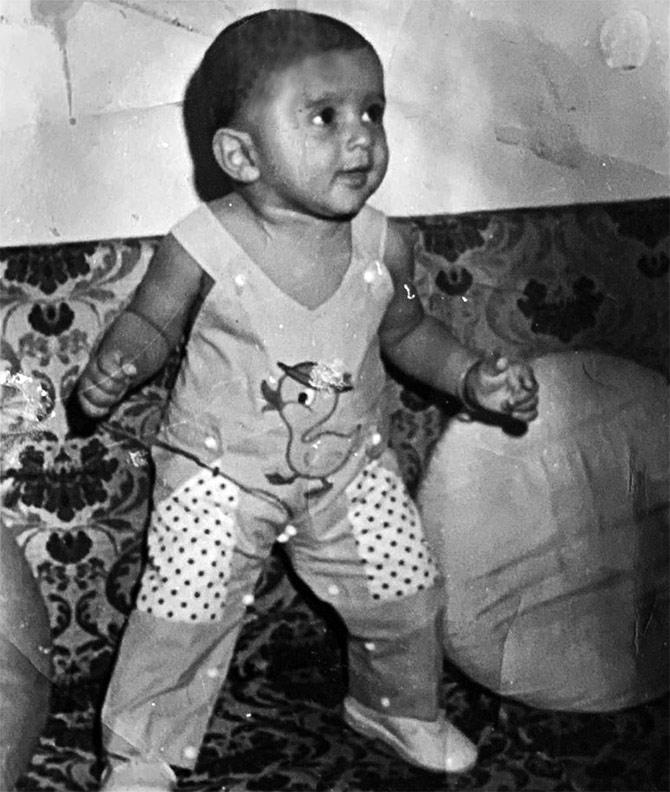 Zoya Akhtar posted picture of her kid brother and wrote, 'Farhan I would do anything to see you in this outfit again'.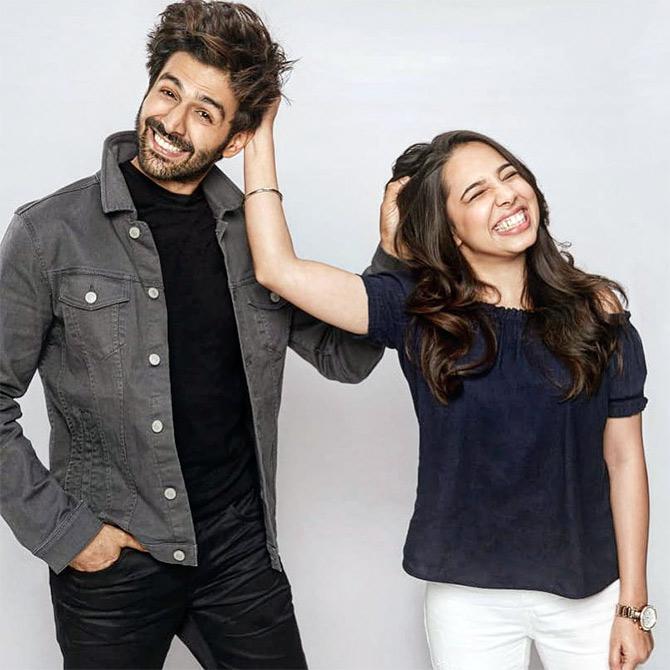 Kartik Aaryan shared picture with his doctor sister, Kritika Tiwari, 'Main tumhaari hamesha Raksha Karunga, Happy Rakshabandhan to the apple of our eyes'.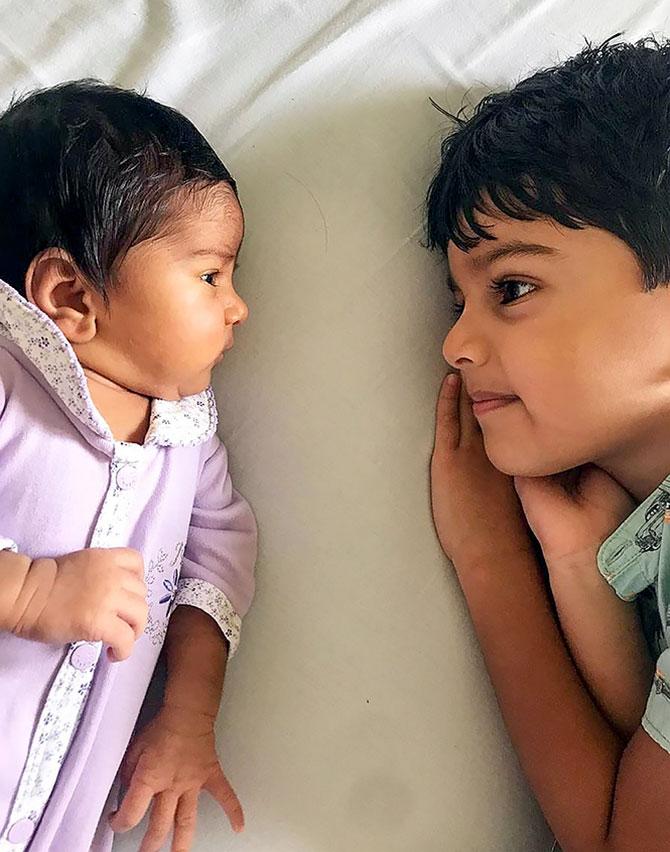 Sameera Reddy shared picture of her daughter Nyra and son Hans, 'Happy Raksha Bandhan finally Hans gets a Rakhi this year'.