'In our film industry, there are not many opportunities for actors... Our films are not character based, they are hero and heroine based. The only roles we have for character actors are to play the girl's or boy's dad or a police officer...'
'Now at my age there are hardly any parts. In the West, you could play a central character even at my age. But these kinds of films are not made in India.'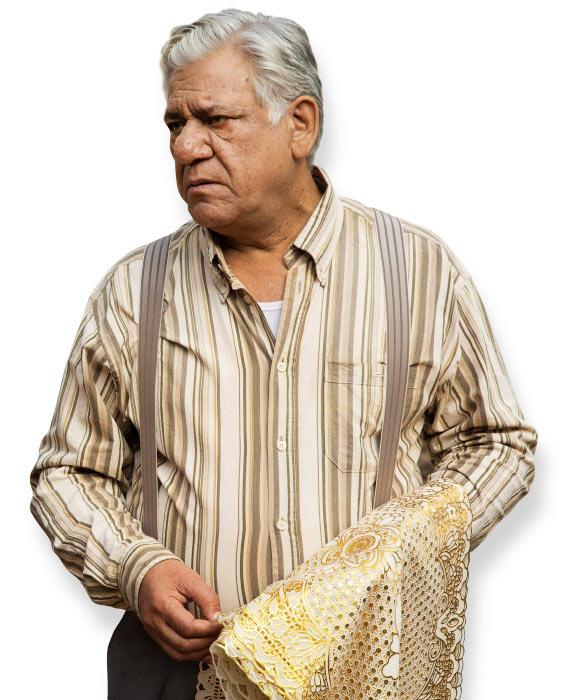 IMAGE: Om Puri in The Hundred-Foot Journey.
Om Puri started his career with the New Wave or parallel cinema in India in the mid-1970s.
He is the only Indian actor, who has featured in a number of projects in the West -- some remarkable films like My Son the Fanatic, East is East, White Teeth and even a cameo in Wolf.
Most of his work, nearly 260 films, are Bollywood projects.
In The Hundred-Foot Journey, Puri played the head of a family who leaves India after communal violence in Mumbai. He opens an Indian restaurant in a French village and later develops a romantic relationship with the woman (Helen Mirren), who is his biggest competitor in the neighbourhood.
Ahead of the film's release, Om Puri spoke to Aseem Chhabra about his career in India and abroad. This interview was first posted on Rediff.com on August 22, 2014.
Omji, congratulations, I really enjoyed the film.
It was a very pleasant experience and a very smooth journey.
You hadn't done an international project for a while.
I think there was West is West. After that, I did Charlie Wilson's War.
But it has been a while. How have things changed? I know you are constantly working in Bollywood.
There was a long gap. For a while I was very regular in British films, but I don't know why this recession set in. Otherwise I was always doing something for BBC or Channel 4. Recently there was a television offer, but I couldn't do it because I had minor surgery.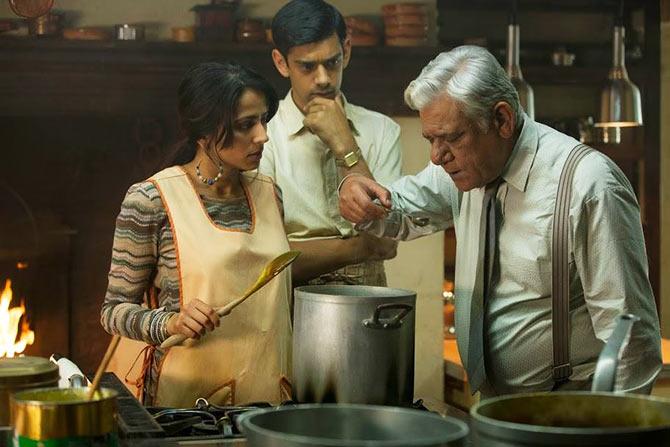 IMAGE: Farzana Dua Elahe, Manish Dayal and Om Puri in The Hundred-Foot Journey.
After all these years, how easy it is to switch from Bollywood to the natural style in foreign films?
Well, most of my work in the initial times was with people like Shyam Benegal and Govind Nihalani. Those were realistic films.
Even in Bollywood, one tries to do as much natural acting as possible. Sometimes we land in very ridiculous situations. But I am sincere and professional. I treat that work as sincerely as I do with serious films.
So what excited you about The Hundred-Foot Journey?
There were a number of things. It's a major part and it is a Spielberg production.
Plus, I was excited about working opposite Helen Mirren.
Lasse Hallstrom is a wonderful director and I had seen some of his films. All these factors were there and I am really honoured to be a part of this film.
I heard from Lasse that you cook as well.
I am a fairly decent cook. I joke that I could have been a perfect house husband.
Whenever I make a film abroad and if I am out for some time, then I don't stay in a hotel. I request them to give me an apartment with a kitchen.
We had Saturdays and Sundays off, so there was enough time to cook. And it doesn't take me long to cook. I must have eaten only five or six times out. There were mostly French restaurants and one really bad Indian place.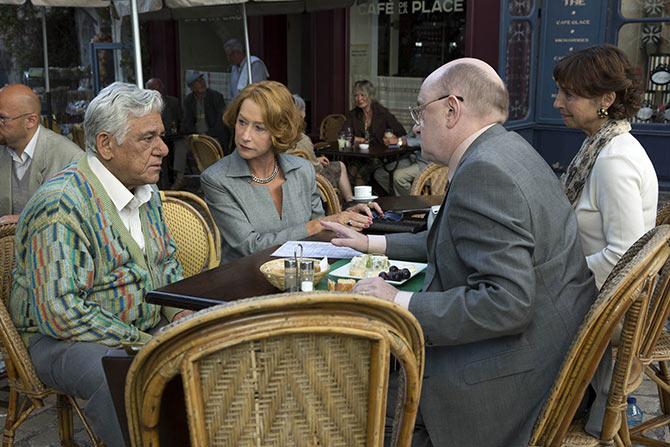 IMAGE: Om Puri, Helen Mirren, Michel Blanc, Shuna Lemoine in The Hundred-Foot Journey.
There was an Indian restaurant? So it was then quite real that your character also opens an Indian restaurant.
I would have at least three or four people over for a meal on the weekends. I had taken Indian spices with me.
When I ran out of them, I went to Toulouse.
There are a lot of Indian restaurants and a couple of Chinese and Bangladeshi shops where I could get spices. I could get dals and spices.
How was the experience working with Helen Mirren?
I was looking forward to meeting her. Her performance in Queen was very, very impressive. And I had prepared myself how I would meet her since she is the Queen. It was during lunch time. Initially I didn't recognise her because she had very short hair.
She got up to get some food and I went and knelt down in front of her and said, 'Your highness, it's an honour to meet you.'
And she pulled me up, hugged me and said it will be nice that we are working together. She also tasted my food.
She even took it to her hotel, saying she would share it with her husband.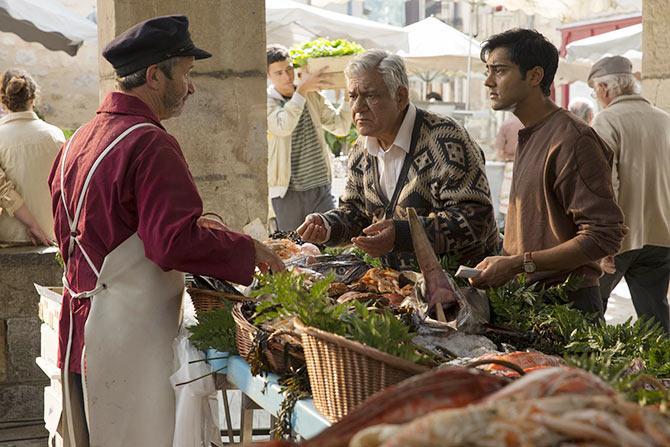 IMAGE: Manish Dayal and Om Puri in The Hundred-Foot Journey.
You also had a young actor Manish Dayal working with you. He said you became good friends.
He's a very bright young man. He and the younger kids would come over to my place on weekends. We would move around like a family and they would refer to me as Papa and not as Om.
How is Lasse different than the other directors you have worked with?
Well, with Lasse it is like -- if you are looking for an address and ask him the direction, he will not exactly tell you where it is.
He will direct you in that direction.
That you go this way, but he wouldn't give you any landmarks or tell you about a yellow building on the way or a church. That is his way of letting actors find their own way. And this, even though he knows exactly what he wants.
From this process, he does get something from the actors which he may not have imagined.
One time we were rehearsing a scene and he said 'Om, this time mess it up.' I was confused, but then I understood that in life things don't smoothly. You make awkward pauses or are clumsy. It is not choreographed. And what we had been doing, it seemed choreographed.
So I broke it up and he liked that. Sometimes he would ask us to forget the lines and improvise.
He may go back to the script, but he would take some of the improvised sentences as well.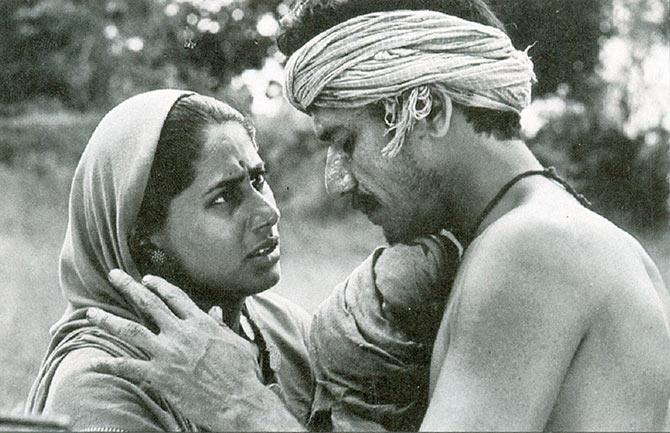 IMAGE: Now they are both gone.... Smita Patil and Om Puri in Satyajit Ray's Sadgati.
Omji, I checked on imdb.com, you have done almost 260 films. How do you assess your careers from the 1970s to today? What are the high points of your career?
I have worked with every important filmmaker in India -- Shyam Benegal, Satyajit Ray, Mrinal Sen, Govind Nihalani, Basu Chatterjee and Basu Bhattacharya. My major body of work, which was appreciated, was with Govind and Shyam; they were my mentors.
When you look back, what could you have done differently?
To be honest and it may sound like I am not being modest, I am capable of doing much more than what I have done.
As you know in our film industry in India, there are not many opportunities for actors. There are a lot of opportunities for stars because we make formula films, in which there aren't many exciting parts for character actors.
Our films are not character based, they are hero and heroine based. The only roles we have for character actors are to play the girl's or boy's dad or a police officer. There aren't many meaty parts.
Now at my age -- I am 64 now -- there are hardly any parts.
In the West, you could play a central character even at my age. But these kinds of films are not made in India.
All these young people making nice films, they are technically very good. But they are all urban films and they need younger actors. Whereas earlier there used to be films about rural India as well. Shyam and Govind did take up rural themes.
What about the films that Dibankar Banerjee and Anurag Kashyap make?
They are making good cinema. I like their work. Initially they started with smaller films, but now most of them also want to cast stars.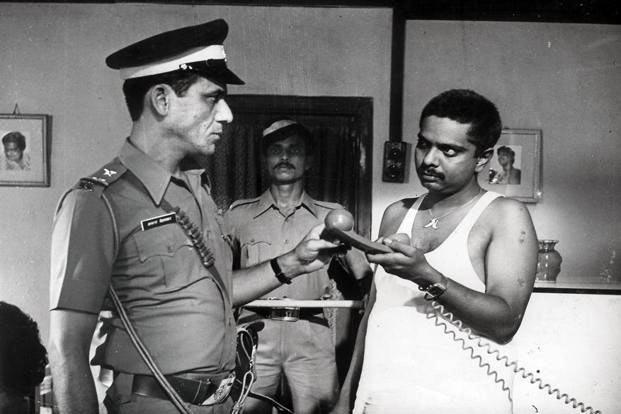 IMAGE: Om Puri and Sadashiv Amrapurkar in Govind Nihalani's Ardh Satya.
You still have an agent in the UK, right?
Yes I do, and hopefully I should get more good work here because back home there is very little good work.
So now I am turning to theatre, because I will die if I do not work. So I thought why not go back to theatre. I recently did one Punjabi play to begin with.
What play was that?
Tumhari Amrita,the same play that originally Shabana (Azmi) and Farooque (Shaikh) acted in. I acted with Divya Dutta. We performed in Delhi, Bombay, Bangalore, in Punjab and we even took it to Lahore. And it went it off very well.
But theatre doesn't bring the kind of money you make in films.
It doesn't bring that kind of money, but now it is viable if I or Naseer (Naseeruddin Shah) act in a play, people come and see it. There is personal satisfaction and we got decent money.
In Delhi, they had to put a TV set in the gallery because there was such a demand and there were no seats in the auditorium.