'Sonam is my lucky charm.'
'Because of her, the year 2018 went well for me, as I got four big weddings.'
'It started with Sonam's in November, then Deepika Padukone-Ranveer Singh's, Kapil Sharma's wedding and Isha Ambani's wedding in December.'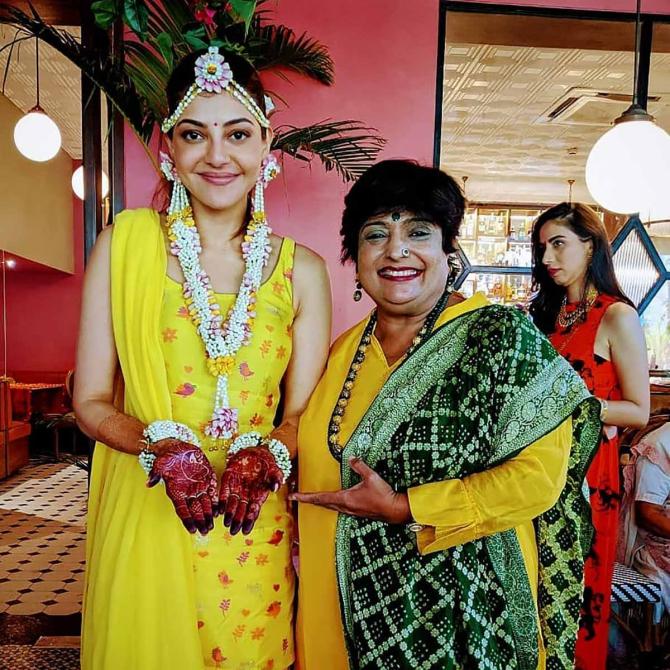 What do Bollywood's celebrity weddings have in common?
Mehendi artist Veena Nagda, of course.
It would seem that no high-profile wedding is complete until Nagda applies her mehendi on the bride's hands.
But it's not always restricted to weddings.
Nagda has provided her services to films too, like Raazi and Gully Boy, as well as on important occasions.
"I have one rule," Nagda tells Rediff.com Contributor Sameena Razzaq. "I never refuse work that comes my way."
"For me, client satisfaction is very important. They should be happy with the design I make on their hands. Whatever price I quote, I don't charge according to the pocket strength of my clients, be it the Ambanis or the Mittals. My price remains the same," she says.
"Karan Johar, Manish Malhotra and Mickey Contractor have been working with me since Kabhi Khushi Kabhie Gham. We have become like family. They keep referring me to other clients," she adds.
"Mehendi has taken me to places I can never even dream of," Veena says, and looks back at her journey with Bollywood's brides.
Natasha Dalal-Varun Dhawan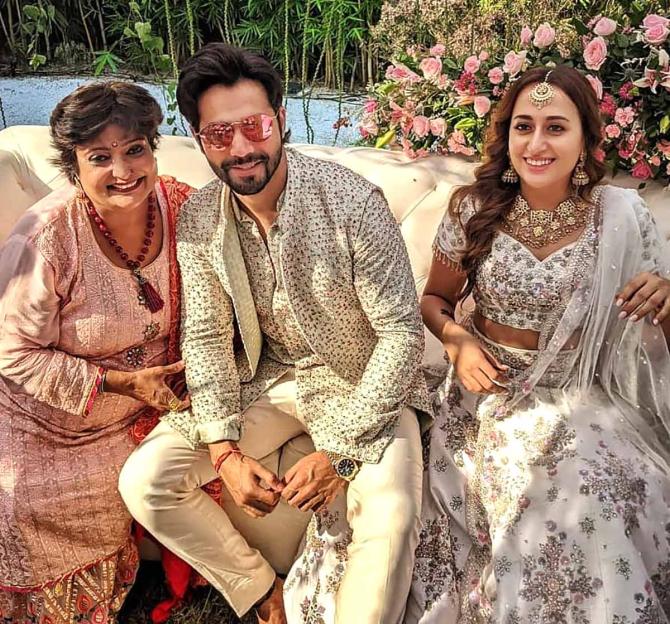 I have been doing Laali Dhawan's Karva Chauth mehendi for the last 26 years, so it was obvious that her son Varun and his bride Natasha's mehendi booking would come to me.
Varun is like my son.
I have seen Varun and Sonam (Kapoor) since they were kids.
I didn't know Natasha was a fashion designer.
She had a few suggestions, like she wanted me to include flowers that were on her dress in the mehendi design.
It wasn't possible, so she settled for design suggested by us.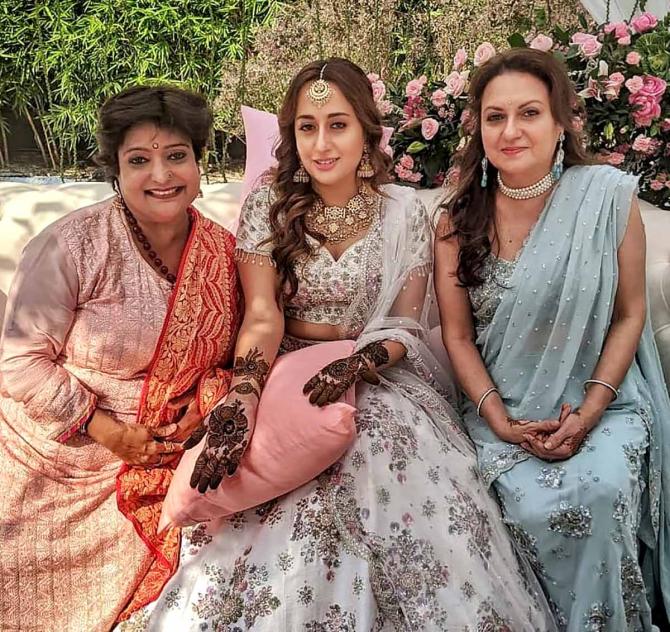 Natasha also wanted an Arabic design, but that would leave a lot of gaps, and is not apt for a bride.
We made an intricate pattern and she liked it.
When I was applying mehendi on Natasha's hands, Varun suddenly came and told me, 'Veenaji, zara jaldi lagayiye' because he wanted to take his bride to dance.
He told me, 'Veenaji, so many years have passed but you look the same.'
His words made my day.
After a while, Varun came again and took Natasha for the dance.
They were dancing on the song Bhangra Ta Sajda./em>.
After all the dancing, we applied mehendi on the groom's hands.
Laaliji had instructed us to make 'Om' on Varun's palm, but later, he asked us to write 'N loves V' on his palm too, and we did.
Sonam Kapoor-Anand Ahuja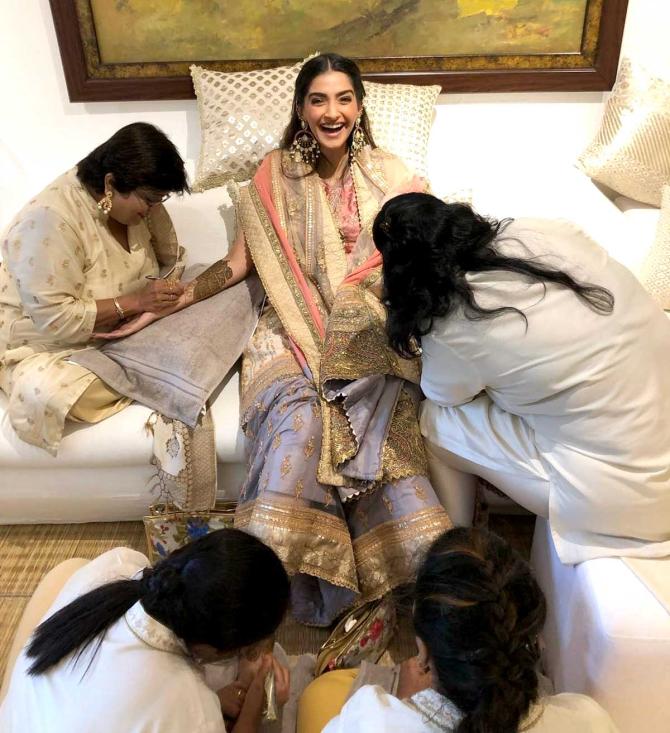 Sonam is my lucky charm.
Because of her, t2018 went well for me, as I got four big weddings.
It started with Sonam's in November, then Deepika Padukone-Ranveer Singh's, Kapil Sharma's wedding and then Isha Ambani's wedding in December.
I got those four weddings because of Sonam.
She had put my first ever photograph on Instagram and because of that, everybody came to know that Veena is doing Sonam's mehendi.
Sunitaji (Kapoor, Sonam's mother) had booked me for Sonam's wedding two-three months prior, as it was scheduled to happen in Switzerland.
Like Sunitaji, I have been applying mehendi to Sonam's mother-in-law for a long time too.
When I was about to start applying mehendi on Sonam's hands, Sunitaji came and said that she wanted to be the first person to apply mehendi on her daughter's hands.
So Anilji (Sonam's dad, Anil Kapoor) and Sunitaji sat with Sonam, did mooh-meetha and then I began applying mehendi.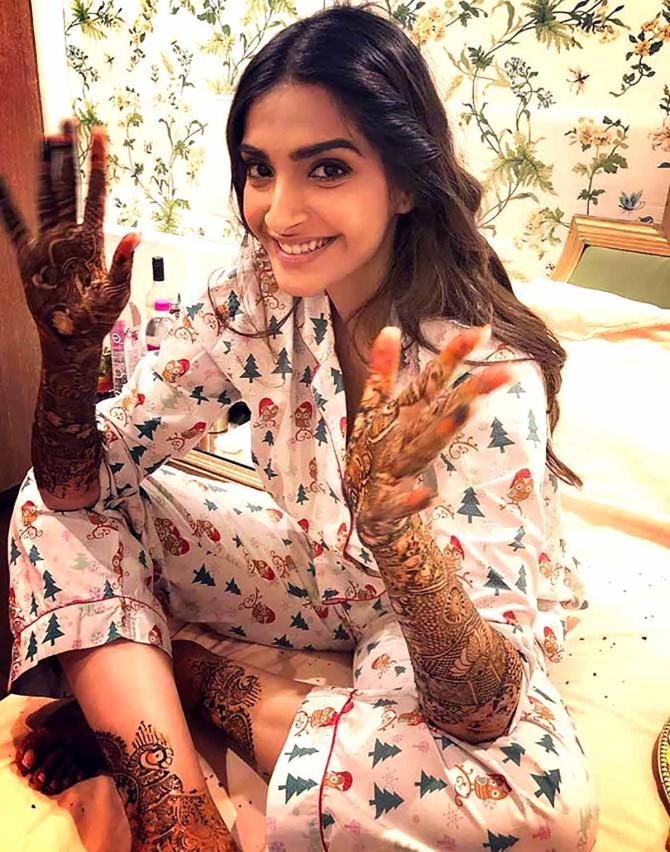 Sonam said she wanted the same barik intricate mehendi that we used to apply on her when she was a child.
She wanted lotus flowers and small kairis, so we made all that.
We made an elephant on Anand's hand because an elephant symbolises a king.
The sangeet ceremony was held with the mehendi so all the family members were present.
There were close friends too, along with Manish Malhotra and Karan Johar.
We would be applying mehendi, then Sonam would be taken for a dance.
We applied mehendi to family members too.
The second day was her real mehendi function, where guests from her sasural were also present.
Sonam had to go to Cannes right after the wedding, and was very keen on preserving the mehendi colour.
She was concerned that it should not lighten, so she told me to be prepared to come to Delhi to apply mehendi on her hand again.
Thankfully, the colour remained intact.
Deepika Padukone-Ranveer Singh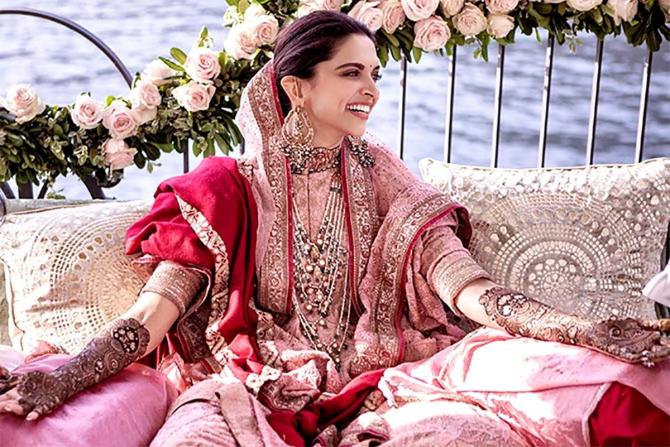 This was my dream wedding.
While applying mehendi on Deepika's hands during the shoot of Yeh Jawaani Hai Deewani, I had told her that I would do her wedding mehendi too, and she promised to let me.
I am glad she kept her promise after five years!
I got a call from her team to keep myself free between November 11-15.
I had no clue then whose wedding it was or where I had to go.
I just knew the dates.
Mehendi is just a day's ceremony, so I wondered why they booked me for five days.
It was at the visa office that I realised that we are going for Deepika and Ranveer's wedding.
I was so excited that I was going all the way to Italy to apply mehendi to Deepika!
My son was in America then, and I had not met him for two years. So I asked him to come to Italy, so that we could meet.
Italy is so beautiful.
On the night that we reached, we applied mehendi to Deepika's mother, her sister, her mother-in-law and her sister-in-law.
Deepika came and hugged me from behind.
She said, 'Veenaji, I kept my promise.'
Ranveer was doing a lot of masti while seeing the mehendi album with her and he kept telling us do this design and that!
Then he took the mehendi cone from me and asked me to teach him how to apply.
The next day morning was Deepika's mehendi function. We were called at 10 am, though the function would start an hour later.
It was very cold at the venue.
The arrangements for the mehendi were made in open air.
I told them that it was very cold and that Deepika might catch a cold.
Thankfully, the weather changed the moment we sat down to apply the mehendi on her hands, and the sun was shining bright.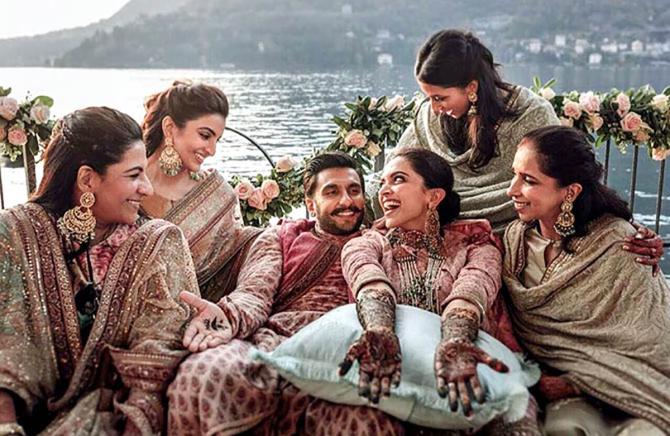 After a while, Ranveer joined in.
He entered dancing and said, 'Waah waah! Kya baat hai! Ek queen doosri queen ko mehendi lagaa rahi hai woh bhi Italy mein!'
Our mobiles were switched off, so I could not record that moment.
Deepika wanted a lotus on her hand, so we did that.
The next day, Ranveer told us to make a diya on his hand as a token of love for Deepika, calling her 'Meri Deep.' We also made small stars on his palm.
After the mehendi was the sangeet and then a party.
The decoration was so beautiful. They had organised a candle light dinner for family members.
After that, they had organised a one-day tour to Milan for us.
Ginni Chatrath-Kapil Sharma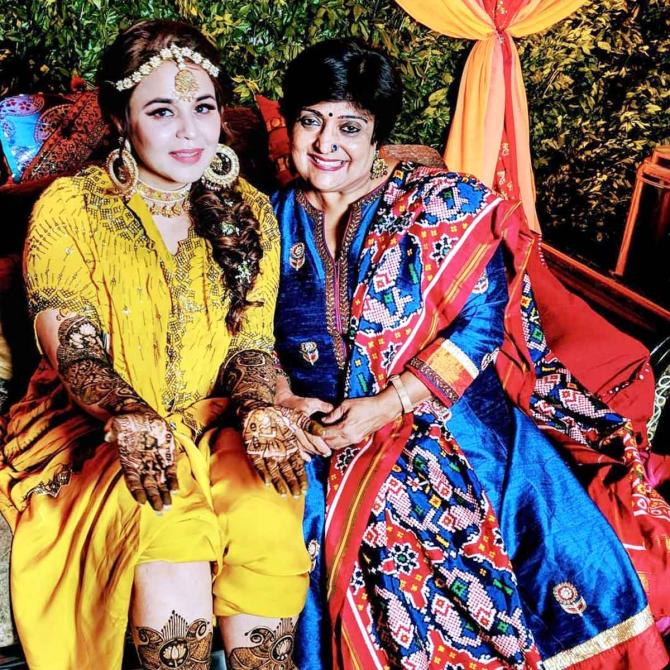 Kapil's secretary had called me for the booking, but had not specified whose wedding it was.
I told him I am busy on the dates that he had mentioned.
Then he gave me the details. He told me the ceremony was in Jalandhar, for Kapil's bride, Ginni Chatrath.
Since Ginni was very keen on having me, she changed the date of her mehendi ceremony from December 12 to December 9.
I am a big fan of Kapil and made the adjustments accordingly.
We reached the venue at 2 pm, but Ginni was delayed.
We waited for three hours.
Finally, she sat at 5 pm to apply the mehendi.
She had seen our lotus design and wanted to add a small figure of the dulha-dulhan.
She made us write Kapil's name as well.
After completing her mehendi, she sent us to Kapil's house and told us to make a lotus on his hand too.
When we went to Kapil's house, a party was going on.
We told him that Ginni has asked us to apply mehendi on his hand, but he said he was busy.
In their culture, the groom's family does not come to the bride's home for the mehendi celebration.
By the time we finished, it was 3 am and we missed our flight back from Amritsar.
But they made arrangements for us to fly back home.
Kajal Aggarwal-Gautam Kitchlu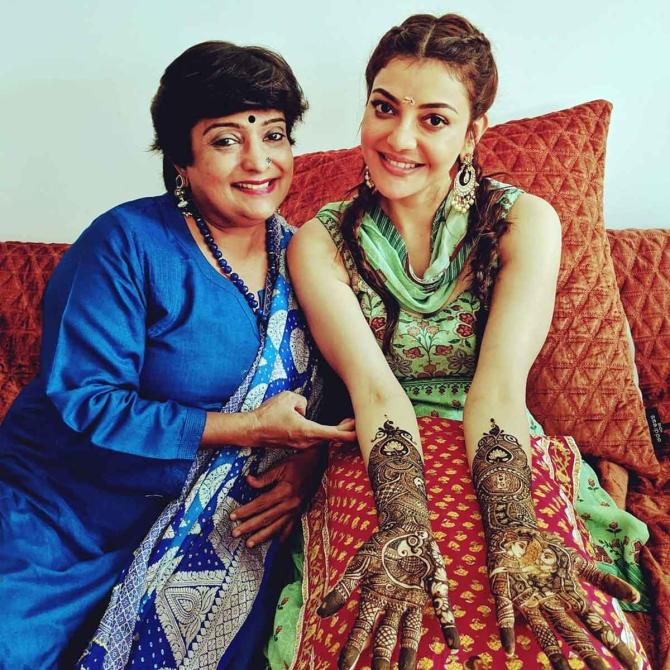 Kajal spoke to me 15 days prior to the wedding and insisted that my girls and I go through COVID testing. I agreed.
On the day of the mehendi, they did a pooja before starting the function.
Kajal asked us to apply the Marwadi barik bridal mehendi since she is a Marwadi.
She asked us to make Radha-Krishna and a peacock on her palm.
The next day, her haldi ceremony was held at a hotel.
From there, we went to the bridegroom Gautam's place and made a lotus on his hand.
Lotus is Laxmi's symbol, so both the bride and the groom wanted it. They consider it auspicious.
Shloka Mehta-Akash Ambani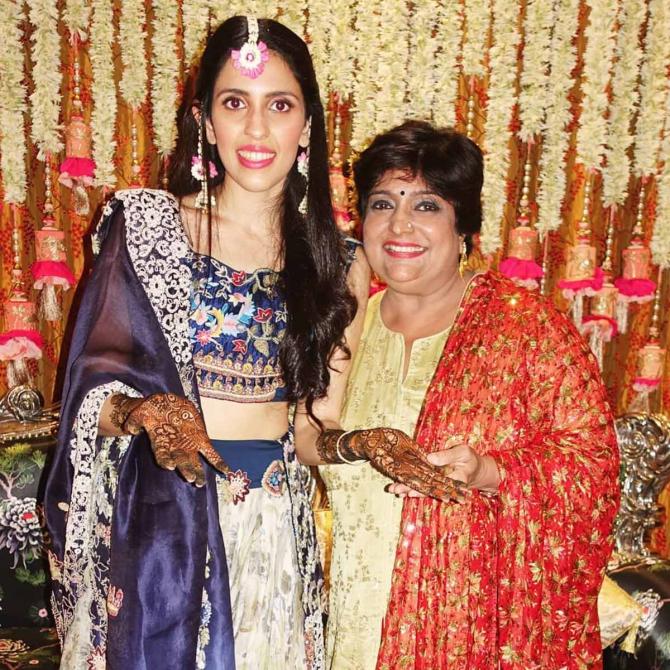 I have been applying mehendi on Shloka's hands from the time she was six years old.
Whenever she would come to Mumbai, she would ask us to apply mehendi.
Shloka's mother Monaji gave us the booking for her wedding.
We were given cream coloured dresses for the mehendi function.
Just before the mehendi function, they had the sagaai.
Shloka's sagaai was held at (Mukesh Ambani's home) Antila. That was the first time I got to see the house.
They have a huge mandir in the house, so we were told to keep the mehendi cones in the mandir first.
I will never forget that day.
When Monaji asked me to take Shloka to Antilia, I was really surprised.
I told Shloka I was nervous.
She said don't worry, so we went to Antilia.
She asked us to make an 'A' on her hand.
When I came home that day, the thought of visiting Antilia lingered on my mind for a long time.
I told Shloka that I would give her a lot of blessings because I had never even dreamt of visiting Antilia and she gave me that opportunity.
When it comes to the Ambanis, there is nothing left to say!
The decoration was surreal.
Even though I was not invited for the wedding, I got to attend it as I had to apply mehendi on Akashji's hand.
He had been busy on the day of the mehendi ceremony.
Nitaji's (Akash's mother Nita Ambani) arrangements were perfect. I can't describe the grandeur in words.
Every form of music was a part of the baraat.
Nitaji was very impressed to see me using my own pillow and napkin and she told Mukeshji that in Gujarati.
The pillow gives comfort to the hand when the mehendi is being applied, so that the client experiences no discomfort.
Isha Ambani-Anand Piramal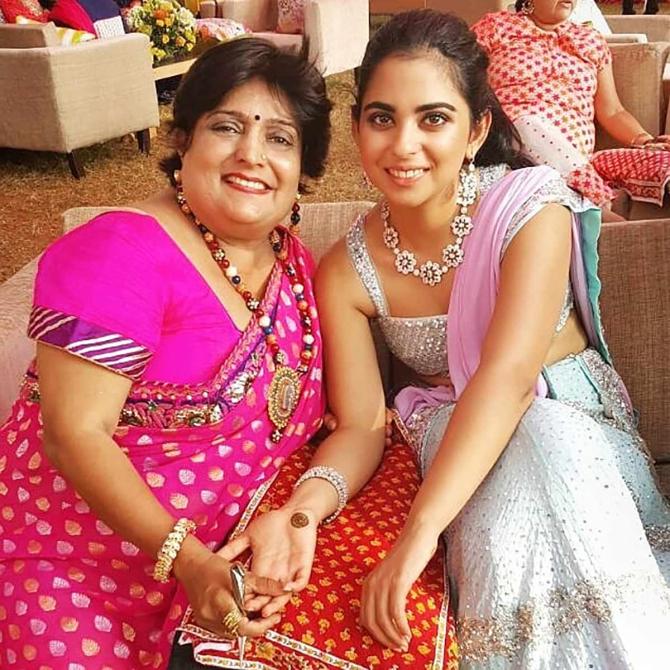 Isha had liked my mehendi at Shloka's sagaai function, so Shloka booked me for Isha's mehendi function.
All my 30 girls were given pink dresses.
Isha's mehendi was first held at her place near the poolside and then another function was held in Udaipur, especially for Isha's friends.
The flower decoration at the house was amazing.
Isha's wedding function was held at her home in Antilia.
Even though I did not attend the wedding, I saw the decorations.
The perfection bowled me over. In that monumental flower decoration, not a single flower was out of place.
The curtains had rare zardosi work, made by Abu Jani and Sandeep Khosla. The design was given by Nitaji.
Nitaji was personally overseeing the arrangements.
Even at the reception, the fresh flower decorations was the main attraction.
When we watched the the reception in the news, we realised that we were the first to witness that grandeur.
We were even given booklets of the decorations, and it had details like how many flowers were used.
Shooting with Alia Bhatt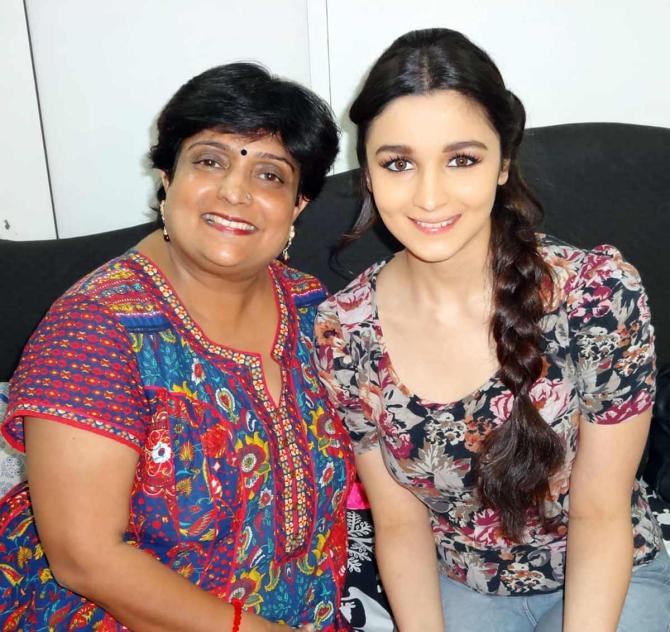 I have been applying mehendi on Alia's hands since her first film, Student of the Year.
Then, Manish Malhotra had asked me to come, but he had not told me that she was playing a bride.
When I went there, he said our bride is modern and that they wanted a modern mehendi design.
We applied mehendi to Alia during 2 States too. She played a South Indian bride, so we just had to make circles in her palms.
Then we applied mehendi to her during Humpty Sharma Ki Dulhaniya and Badrinath Ki Dulhania.
In Raazi, we had to apply mehendi design of the 1970s.
In that period, Muslims used to apply orange mehendi and the design was a bit denser.
Director Meghna Gulzarji had specifically told us that she did not want barik mehendi.
Alia's sasural was shown to be in Pakistan, so we applied a denser design.
Meghnaji wants perfection, so we were very particular.
Laali Dhawan and Sunita Kapoor's Karva Chauth ceremonies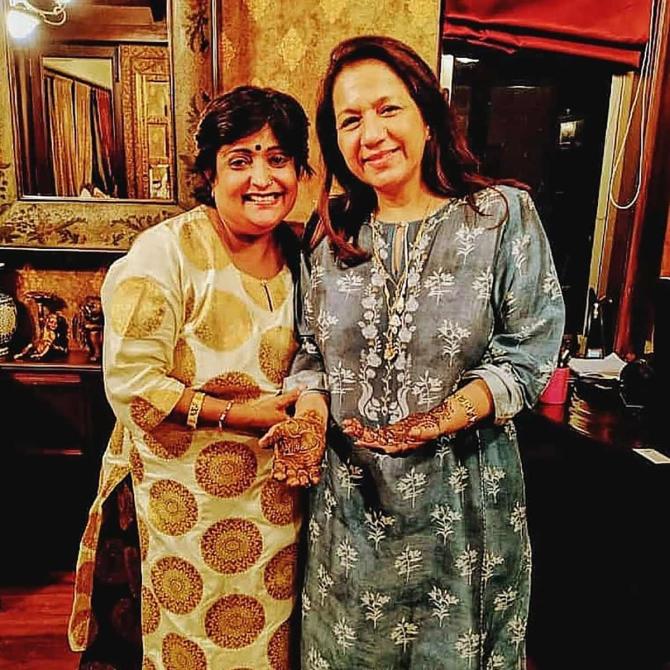 I have been going to Laaliji's and Sunitaji's (Kapoor) homes for Karva Chauth for 26 years.
They always ask for barik mehendi.
They have a party-like ambience on Karva Chauth.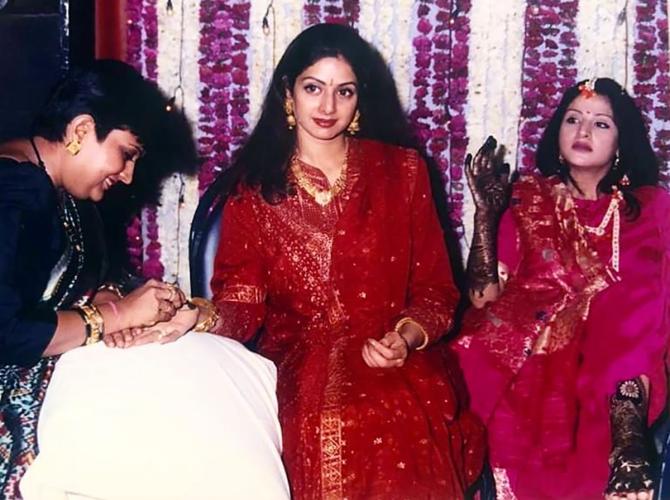 Sunitaji had hosted Sridevi's first Karva Chauth at her home.
A few months before her death, she was supposed to come to Sunitaji's house for Karva Chauth, but she could not make it, as she had a shoot that day.
Then she had asked me to come to her place but it was late, so I could not go.
Little did I know it would be her last Karva Chauth.
I regret not going to Sridevi's place for Karva Chauth that year.