'Dev for me embodied all that kind of charm, optimism, energy, vulnerability, awkwardness and yet strength.'
'He's in every scene for two hours.'
'He has to play drama, melodrama, romance, pathos, comedy.'
'It was a relief when he said yes.'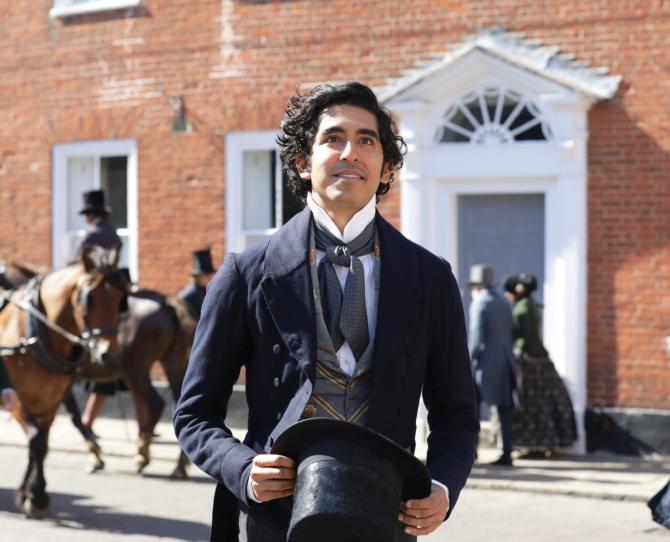 Armando Iannucci calls himself a political geek. No wonder the film-maker has been able to successfully swim through the choppy seas of British, American and Russian politics.
A hugely talented British director and writer, he is the name behind some of the best recent political satires -- films and television shows. And he is quite clear about his politics.
He did not agree with Brexit and does not support the isolationist and divisive politics of Donald Trump.
Iannucci's resume includes projects such as I Am Alan Partridge (1997-2002), The Thick of It (2005-2012), In The Loop (2009), Veep (2012-2019), The Death of Stalin (2017) and the HBO show from earlier this year Avenue 5.
His new film The Personal History of David Copperfield opens in the US on August 28. A delightful and charming adaptation of Charles Dickens' classic novel, the new film also does not escape Iannucci's political sensibilities.
The Personal History of David Copperfield premiered at last year's Toronto International Film Festival, where it was celebrated by critics and audience.
Starring Dev Patel as David Copperfield, Iannucci's film is the first production based on a classic book where the director engaged in colour-blind casting.
Besides Patel, the film features actors from various ethnicities -- Asian, African, Indians and, of course, white.
The Personal History of David Copperfield boasts of a terrific supporting cast, led by Tilda Swinton, Hugh Laurie, Peter Capaldi and a number of other actors who have worked with Iannucci in the past.
The film has already played in theatres in Britain. Fox Searchlight will release David Copperfield in 500 theatres across the US.
Armando Iannucci speaks to Senior Rediff.com Contributor Aseem Chhabra in an exclusive interview via Zoom call. The director was at his home in Hertfordshire in the UK.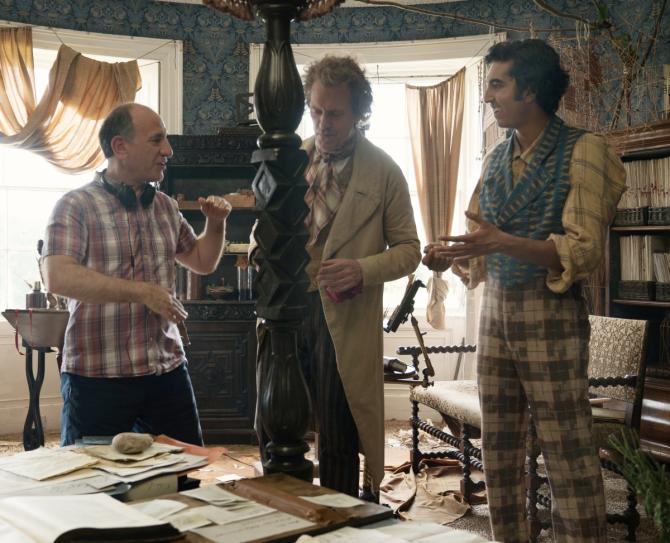 Armando, when I was in school in India I read the abridged version of David Copperfield as part of the English sylabus. I had forgotten the story. Watching your film brought back all the memories, especially the characters from Uriah Heep to Peggotty and David's eccentric aunt Betsey Trotwood.
What attracted you to Charles Dickens? There have been a few film adaptations of David Copperfield. When you thought about the project what was the approach you wanted to take?
I wanted the film to be a celebration of story telling and imagination. I didn't want to do a painting by numbers, just a reproduction of the plot.
I wanted to concentrate on some of the themes and the comedy. A lot of the adaptations focus on the plot and miss out the humour. I wanted to make room for the funny and the inventiveness.
The Death of Stalin was about atrocity, autocracy and authoritarian governments, which still is a concern. But I specifically wanted to make something that celebrated Britain and its community because in the last three years with Brexit it is easy to define Britain as a divided, insular, isolationist nation. And actually we are not.
We are funny, generous, diverse, outgoing. I didn't want Britain to be a part of the Trump narrative.
I feel happy when people say they feel uplifted by the end of the film. Even when they see hardship, the film says we will get through this.
I also wanted the film to have one foot in 1840s, but another foot in the present day. I said to the cast and crew 'When we started let's pretend nobody has ever made a period movie.'
'There are no rules, no conventions. We will make it the way we want to. Don't start acting if you are in the Victorian era, by putting on voices. Just be yourself.'
People we see on the screen, they think they are in the present day. There's no point acting as if they are in the past.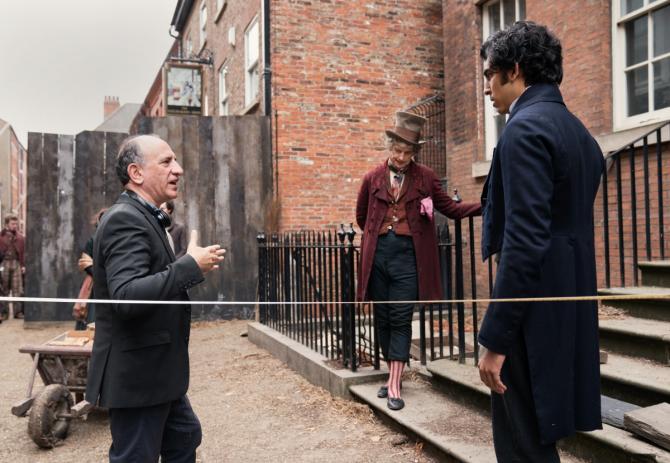 But they were wearing clothes from that era. Doesn't that do anything to the actors?
When you put a bonnet on something does happen to you (he laughs). We did three weeks of rehearsals and that helped the actors to relax into the characters.
Cinematically, it is wonderful as sometimes the scenes of the past are projected on the screen or we are led into a field or a house with the adult David looking at his younger self.
I wanted to remind people that they are watching a story being told. It doesn't take you out of the story, but it makes you feel it is physically happening in front of you on stage.
I also wanted to reduce the CGI element as much as possible. People are no longer impressed by CGI. It's no longer magical.
I kind of like things that are magical. So I wanted to go back to the basics of how we told stories.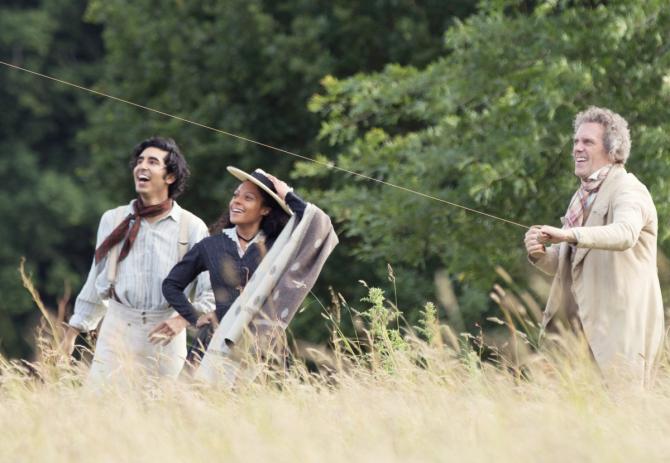 Can you talk about the idea of colour-blind casting, what was the statement you were making? And how would the purists, the Dickens scholars react when you have a brown man playing David Copperfield?
Well, a. David Copperfield never existed (he laughs). It's fiction! And b. People often talk about historical accuracy. I can see where they are coming from.
But people you see in films do not look like people 150 years ago. Their teeth are all perfect. They are taller than people were 150 years ago.
I have seen colour-blind casting in theatre. It does not take you out of the story.
Also I could only imagine Dev as David Copperfield. I had no plan b. I didn't have a list of other people to approach if Dev said no.
Dev for me embodied all that kind of charm, optimism, energy, vulnerability, awkwardness and yet strength. He's in every scene for two hours. He has to play drama, melodrama, romance, pathos, comedy.
It was a relief when he said yes. We talked and the question did come up. He asked me, 'If I am Indian, then my father who died, was he Indian?' I said, 'No, I just want to cast you since you are the best actor for the part. That's how I want to cast everyone else.'
If there is a subliminal idea, it is that the story itself is about identity and marginalisation.
Are you marked out by where you came from, how you speak, how much money you have?
What class you are from?
Or the colour of your skin, your ethnicity?
Or are you marked out by how you behave?
I am from an Italian immigrant family. Dev is from an Indian family. We were both born in the UK. We grew up with this discussion in the background.
David is asked at one point by Mrs Steerforth (played by the Nigerian-British actress Nikki Amuka-Bird), 'Who are your people?'
What she is asking is what class you belong to?
David has that status anxiety all the way through. Do I fit in? Do I belong?
Sometimes he survives by being a chameleon, becoming like the people he's with.
He realises in the end he has to be himself. He is a storyteller. So he mines his memory, which can be unreliable at times. And he also understands that he will be marked out by how he treats people.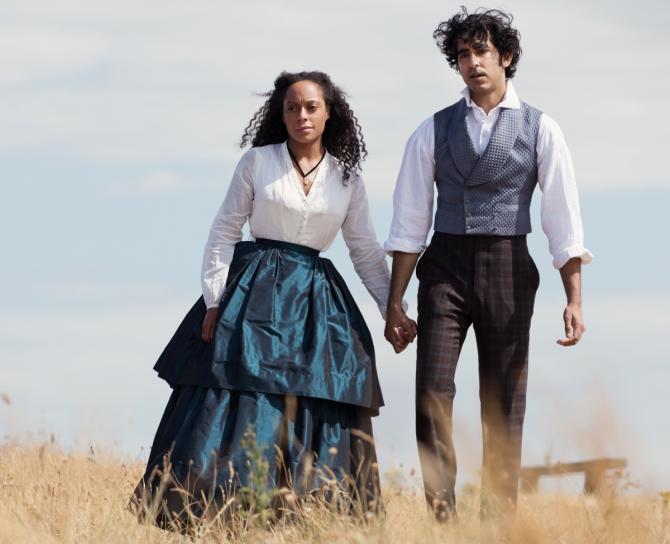 Dev has really evolved into such a fine actor, since Slumdog Millionaire. The only time he did comedy before was in the two Best Exotic Marigold Hotel movies. But he was quite over-the-top in those films.
The comedy that you make him do -- even though there are scenes when his head keeps banging on the beams of a ceiling or the floor creaks as he walks -- there's a lot of warmth in his comedy.
How did you see the comic actor in him?
Right in the beginning he asked 'How can I be David Copperfield?' And I responded 'Let David come to you. Because I see him in you.'
There was this magical moment.
We were doing camera tests without sound. Dev came in his finery and he started moving around. It felt like I was watching Chaplin. There is an element of Chaplin in Dickens -- in the comedy, poverty and pathos.
Because there was no sound being recorded, it felt like I was watching a silent movie. I said to Dev, 'Do you ever watch Chaplin or Buster Keaton?' And he said 'No.' But he has that ability.
I would give him things to do the last minute, such as I asked him to nudge the bottles or the globe with his elbow. And he did it in the first take.
He would have worked it out. He's a very intelligent actor. You can see him working out the scene as he performs before the camera.
I was thinking about your other works. You have a coterie of actors who you keep casting in your projects. Names like Hugh Laurie; Peter Capaldi from playing Malcolm Tucker in The Thick of It and In the Loop to a very different character in David Copperfield; Zack Woods; Nikki Amuka-Bird; even Rebecca Front. You also work with same writers and producers.
It is a bit of both because I had never worked with Dev and Tilda Swinton before. I am always bringing new writers into the team. It is refreshing, but I also like to maintain a continuum. It is like a repertory company.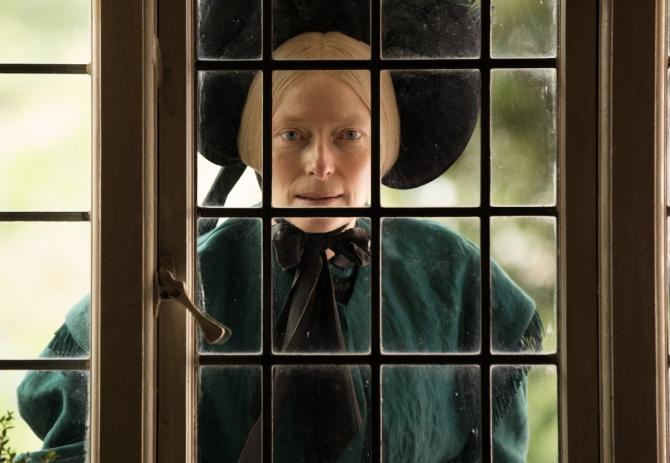 It is only through your films and shows that I have discovered a warm, likable side to Hugh Laurie. Even in Avenue 5 he is quite fun. He was such a different character in The Night Manager and House.
Peter Capaldi is so charming in David Copperfield, while he was a horrible monster in In The Loop. They are fine actors, but you see them in different roles.
I suppose when you work with them you get to know their personalities as opposed to the parts they are famous for. And you realise it is the mark of how good an actor they are. And so you want to explore other aspects of their acting. It's also good to see people thrown out of their comfort zone as well.
Working with Hugh and Tilda, you know they are intelligent actors. They are going to think about their part, how to explore it, what they can bring to it. It's not just for them to turn up on the set. They would have real good conversations with themselves about who these characters are, what makes them tick?
With Veep, you moved to America, although American politics was there in In the Loop. But you seemed to have a deep understanding of American politics where you could make a satire out of it. Were you always interested in American politics?
I am a political geek. I would stay up late to watch American elections. Simon Blackwell and I wrote the pilot together for Veep and we went to Washington, DC to do research and spoke to people in the State Department, the White House, the Vice President's office, the CIA, the Pentagon.
I would tell them I am not after stories and scandals. I wanted to know what happened there on a day-by-day basis. Who is the first person to arrive? What time they arrive? What time do they go home?
The more people I talked to, the more sense I got of their personality types. That influenced the characters as we started writing.
One of the person I spoke to, he worked in the Obama West Wing. But he wrote in every e-mail how tense it was to work there. When I met him for lunch he was shaking. He was smoking on his way and his lunch was a beer.
He worked in the group that handled Obama's Twitter account. He was a minor underling in the West Wing. But just saying he worked in the West Wing made him feel in his head that he was the king of the world.
That character became Jonah Ryan (Timothy Simons), who is defined by the fact that he works in the West Wing.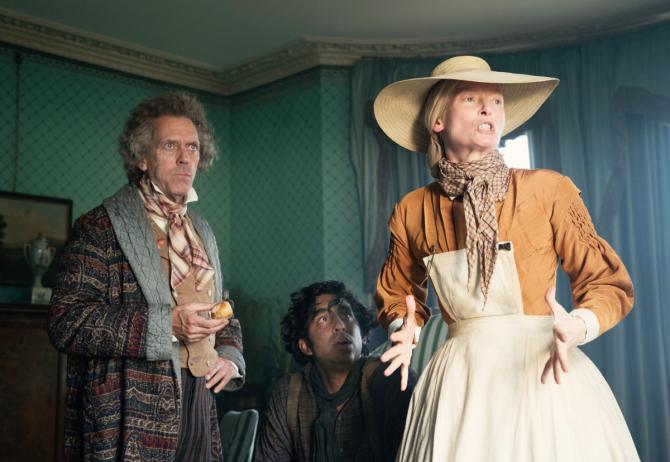 Wow! Jonah is hilarious!
What is the difference between American and British comedy?
These days the way we watch shows is so different. We can stream anything from anywhere in the world, so I think that is less of a difference.
I think 15 years ago we could've said that in British comedy the heroes were more anti-heroes. They were often flawed and failed characters.
Fawlty Towers was about Basil Fawlty who was incompetent and had a terrible temper.
In Dad's Army, Captain Mainwaring is literally a very small man, who runs a local bank, but he thinks he's the head of the army.
In America a lot of the successful comedies were about successful people. Seinfeld is about a successful standup.
I think now actually all those distinctions have started to blur as we watch Scandinavian crime dramas and America is watching Fleabag. We are watching internationally as international viewers.
When I started writing Veep I had this fear that I would get it completely wrong and Americans would hate the idea of Brits coming and telling them how ridiculous their political system was.
In fact, a lot of Americans said that we need people to come from outside and talk about the differences between Republicans and Democrats.
Americans take their politicians for granted. But you come from outside and find so much humour in them.
You know I want politics to work. Some of the humour is born out of frustration when politics is not working.
So I am looking at why did the Prime Minister ended up doing this or that? Why did the President somehow get involved in this when he shouldn't have? And then I try to show it in a funny way
There is this hilarious tweet of yours from September 2018 where you pitched a film based on the Trump story. I quote 'Trump drugged and moved to a replica Whitehouse (sic), where he carries on thinking he's governing. Millions spent on hiring actors to play his staff, Senators, news anchors, people at rallies.'
I think I was in the waiting room at a doctor's office. I just put it down. And it was during the Toronto film festival, so the whole film community had gathered in one place.
One person responded by saying, 'We will make this if you want.' And panic spread among so many other people whose job it was just snap up the next movie idea. By the end of the day I had offers from 12 studios to make it.
But I really did not want to spend the next three years of my life in the company of Donald Trump. I didn't want that to happen to me. So I said no.
Feature Presentation: Rajesh Alva/Rediff.com