Say CHEESE!
Constantly exposed to the shutterbugs, the camera might not be their best friend.
But when it comes to playing a photographer on celluloid, Bollywood's famous faces are more than willing.
In Ritesh Batra's Photograph, Nawazuddin Siddiqui plays a street photographer offering his services outside Mumbai's iconic Gateway of India.
His extraordinary connection with a woman he clicks forms the heart of Batra's new movie.
Sukanya Verma looks at other actors-turned-photographers on the silver screen.
Deepika Padukone, Cocktail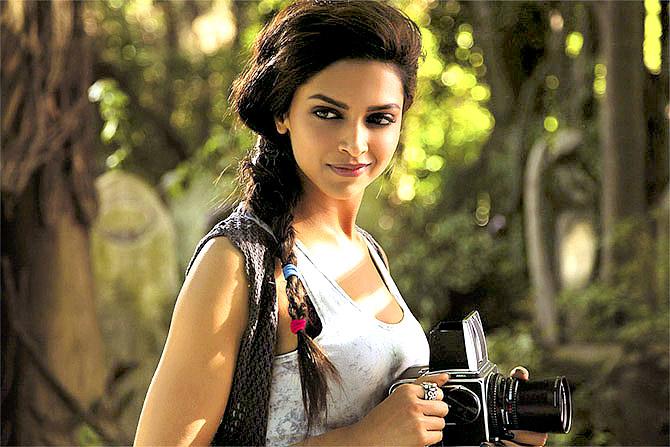 Cocktail's crazy love triangle is so busy highlighting Deepika Padukone's wealthy, partying London lifestyle, you might almost not notice she clicks pictures for a living.
Sarah Jane Dias, Angry Indian Goddesses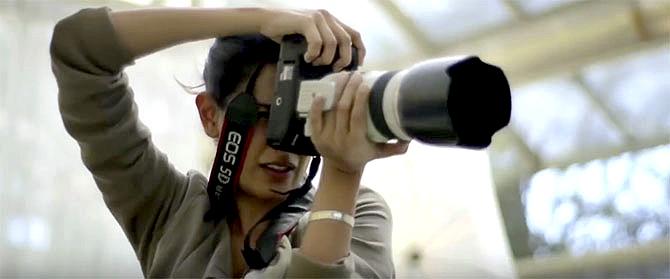 As the fiery photographer who speaks her mind and can't contain her sarcasm while shooting a skin fairness ad, Sarah Jane Dias's eye for detail and hypocrisy is hard to miss.
Ranbir Kapoor, Wake Up Sid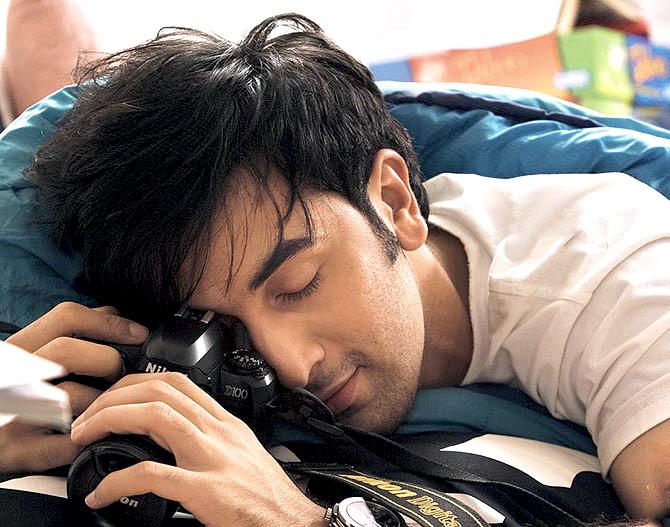 Ranbir Kapoor is pitch perfect as the pampered slacker, who leaves his privileged life and finds himself and his calling as a photography intern at a young, culture magazine in Ayan Mukerji's directorial debut.
Nargis Fakhri, Madras Cafe, Banjo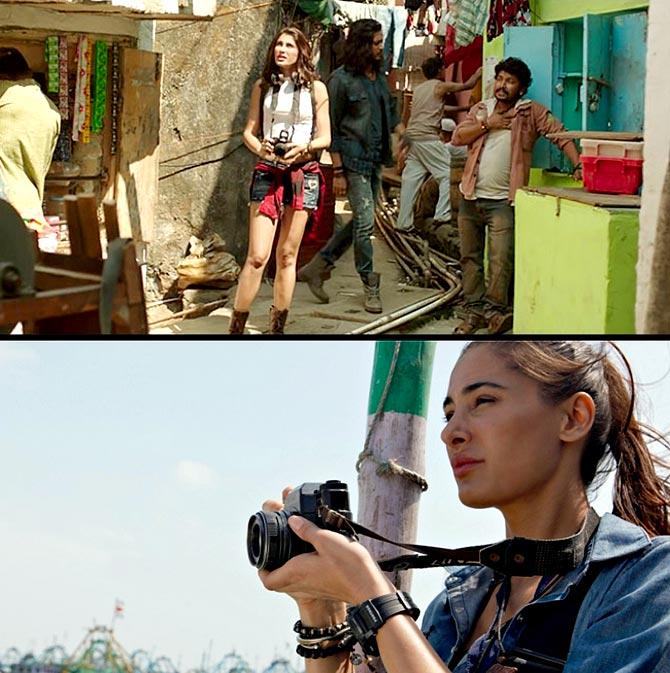 Nargis Fakhri's NRI musician takes up a poverty porn photo assignment but looks more fashion model than shutterbug.
Though she is a war correspondent in Madras Cafe, her profile is better suited for a photojournalist.
R Madhavan, 3 Idiots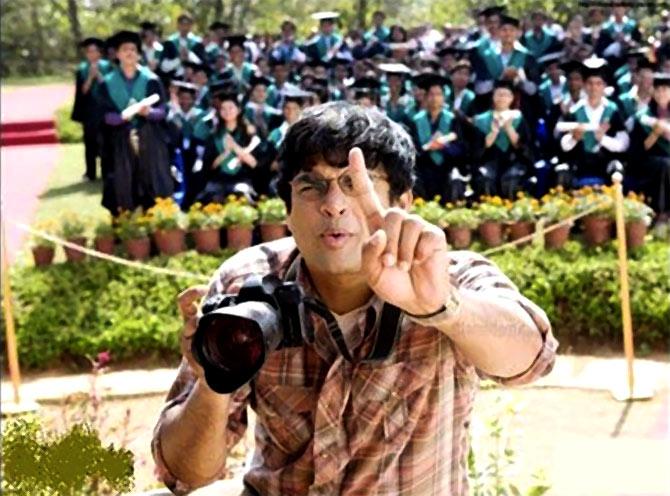 Keeping with the film's skip-the-rat race sentiment, R Madhavan plays an engineering student whose dreams of being a wildlife photographer are squashed by his sound job-sound income obsessed father.
Preity Zinta, Ishq in Paris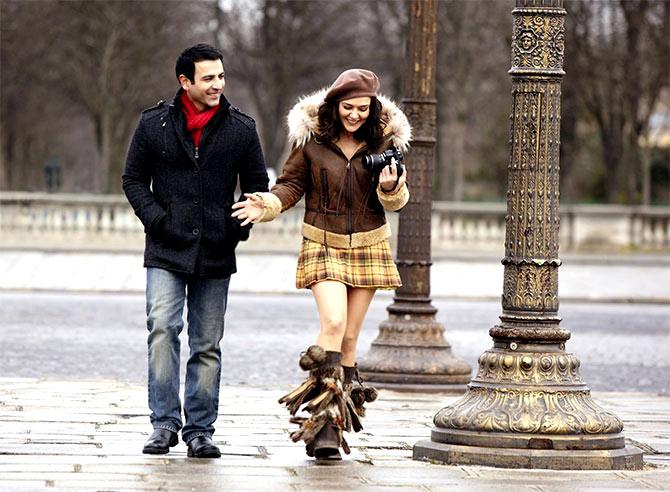 Bollywood isn't big on professionalism. An actor holding a camera for a few scenes amounts to a brilliant photographer like Preity Zinta in Ishkq in Paris.
Randeep Hooda, Murder 3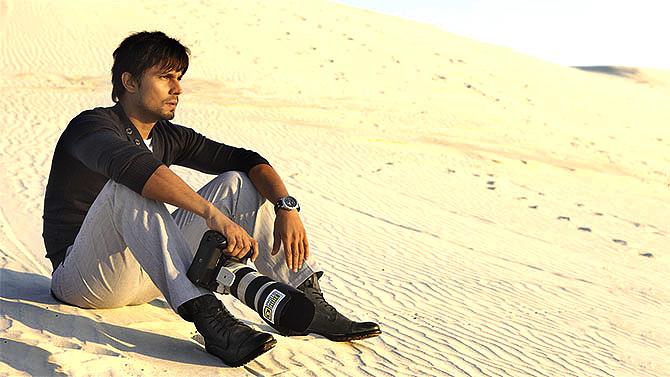 In this bland remake of the Spanish thriller The Hidden Face, a fashion and wildlife photographer juggles between hot women oblivious to the darkness locked away in a secret chamber of his mansion.
Raj Babbar, Agar Tum Na Hote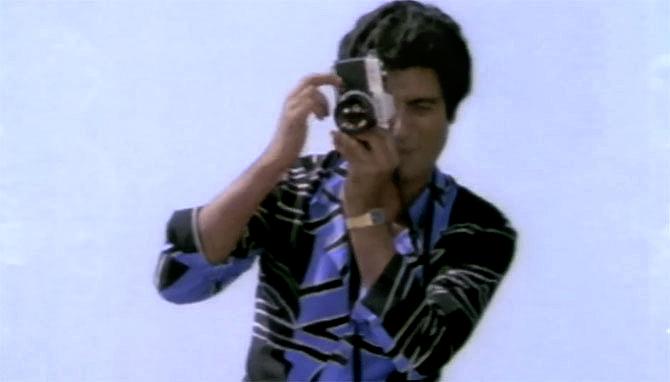 Raj Babbar's job as fashion photographer acts as the perfect excuse for a meet cute between him and his future wife (Rekha). But the romance is cut short when an accident for the sake of a perfect shot leaves him incapacitated.
Naseeruddin Shah, Hope Aur Hum, Ijaazat, Bezubaan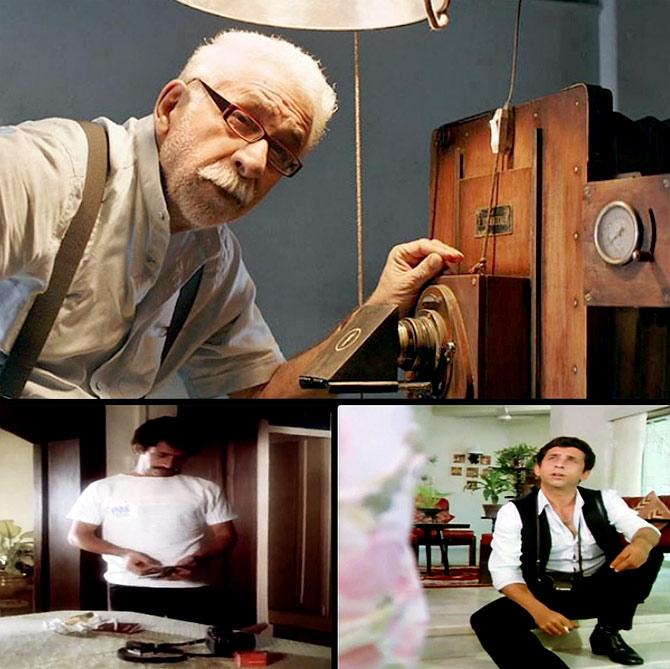 An old-school photographer running a studio in Hope Aur Hum, a slimy, small-time photographer blackmailing his sister-in-law with pictures that show her in a compromising position with an ex in Bezubaan, a seasoned photographer traveling extensively for his assignments in Ijaazat, Naseeruddin Shah has gotten behind the camera on more than one occasion.
John Abraham, Dostana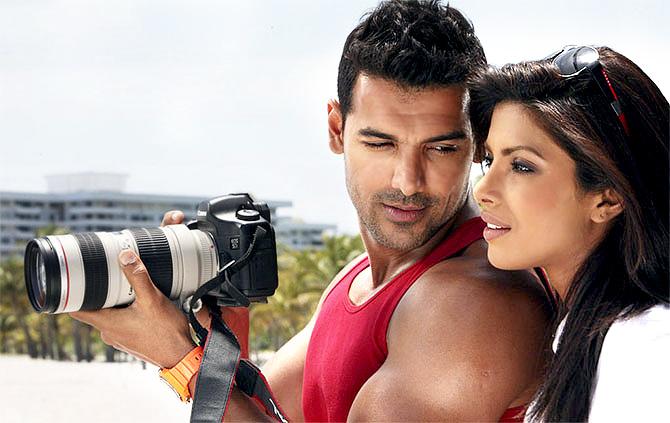 Best remembered for John Abraham's butt show in a pair of sexy yellow trunks, Tarun Mansukhani's mocking take on queer love stars JA as a Miami-based fashion photographer pretending to be gay.
Fardeen Khan, Pyaar Tune Kya Kiya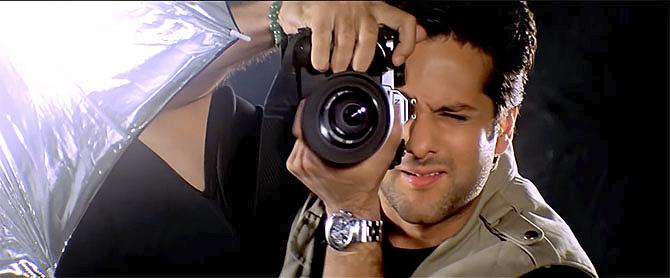 Besides taking inspiration from Hollywood's Fatal Attraction, PTTK also got noticed for Urmila Matondkar's chic bob and oft-witnessed delirium.
Just the kind of wild inspiration, Fardeen Khan, who plays a flirtatious fashion photographer on the lookout of fresh faces, has in mind.
Akshay Kumar, John Abraham, Garam Masala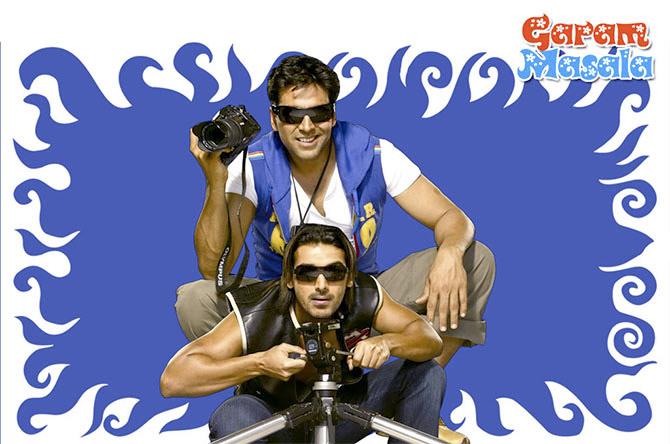 Priyadarshan's loopy comedy about two lascivious photographers may be nowhere in the same league as Hera Pheri, but it sure gave Bollywood's resident hunks -- Akshay Kumar and John Abraham -- the perfect platform to chase skimpily-clad models in lieu of their camera.
Amitabh Bachchan, Nishabd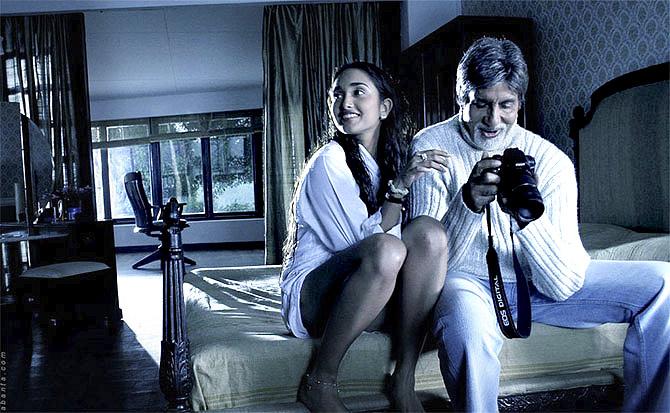 When not shooting the scenic surroundings of his home in Munnar, Amitabh Bachchan steps out with his Canon to capture his daughter's wild BFF in action.
The upshot is nowhere as pretty as his pictures in Ram Gopal Varma's Lolita-inspired romance.
Rahul Bose, Mr and Mrs Iyer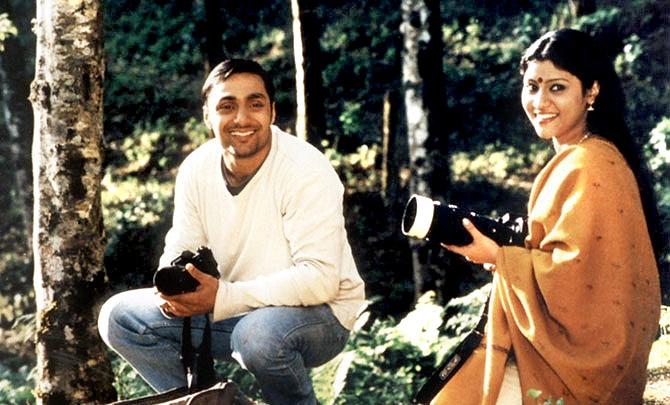 In Aparna Sen's tender tale of unlikely connections, Rahul Bose plays a wildlife photographer. Bose's brings his skills and talent for realism through impressive details and knowledge of the profession he is portraying.
Aamir Khan, Deewana Mujhsa Nahin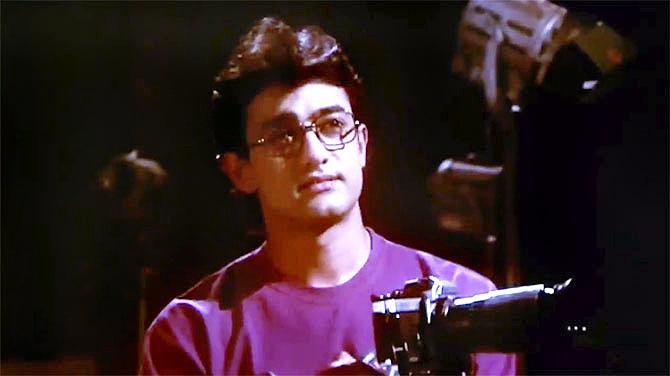 Aamir Khan and Madhuri Dixit's super-hit jodi failed to repeat the box office of Dil in Deewana Mujhsa Nahin.
In an embarrassing turn, Khan plays an obsessive, stalking photographer hell-bent on marrying a model even after she rejects his offer.
Shatrughan Sinha, Khoon Bhari Maang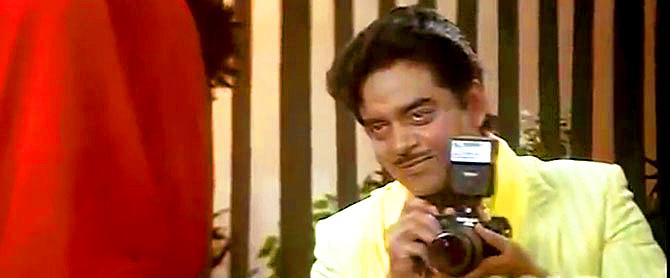 Post-plastic surgery Rekha's revenge operation finds an encouraging aide in Shotgun Sinha's click-happy gaze and poetic praise in Rakesh Roshan's remake of the Aussie mini-series, Return to Eden.
Naseeruddin Shah, Ravi Baswani, Jaane Bhi Do Yaaro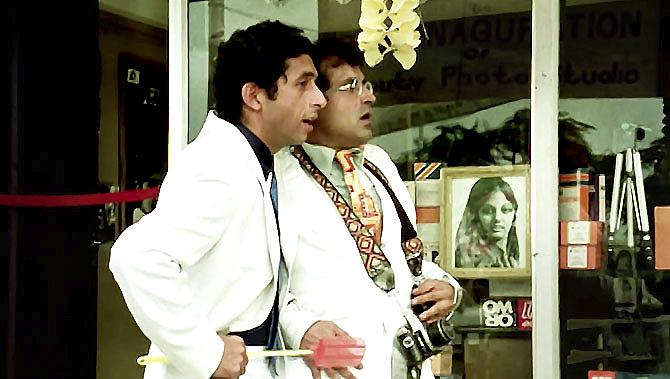 Who can forget the iconic owners of south Mumbai's Beauty Photo Studio?
Naseeruddin Shah and Ravi Baswani's struggling snappers and incriminating pictures add to all the fun and thrills of Kundan Shah's unforgettable satire.
Om Puri, Mandi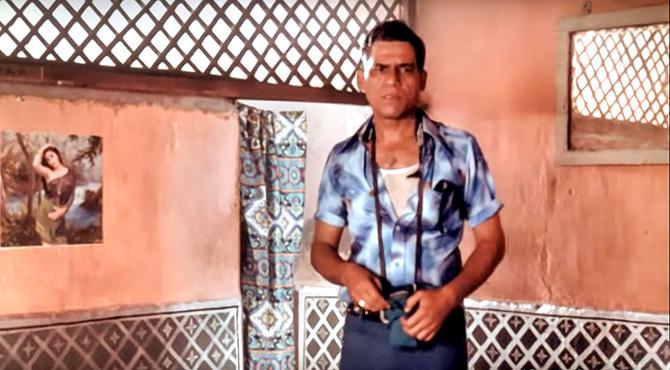 Director Shyam Benegal found Om Puri brilliant as the seedy photographer who believes himself to be an artist while interacting with the ladies at a brothel in Hyderabad. We second it.