Indian audiences have always favoured family dramas. One of the earliest popular serials on Doordarshan was Hum Log.
Later, Yeh Jo Hai Zindagi and Dekh Bhai Dekh became family comedy classics.
When satellite television came to India, audiences were piled on with domestic dramas like Kyunki... Saas Bhi Kabhi Bahu Thi and Kahani Ghar Ghar Ki or comedies like Sarabhai Vs Sarabhai, Khichdi and Tarak Mehta Ka Oolta Chashma.
The strangehold of saas-bahu serials was loosened somewhat by overkill and the broadening of the idea base on OTT.
Still, the family -- particularly if it is dysfunctional -- can never be totally abandoned.
When a major director like Karan Johar who coined the phrase, 'It's all about loving your family', returns with a new film, Rocky Aur Rani Kii Prem Kahani, it is, what else but a family drama.
Deepa Gahlot lists 10 popular family shows and films streaming on various platforms.
Gullak
Where to watch? SonyLIV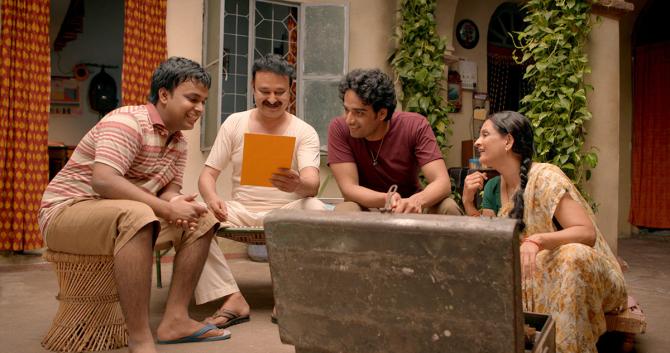 The comedy created by Shreyansh Pandey for The Viral Fever (TVF) has had three seasons and consistently won awards.
Set in a small north Indian town, it revolves around the Mishra family -- father Santosh (Jameel Khan), mother Shanti (Geetanjali Kulkarni), their sons Anand (Vaibhav Raj Gupta), Aman (Harsh Mayar) and their nosy neighbour (Sunita Rajwar).
The show worked because of its simplicity; the everyday problems of a family were relatable and funny, the lines brilliantly written and delivered.
Just 15 episodes, but it seems like the Mishras have been around forever.
Tabbar
Where to watch? SonyLIV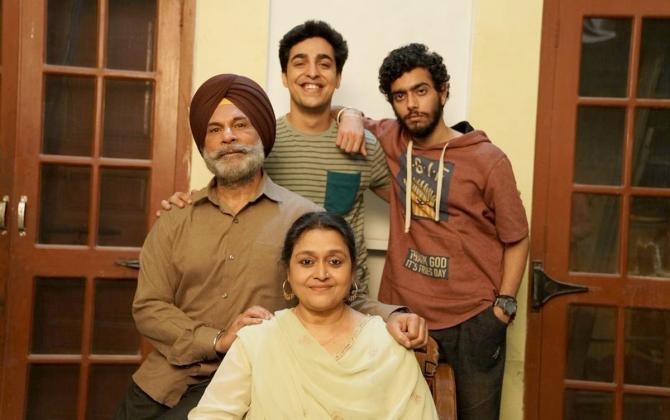 Tabbar means 'family' in Punjabi.
The stunning, dark drama is about what it takes to protect your loved ones. Created by Harman Wadala, and sensitively directed by Ajitpal Singh, the show is about a retired policeman, Omkar (Pavan Malhotra) and his wife Sargun (Supriya Pathak), parents to Happy (Gagan Arora) and Tegi (Sahil Mehta), whose lives are turned upside down by circumstances out of their control.
A bag exchanged leads to the murder of the drug-peddling brother of local politician (Ranvir Shorey) in their home.
The family has to suffer the aftermath as they try to cover up this murder and save themselves.
Most family dramas stick with humour, fun and games, but Tabbar goes into what happens when love and loyalty is severely tested.
Happy Family Conditions Apply
Where to watch? Amazon Prime Video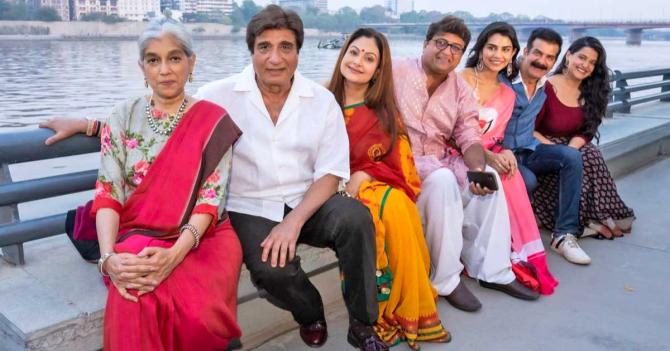 This show, created and directed by Aatish Kapadia and JD Majethia of the TV sitcom Khichdi, is more of the same -- a riotous Gujarati family, only fancier looking, since it's for OTT.
Ratna Pathak Shah plays Hemlata, the no-filter matriach of the Dholakia clan that comprises her husband Mansukhlal (Raj Babbar), children, their spouses and grandchildren.
With four generations living under one roof, the series so overpopulated that more crazy relatives can come up with their comic problems, like one of the US-based sons wanting to marry a black woman (political correctness is not the show's strong point).
The family stays together, holidays together, eats together and makes enough noise to amuse the audience.
Maja Ma
Where to watch? Amazon Prime Video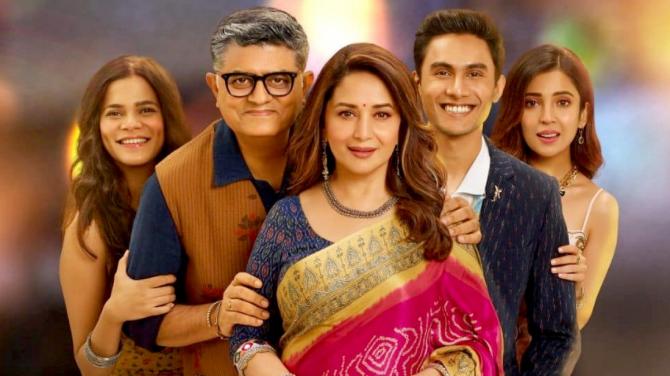 Directed by Anand Tiwari, this made-for-OTT film picked up an interesting idea and made a hash of it.
Still, it is worth a look, because it brings out the flimsiness of the Indian marriage, in which a couple might live together for years and raise a family without knowing much about each other -- duty to family and society trumping true understanding.
Set in a Gujarat town at dandiya time, Vrindavan Society's reigning garba queen Pallavi Patel (Madhuri Dixit) becomes the victim of a viral video, in which she declares to her daughter that she is a lesbian.
Of course, all hell breaks loose.
Her husband (Gajraj Rao) becomes a subject of ridicule and the US-based son (Ritwik Bhowmik) has to face the snooty NRI parents of his girlfriend.
Madhuri Dixit is the main attraction, of course, even if the film does her stardom little justice.
Gulmohar
Where to watch? Disney+Hotstar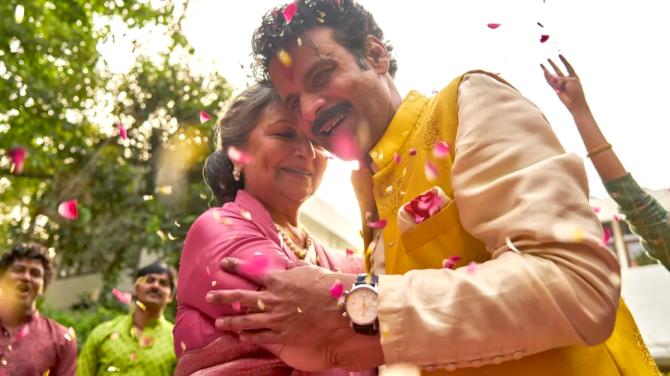 One of the finest family dramas on OTT, enhanced by the performances of Sharmila Tagore and Manoj Bajpayee.
The Batra family is about to move out of their tasteful Delhi bungalow and are in the midst of packing amidst a whole lot of big and small crises playing around them, in which the members of the clan and household help are caught up.
Before expressing a wish that the whole family celebrate Holi together, Kusum Batra (Tagore) drops the bomb that she is relocating to Pondicherry.
Worse, her adopted son (Bajpayee) discovers a document that shatters the life he has built with the Batras.
The film is as elegantly to look at as it is emotionally moving.
Nirmal Pathak Ki Ghar Wapsi
Where to watch? SonyLIV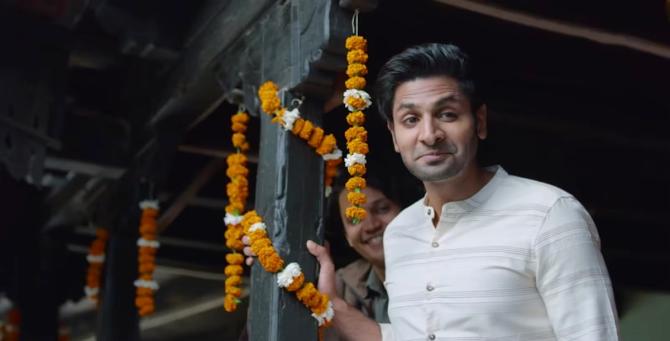 In the show directed by Rahul Pandey and Satish Nair, Nirmal Pathak (Vaibhav Tatwawadi) returns to his ancestral village after 24 years, and meets his father's family for the first time.
He did not know of this part of the family because his father had left his wife and home and never looked back.
Nirmal meets his birth mother (Alka Amin) for the first time, and is shocked at her silent suffering.
His cousin, Aatish (Akash Makhija), is to be married to the local MLA's (Vineet Kumar) daughter, and has been promised an election ticket.
Nirmal is out of his depth in this environment, applies his own city liberalism to the village, and there is a conflagration is waiting to happen.
Ghar Wapsi
Where to watch? Disney+Hotstar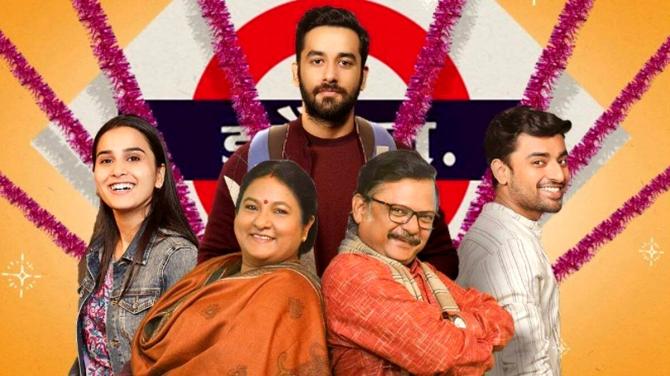 Directed by Ruchir Arun, this series was particularly relevant during the difficult pandemic period, when many people lost their jobs and were forced to return to their hometowns.
Shekhar Dwivedi (Vishal Vashishtha) is laid off, goes back to his family home in Indore, hiding the truth from his parents (Atul Shrivastava-Vibha Chibber) and siblings (Saad Bilgrami, Anushka Kaushik).
Gradually, he rebuilds bonds with the family and friends he left behind to build a career and enjoy the freedom of city life.
The identifiable scenario, along with the right emotional touch in its handing, and fine performances made this underrated show extremely heart-warming.
Salt City
Where to watch? SonyLIV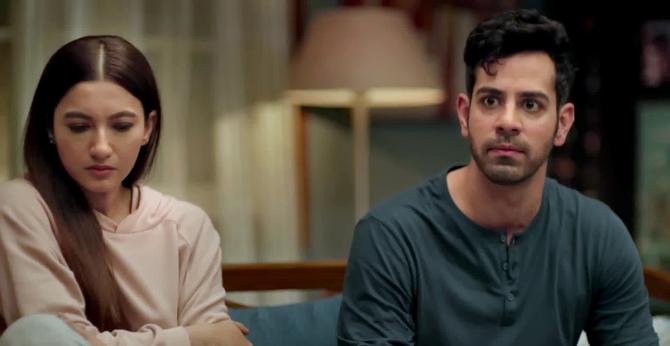 The cast and a premise unusual for Hindi Web shows makes this series directed by Rishabh Anupam Sahay worth a try.
The dysfuctional Bajpai family is headed by Harish (Piyush Mishra) and his wife Triveni (Navni Parihar). The next generation is made up of sons, aspiring entrepreneur Aman (Manish Anand), failed property consultant Nikhil (Pranay Pachauri), the free-spirited nephew Saurabh (Divyendu Sharma) and docile niece, Ela (Monica Chaudhary).
Aman is married to (Gauahar Khan), whom Nikhil lusts after, and she is more assertive than the other two women in the house.
The clan has moved from Lucknow to Mumbai and the city develops cracks in their happy facade, though it is Harish's toxicity that affects them all.
It looks like the show leaves a lot unsaid in the hope of a Season 2, which is not in sight yet, but men like Harish are only too common in Indian society.
Tripling
Where to watch? SonyLiv, ZEE5
Three seasons of the show, produced by TVF, not all as good as the first season, but the relationship between the three siblings Chandan (Sumeet Vyas), Chanchal (Manvi Gaagroo), Chitwan (Amol Parashar) and their parents (Kumud Mishra, Shernaz Patel) are bitter-sweet.
The first two seasons, in which the squabbling trio took road trips, once from Mumbai to Manali and the next time from Sikkim, were different from the usual family dramas.
Season 3, in which the siblings discover that their parents are separating, could not keep up, but brings this stage of their growing mature and letting go to a satisfying close.
A family can be together, not because they are forced to, but because they want to be there for one another.
Pagglait
Where to watch? Netflix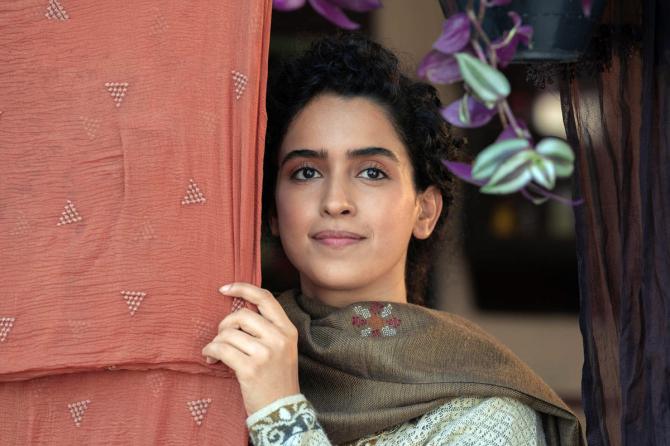 Umesh Bist's Pagglait was one of the better Indian offerings on Netflix, with the non-melodramatic attitude of a young woman, Sandhya (Sanya Malhotra), whose husband dies a few months after their wedding.
The arranged marriage was loveless -- he was involved with another woman - but for his parents (Ashutosh Rana-Sheeba Chaddha), there is also a financial problem looming, since their son was the only earning member of the family and there are loans to repay.
The extended family descends for the 13-day death rituals and Sandhya soon discovers that what is expected of her is not just a widow's mourning but also a different kind of sacrifice.
The film laid bare the hypocrisy of the great Indian family.