'For those who like romance in their music, I suggest they search for this song.'
Subhash K Jha tells us of an incident that Javed Akhtar shared with him.
Pandit Jasraj had told Javedsaab that in the 1950s, when he was in Amritsar, he had gone to meet the classical genius Ustad Bade Ghulam Ali Khan whom he respected a lot.
When Pandit Jasraj got chatting, Bade Ghulam Ali saab suddenly asked him to keep quiet.
He heard the young Lata Mangeshkar singing the romantic song, Yeh Zindagi Usski Ki Hai from Anarkali.
Bade Ghulam Ali Khan was enraptured.
Finally, he said, 'Kambhakt, kabhi besuri hoti hi nahin.'
So which of her songs does Lataji choose as her most romantic? She tells us here:
Chalo Sajna Jahan Tak Ghata Chale
Mere Humdum Mere Dost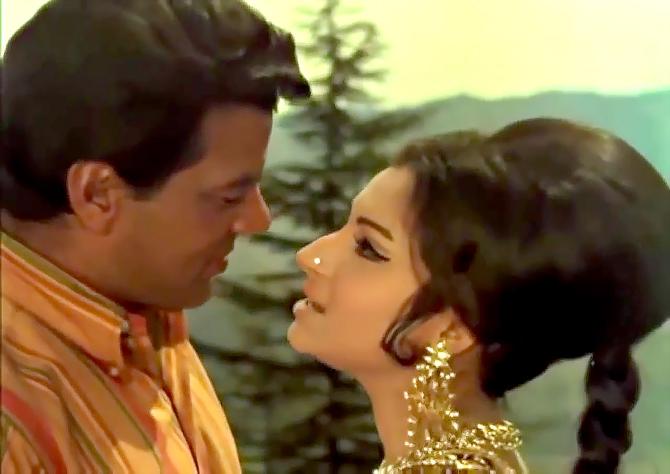 I recall every detail of the recording.
This is one of my favourite love songs composed by one of my favourite duos, Laxmikant-Pyarelal. I sang hundreds of songs with them.
This one stands out for Majroohsaab (Sultanpuri)'s lyrics and the composition was just too good.
I remember Pyarelal showing me how to negotiate some of the more unusual dips and curves in the tune.
Sharmila Tagore is singing the lyrics to Dharmendra, who is one of the most handsome heroes. It looks very natural and romantic on screen.
Lag Ja Gale Se
Woh Kaun Thi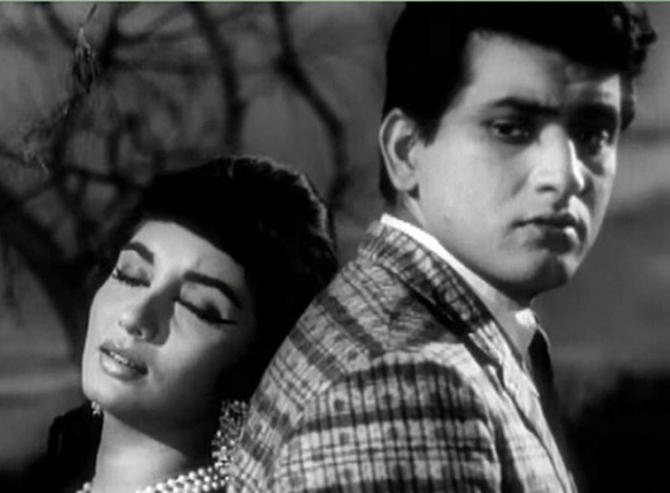 This is one of my most requested love songs. Anywhere I go for concerts, this song is a must.
Madan Mohan, who composed this beautiful melody, was like a brother to me.
I remember rehearsing for this composition for hours.
Madanbhaiyya was a good singer; he would sing the lines for me.
We would give the same amount of time and love for all compositions. There was no way of knowing Lag Ja Gale Se would be loved to this day.
Na Jiya Lage Na
Anand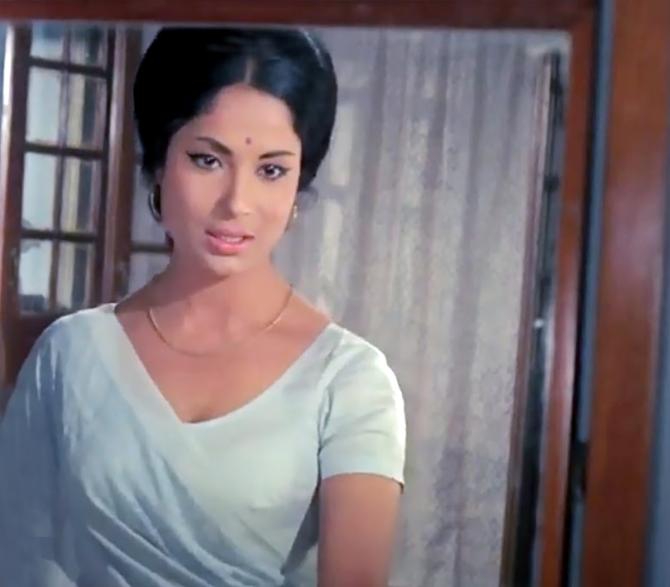 With Salilda (Chowdhary), I sang some of my most intricate long songs, including the evergreen Aaja Re Pardesi from Madhumati.
My favourite love song by Salilda is Na Jiya Lage Na.
It is a lovely tune and Gulzarsaab's lyrics convey so much in so little time.
I sang a Bengali version of the same tune for Salilda and that too was much appreciated.
Yeh Raat Bhi Jaa Rahi Hai
Sau Saal Baad
This is a little-known song, but an absolute favourite.
It was composed by Laxmikant-Pyarelal and written by Anand Bakshi for a long-forgotten film.
But the words and the tune still ringing in my ears.
The line 'Mere humdam tu nahin aaya' was the refrain that gave the song a sense of limitless longing.
For those who like romance in their music, I suggest they search for this song.
Ehsaan Tera Hoga Mujhpar
Junglee
This exquisite love song had impossibly high notes for a female singer.
Mohammed Rafisaab also sang the same song. For a male singer, it was easier. I remember my face had gone red trying to negotiate those high notes. I often used to ask Shankar-Jaikishan why they gave me such high notes to sing.
"They said it was a pleasure to hear me scale those notes.
But it wasn't a pleasure for me to be singing those notes.
All said and done, it was worth it.
The song is a beautiful expression of love.
The credit goes to the composers Shankar-Jaikishan and lyricist Hasrat Jaipuri.
Feature Presentation: Rajesh Alva/Rediff.com