The stolen necklace in Awaara...
The umbrella RK and Nargis share in Shree 420...
The clown doll and mask from Mera Naam Joker...
Zeenat Aman's trusty nose ring in Satyam Shivam Sundaram...
Dimple Kapadia's trendsetting wardrobe in Bobby...
Iconic RK memorabilia we'll miss!
RK Studios is up for sale.
Nearly a year after a nasty fire left the movie landmark in ruins, it was mutually decided among the Kapoor brothers -- Randhir, Rishi and Rajiv -- to abandon the idea of rebuilding it again.
One of the most influential and prestigious banners of its time, RK Studios came into existence in 1948 with Aag, which Raj Kapoor acted, directed and produced at the age of 23.
Raj Kapoor's passionate vision and storytelling powered the banner's socially charged content as well as lavish extravaganzas, one that earned him the title of showman.
After his demise in May 1988, his sons took turns to resurrect the studio and tried their hand at film-making, but failed.
The show must go on, believed Raj Kapoor. And so it shall. But we'll sure miss some of the iconic memorabilia and mementos from his movies.
The violin in Barsaat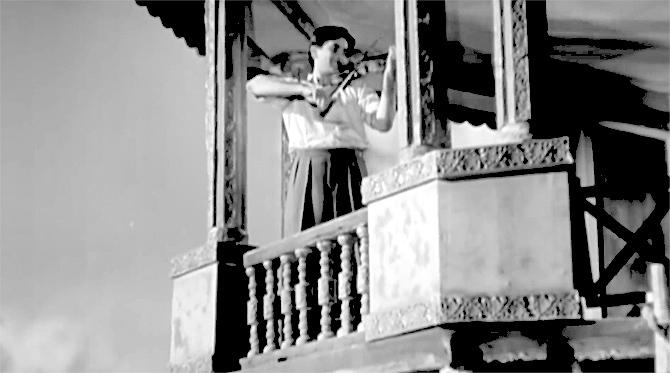 Raj Kapoor's famous embrace scene in Barsaat as Nargis comes rushing for a hug while he's playing the violin inspired the historic RK Films logo.
The stolen necklace in Awaara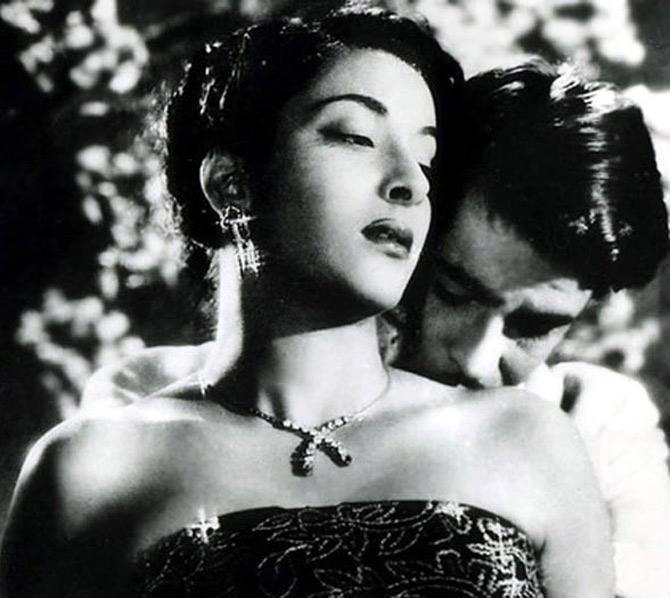 RK's sparkling diamond necklace is a source of little happiness and lasting hurt after birthday girl Nargis learns her precious present was nicked from none other than Prithviraj Kapoor. Awaara's heartbreaking ditty Ek Bewafa Se Pyaar Kiya quickly follows.
RK's Shree 420 costume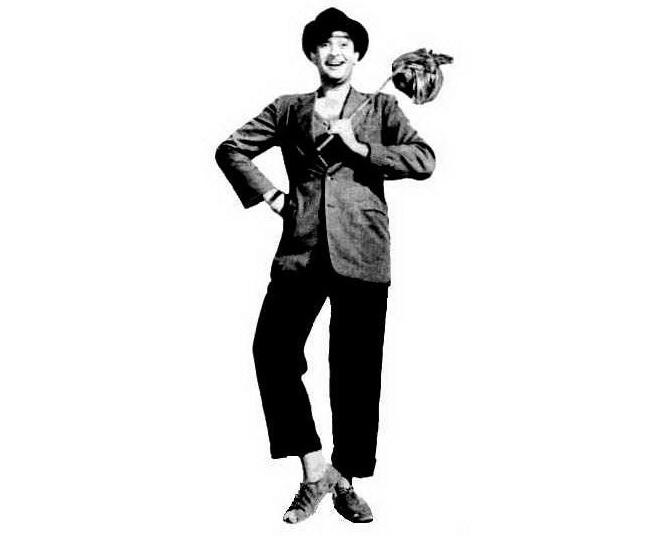 The actor's tribute to his idol Charlie Chaplin led to his well-known tramp avatar in Awaara and Shree 420.
The umbrella RK and Nargis shared in Shree 420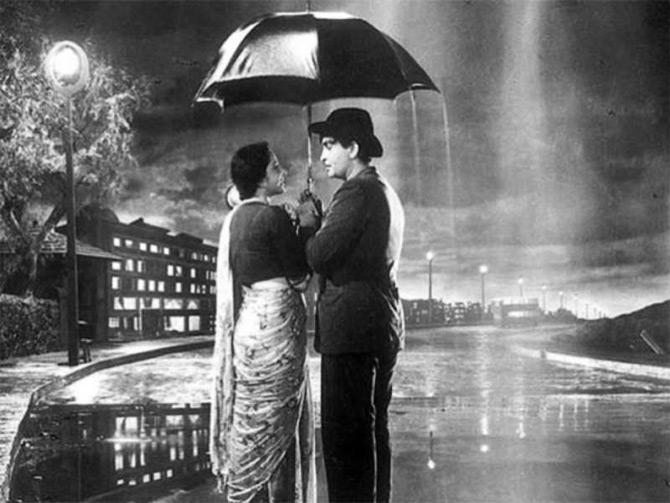 No image of rain or romance on screen is as profound and effective as that of Hindi cinema's most successful pair professing Pyar Hua Iqrar Hua Hai under one umbrella in Shree 420.
The brass pitcher in Jagte Raho's final scene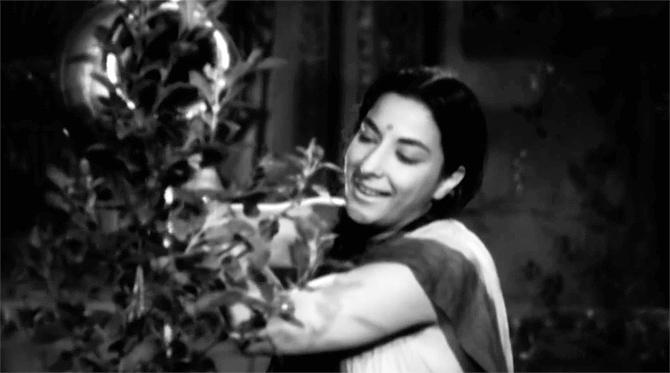 After the ordeal RK's parched character suffers through the events of one rough night in Jagte Raho, the sight of Nargis (in a cameo) holding a water pitcher is nothing short of divine intervention.
RK's dafli in Jis Desh Mein Ganga Behti Hai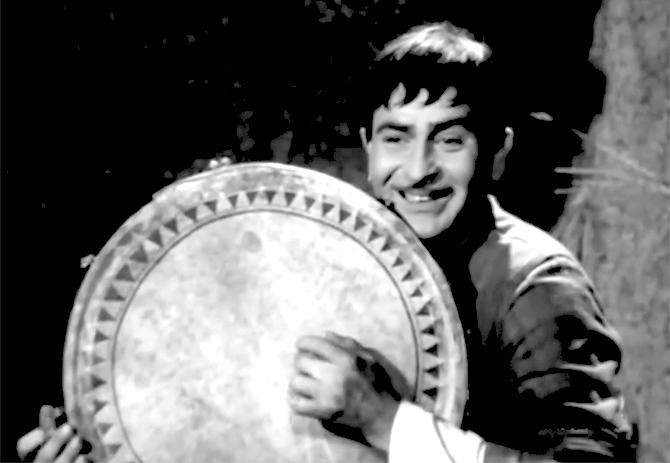 'Hothon Pe Sachai Rehti Hai. Jahan Dil Mein Safai Rehti Hai. Hum Us Desh Ke Vaasi Hain. Jis Desh Mein Ganga Behti Hai.' Who can forget an earnest face Raj Kapoor playing the dafli to the tune of nearly extinct idealism?
RK's bagpiper, Rajendra Kumar's prem patra and Vyjayanthimala's red swimsuit in Sangam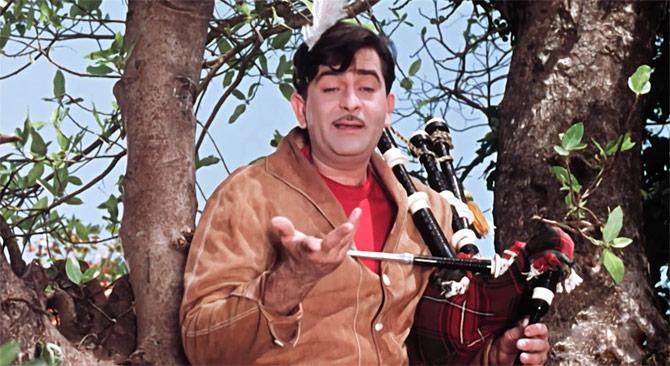 Raj Kapoor's bagpiper fetish stands out in Sangam's love triangle.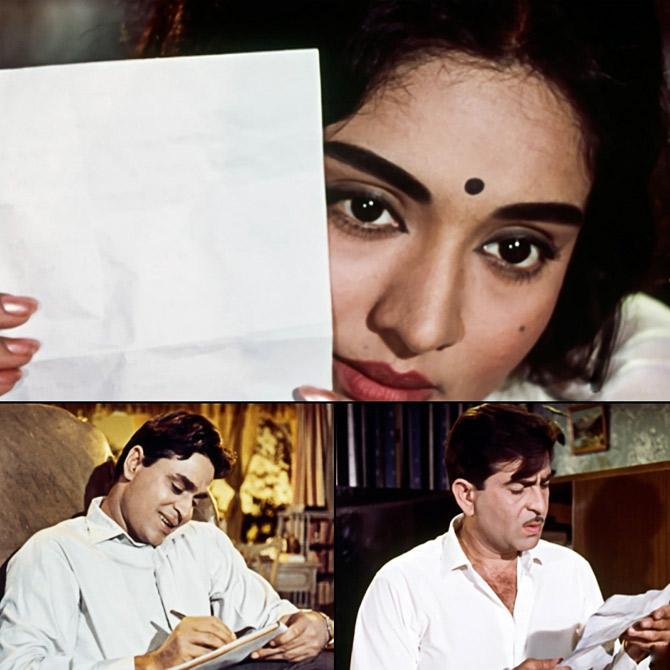 As does the unsigned love letter by Rajendra Kumar causing serious complications.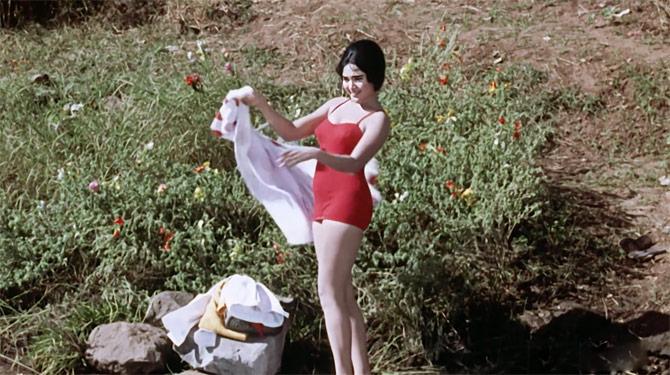 There's also Vyjayanthimala's glamorous red swimsuit among many, many other fashion forward moments in RK's lavishly filmed romance.
RK's clown doll and mask in Mera Naam Joker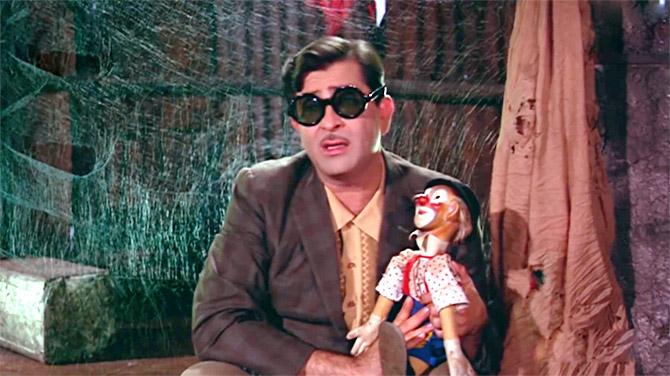 Though Mera Naam Joker flopped, it went on to acquire classic status and gifted a talent like Rishi Kapoor to the industry.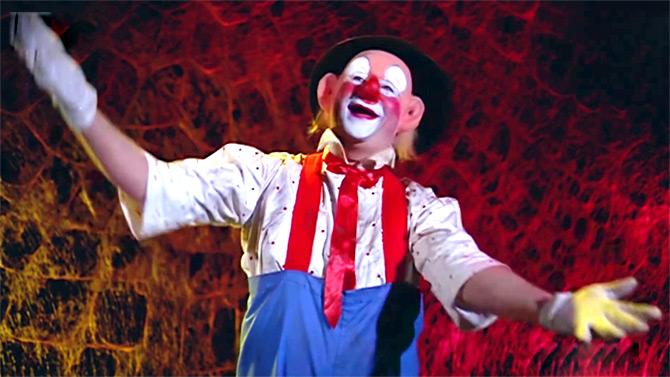 The joker doll is one of the movie's most prized possessions. As is the mask RK so dedicatedly wears to entertain the crowd visiting the circus.
Babita's oversized frames in Kal Aaj Aur Kal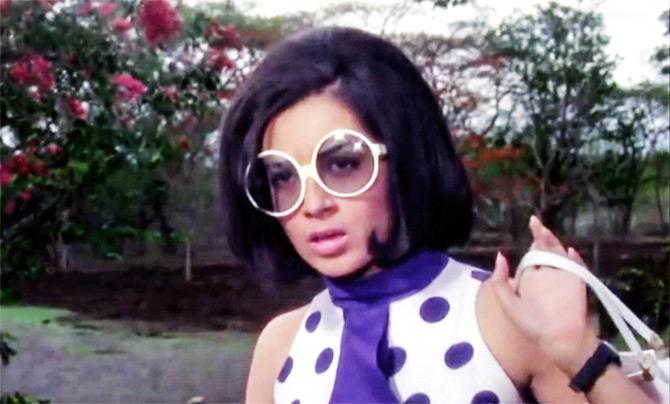 Three generations of Kapoors -- Prithviraj, Raj, Randhir -- lock horns over the age-old battle of traditional versus modern in Kal Aaj Aur Kal.
Future bahu and fashionista Babita in her white-rimmed sunglasses hold her own.
Dimple Kapadia's trendsetting wardrobe in Bobby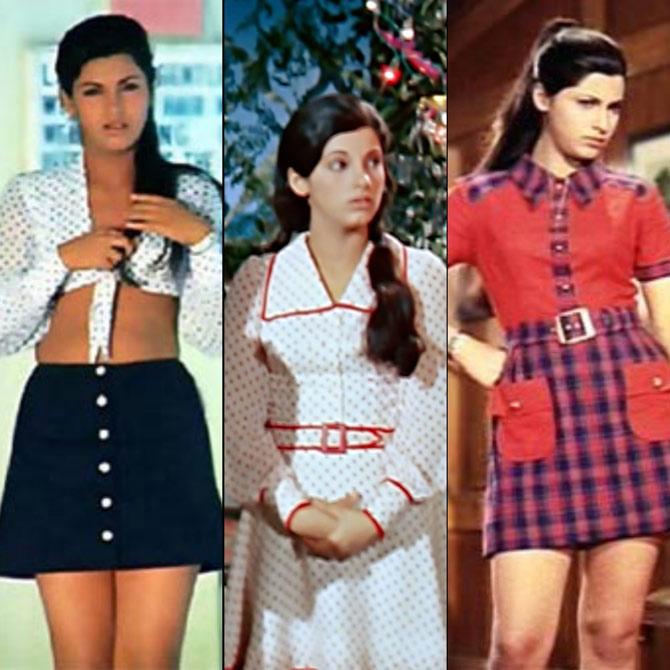 Bobby's super success is obvious in the fashion trends it kicked off, leaving a lasting impression then and forever.
Zeenat Aman's trusty nose ring in Satyam Shivam Sundaram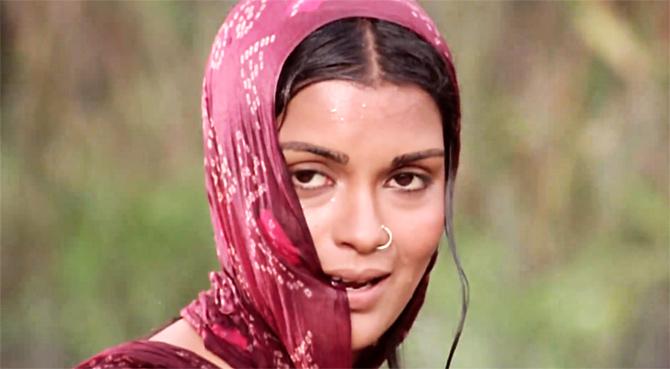 Known for her slick, modern portrayals, Zeenat Aman slipped into the rustic part of a scarred village belle just as easily.
Mandakini's controversial white sari in Ram Teri Ganga Maili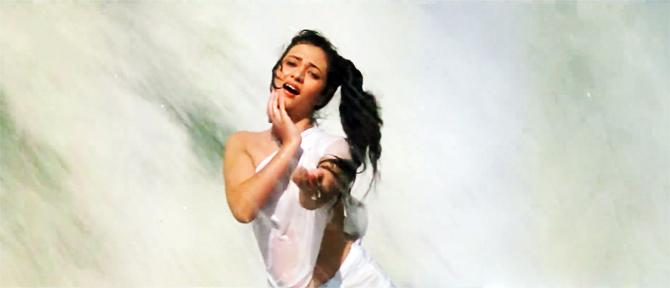 The sari that left little to the imagination as Mandakini showered under a gushing waterfall became the most if not only talked about thing of Raj Kapoor's Ram Teri Ganga Maili.
M F Husain's hand painted credit titles in Henna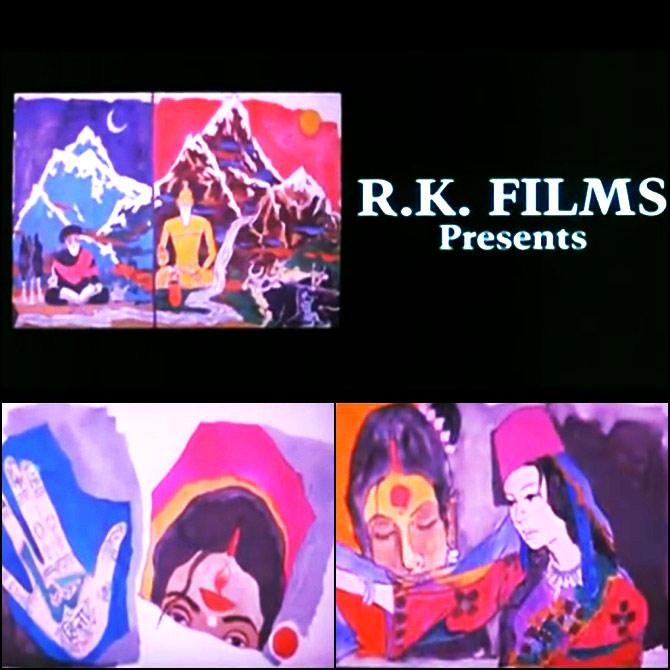 The late painter's distinctive artwork marks the opening credits of Raj Kapoor's dream project, which was completed by son Randhir after he passed away.