'At the end of the interview, as he walked with us to the elevator, he looked at me and said, "Do you think it was my karma that I should have made this film?"'
Arthur J Pais/Rediff.com recalls his encounter with Richard Attenborough.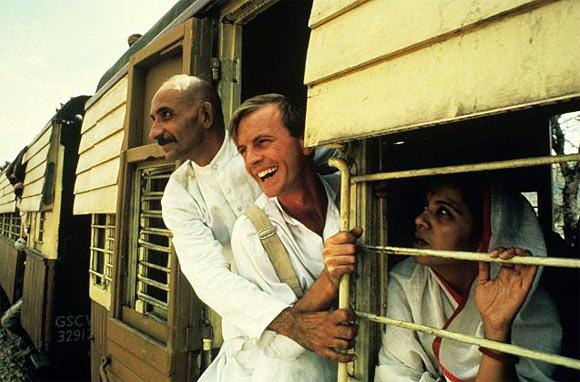 Richard Attenborough was in an expansive mood. As he was getting ready for a round of interviews to promote Gandhi, he was taking calls from a handful of cities across America and Canada where the film had opened with record attendance. Soon it would play on more than 1,500 screens and open worldwide to a lot of excitement and controversies in 1982.
And it would take 8 Oscars including the ones for Best Picture, Best Director and Best Actor. Ben Kingsley (born Krishna Bhanji in London) would become an instant star with the film.
I was in the Plaza Hotel suite in New York with six other journalists, all except me from mainstream publications. And they were aggressively asking Attenborough questions. No one was paying me attention. But India Abroad -- the oldest and best-known Indian-American weekly now owned by Rediff.com -- could not have gone back without getting something exclusive.
When there was a pause in the interrogation, I fumbled a bit, but asked Sir Richard about something I had remembered from my research. "Sir Richard," I said, "before you made Gandhi, you made Young Winston, which was a tribute to Winston Churchill's war years in South Africa. Now, you have Gandhi. Gandhi and Churchill were adversaries..."
Attenborough's face brightened. "You know of Young Winston," he said, "most people haven't even heard of it. And now to answer your question..." Made in 1977, five years before Gandhi, the film had received mixed reviews.
Churchill, Attenborough said, was "a bit of a buccaneer, a rogue, a pirate, at times somewhat of an outlaw whereas Gandhi was a politician who wanted to become a saint."
He paused a few seconds. "And yet Churchill was a man of courage, like Gandhi. And he began developing this courage in South Africa. And it is this courage that made him stand up to Hitler. The world became free because of Churchill's defiance of Hitler. I am sure Gandhi and Churchill admired the courage in each other."
Attenborough, who died four days before his 91st birthday on August 29, made Gandhi for a hefty budget of $22 million, one third of it coming from the National Film Development Corporation which had been giving loans to Indian producers to make artistic films. Attenborough's passion and vision for the film, NFDC insiders said, made the Indian government make a serious departure from its routine.
The project already controversial --- with some Indians arguing that only an Indian could make an honest screen bio on Gandhi --- became even more controversial. A number of filmmakers including M S Sathyu (Garam Hawa) who had benefited from NFDC, protested against the investment. NFDC money should go to Indian filmmakers, the protestors said. But Indira Gandhi's government stayed firm and when the film became an international hit, taking some $100 million worldwide, the investment brought in healthy profits for the government.
Controversies followed the film's release. "They will not go away," Attenborough said. "This film is about a saintly, but controversial and often misunderstood man, but it is an honest film."
In India, Netaji Subhas Chandra Bose's admirers accused Attenborough of making their hero insignificant in the movie.
Some British historians said the film contributed to perpetuating a myth, portraying Gandhi as the man who brought down an empire through non-violence without acknowledging that the British were eager to give up their Indian possessions and concentrate on rebuilding their country following World War II.
"This film will prevail because it is an honest portrayal of a man and the tumultuous times," Sir Richard added.
Pakistanis found the portrayal of Mohammad Ali Jinnah sketchy and insulting and vowed to make their own grand film on the founder of Pakistan. When they did many years later, hardly anyone took notice. Jinnah, released in 1992, featured Christopher Lee (famous for his Dracula and other horror films) in the title role. Directed by a Pakistani filmmaker whose views had angered General Zia-ul Haq, then the military dictator of Pakistan, and who had exiled him, Jamil Dehlavi's film had a narration by Shashi Kapoor.
A dream project of Attenborough's -- who was also a well-known actor (Brighton Rock in the 1940s, Jurassic Park in the 1990s), Gandhi had been struggling to find financial backing since 1962.
A few years before he secured the funds to make it, Attenborough spent several weeks in India working as an actor in director Satyajit Ray's first Hindi language film Shatranj Ke Khiladi (The Chess Players). The two men remained friends thereafter.
"I feel perfectly at home in India," Attenborough said. "Can I make another film in India?"
Attenborough made half a dozen films after Gandhi, but none was set in India. Most of these films including A Chorus Line (a musical) and the anti-apartheid drama Cry Freedom, about the life of Steve Biko, were box-office duds. Most were critically panned.
Nothing he had made before or after Gandhi came anywhere close to that crowning achievement.
At the end of the interview, as he walked with us to the elevator, he looked at me and said, "Do you think it was my karma that I should have made this film?"
Image: Ben Kingsley, Ian Charleson, who played C F Andrews, and Rohini Hattangadi in Gandhi